It's time to play dress-up with your bump! Halloween may normally be all about the cute kiddo costumes, and baby Halloween costumes get a ton of attention, too. But what about the stage just before that? Pregnant people have an awfully fun — and relatively rare — opportunity to dress up their bump. So make the most of it with a memorable pregnant Halloween costume.
You can dress up as a famous pregnant celeb (Rihanna at the Super Bowl, anyone?) or TV show or movie character, or choose to dress up your belly itself. Either way, Oct. 31 is the perfect opportunity to have fun with your bump in a totally new way. That said, there's a lot less inspiration out there for pregnant Halloween costume ideas than there is for, say, scary couple's costumes or costumes for friend groups of three. So we rounded up all the ideas you'll need to come up with a truly perfect pregnant Halloween costume.
Whether a parent-to-be is in the market for a funny pregnant Halloween costume, something comfy, or maybe even homemade, there's an option for you in this list of 16. Keep reading for a selection of the best pregnant Halloween costumes.
— Additional reporting by Alexis Jones
01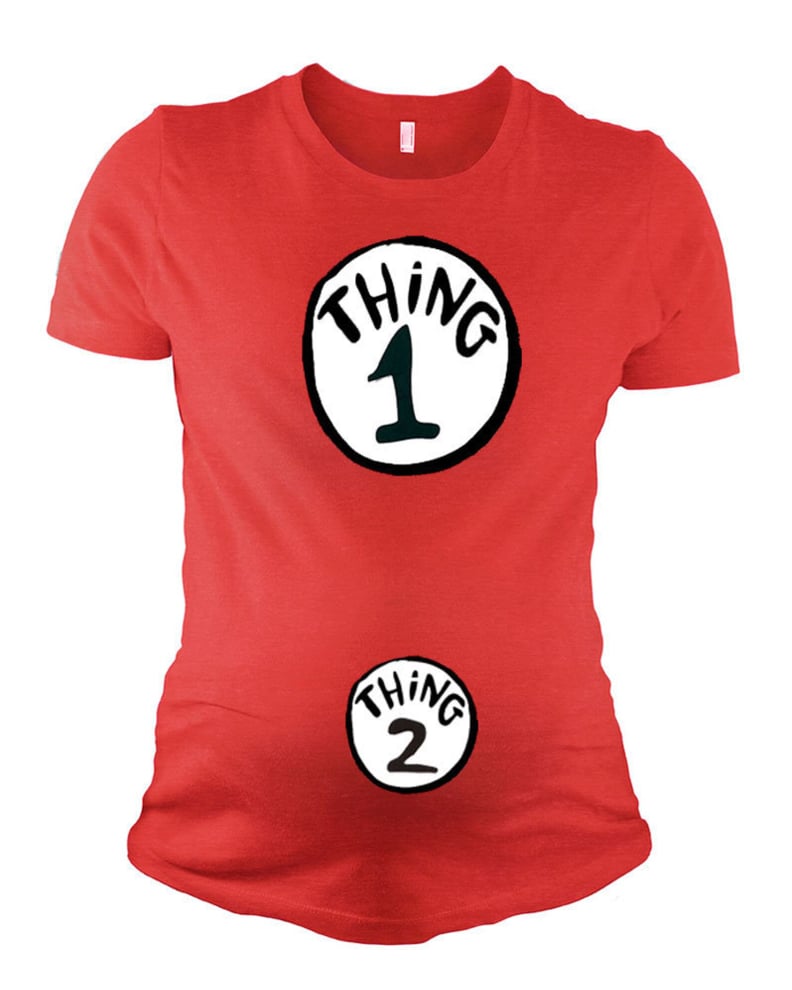 Pregnant Halloween Costume Idea: Thing 1 and Thing 2
Want a Halloween costume that's both simple and punny? This Things 1 and 2 T-Shirt ($17 and up) from Etsy will do the trick. It's such a cute way to show off your bump, and it requires little to no effort — just a swipe of the credit card.
02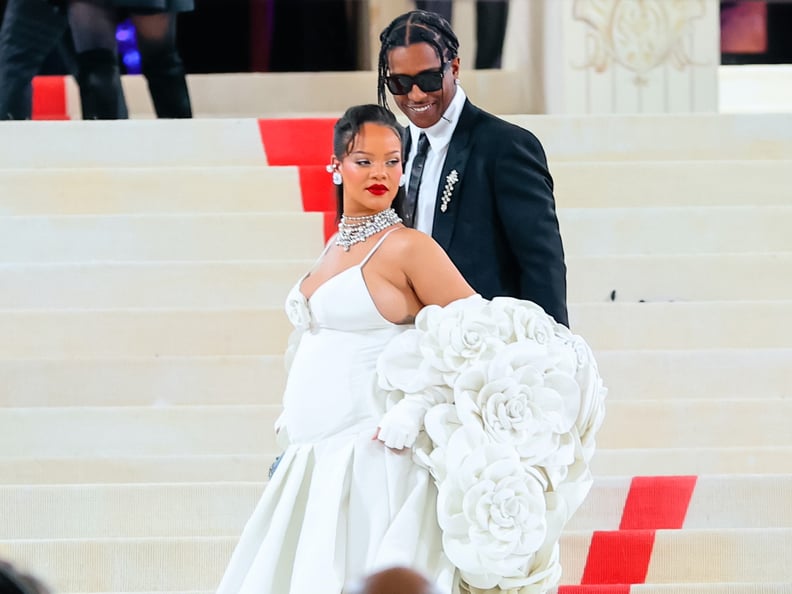 Pregnant Halloween Costume Idea: Met Gala Rihanna
Embrace your new parent status by dressing up as Queen Mother herself, Rihanna — but this time at the Met Gala. Her all-white ensemble is the perfect costume for a pregnant person who wants to stand out this Halloween. You'll need a white gown and a floral cloak. Dash on a little red lipstick, and you're all set. Bonus points if you find a nice set of stairs to pause on for photos.
03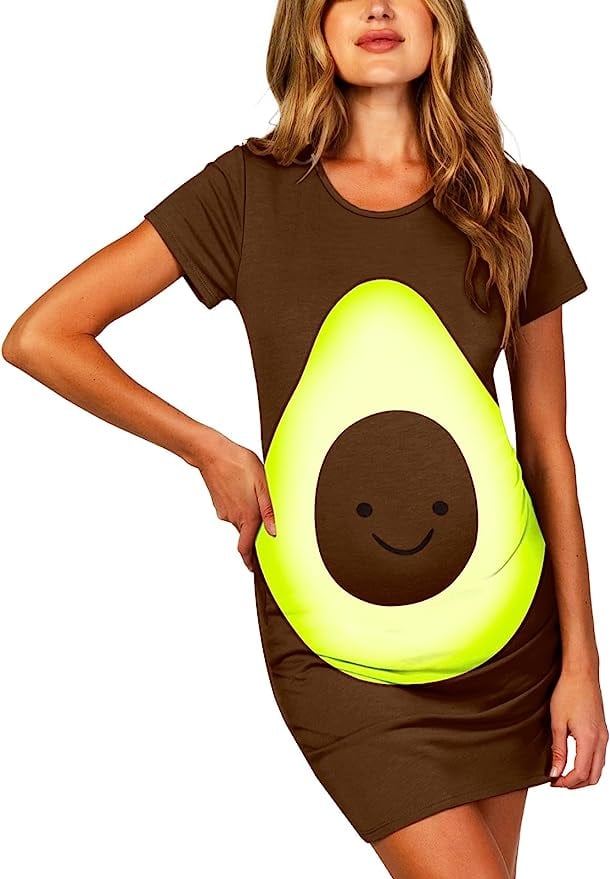 Pregnant Halloween Costume Idea: Avocado
Everyone loves a good avocado costume, but this one is especially cute because your little one gets to be the pit. And the best part of the look is you don't have to DIY anything; you can order this Maternity Avocado Costume ($22 and up).
04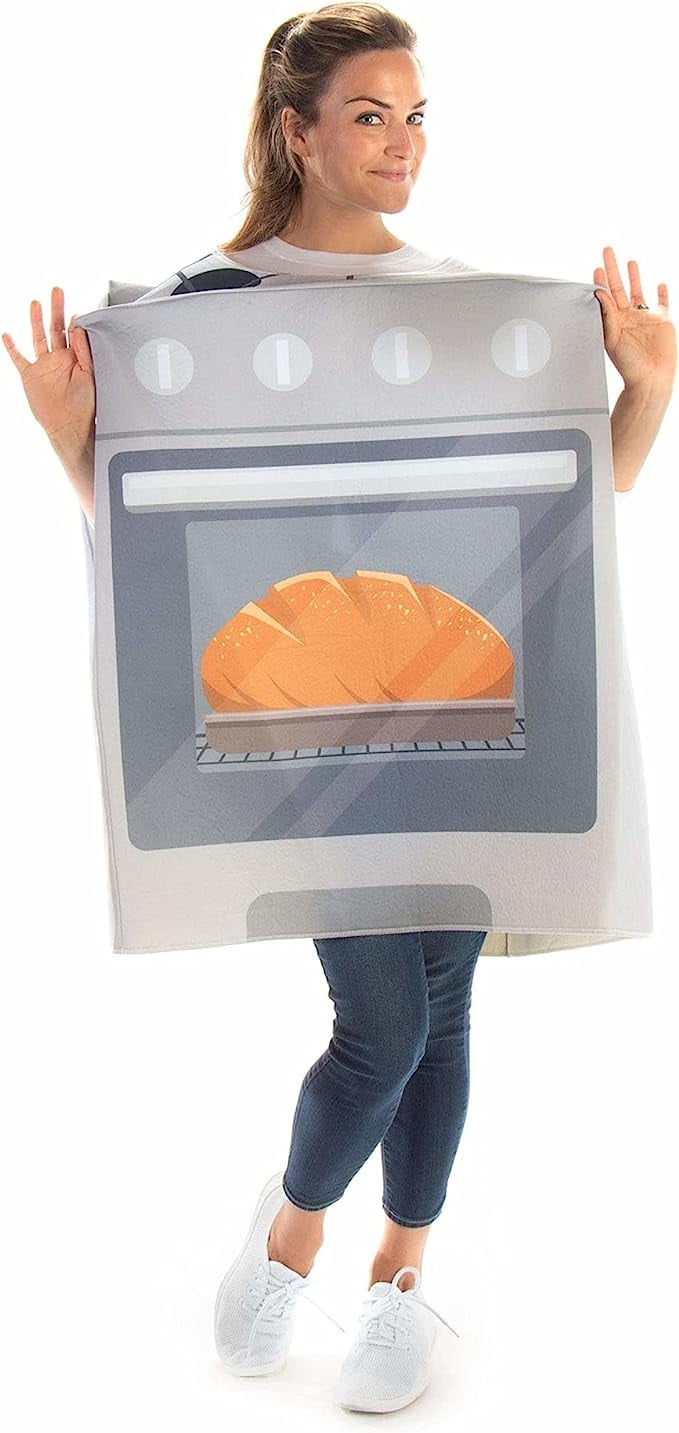 Pregnant Halloween Costume Idea: Bun in the Oven
A pun like this one is hard to beat. So lean into the corniness with the Bun in the Oven Costume ($28) that doubles as the perfect pregnancy announcement. It's one-size-fits-all and easy to put on right over a T-shirt or long-sleeved top, making it the perfect costume no matter how far along you are.
05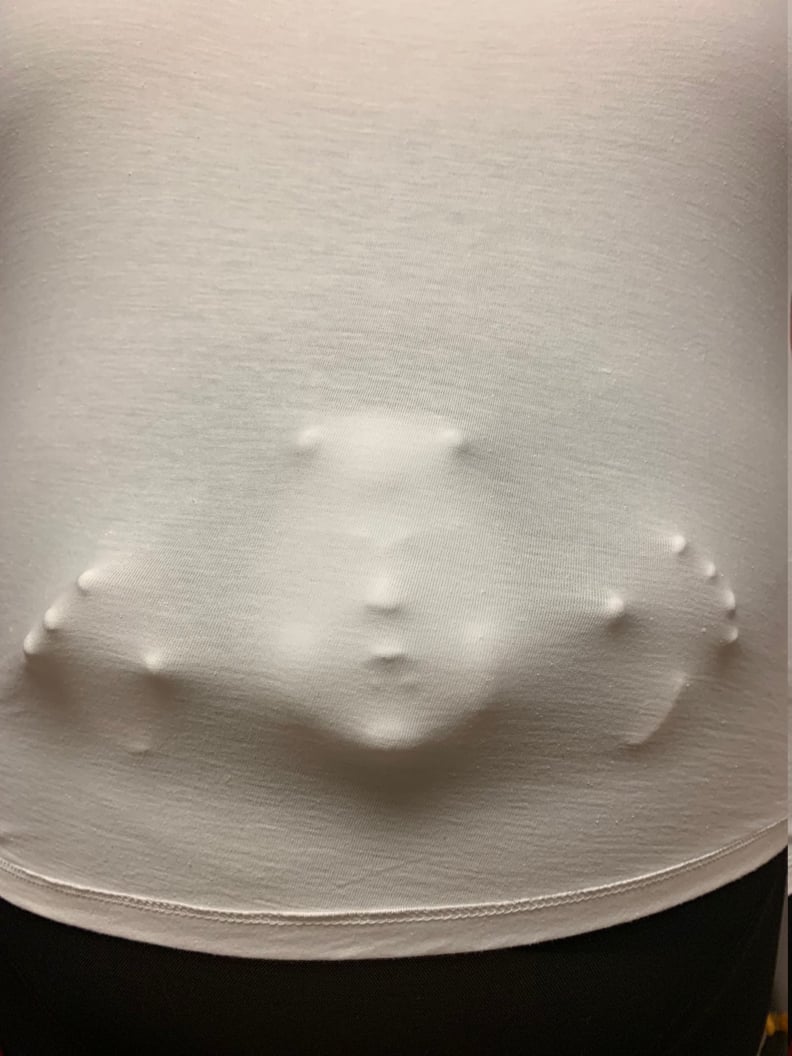 Pregnant Halloween Costume Idea: Demon Baby
If you want something scary instead of cute, this Demon Baby Maternity Halloween Costume ($21) is for you. The Etsy creator suggests taping the demon-baby mold to a tight tank top, then wearing a white T-shirt over it so everyone can see your little terror popping out.
06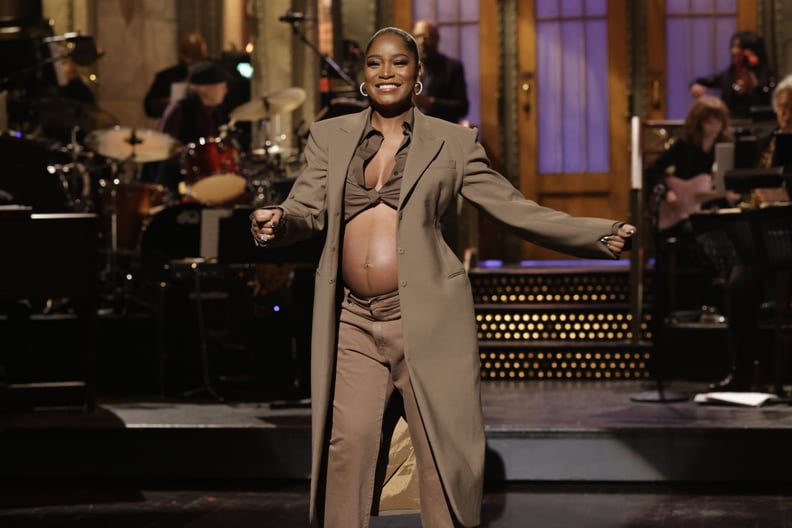 Pregnant Halloween Costume Idea: Keke Palmer on "SNL"
What better way to celebrate your pregnancy than by channeling new mom Keke Palmer when she first announced her pregnancy on "SNL"? Fortunately, the costume doesn't call for much. Palmer went with a monochromatic all-brown look including trousers, a button-up shirt tied above her bump, and a long coat. A quick trip to Zara should do the trick.
07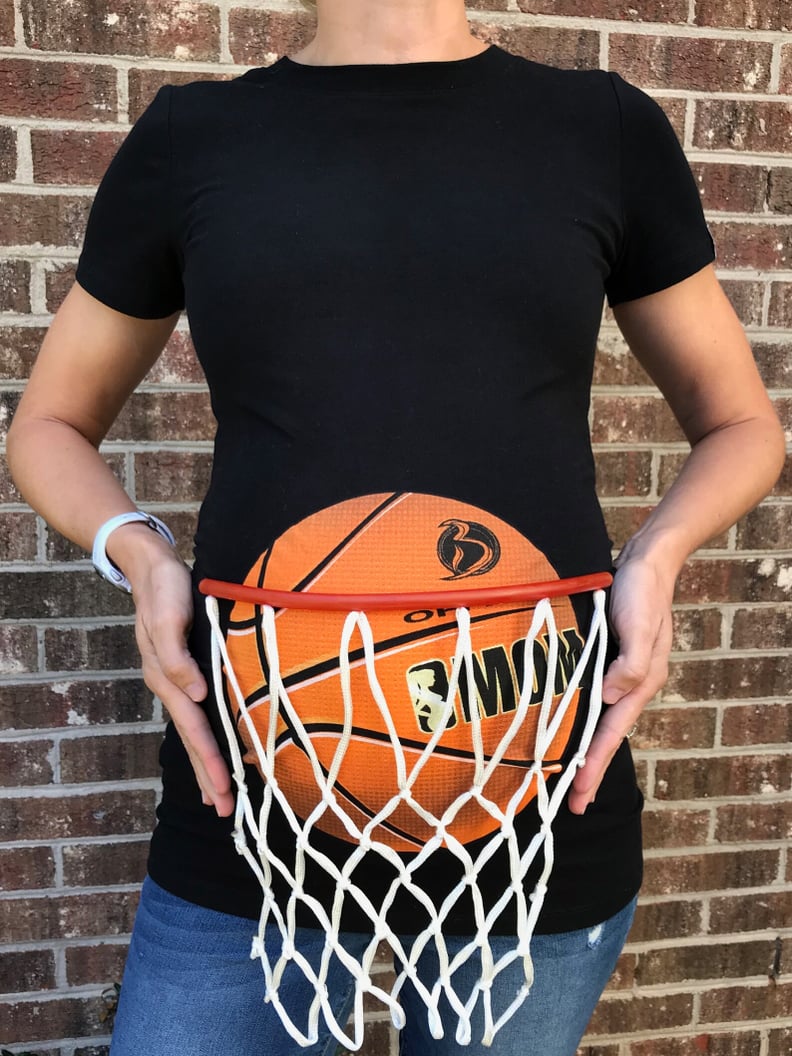 Pregnant Halloween Costume Idea: Basketball Hoop
Think you've got a little athlete on your hands? Then this Basketball Net T-Shirt ($30 and up) is just what you're looking for. If you'd prefer it without the net, that's an option, too. Either way, this costume is a slam dunk.
08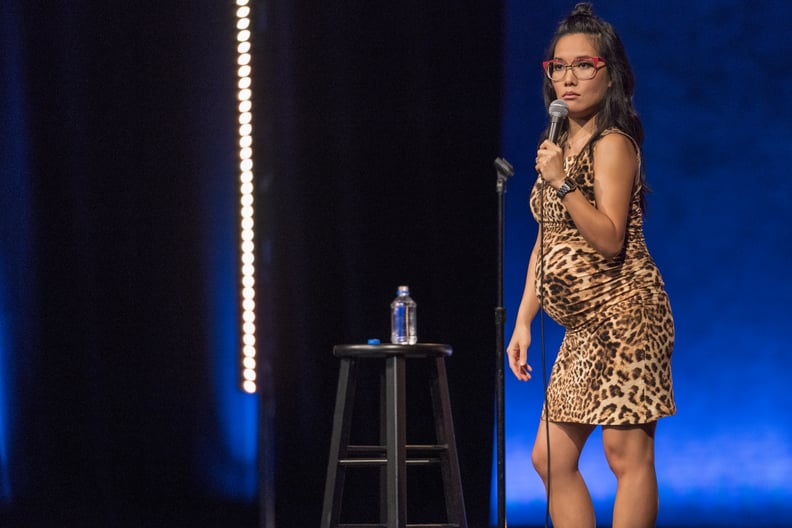 Pregnant Halloween Costume Idea: Ali Wong in "Hard Knock Wife"
If you're an Ali Wong fan, now's the perfect opportunity to dress as your favorite comedian. Her "Hard Knock Wife" look is pretty easy to accomplish. All you need are a leopard-print dress, red eyeglasses, and a microphone. True fans will instantly know who you are. (The big frames are key.)
09
Pregnant Halloween Costume Idea: 2011 VMAs Beyoncé
Beyoncé's VMAs pregnancy announcement was such an iconic moment in pop culture history. Bring back some of that nostalgia this Halloween and re-create the moment with your own bump. All you need are a button-up shirt and a pair of black pants, both of which your probably have already in your closet. Then, just rent or buy a sequined jacket to pull off the look. Bonus points if you memorize the "Love on Top" choreography.
10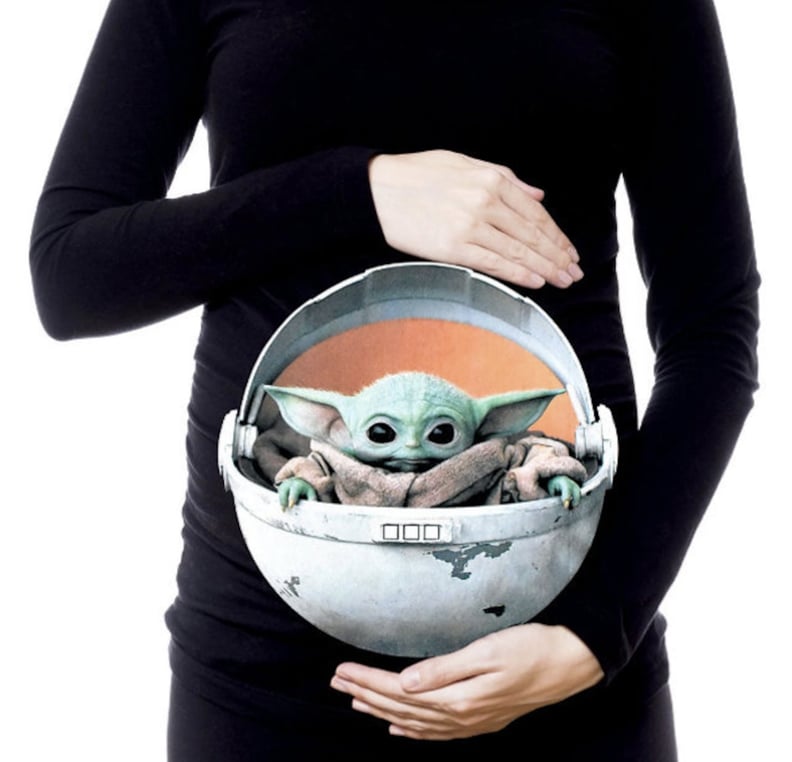 Pregnant Halloween Costume Idea: Baby Yoda
Get ready to geek out over this adorable Star Wars costume. Your bump will be the star of the night with this Baby Yoda Maternity Shirt ($38). It's made from 95 percent soft cotton and five percent spandex to allow for stretch and comfort.
11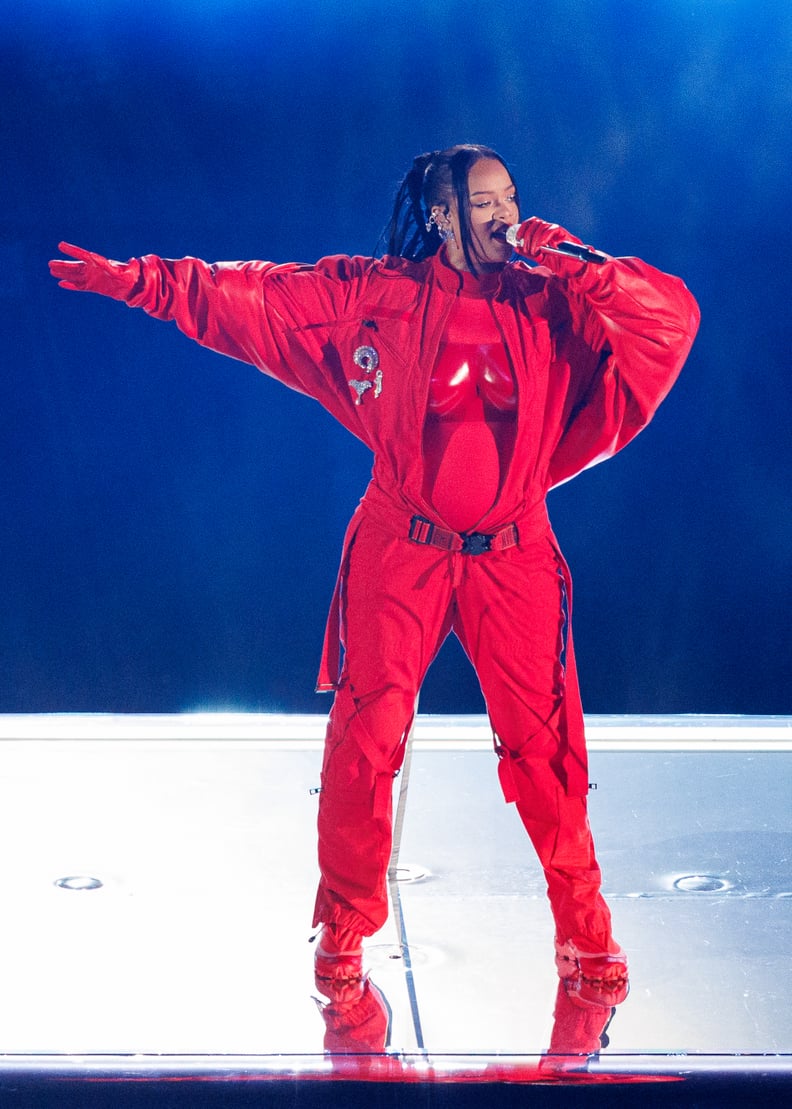 Pregnant Halloween Costume Idea: Super Bowl Rihanna
12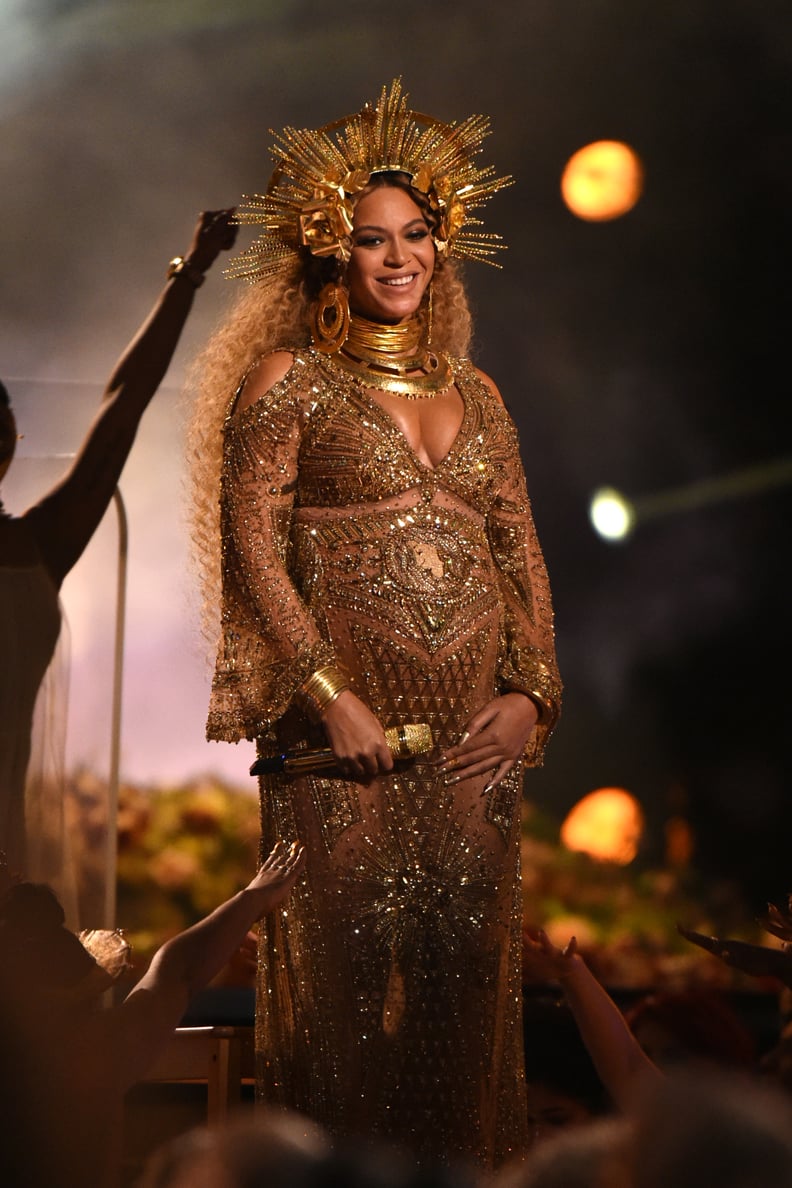 Pregnant Halloween Costume Idea: Goddess Beyoncé
You and your bump will shine this Halloween if you choose to dress up as Goddess Beyonce during her 2017 Grammys performance. Gold is the name of the game with this costume, so try to acquire as many gold, shimmery items as you can: a gown, necklaces, earrings, bracelets, and of course, the headpiece. You'll want to opt for glowy makeup too in order to pull the whole look together.
13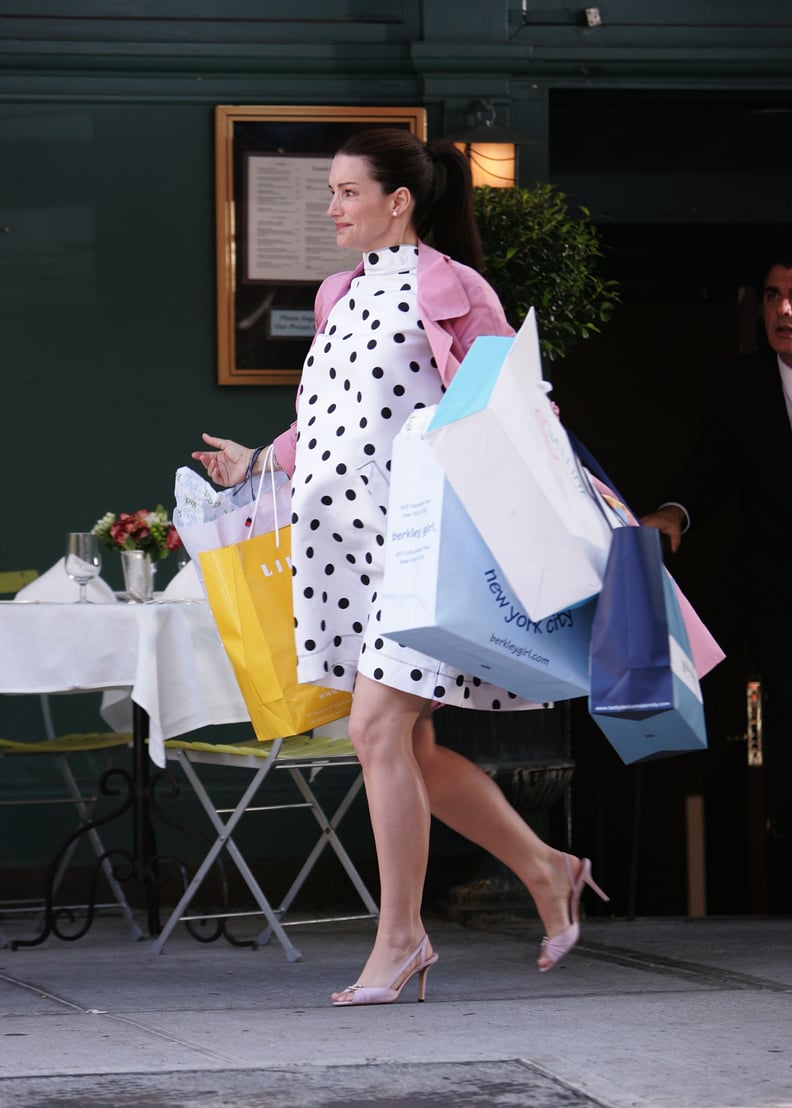 Pregnant Halloween Costume Idea: A Pregnant Charlotte in "Sex and the City"
If you've always found yourself to be more of a Charlotte than a Carrie, embrace your inner Charlotte this Halloween by re-creating one of her maternity looks from "Sex and the City." For this one in particular, all you need are a polka-dot dress, a pink trench coat, and some generously stuffed shopping bags. Sling-back heels optional.
14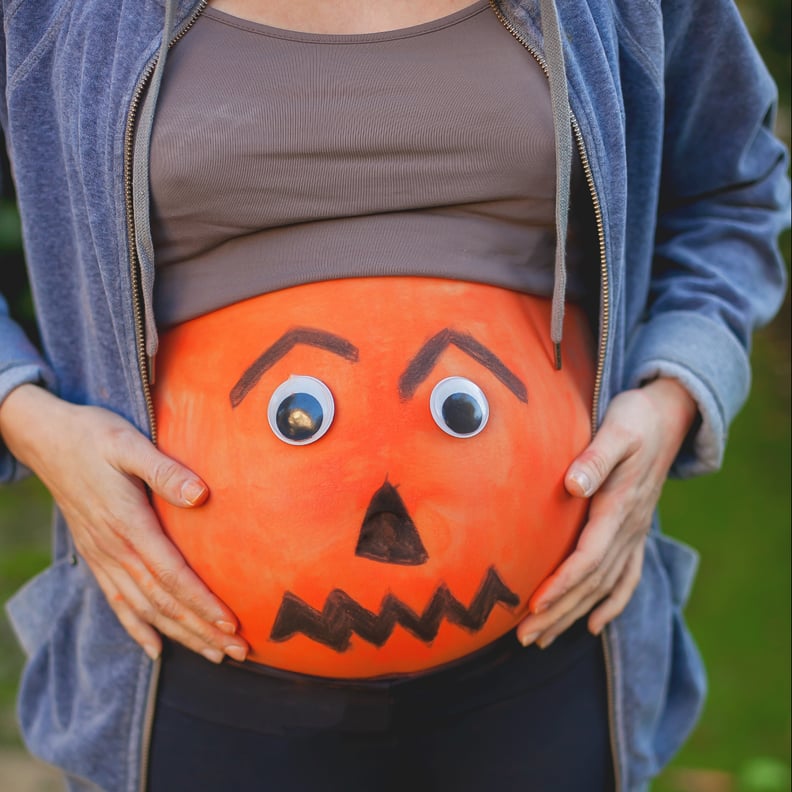 Pregnant Halloween Costume Idea: Pumpkin
The pumpkin is a classic for a reason. It's quick, easy, and so darn adorable. All you need are some body paint and a pair of sticky googly eyes (use skin- and pregnancy-safe glue!) to pull off this simple yet timeless costume.