Rihanna's Super Bowl Performance Was Iconic in Multiple Ways
Rihanna's Super Bowl Performance Was Iconic in More Ways Than the Obvious One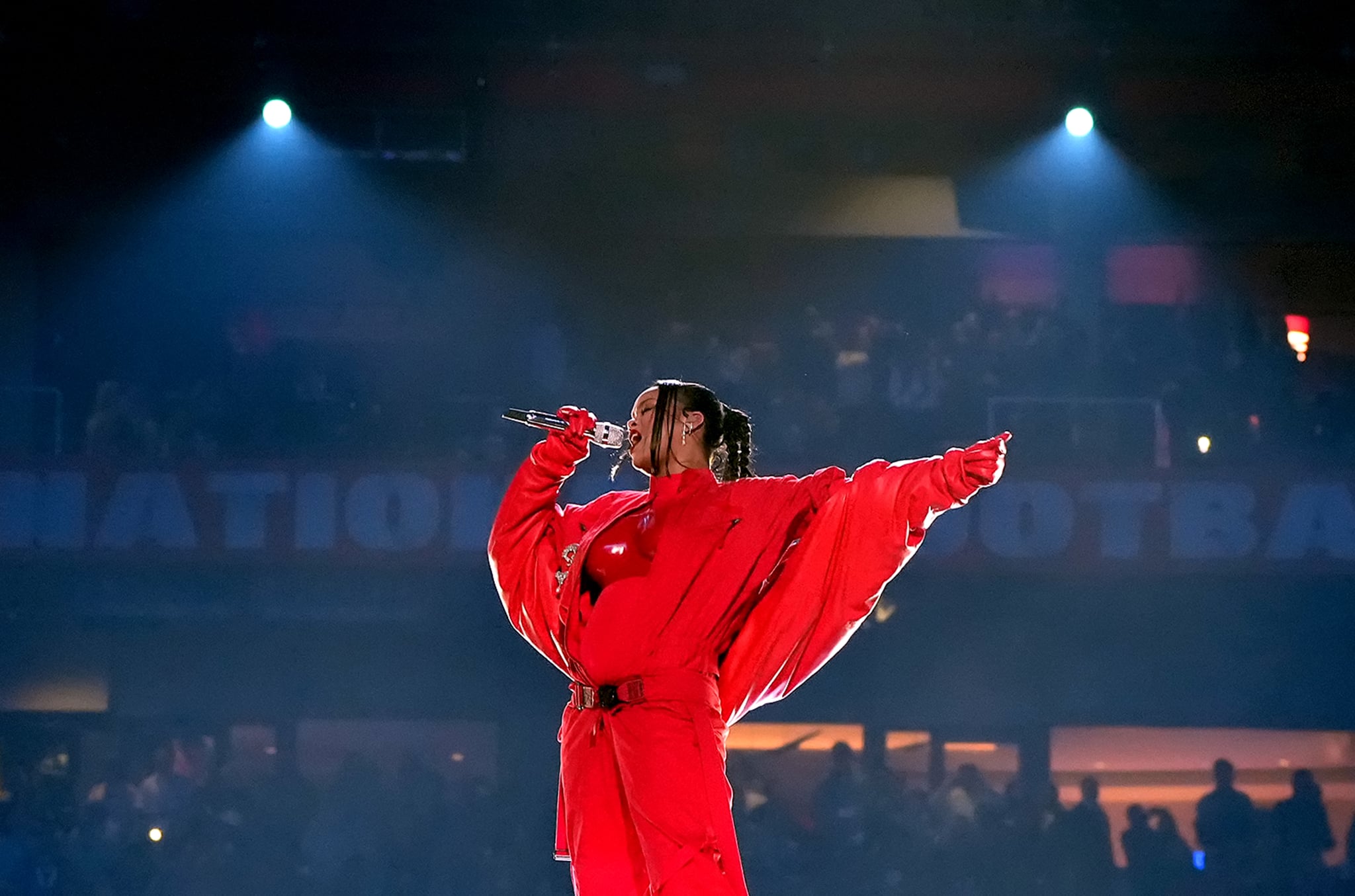 After a seven-year hiatus from the stage, Rihanna pulled off a trailblazing Super Bowl halftime performance that represented the woman she is now — a mother, a business mogul, and an international pop superstar. Much happened during the iconic performance, in which Rihanna boldly announced her pregnancy; confidently touted her own brand; and stayed true to her Caribbean roots all at once. It was an exuberant celebration of a woman doing what she wanted, on her own terms.
At a press conference leading up to the show, the nine-time Grammy winner said her goal in performing was to represent her native country, immigrants, and Black women everywhere. "To go on the biggest stage in seven years, there's something thrilling about the challenge of it all," she said. "It's important for the representation and it's important for my son to see that," she added, referencing her first son with rapper A$AP Rocky, whom she gave birth to in May 2022.
And represent, she did. With a projected 115 million people watching, Rihanna made history as the first Barbadian entertainer, active billionaire, and pregnant woman to star in a Super Bowl halftime show. And the performance's power lied in the fact that it didn't pigeonhole her into any one identity; it proudly celebrated them all.

Wearing a vibrant crimson jumpsuit that revealed her baby bump, the Barbadian-born music idol daringly descended from a levitated stage and sang a medley of 12 of her chart-topping hits. For 14 minutes, her Caribbean sound became the highlight, as she rolled through reggae and dancehall-infused hits including "Rude Boy" and "Work."
It didn't pigeonhole her into any one identity; it proudly celebrated them all.
What we didn't get was an ultra-flashy halftime show featuring guest performers — the 34-year-old gave us a powerful model of working motherhood instead. Answering weeks of widespread speculation, her "special guest" wasn't Drake or 21 Savage, but baby No. 2 in tow. And as she sauntered across the stage with her signature zen-like swagger, she sported a sleekly styled ponytail and a beat face, courtesy of her own Fenty Beauty products. At one point, the business mogul dramatically paused to powder her nose.
Music fans were simply excited to see the legend perform again, especially after she refused to perform at the 2019 Super Bowl. That came after San Franciso 49ers quarterback Colin Kaepernick decided to become a free agent in 2017, after being criticized for kneeling during the national anthem to protest against racialized police brutality. At the time, the international superstar was rebuilding after surviving a personal hell of her own. Although her net worth was reportedly $50 million in 2007, she faced bankruptcy nearly two years later. In 2012, she filed a lawsuit against her former accounting firm, alleging gross mismanagement. After quietly trademarking Fenty Beauty in 2014, the savvy entrepreneur spent the next few years developing products until finally securing the bag with the brand's global launch in 2017. This year, some critics still balked over her choice to headline the Super Bowl halftime show (the NFL is currently being sued for racial discrimination), but Rihanna is known for taking risks and setting trends.
And taking risks has more than paid off for the multihyphenate entertainer, who completely changed the business game by launching an inclusive beauty brand for all skin types and skin tones. Like the resilient island nation where she was born — which left the monarchy to become a republic in 2021 — the star rose from her humble Caribbean beginnings to become the youngest self-made billionaire in America that same year, according to Forbes.
"It's a long way from home, right? It's a beautiful journey that I'm on," Rihanna said ahead of the Super Bowl. "I could have never guessed that I would have made it here, so it's a celebration of that."
Indeed, it was a celebration of many things: Rihanna's musical prowess, her undeniable business dominance, her enduring cultural relevance.
And for a woman who immigrated to the United States — a country where women are being stripped of their right to bodily autonomy and medical racism places Black women at the highest risk of dying during childbirth — announcing her pregnancy on the world stage may rank as Rihanna's most influential moment of all time.
Image Source: Getty Images for Roc Nation / Kevin Mazur