Every editorial product is independently selected by our editors. If you buy something through our links, we may earn commission.
Right off the bat, my daughter was not a fan of the sippy cup. She wanted to drink from our glasses, and we would have been fine with that . . . except she couldn't physically handle picking up a cup and taking a sip yet. We did let her practice on a tiny cup, but at the start, it was still very much a guided activity. Sometimes this was OK with her, but other times, she grew frustrated and wanted to do it herself. And sometimes my husband and I just wanted to be able to hold something else besides the darn cup. She emphatically rejected both traditional sippy cups and straw cups, until finally, we discovered the Munchkin Miracle 360 Trainer Cup ($11).
Like so many other great baby products, the cup was recommended to me by the seasoned moms in my local mom group. They told me that this cup looked like a regular drinking glass and the process of drinking from it was the same, but it had a lid and it was leak-proof. That meant that if it toppled over, nothing spilled out. (Thank GOD.) I could fill it up with the organic milk we liked our toddler to drink on outings, and it wouldn't make a mess in my diaper bag.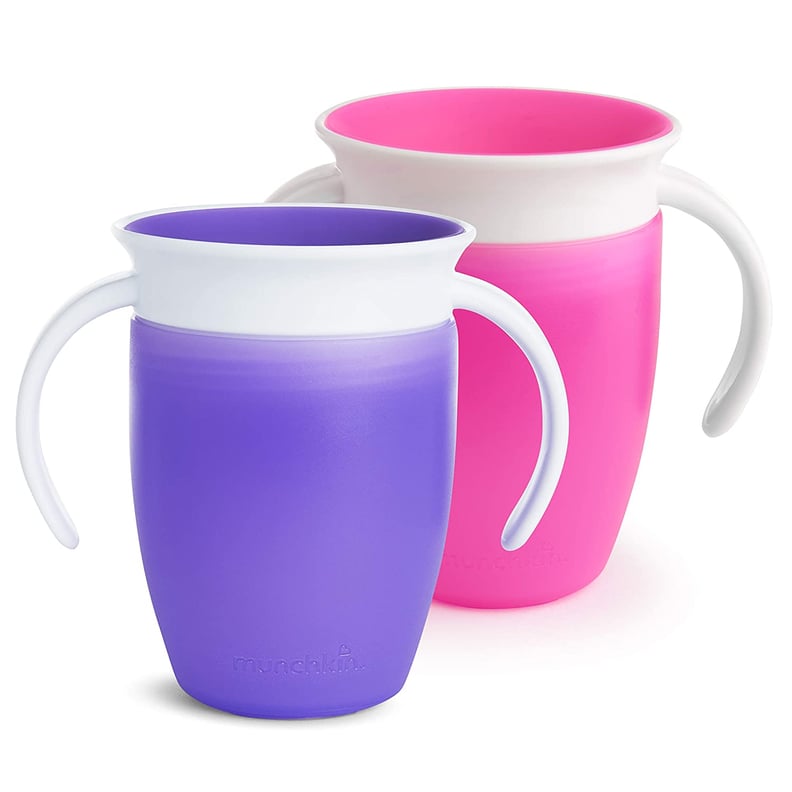 The fact that the child drinks from it just like you would a regular cup was the biggest draw for us. It also came with handles to grip so toddlers can easily bring the cup to their lips on their own. Even though it was frustrating during the learning process, we were ultimately on our daughter's side when it came to avoiding the sippy cup. We didn't want to deal with dental issues or have one more thing to wean her from. So we excitedly purchased a hot-pink one for our little girl.
Of course, she didn't get it right away. I realized after purchasing the cup that it's not 100 percent like drinking from a standard cup, because the child's mouth does need to provide some suction to get the liquid out. My daughter couldn't immediately figure it out, but I kept offering the cup and demonstrating how to use it. After a few frustrating weeks, though, it suddenly clicked — and that's when we knew we had a real winner on our hands.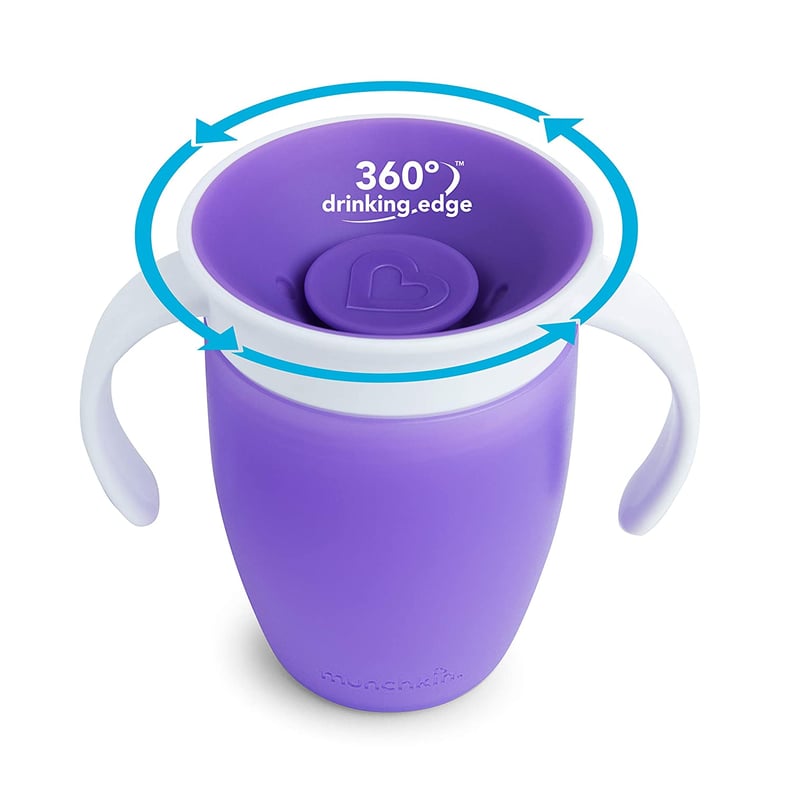 My daughter has always had a strong need to feel like a "big girl," and this cup was something she could do for herself. We were just as proud of her as she was of herself, and we also really appreciated being able to pack a beverage for her on family outings that she could happily drink without our assistance. When we attempted family dinners out, the spill-proof lid gave us peace of mind that our daughter wasn't going to make a big mess at the table.
The very best thing about the Munchkin Miracle 360 Trainer Cup is that it actually taught my daughter how to eventually start using a regular cup. The grip handles that allowed her to feed herself early on are removable, so we took them off when she had the dexterity to grasp the cup's sides. Later on, we removed the lid, and just like that, she was drinking from a regular cup. This cup allowed my daughter to feel independent at an early age, while actually slowly teaching her to master the real skill of drinking from a cup. I call that a win!