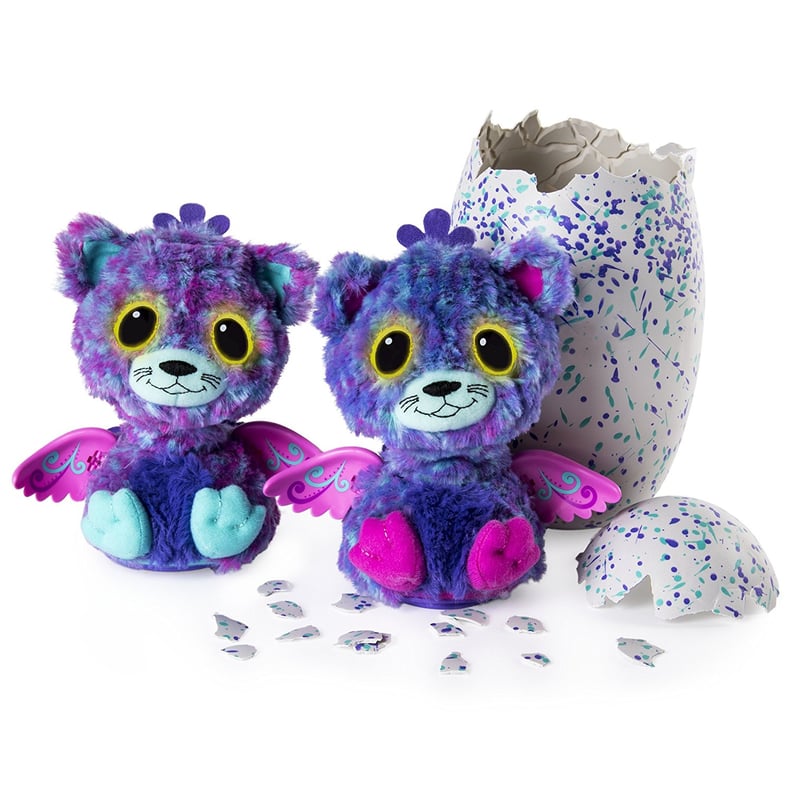 As POPSUGAR editors, we independently select and write about stuff we love and think you'll like too. If you buy a product we have recommended, we may receive affiliate commission, which in turn supports our work.
Hatchimals were the toy of the 2016 holiday season, and parents went to extremes to score one for their kids. This year is shaping up to be another big one for the egg-hatching toy, which has released some new products your kids are sure to put on their wish lists. (You might want to start shopping now; after being released on Oct. 6, Hatchimals Surprises are already flying off the shelves.) If you're confused about which Hatchimals your kid really wants — and which ones you can get without paying an eBay premium — we've got you covered. Keep reading to get the lowdown on all of the new Hatchimals and decide which your kids will find the most egg-citing!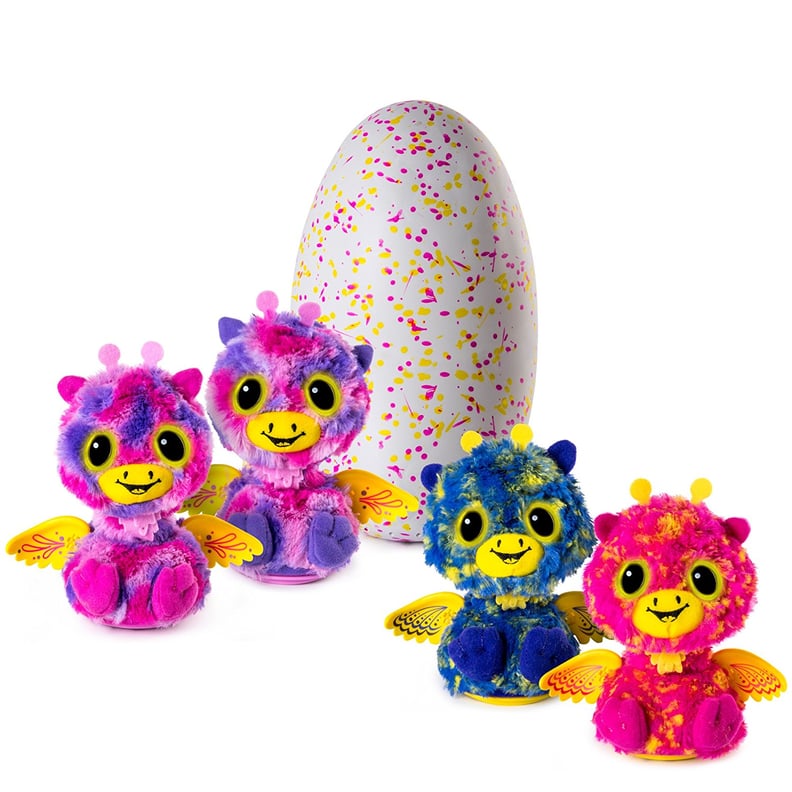 Hatchimals Surprise Giravan
The Hatchimals Surprise is the latest and hottest release from toy company Spin Master. For $70 (a $10 increase from the original, single Hatchimal), your child will hatch two creatures out of the same egg (either identical or fraternal twins), who can communicate and interact with each other, as well as with your child. However, these twins won't look anything like the Pengulas and Owlcorns your child hatched last year — Hatchimals Surprise eggs will hatch brand-new species. These are the Giravan Hatchimals ($70).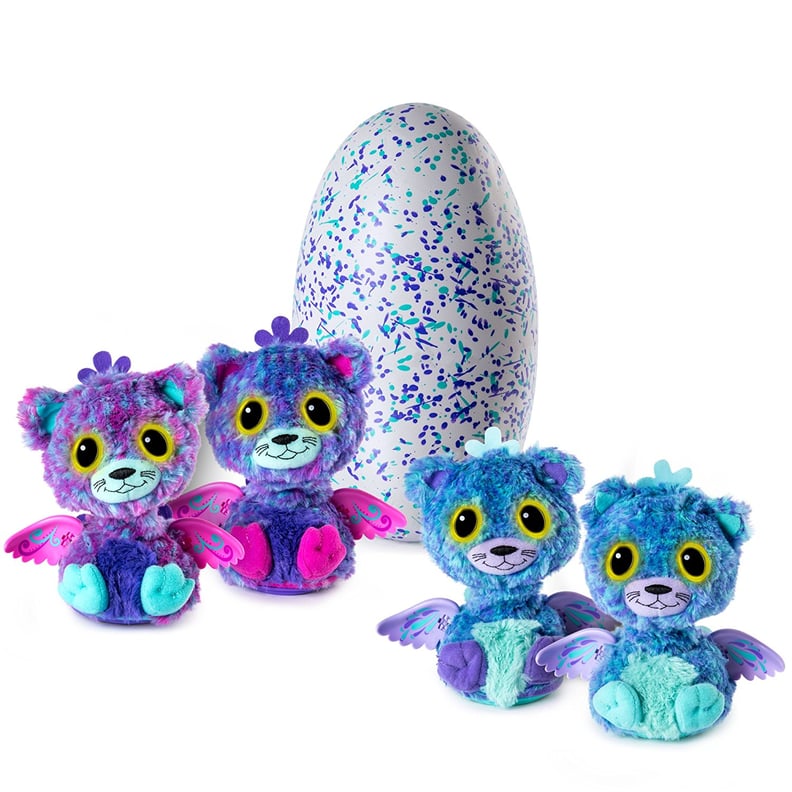 Hatchimals Surprise Peacat
The Hatchimals Surprise Peacat ($70) comes as either identical or fraternal twins. The first creature that hatches from the egg will be the chatty twin, who can repeat phrases your child says to it, while its younger twin sibling is the dancing Hatchimals, who puts a little boogie into everything and plays games with your child.
Face the pair together, and they'll have dance parties, giggle at each other, play games, and react to each other in different ways based on whether your child pushes their heads down or touches their noses. Just like the original Hatchimals toys, the creatures will grow from baby to toddler to kid, learning new abilities and games along the way.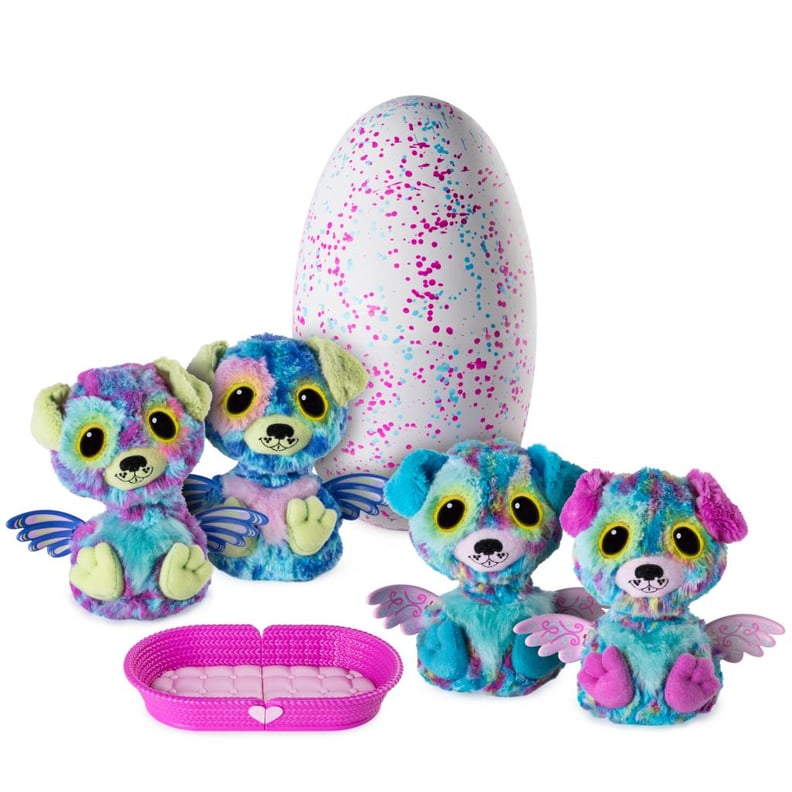 Hatchimals Surprise Puppadee
Available exclusively at Toys R Us, the Hatchimals Surprise Puppadee ($70), like all Hatchimals Surprise toys, begins to reveal the creatures inside as early as seven minutes from initiating the hatch. Unfortunately, this one is currently sold out, but keep an eye on the toy store's website for a restock.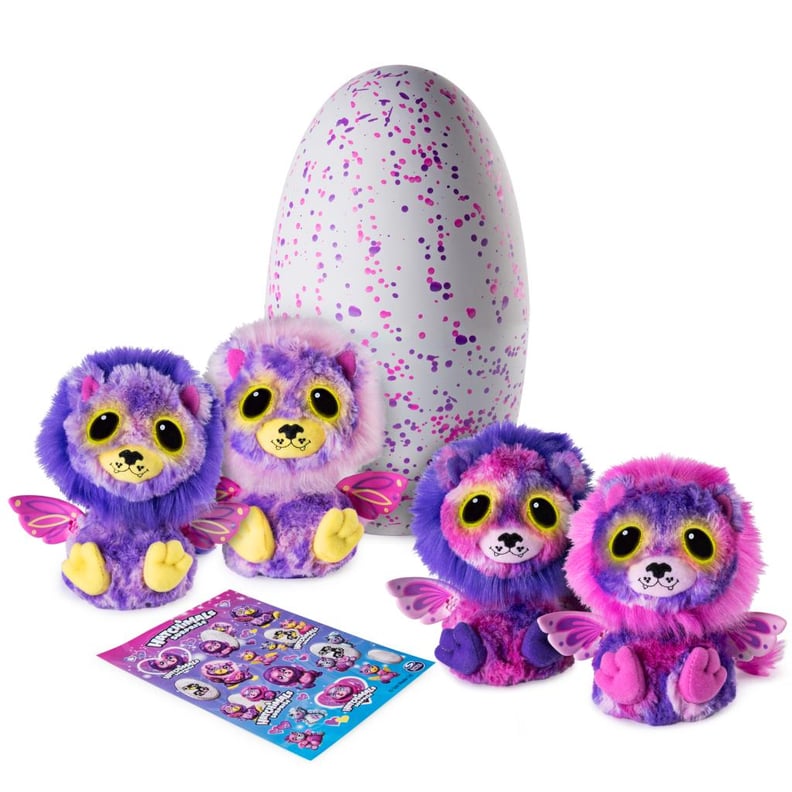 Hatchimals Surprise Ligull
Available exclusively at Target, the Hatchimals Surprise Ligull ($70) toys interact with each other like any siblings, saying "I love you" and occasionally bickering.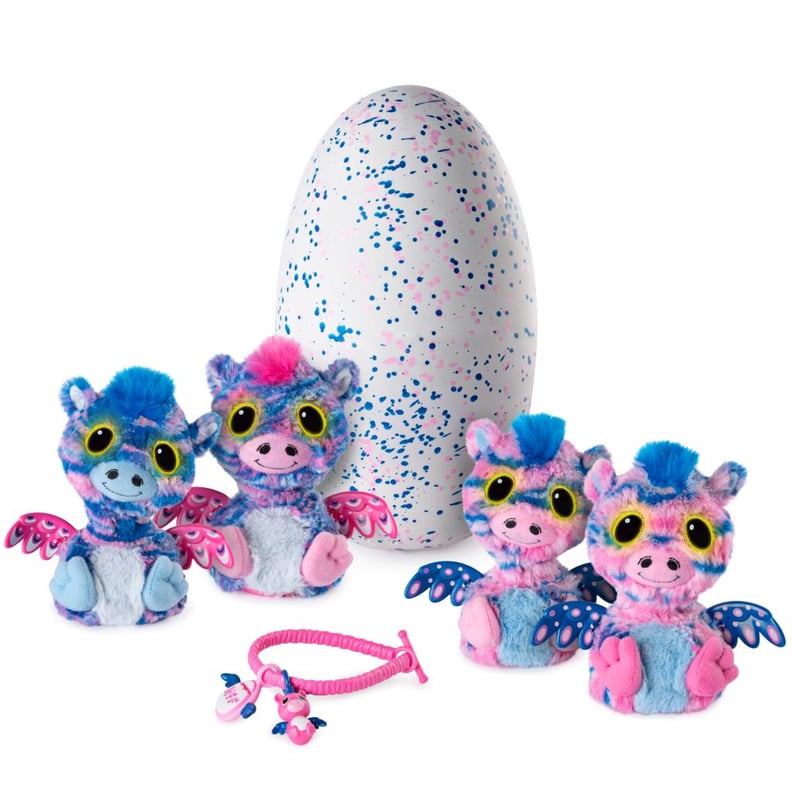 Hatchimals Surprise Zuffin
The Hatchimals Surprise Zuffin ($65) toys, available exclusively at Walmart, come in a magic speckled egg. Zuffin purchasers will also receive a Hatchimals bracelet.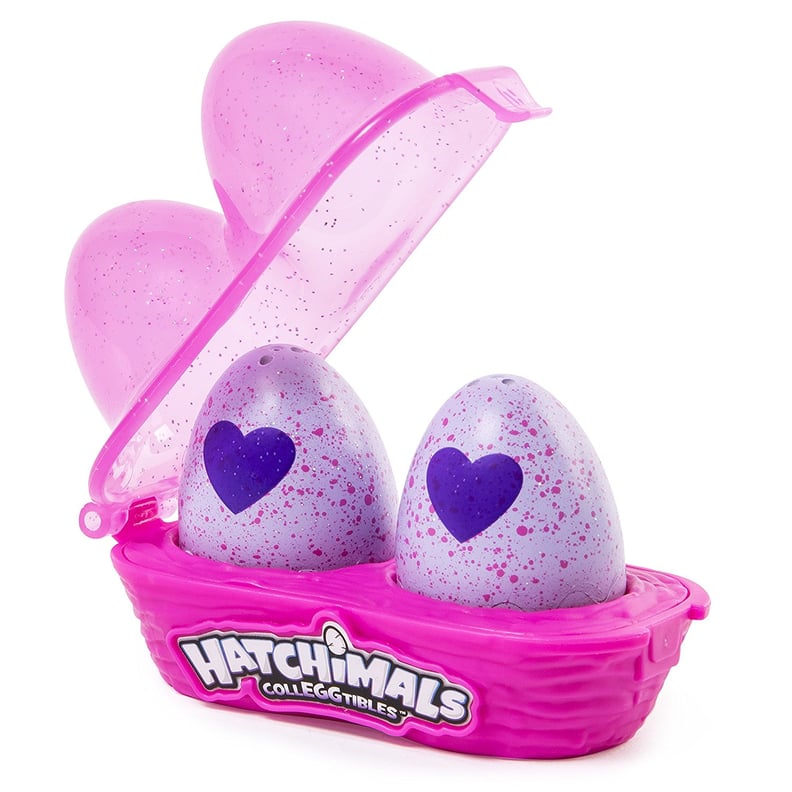 Hatchimals CollEGGtibles
Available in one, two, four, and 12-packs, the Hatchimals CollEGGtibles ($3-$20) are tiny collectible Hatchimals that come inside small, speckled eggs. Your child holds each egg in their hands and rubs the heart. When it changes from purple to pink, it's ready to hatch. Press on the egg to crack it, and discover which of the more than 70 Hatchimal CollEGGtibles is inside. Get a two-pack here ($5).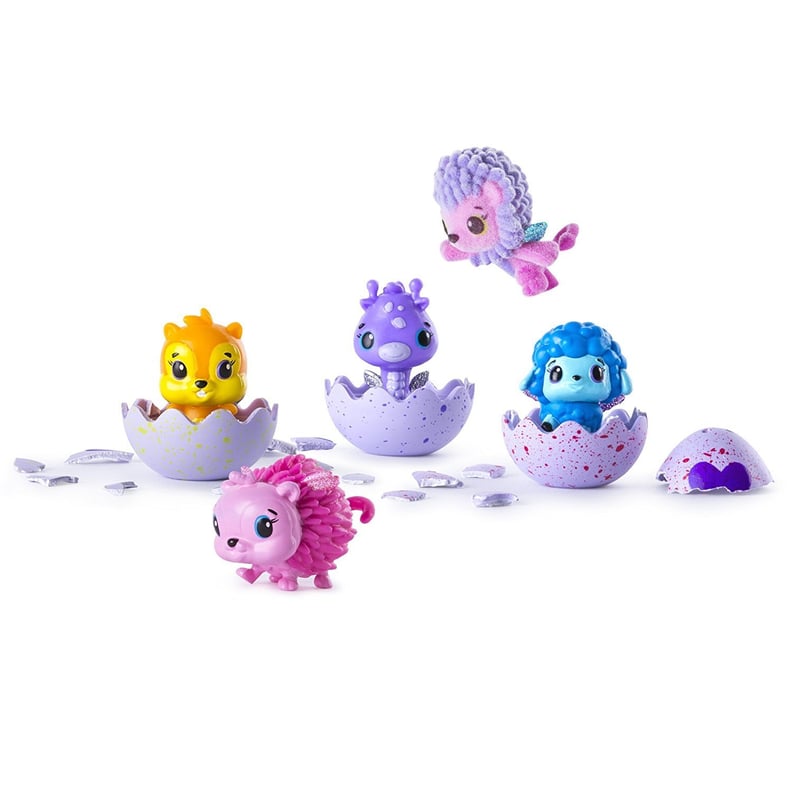 Hatchimals CollEGGtibles 4-Pack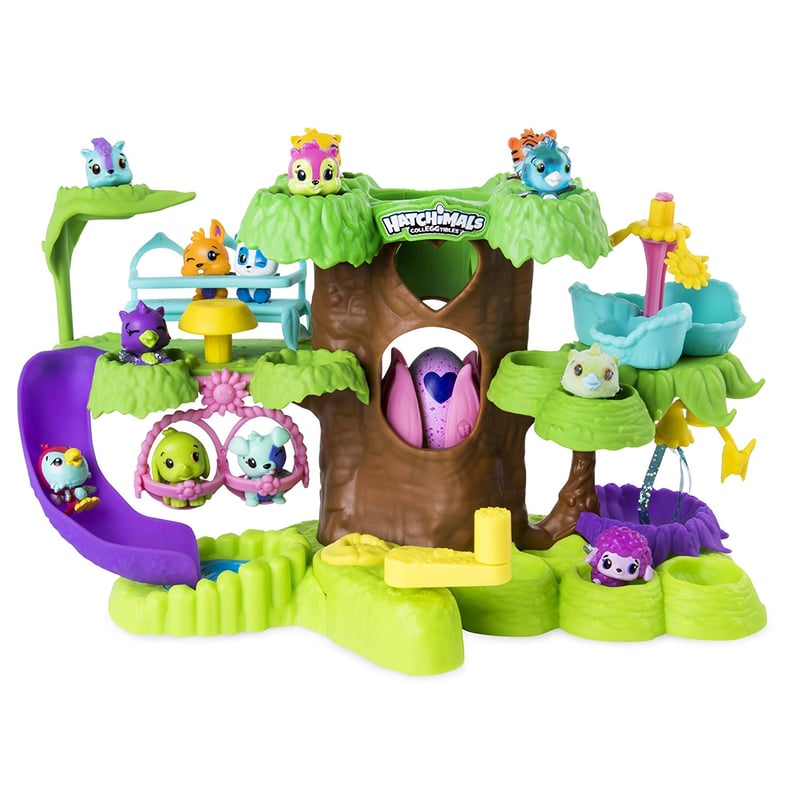 Hatchimals Hatchery Nursery
The Hatchimals Hatchery Nursery ($30) is an enchanted forest where kids can hatch and play with CollEGGtibles. A Hatching Tree helps to hatch the exclusive CollEGGtible included in the playset. Place the speckled egg inside a secret flower, hidden inside the tree's trunk, and spin the yellow handle; you'll see the flower carry the egg up to the top of tree, where the purple petals will open and a cracked egg will emerge. The playset includes 35 places for CollEGGtibles to swing off tree hooks, head down a slide, grab a snack at the feeding station, or take a nap in the spinning mobile.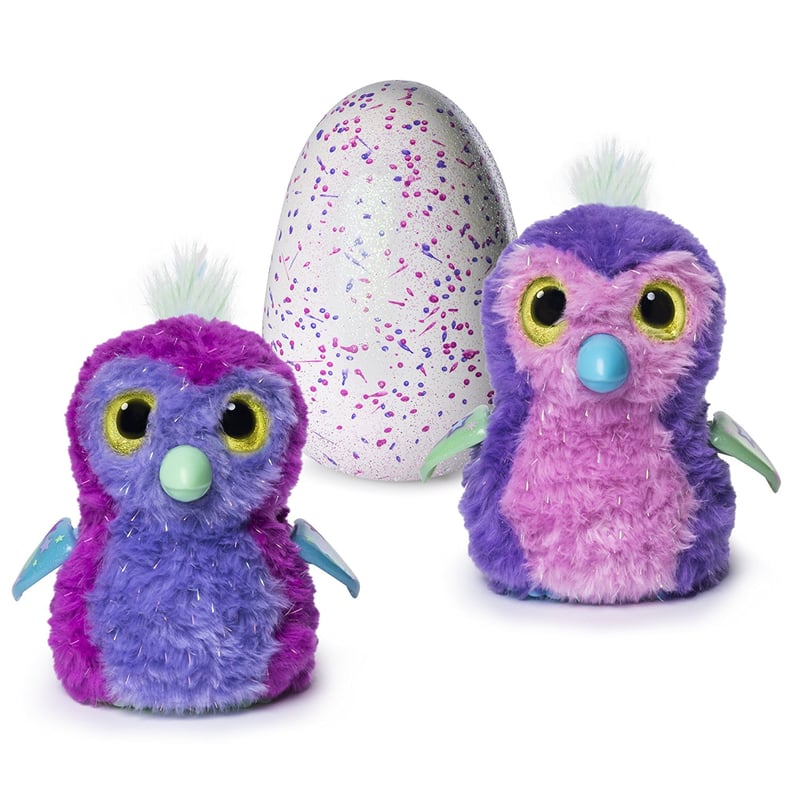 Hatchimals Glittering Garden Penguala
Introduced this Spring, Hatchimals Glittering Garden Penguala ($55) comes in a sparkling egg. Inside, find one of two interactive Hatchimals with twinkling wings and soft, shimmering fur.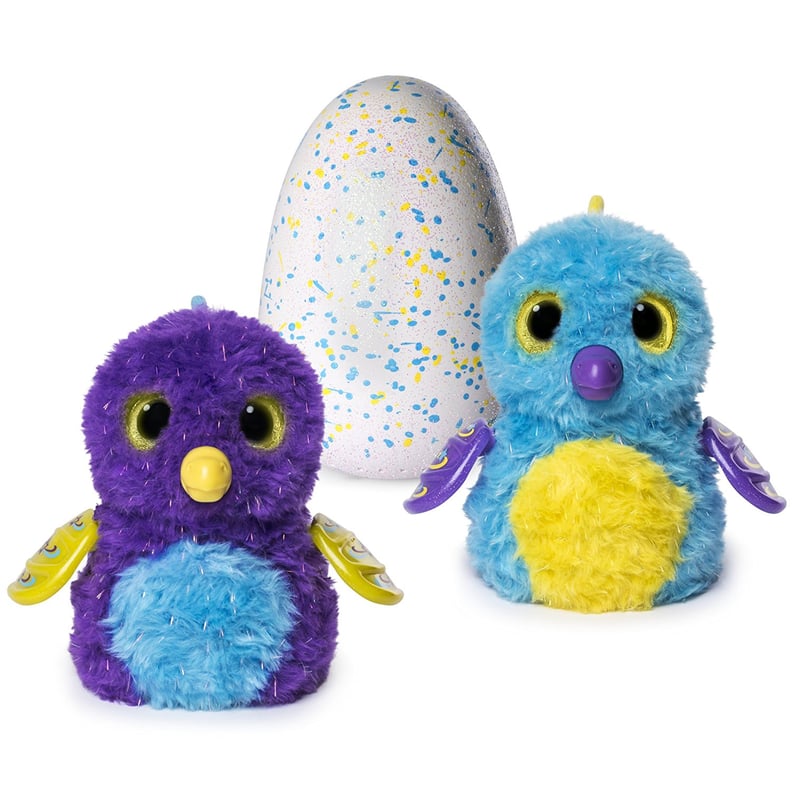 Hatchimals Glittering Garden Bearakeet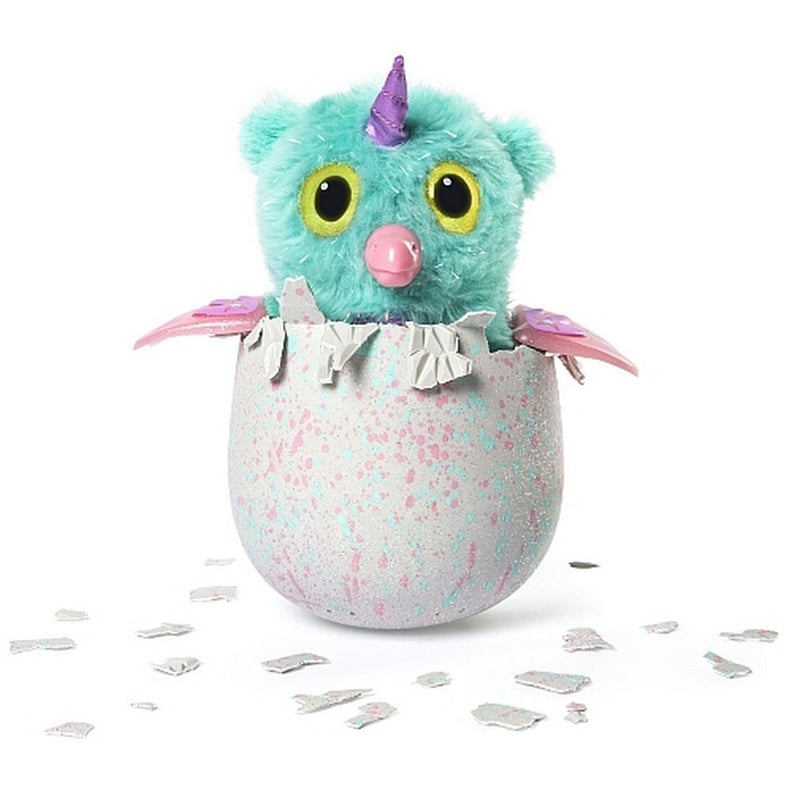 Hatchimals Glittering Garden Owlicorn