The Story Behind This Rainbow Baby's Photo Is Even More Beautiful Than the Snapshot
Baby Charlotte is certainly a ray of sunshine to her family! And not just because she's decked out in bright colors for an adorable newborn photo shoot but because she herself is a rainbow baby.
When a little one is referred to as a "rainbow baby," it's because they were conceived after a miscarriage or a stillbirth. This sweet expression honors the parents' struggle to bring this bundle of joy into the world and recognizes that bright sunshine follows even the worst of storms. Even though this can be a difficult expression to illustrate, photographer Jen Priester perfectly captured the idea beautifully.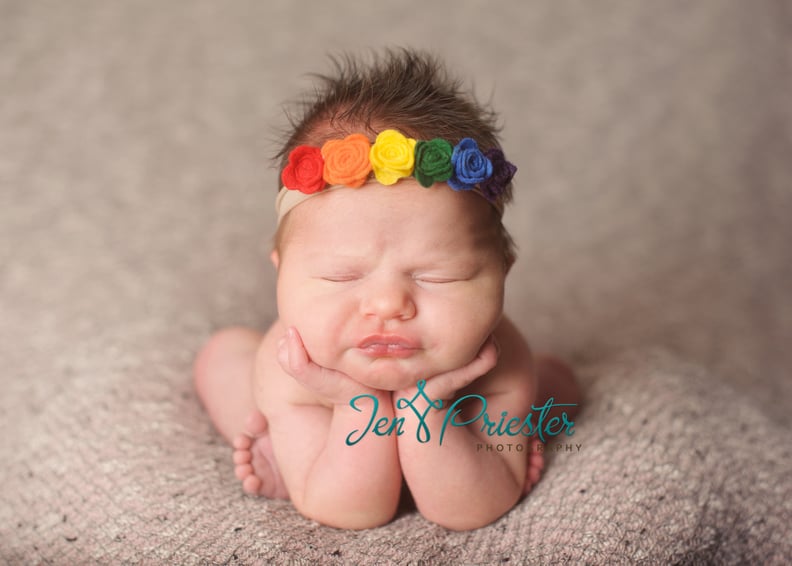 When Charlotte's mom brought the rainbow headband to her newborn shoot and explained that it was because of her rainbow baby status, Priester asked if they could explore that idea further in some of the photos. The photographer placed the baby girl on a gray fur rug to represent the gray skies that come with storms and positioned her on wool to represent the clouds. She then used extra newborn wraps to make a rainbow, but if you look closely, you'll notice it's backwards.
"The rainbow comes from heaven to earth — red by heaven, violet by earth — to show God's faithfulness," said Priester. "Here I chose to have it start from earth to Heaven to show a receiving of God's faithfulness and gift that comes in the midst of a storm."
For more beautiful rainbow baby stories, check out: