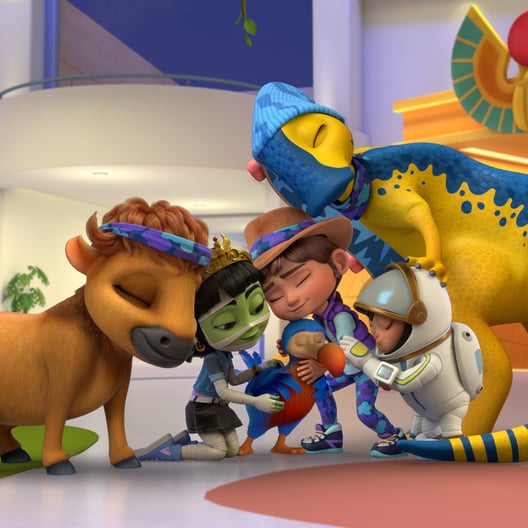 A new preschool series is hitting Netflix in July, and it's all about inclusivity and helping kids to celebrate people's differences, find common ground, and respect others. Ridley Jones follows 6-year-old Ridley, who lives in a treehouse inside a museum — alongside her mother and grandmother — where the exhibits come alive at night (it gives us major Night at the Museum vibes!). The animated series will feature a cast that includes LGBTQ+ characters, as well as the first nonbinary character to appear in one of Netflix's preschool shows, Fred the nonbinary bison.
The show comes from Chris Nee, the creator of Disney's Doc McStuffins and Vampirina, as well as Netflix's animated musical series from the Obamas, We the People.
"This is the first show I brought to Netflix. I really wanted to do a series where a girl was the action-adventure star I always wanted to see (or be) when I was growing up," Chris said in a press release. "Like so many of my shows, this world is a perfect canvas upon which to create a community of oddball characters and model what it means to take care of each other, even if you aren't from the same era of time or wing of the museum. With music, comedy, heart and a true heroine's story, Ridley Jones is a worthy successor to Doc McStuffins and Vampirina. Can't wait for you to meet her!"
Watch the trailer above, see sneak-peek photos ahead, and stream the first episode of Ridley Jones on Netflix Jr.'s YouTube channel at 10 a.m. ET today before season one fully debuts on Netflix on July 13.
Netflix's Ridley Jones Trailer