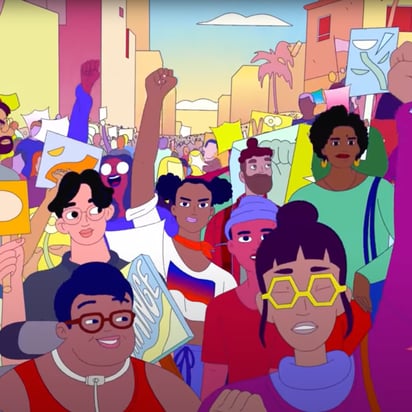 Barack and Michelle Obama may have retired from public service, but they are still putting in the work to keep the next generation passionate about democracy. Their latest post-White House venture? A new animated series for Netflix aimed at educating children with United States civics lessons.
We the People, a 10-episode series that premieres on the Fourth of July, has major Schoolhouse Rock! vibes — the show will feature three-minute music videos covering a wide range of topics, from voting to citizenship to taxes to freedom of speech.
It is, according to a press release, "an exuberant call to action for everyone to rethink civics as a living, breathing thing and to reframe their understanding of what government and citizenship mean in a modern world."
Janelle Monáe, Brandi Carlile, Lin-Manuel Miranda, H.E.R., Adam Lambert, and poet Amanda Gorman are among the artists contributing original songs and compositions that will soundtrack the narratives within the series.
And it's not just the Obamas at the helm: Doc McStuffins writer Chris Nee created the show, and Black-ish creator Kenya Barris is one of the executive producers.
Netflix's We the People Official Trailer