With baby number two on the way, Rihanna is finally ready to share her thoughts about motherhood. Having just given birth in May 2022, the Fenty Beauty mogul shocked the world with another pregnancy announcement during her Super Bowl halftime performance. But although she's kept fairly private about her first child with her partner, A$AP Rocky, she opened up about her initial pregnancy in British Vogue's March 2023 cover story. And as she explained, she can barely recall what life was like before.
"Oh, my God, it's legendary," she said of her first few months as a parent. "It's everything. You really don't remember life before, that's the craziest thing ever." Even when the singer and businesswoman tries to jog her memory of what her life was like before her first, it's like looking at a stranger. "[T]here are photos of my life before — but the feeling, the desires, the things that you enjoy, everything, you just don't identify with it because you don't even allow yourself mentally to get that far . . . Because it doesn't matter," she said.
Rihanna also discussed delivering her son, describing herself as "blessed," although she admitted that seeing her life change so quickly was a "head-f*ck." "It was beautiful. . . . Essentially, from one person I became two," she said. "You walk into the hospital as a couple and leave as a family of three. It's nuts."
"They trusted us to come home with this baby? This new life? With us?"
When it came time to bring her baby home, Rihanna remembered the anxiety that came with it. "You're so paranoid. Because you're like: they trusted us to come home with this baby? This new life? With us?" she recalls. "No doctors, no nurses, we're just . . . going home?"
While she got by on trusting her instincts, Rihanna's experience with a newborn will sound familiar to new parents. "[T]hose first days are insane. You don't sleep. At all. Not even if you wanted to. We came home, cold turkey, had no one. It was just us as parents and our baby. Man, you're a zombie for the most part," she said.
Still, despite some of the chaos that came with new parenthood, there were so many sweet moments too. "I remember in the beginning I used to roll his bassinet into the bathroom and be showering and like wiping the fog off [the glass] just to peep at him," she said. Especially in the mornings. "Those were always my favourite, his little wake-up face, seeing his face change, seeing his colour come in, just all of these changes."
Now, with another baby on the way, there are plenty more of these memories to be made. And who knows if she'll stop after two? "Listen, I'm down for whatever," Rihanna said. "My wish would be I would like to have more kids but whatever God wants for me, I'm here."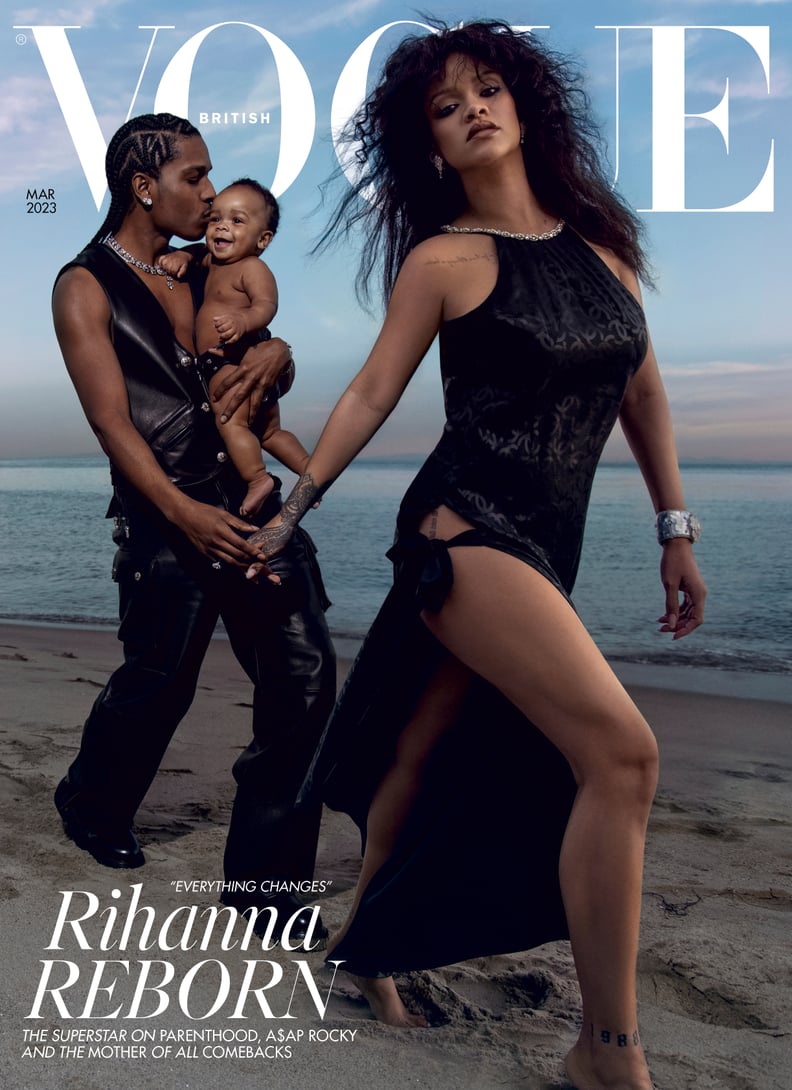 Read the full feature in the March issue of British Vogue, available via digital download and on newsstands from Tuesday Feb. 21.