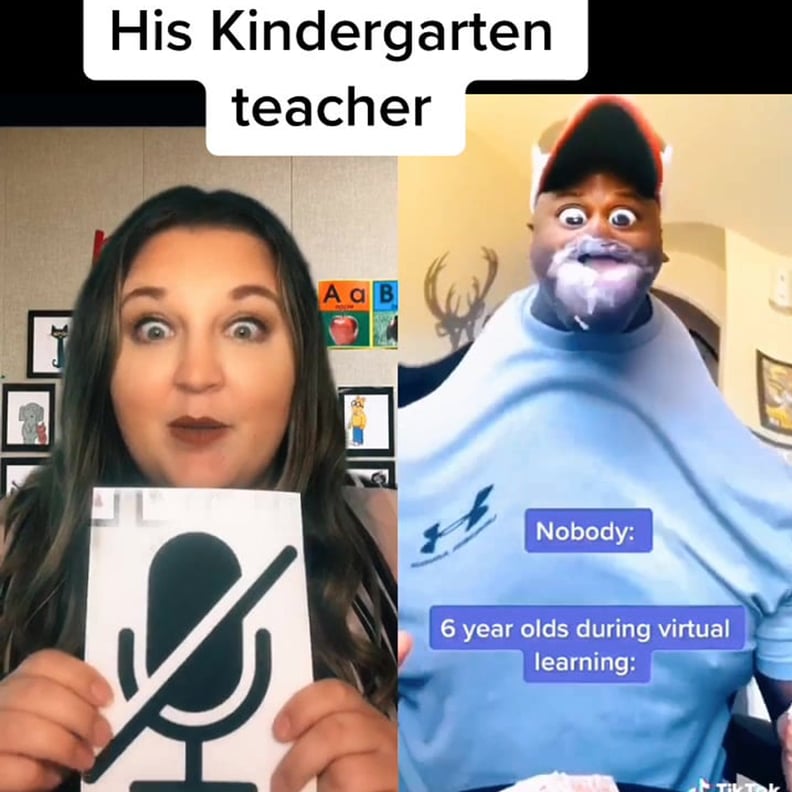 Jamie Burcham, a mom and kindergarten teacher, is hoping to make fellow teachers and parents giggle with some of her TikTok videos that illustrate what virtual learning looks like. In a duet with another TikTok user, Bobby Windom, Jamie tries to stay professional and continue her lesson while Bobby shows the "class" what he's eating — nay, devouring — as a snack.
"Guess what I got!" Bobby says in the beginning of the video, over Jamie's introduction to the day's weather. As the video goes on, Bobby shoves "cheese, Pepperjack cheese!" into his mouth, followed by a full cup of yogurt and a slice of salami. Meanwhile, Jamie does her best to get him to mute his microphone while also encouraging him to slow down and not choke on the food he's housing.
And this hilarious and relatable video is just the first of a few TikTok duets the pair have done. See the first one above, and enjoy a few more below — our favorite has to be the one in which Bobby shoves string cheese, a meat stick, and a giant handful of raw spinach into his mouth as Jamie urges him with concern to chew his food (but also, muteyourdamnmicBobby!).
TikTok Parody Video of Bobby the Kindergartener Eating Cheese, Jerky, and Spinach
TikTok Parody Video of Bobby the Kindergartener Eating Crunching Vegetables and Yogurt
TikTok Parody Video of Bobby the Kindergartener Eating a Carrot and a Dry Pancake
TikTok Parody Video of Bobby the Kindergartener Eating Cheese, Yogurt, and Salami