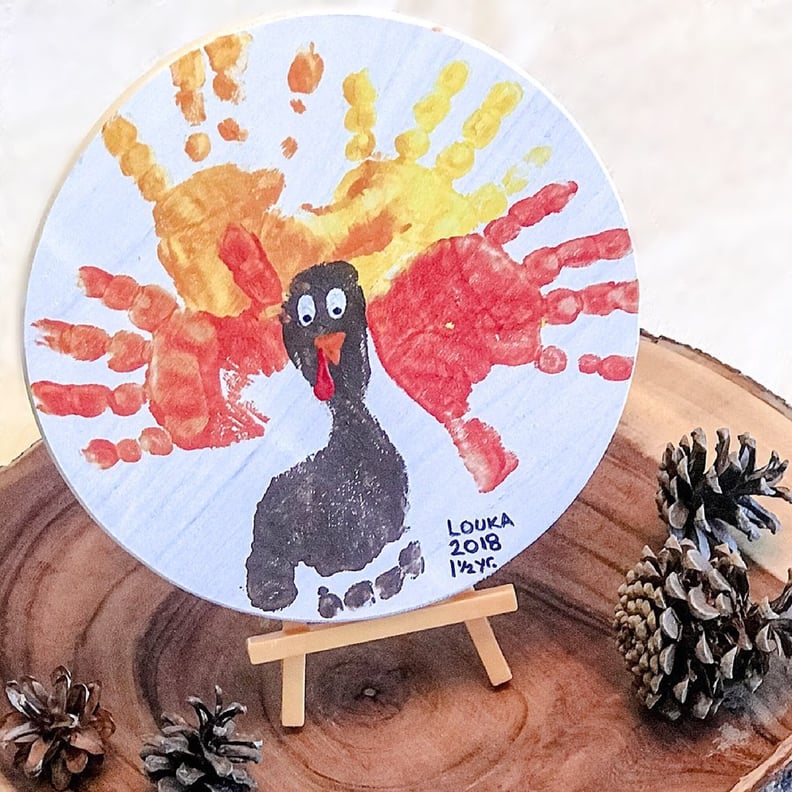 Thanksgiving doesn't always get the craft respect it deserves, but the holiday is rife with artistic possibilities — it's seriously red, orange, yellow, and brown everything! From thoughtful turkey-themed keepsakes you'll display for years to come to adorable treat bags with a Thanksgiving spin, we're definitely looking to get the creative juices flowing once the Macy's Thanksgiving Day parade wraps up. Scroll ahead to get a look at some of our favorite Thanksgiving DIY projects that are so cute and easy to make, they just might earn a place at the adults' table. And if you're looking for more Thanksgiving ideas for kids, check out our full list of activities families can do while celebrating at home this year.
01
Pine-Cone Turkey Craft
Would you take a look at this little cutie! Simply glue a brown pom-pom to the top of a pine cone before adding feathers, a set of googly eyes, and a beak and wattle made out of paper. Give your new friend a cute bow tie and some pipe-cleaner legs to round out the project.
02
I Am Thankful Pumpkin
Kids will love writing what they're thankful for on orange strips of construction paper. Add a stem and leaves at the top with your child's name and the year for the finishing touch. You can find the full instructions in this blog post.
03
Thanksgiving Leaf Turkey Craft
Have your children gather a few leaves of various colors while walking outside before gluing each one to a piece of cardboard. Add eyes and a few smaller leaves to make the beak and feet, or use markers to add the details.
04
Turkey Cereal-Box Craft
After cutting slits around one end of a toilet-paper roll to represent feathers, adults can cut out a cute turkey head for each child using leftover cereal boxes. Have little ones color the turkey heads before helping them make a slit in each piece to help the parts slide together. Check out this blog for a full list of instructions.
05
Thanksgiving Turkey Keepsake Plate
This gorgeous keepsake is surprisingly easy to make! Simply have your child make a brown footprint and four colorful handprints using nontoxic paint on a plate or canvas. Don't forget to give your turkey a funny face.
06
Thanksgiving Turkey Treat Bags Craft
07
Bonfire Night Tissue Paper
Work on your children's fine motor skills by having them ball up pieces of yellow, orange, and red tissue paper. Then, let them use kid-friendly tweezers to add each piece to a large piece of paper with the bonfire design drawn on it. Don't forget to add tongue compressors to represent the wood. How cute!
08
Gratitude Branch Craft
Cut multicolor leaves out of construction paper and use a hole puncher to make an opening big enough for a piece of yarn or thread to go through. Have kids fill out what they're grateful for on each leaf. Then, add your little one's creation to a branch that's been wrapped in yarn before displaying it in your living room. Talk about a wonderful reminder to see every day!
09
Toilet-Paper Turkeys
Simply have kids cut out different colored feathers, a beak, and a wattle using construction paper (if your children are too small for scissors, feel free to do this step for them!) before gluing them onto individual toilet-paper rolls. Have them add a set of googly eyes to complete their masterpiece.
10
Candy Turkey Craft
Fill up pieces of tulle with peanut M&M's before tying each one off with a clear elastic band. Use colorful pipe cleaners to fashion a set of legs, a beak, and a head before adding the eyes. Families can get a look at the full instructions on this blog.