What Is It Like to Date Someone With Kids?
A Man Is Hell-Bent on Being a Good Role Model For His Girlfriend's Kids, and It's Beautiful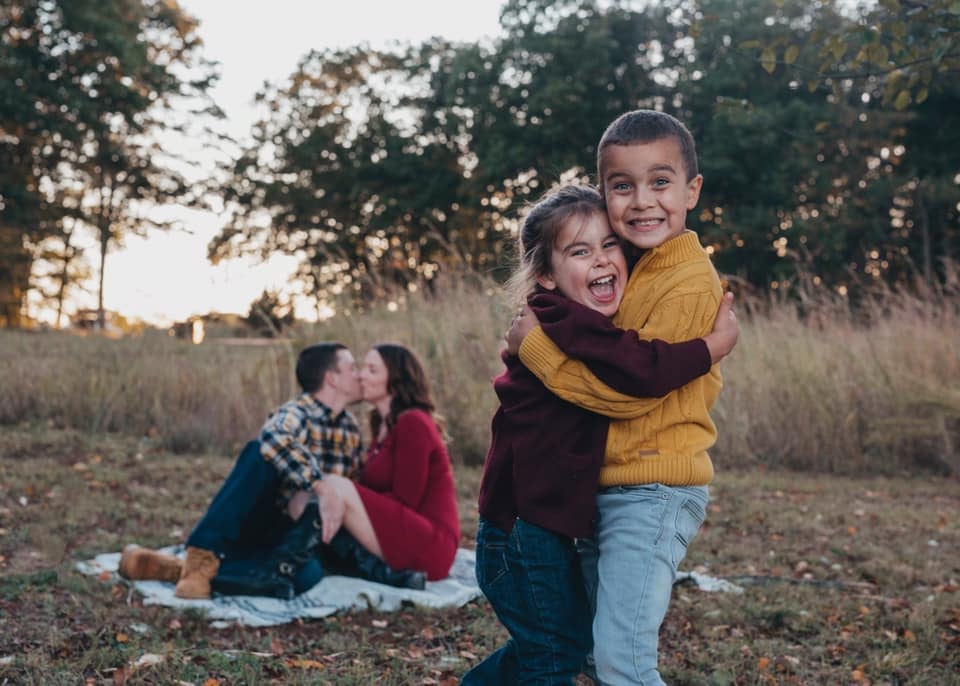 Despite not having any biological children of his own, 27-year-old Collin Harrity has always loved kids. So when he met his current girlfriend, 30-year-old Kerri Dingle, while socializing at a bar one night, he didn't blink twice at the fact that she had two little boys, Jameson and Jack. Although Kerri and Collin knew each other for two years prior to dating, Kerri quickly realized that Collin would not only be an amazing partner to her, but an incredible role model for her sons. After a few weeks of dating, Kerri introduced Collin to her boys, and she's never looked back.
"Generally I would wait longer to introduce my kids to a boyfriend, but because I had known Collin for two years, I already knew he was a decent friend," Kerri told POPSUGAR. "I felt like I could introduce them sooner. The first time they met he just said hi to them. At first, he would come over and hang out after I put them to bed already, so that's how we kept a little bit of distance there. Eventually, he began swinging by the house more, and they would come out to the living room and we would be hanging out watching a movie. That's how they got introduced first."
While Kerri has made it a point to raise her kids to be easy-going — she shares custody with her ex, so they meet a lot of people — she wanted her boys to foster a strong bond with her new love interest. Thanks to a little bit of patience and a whole lot of time spent together, Collin's relationship with Jameson and Jack blossomed. And no one was happier about this than Collin.
"I had an edge just because my cousin's kid comes over all the time," explained Collin. "I've also been in previous relationships where I had a similar stepdad-type role, so I already had a little bit of experience. Raising two boys has always been a dream of mine. Being a paternal figure is just a role I figured I would excel in. Maybe I'm more mature now; having kids in your life matures you big time."
"I want to be a role model for the boys, and I feel like they're starting to pick up on that."
Regardless of how the boys felt about him initially, Collin was determined to make a good impression, no matter how long it took. "The boys got attached to me right away, which is good," said Collin with a chuckle. "Even if they didn't like me right away, I would still try. If I needed to ease into it — or take a step back if there was an issue — I would."
While introducing your new partner to your ex can certainly be awkward, Kerri and Collin navigated the experience like pros for the boys' sakes.
"It took a little time to get everyone comfortable with each other," explained Kerri. "The boys' father has no issue with me dating. I also understand that he is going to date. It's not really a matter of being upset over that, he just wanted to get to know Collin. He understood that this person was going to be around his kids a lot in that stepdad role, so he never really had an issue. We did big things together — like take the boys to their first day of school — and if we ever had disagreements, we'd just talk it out. There were some boundaries that you need to put in place, but since those have been set we haven't had any issues."
As for some advice Collin has for people who are entering into a relationship with a parent? Patience is definitely the key. "Be patient with how things are going!" said Collin. "You also want to make sure that that relationship between you and your partner is sound and that you're really willing to take kids on. Having the kids for me is just an added bonus, but I want to show Jameson and Jack that our relationship is stable. I want to show them how a boyfriend should treat their girlfriend or how a husband should treat his wife. I want to be a role model for the boys, and I feel like they're starting to pick up on that."