There are way more than two different types of people in this world, but there are certainly those who eagerly don matching holiday pajamas and those who have matching holiday pajamas forced upon them.
For three years running, I've gone to embarrassing lengths to ensure my family rocked matching Christmas PJs, and I have no plans of stopping (sorry, husband and dog).
I'm not quite sure what compelled me to start this bedtime tradition, but I'm certainly not an early adopter.
As a grade-schooler, I recall hearing from several classmates about how every year on Christmas Eve, all the kids would get a gift of pajamas that they'd then wear to bed. That way, they'd look festive the next morning when opening presents under the tree.
I'm not quite sure what compelled me to start this bedtime tradition, but I'm certainly not an early adopter.
Somehow, though, in the time it took me to grow into adulthood and start my own family, that simple, even-then-cliched holiday tradition morphed into something not just for children but for the entire family, regardless of age or – judging by many grown men's forced smiles on Instagram – interest level.
And speaking of Instagram, there are hundreds of hashtags devoted to the concept of matching holiday family pajamas. The biggest one to date? It's #christmasjammies with more than 138,000 posts of families donning identical PJs.
Sure, this number pales in comparison to the definitive holiday fashion trend, the ugly Christmas sweater (in fact, #uglychristmassweater has more than 658,000 posts attached to it), but considering matching jammies have typically been co-opted exclusively by families, it's a pretty impressive margin.
If you scroll through the #christmasjammies feed (as I did in the name of journalism), you'll see that some of its earliest inclusions were shared on the social media platform roughly six years ago.
Turns out, that is also when a now-viral "XMAS Jammies" rap video was posted to YouTube – back in late 2013. It was the video holiday card of sorts for a then little-known family from North Carolina, the Holdernesses.
In the three-minute video, Penn and Kim Holderness – along with their kids Lola and Penn Charles – sang a newsletter-style recap of their year to the tune of Will Smith's "Welcome to Miami." In it, they were all wearing – and repeatedly referencing – matching green and red PJs. The video went on to get nearly 18 million views (and, for what it's worth, the Holdernesses are now full-time vloggers).
These adorable parents may be the ones to blame for the coordinated PJ craze that followed, but it's not like they stitched those monogrammed pajamas themselves.
Perhaps not coincidentally, Target's sales of family pajamas has grown every year since 2013 (the same year the Holderness rap debuted and all those #christmasjammies posts began), and the retailer now offers nearly 100 different prints and patterns for all ages, including pets.
So, where did they originate?
It's hard to say, but among the brands currently selling them, one has certainly been doing it the longest.
Hanna Andersson, an Oregon-based children's apparel company founded by a Swedish couple in 1983, began with mail-order catalogs and in 1990, opened its first brick-and-mortar store. It's around then, according to its current director of marketing Louanne Wach, that it began offering family pajama sets. That was roughly 30 years ago.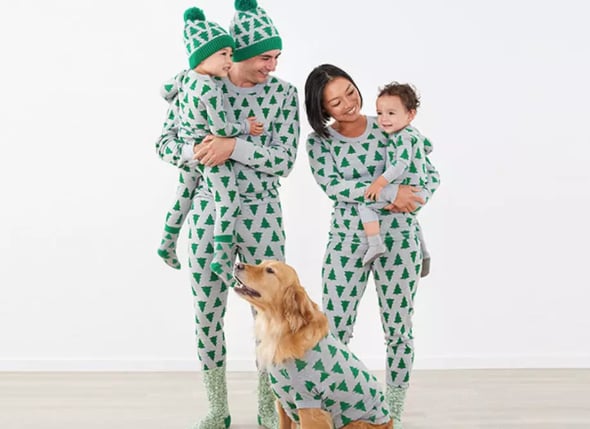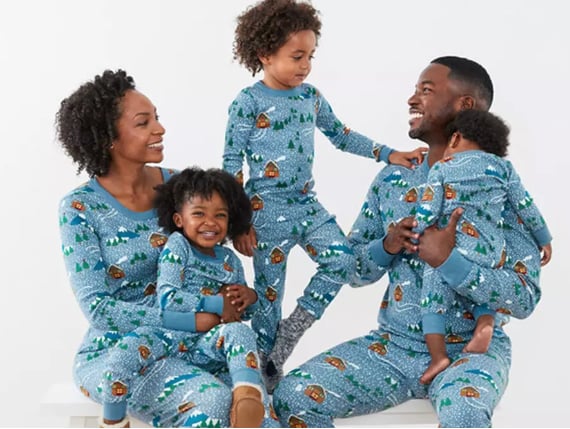 Now, Hanna Andersson sells countless seasonal styles from traditional plaid to classic red-and-white stripes with green trim (my family's go-to year after year) to ones featuring "merry mammoths" and "leaping llamas" and festive garden gnomes. The company is so ubiquitous in the family pajamas market that they've even had exclusive partnerships with the likes of Peanuts, the Justice League, and Disney – hello, Frozen and Star Wars! – to name a few. Hanna also covers Hanukkah and prides itself on an extensive year-long offering that includes everything from Halloween to Independence Day to pizza night. It also offers multiple fit options (think nightgowns for women and looser cuts for those not keen on the fitted-legging look), alternate styles for those wanting to avoid a matchy-matchy look, and accessories like hats and socks.
Savvy shoppers (ahem, moms) are planning for Christmas card photo opps and, of course, Instagram.
Although Hanna Andersson once had a monopoly on these pajamas, they're now sold virtually everywhere you look. Entire e-commerce sites, like PajamaGram, are devoted to selling them year-round, and even Oprah Winfrey herself has worn them. A set of Burt's Bees pajamas ended up in her 2016 list of "Oprah's Favorite Things" in which she admitted to personally testing out an organic cotton onesie before giving it her seal of approval. "You can outfit your whole clan," she wrote. "Perfect for the annual holiday card."
And they really are. Considering sales for pajamas begin rising as early as September in recent years, it's clear savvy shoppers (ahem, moms) are planning for Christmas card photo opps and, of course, Instagram.
I'm the first to admit I orchestrate my family's matching pajamas "for the 'gram," but once everyone's in them, we do end up having a lot of fun. I'm even considering forcing my crew to wear them in daylight hours . . . in public. It's worked out pretty well for ugly Christmas sweaters, right?