13 Reasons Pink Should Be a Role Model For Your Daughter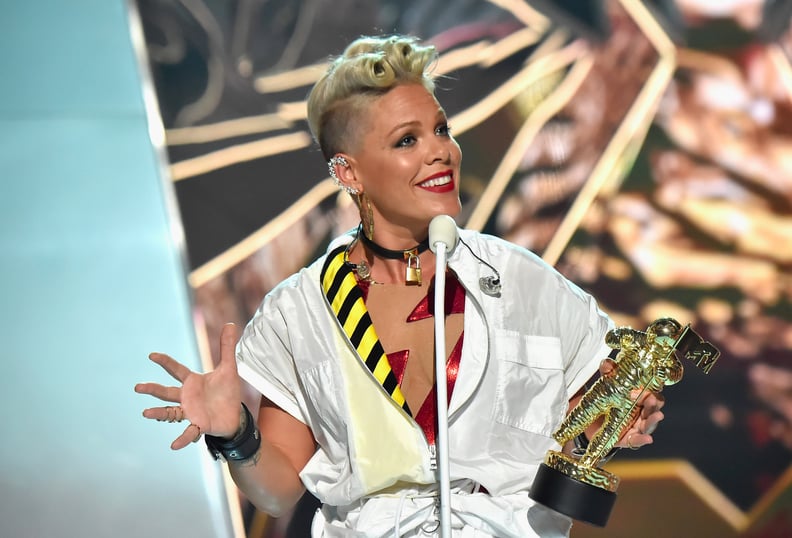 Jeff Kravitz | Getty Images
Jeff Kravitz | Getty Images
We're not the only ones in complete awe of the incredible speech Pink made while accepting the Michael Jackson Video Vanguard Award at the MTV Video Music Awards. The mom of 6-year-old Willow conveyed an important message to young girls out there: you don't need to change who you are for other people.
But anyone who's been following the star's life knows that she's an amazing woman all around. At a time when moms are hard-pressed to find public women to point to as role models for their young girls, we have 13 reasons to give a second look to Pink. We're pretty sure you'll agree that she's one woman you'll want to seek out!
01
She Doesn't Have a Cinderella Complex
Pink didn't sit around waiting for Prince Charming. She proposed to Carey Hart in 2005. And when the couple later endured marital troubles, she bared her soul and won him back. All little girls should know that they can write their own story and not wait for it to be written.
02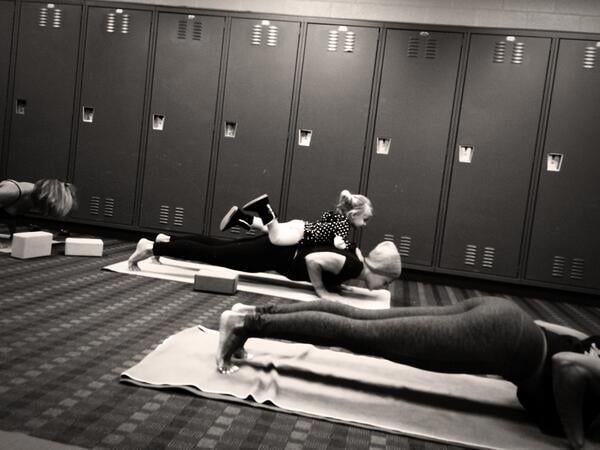 She's Strong
Pink is mentally and physically strong. She sets goals and achieves them, as evidenced by her incredible aerial silks performances both before and last night. And she knows it takes hard work to get there. After giving birth to Willow, she told Shape that she works out for 60 to 90 minutes five days a week with her trainer. A singer, a dancer, a writer, and a gymnast, Pink proves that a girl can do anything she sets her mind to . . . maybe even in the same moment!
03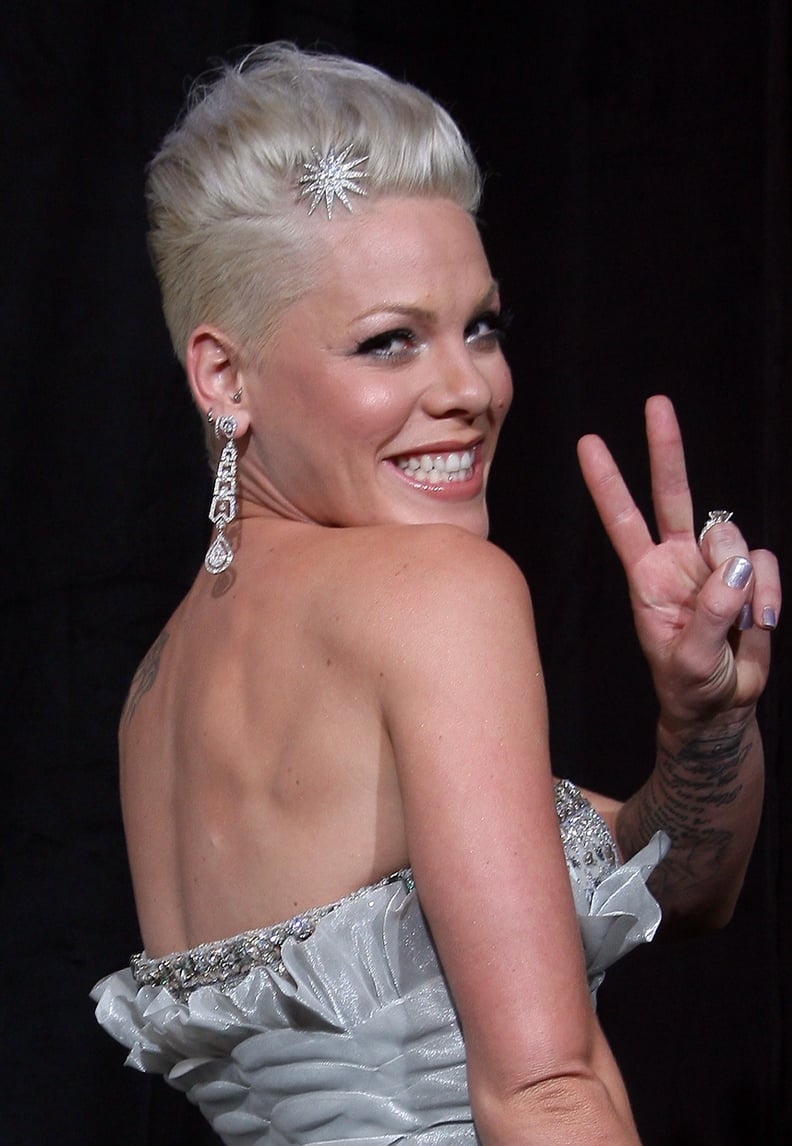 She Turned Her Life Around
It's been reported that like many other teens, Pink was a wild child who at times was at odds with her mother while growing up. They have since reconciled. Girls should know that you can mend bonds and get past mistakes.
04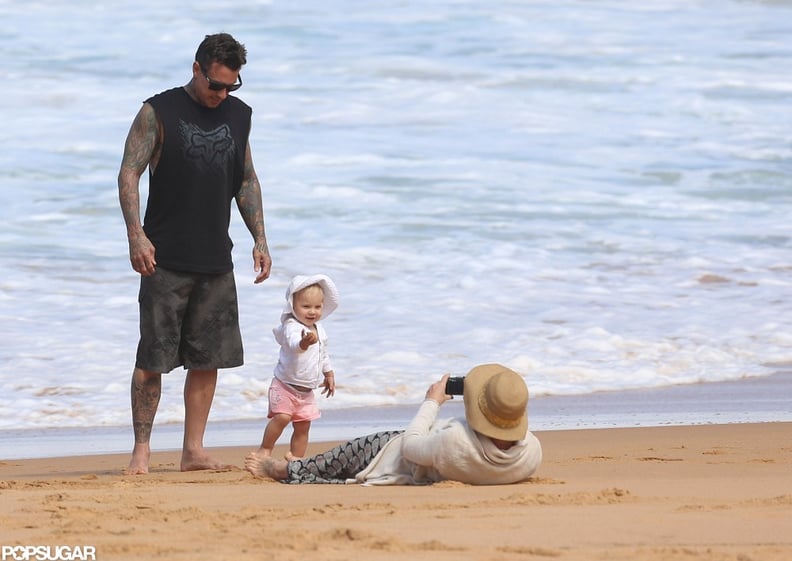 She's Honest About Her Feelings on Motherhood
For a number of women, motherhood was something they've dreamed of since they were little girls. For Pink, it took a bit longer for her to recognize that role for herself — and she's not afraid to admit it. "I had moments where I wanted a kid with Carey," Pink told GQ Australia. "You know — you first fall in love, and you're like, 'We should have kids,' and then it went away. But he always wanted kids and then we did it, and now it's like, 'F---,' this is so rad. It's more important than anything we've done."
05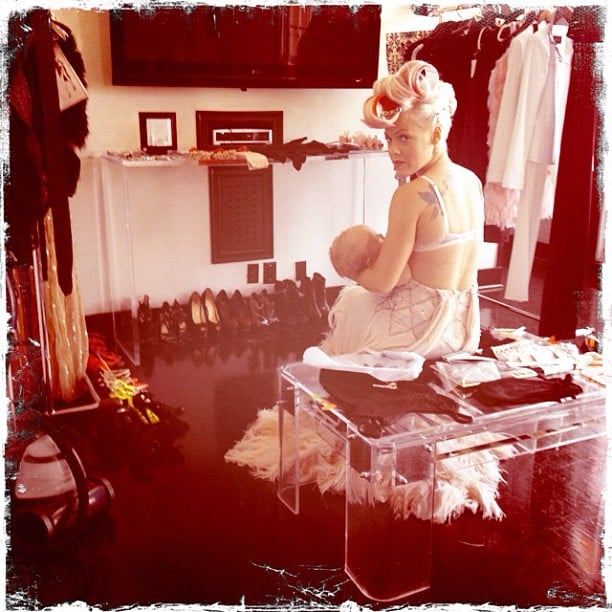 She Voices Her Support For Public Breastfeeding
More of a hippie mom than she even realized herself, Pink has become a vocal supporter of both extended and public breastfeeding. Aside from tweeting a since-removed photo of herself breastfeeding, she related a story of an encounter she had with a man who showed disdain when she nursed in public. She told a British talk show:
"I had a cover on and this guy walks by, and he was like, 'Ughhh.' He was just disgusted. I was like, 'You didn't get enough hugs when you were little.'"

Her husband, Carey Hart said, "You're starting fights in restaurants." And Pink said, "I will. I will fight. Hold my baby! I think breast-feeding is healthy and natural and it's a comfort to my baby."
06
She's No "Stupid Girl"
No mom wants her daughter to grow up and play the stupid card. When many starlets were making names for themselves (and fortunes) by being airheads, Pink called them all out in her "Stupid Girl" song and video. Her message to girls: act smart.
07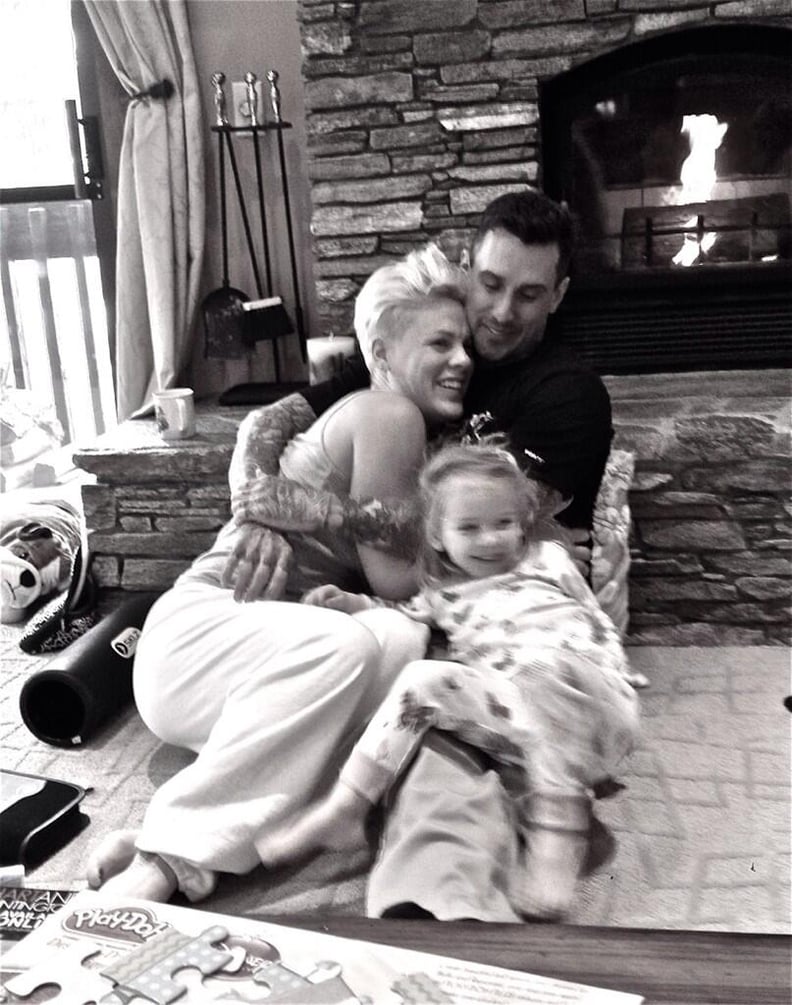 Her Thoughts on Beauty Should Be Recited by All Girls
Not your traditional CoverGirl model, Pink has people's eyes on what defines beauty. She told Redbook, "Well, I was always considered butch. Feeling beautiful to me is when I feel good in my leather pants and my husband grabs my ass. Or when I'm sitting on a mat and my daughter runs to me with complete joy. Beautiful has never been my goal. Joy is my goal — to feel healthy and strong and powerful and useful and engaged and intelligent and in love. It's about joy. And there's such joy now."
08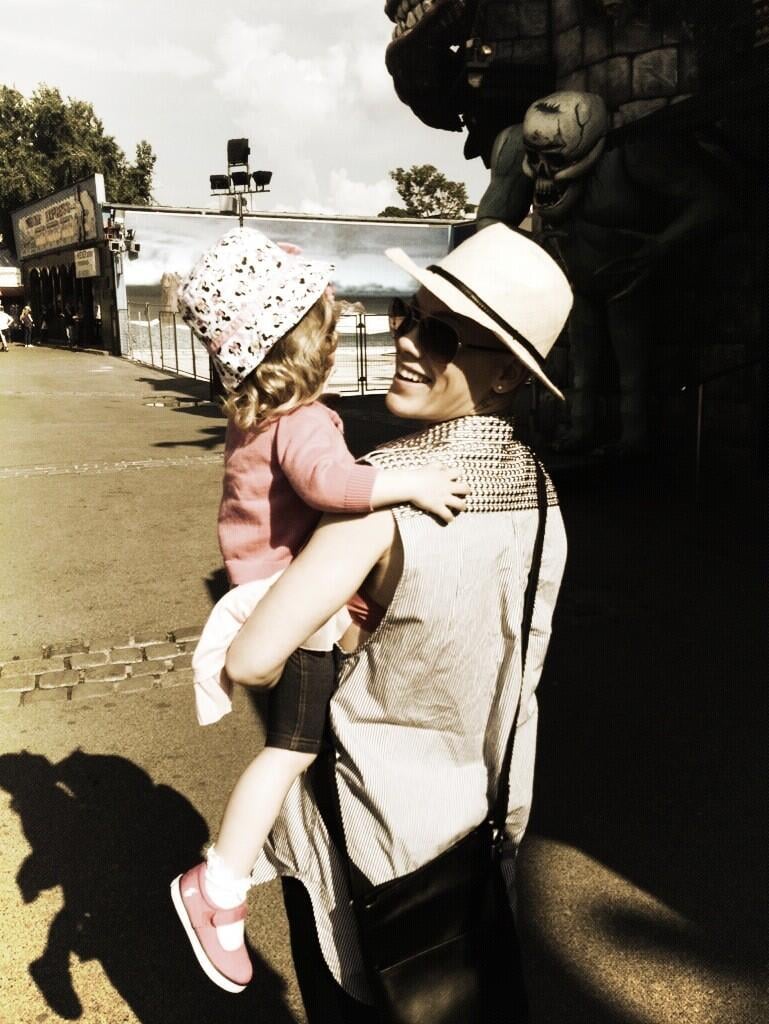 Motherhood Has Softened Her — a Bit
Known for being a bit rough around the edges, Pink's the first one to admit that motherhood has transformed her — for the better.
"When all the fuss goes away and the nurses leave you alone and I've got my beautiful little bambina in my arms, swaddled in a blanket, it's incredible, it's amazing," Pink told MTV. "I've softened, and I think it's perfect. It's what I needed. I was hoping for a little edge loss!"
09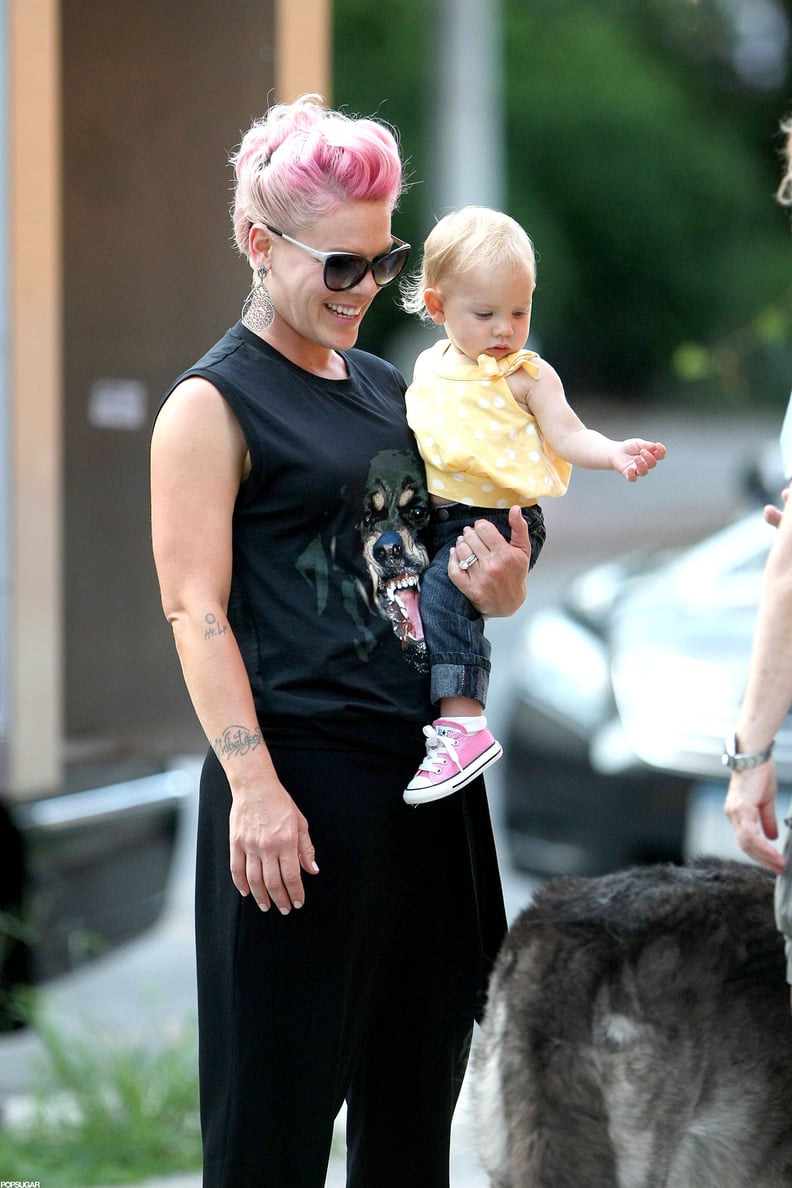 She Hasn't Given Up All of Her Prebaby Vices
Just because she's a mom now doesn't mean Pink has changed all of her ways. Every mom needs some nights out — she just needs to modify how intense those nights are! "Babies don't respect hangovers," Pink said. "No matter what time we go to bed, she wakes up at 5. So I party from maybe like 9 to 10. And I party hard for that one hour. I get it all in."
10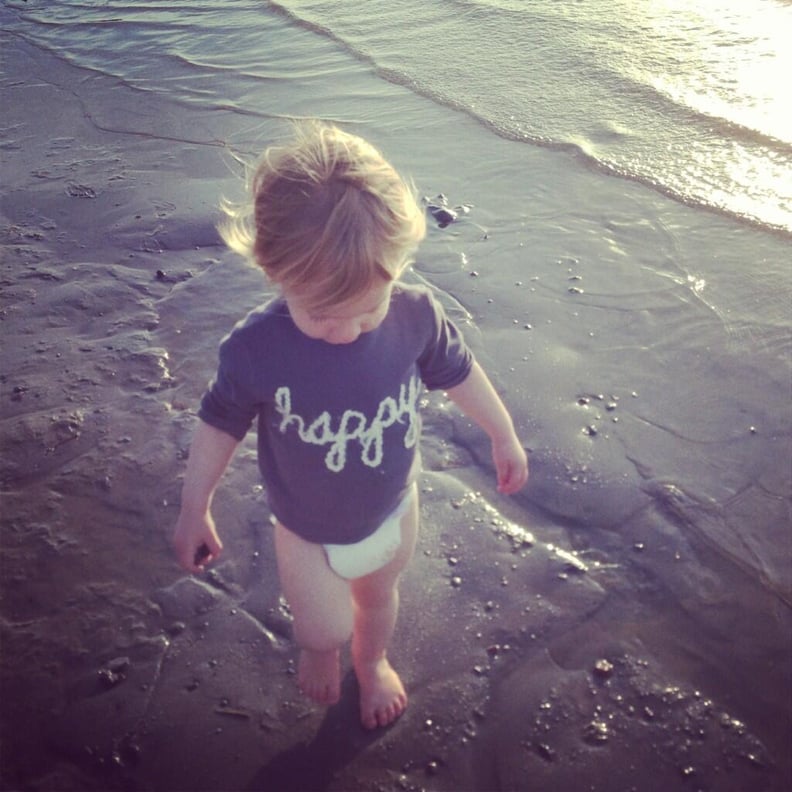 She Has a Positive Outlook on Life
Though her songs often express anger, Pink's outlook on life is anything but. She told GQ Australia, "I can use the word 'happy' and not flinch. I'm happier than I've ever been, but I'm also still living my life."
11
Her Caring Ways Extend to Her Concerts
Mom instincts aren't something you can just turn off — even if you're on stage in front of thousands of people. Last year, Pink stopped midsong to find out why a little girl in the audience was crying. When someone said the little girl had just witnessed a fight, Pink responded, "First of all, you look beautiful. [And] Rice Krispies treats fix everything."
12
She Has an Unbelievably Healthy Body Image
Never one to sit back and take things lying down, when detractors commented that she looked like she had gained weight in a photo she posted on Twitter, Pink responded in the most perfect way, writing:
". . . unfortunately, my weight seems much more important to some of you . . . I felt very pretty. In fact, I feel beautiful . . . I am perfectly fine, perfectly happy, and my healthy voluptuous and crazy strong body is having some much deserved time off. Thanks for your concern. Love, cheesecake."
She followed that up with a tweet about her daughter, saying, "Willow said to me the other day whilst grabbing my belly-'mama-why r u so squishy?'And I said..'b/cuz I'm happy baby.'" We can't think of a more perfect response.
13
She Gave the Best Speech Ever at the VMAs
After taking the stage to perform her new single "What About Us" at the Video Music Awards, Pink accepted the Michael Jackson Video Vanguard Award — and had an incredible message for young girls.
The mother of two took to the stage to share a story about her daughter Willow, telling the audience how after she came home from school one day Willow told her mom she was "the ugliest girl I know."
Pink then made a powerpoint to teach Willow a very important lesson: that being yourself never goes out of style.
The powerpoint was made up of "androgynous rockstars and artists who live their truth, are probably made fun of everyday of their life, and carry on and wave their flag and inspire the rest of us."
Who was featured in the presentation, you ask? Artists like Michael Jackson, David Bowie, Prince, and Annie Lennox, of course.
Instead of changing to fit other people's beliefs, Pink explained to her oldest that "we don't change. We take the gravel and the shell and we make a pearl."