ASOS Denim Bustier T-Shirt
People Are Sufficiently Confused by This Denim Bustier From ASOS Because, Well, Look at It
At this point, we could make a hall of fame-worthy scrapbook for the plethora of wacky denim trends out there. Last year graced us with everything from inside-out jeans to completely see-through plastic pants, and 2018 is already off to a crazy start, thanks to ASOS. The online retailer has caused quite the stir after a handful of customers stumbled upon one particularly confusing item for sale: the Milk It Vintage Re-Worked Denim Bustier Over T-Shirt.
The one-of-a-kind top is essentially a basic white tee with what appears to be the sliced-up, frayed waistline from a pair of jeans sewn to the chest area. Why? Honestly, who knows. Perhaps the designer had some leftover jean snips laying around and felt guilty about throwing them away. Or maybe they garnered inspiration from a drunken night of attempting to pull a denim miniskirt over their head while undressing. One thing's for damn sure: it's like the 2-in-1 shirt and pants combination that literally no one asked for. But hey, apparently it is perfect "if you're partial to a textural switch-up," according to the product's description.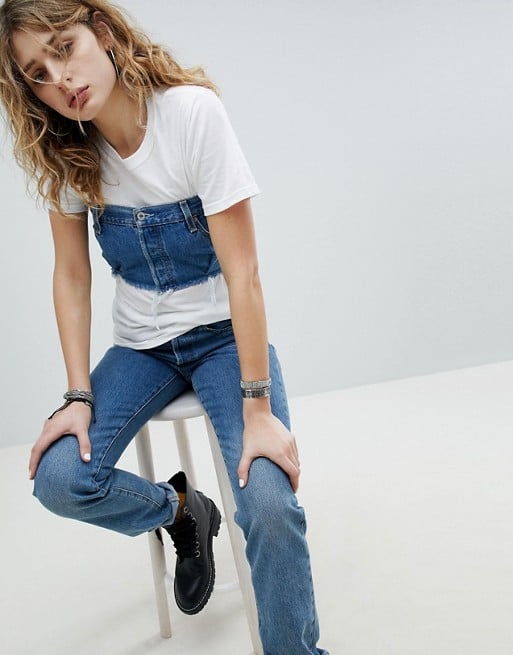 Though these may seem completely out of left field, it looks like ASOS isn't the only one selling repurposed hacked-off waistbands. Net-a-Porter is currently offering Unravel Project's Denim Wait Belt, which is meant to be worn over "slouchy and oversize pieces." The $405 "belt" looks just like ASOS's strange bustier top, except without the white tee. Is this an indication that some designers are developing a fetish of sorts with repurposed strips of denim? Only time will tell, I suppose.
Needless to say, as soon as a few confused online shoppers came across ASOS's head-scratch-causing denim bustier, an uproar of hilarious reactions ensued. Keep reading to shop the shirt, if you so please, and see what the internet is saying about it. What's next . . . honestly, who's to say?