Danielle Herrington Sports Illustrated Interview 2018
The Third Black Woman Ever to Have Graced Sports Illustrated's Swimsuit Issue Means Business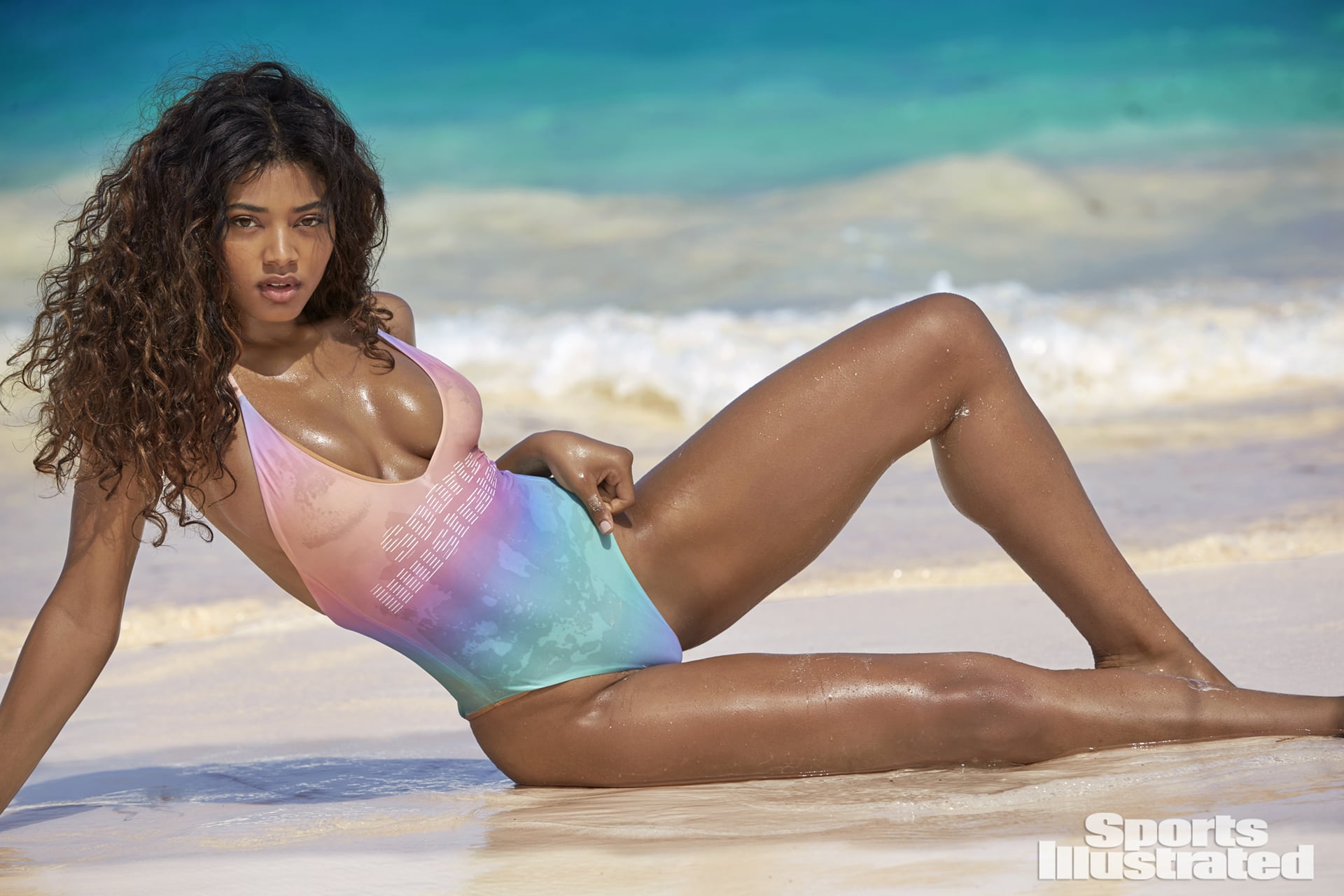 Image Source: Ben Watts/SPORTS ILLUSTRATEDOn sale now.
Danielle Herrington first learned what Sports Illustrated's Swimsuit Issue was at the age of 13 while watching The Tyra Banks Show. Herrington would tune in to the talk show almost every day to watch the show's host and her role model, the legendary supermodel Tyra Banks. Herrington was, and still is, a huge fan of Tyra's — so much so that she also made it a point to catch Tyra's evening reality show, America's Next Top Model, growing up.
Herrington always wanted to be a game-changing model, just like Tyra. While she never auditioned for America's Next Top Model herself (she was always too young to meet the age requirement), she would follow in Tyra's footsteps in a more substantial way 11 years later. In February 2018, Herrington became the third black woman to score the cover of SI's Swimsuit Issue, joining the ranks of Tyra and Beyoncé. "To be in that category with them is really amazing because they have been my idols and the two people that I actually really look up to," Herrington told POPSUGAR. "I really followed their careers."
Being the third black woman to earn the spot is completely impressive, especially given the fact that the magazine has been in circulation since 1954 (the first SI Swimsuit Issue was released 10 years later). Herrington, who hails from Compton, CA, didn't get to this moment without any hurdles, though. The 24-year-old first dipped her toes into modeling at 11, when she won a scholarship to attend a modeling program under the institute of John Casablancas. She was signed to an agency two years later and that same year was paid a visit by something she, nor anyone else, could have avoided: puberty.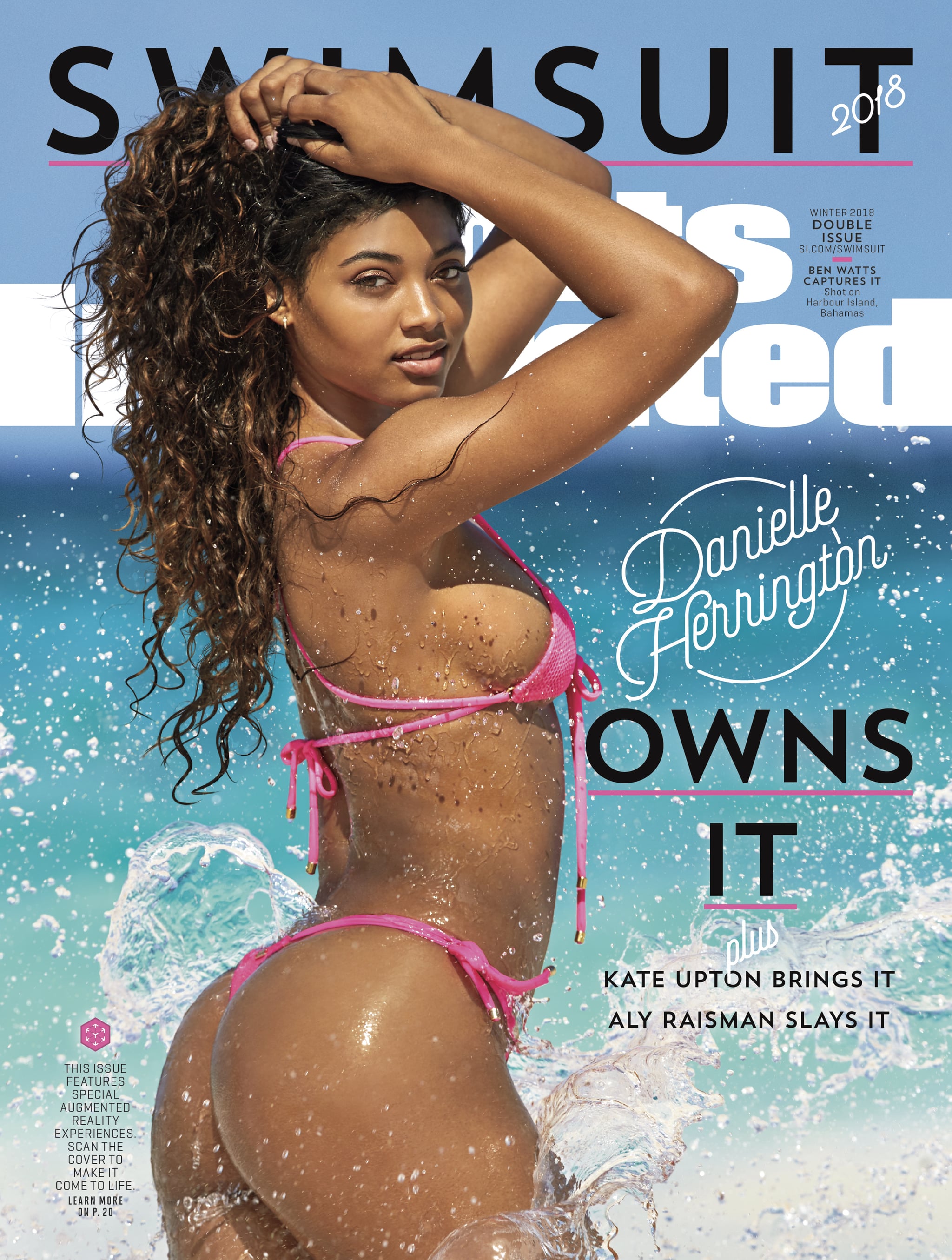 Image Source: Ben Watts/SPORTS ILLUSTRATEDOn sale now.
Herrington's curves matured pretty early in her life. While that didn't bother her as a teen — she proudly says she gets her booty "from her mama" — it did become an issue for Herrington's career. "Basically, my whole modeling career was like, 'Oh, we like her, but she's too curvy' or 'She has too much butt' or 'She has too much boobs,'" Herrington said.
Herrington didn't pursue modeling seriously until 2015, when she made the move to New York. While Herrington was hearing nos from recruiters who didn't feel like she fit the mold, she was finding success with brands famous for featuring curvier models, including Victoria's Secret and Guess. She was photographed for the pages of Sports Illustrated's 2017 Swimsuit Issue on a beach in Fiji, wearing multiple bathing suits and proudly displaying her curves on the sand. Herrington found her home, and SI seemed to feel the same.
The company arranged for someone particularly significant to break the news to Herrington that she had made the cover of the 2018 Swimsuit Issue. That person was Tyra, who surprised Herrington while on a staged photo shoot. Herrington said the moment was indescribable. Now, with an SI cover under her belt and Tyra as her mentor (Tyra checks in with her regularly via text), Herrington is joining the long list of talent that has come from the city of Compton. From Serena Williams to Kendrick Lamar, it seems Compton is the home to sensations from all different fields, and Herrington is the newest alumnus.
Herrington, who's received wide support from her hometown, hopes to be an inspiration for young girls everywhere, whether they're from Compton or they simply take pride in their bodies. She truly understands the importance of being the first, second, or third black woman in her space, and she now knows that a single magazine cover can be the spark that lights a new generation of trailblazers.