2018 Sports Illustrated Swimsuit Issue Cover
Danielle Herrington Is the Third Black Model to EVER Grace the Cover of SI's Swimsuit Issue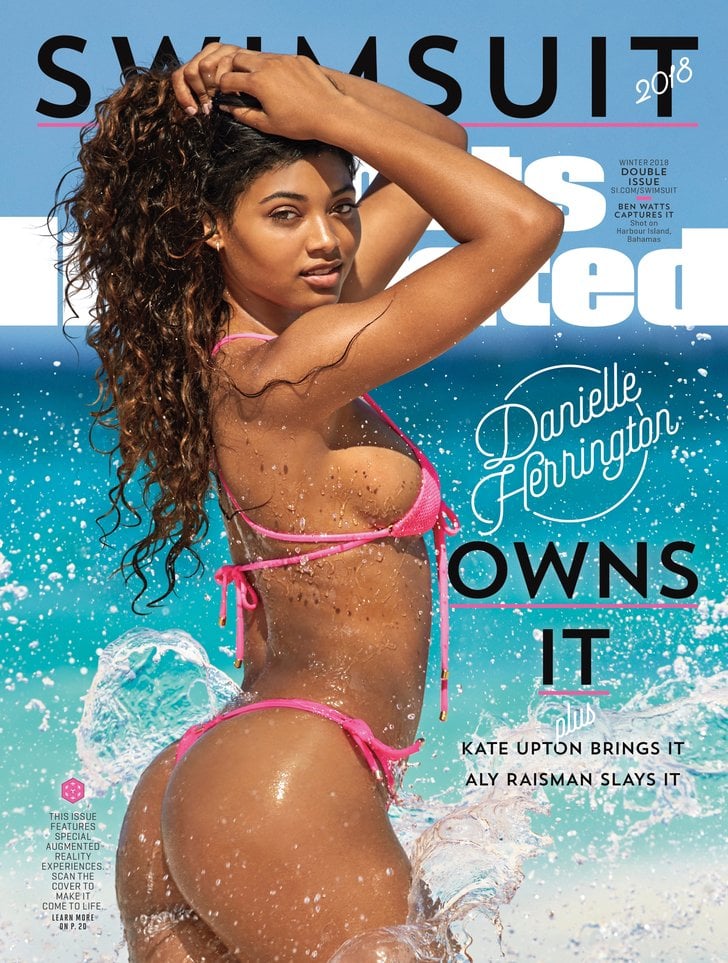 You might want to brace yourself before looking at the cover of Sports Illustrated's 54th annual Swimsuit Issue, because newcomer Danielle Herrington will have your jaw on the damn floor. The 24-year-old model was a Rookie in the 2017 iteration of the Swimsuit Issue, but has since graduated with top honors thanks to her stunning cover shot from photographer Ben Watts, which features her wearing an eye-catching pink bikini as she splashes around in the Bahamas.
While Danielle can rock an itty-bitty bikini like the best of them, that's not the only reason her appearance on the cover is so exciting — she's only the third black woman to ever appear on the front of the magazine, preceded by Tyra Banks in 1997, and Beyoncé in 2007. It marks another step forward for diversity, even if the magazine still has a long way to go. On top of Danielle, this year's edition has 36 other models, including "four returning cover models, five world-famous athletes, five mothers, four published authors, 12 rookies, six model search contestants, and 10 women who are featured in the new section, 'In Her Own Words.'"
DANIELLE HERRINGTON, Y'ALL. 💥🔥https://t.co/5uHtKe3XuQ pic.twitter.com/vzESMKFa9Q

— Sports Illustrated Swimsuit (@SI_Swimsuit) February 13, 2018
Sports Illustrated also surprised their new cover girl with an introduction to Tyra herself, which left both of them in happy tears. Tyra, cribbing her monologue from America's Next Top Model, informed Danielle that she only had "one photo in [her] hands," before revealing that Danielle was the magazine's lucky 2018 cover model. Watch the sweet moment below!
Image Source: Ben Watts / SPORTS ILLUSTRATED