Mirai Nagasu's Earrings at the 2018 Winter Olympics
Why Mirai Nagasu's Olympic Earrings May Have Helped Her Land That Legendary Triple Axel
As POPSUGAR editors, we independently select and write about stuff we love and think you'll like too. If you buy a product we have recommended, we may receive affiliate commission, which in turn supports our work.
Figure skater Mirai Nagasu made history in Pyeongchang, South Korea, when she became the first American woman to land a triple axel at the Olympics. The insanely talented athlete certainly did her fair share of practice to flawlessly land the complex and risky trick (which requires three-and-a-half midair rotations, just FYI). But it looks like there was a secret weapon helping her power through the challenge when she glided onto the ice during the Olympics figure skating team event: her earrings.
Mirai accessorized her embellished red costume with a pair of gorgeous studs, which were put on display for all to see, thanks to her slicked-back updo. We got in touch with Sonia Hou, the LA-based jewelry designer who crafted Mirai's earrings, to hear more about how the studs played a role in helping the figure skater land that legendary triple axel.
The so-called Fire Ear Jackets that Mirai wore in Pyeongchang are quite the unique accessory. They feature a white quartz gemstone and gold spike-like detailing and can actually be worn three different ways. You can wear the round stone by itself for a more professional vibe, or you can add the gold triangle piece in front of or behind your earlobe for an edgier look, the latter of which Mirai opted for during the Olympics. How innovative is that?!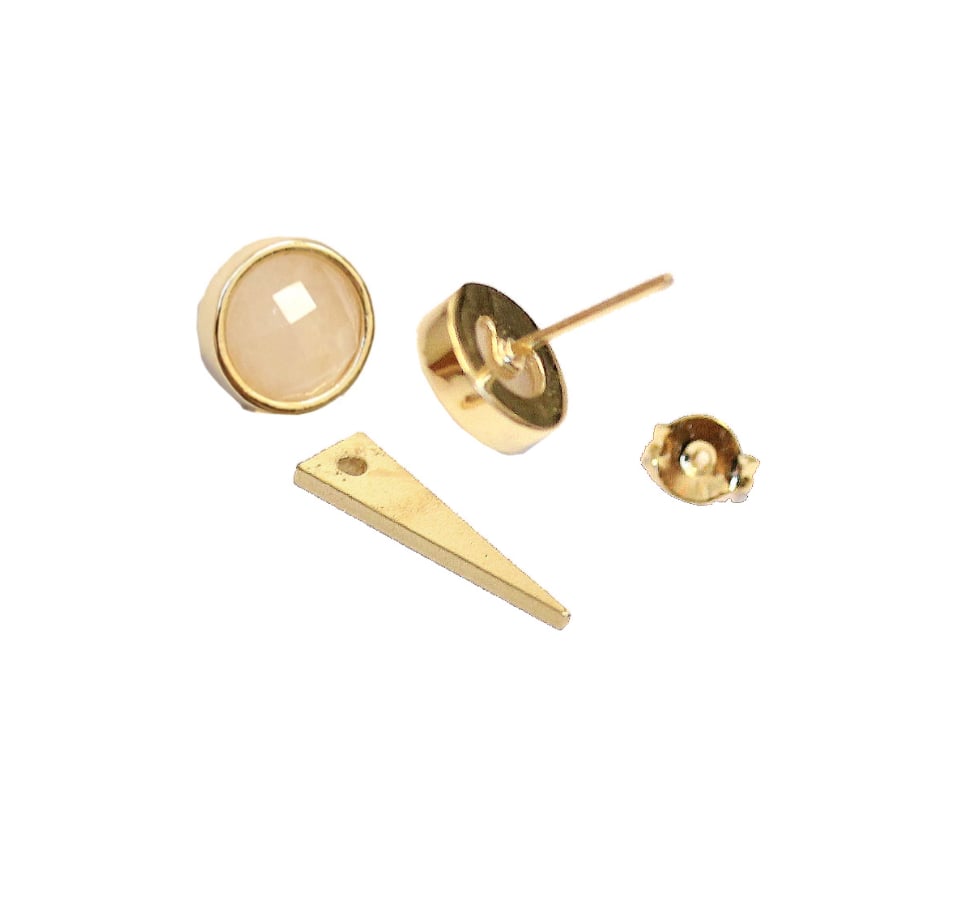 When POPSUGAR spoke to Sonia about the design of the earrings, she gave us some insight on their fiery namesake. "The spiky shape combined with the bold, faceted semiprecious gemstone creates a look that's 'on fire!'" she said. It sure does! Speaking of that gemstone, it may have been Mirai's good-luck charm during her iconic performance because it's made of white quartz. "[This] gemstone is mythically known as the 'master healer,' amplifying energy and thought and drawing off negativity," Sonia explained. "It also aids in concentration, bringing the body into balance to harmonize all 'chakras.' I do believe that this gemstone brought positive vibes to Mirai's historic performance."
Mirai is set to wear Sonia's Fire earrings again during her upcoming singles performance in Pyeongchang, and we're crossing our fingers that they bring the figure skater similar luck yet again. Look ahead to admire the accessory in all its glory, and then shop it for yourself.