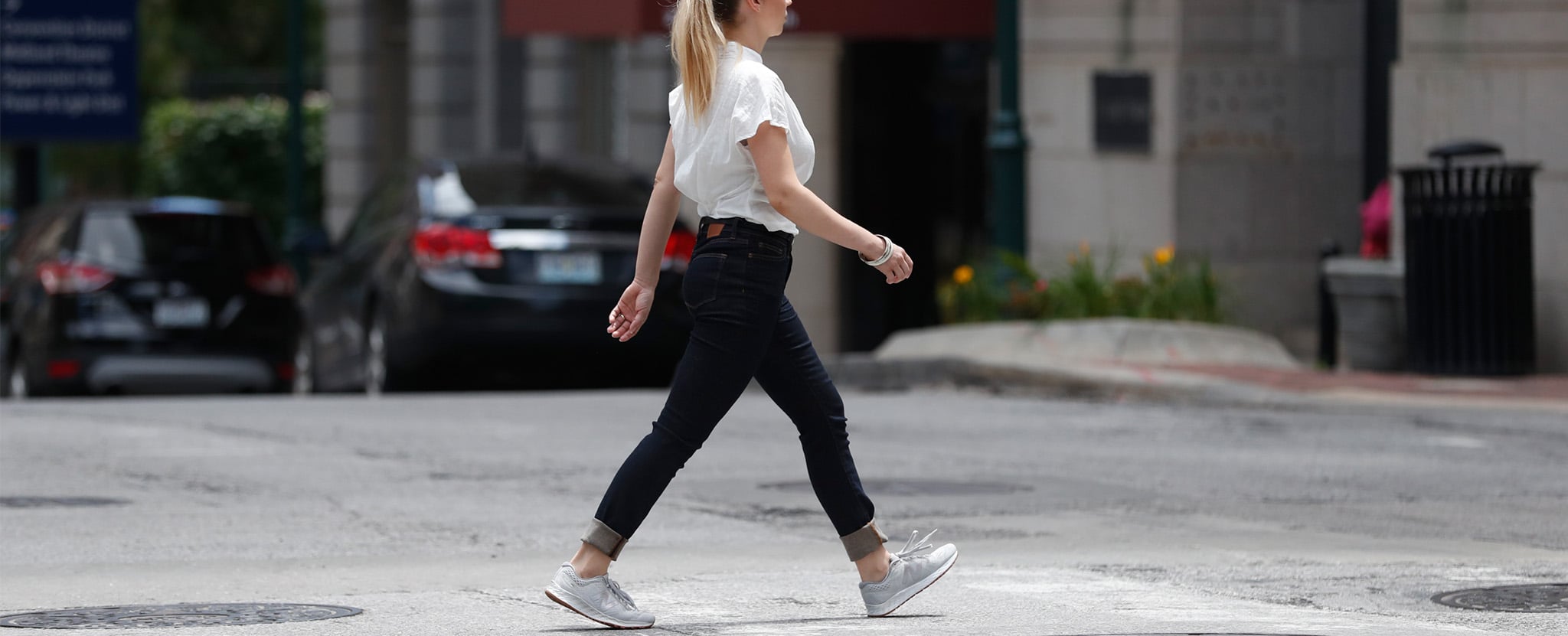 Image Source: New Balance
Mom Sneaker Outfits
How 1 Fashion Director and Mom Wears Her Sneakers: the Stylish Way

Between dropping the kids off at school and nonstop days in the office, moms need all-day comfort, especially when it comes to shoes. We've partnered with
New Balance
to introduce the Fresh Foam Arishi shoes, available at Kohl's in multiple colors, and help you conquer every day in style.
Whether you're a working mom or a stay-at-home mom, spending time on your feet is a given. With such a demanding schedule, it's no wonder so many women turn to practical, easy pieces that can keep up. But that doesn't mean you need to sacrifice style! Perhaps no one understands this better than Dana Avidan Cohn, our resident executive style director who also happens to be a mom to two small boys. She's walking proof that style and comfort can go hand in hand. Her secret weapon? A pair of sleek New Balance Fresh Foam Arishi shoes.
"I hope the sneaker trend never goes away!" she says. "I like to buy them in classic colors like navy or gray. That way they go with everything. As a mom, I love being able to be comfortable and stylish when I'm with my kids. I can still dress in pieces I love, but I'm able to chase after my little ones. For Summer, I look for crisp, white separates and pieces with sporty touches like stripes. Then I add clean, structured accessories with touches of metal hardware."
From a hectic morning of getting herself and her kids ready for the day ahead to running around the city on a weekend family adventure, keep reading to see how she styles her days.
Dana anchors her appearance around the sneakers and assembles a look using clean lines and crisp, breathable pieces that allow easy movement. This helps make a frantic morning look anything but.
"This is probably my most rushed part of the day. I'm trying to get my boys ready and out the door quickly . . . and make a train to the city. I want easy staples that are effortless and comfortable. I usually carry a simple tote with a smaller crossbody and heels inside just in case I have a last-minute event."
For an afternoon at the park, Dana pairs the comfortable shoes with durable denim for maximum mobility.
"As a working mom, my weekends are precious. I try to put away my phone and really be present at the park and just be with them. I like pieces that I can move in and I'm not worried about getting ruined. Denim or a cute pair of overalls with an easy tee is perfect for running around."

Leave it to Dana to make sneakers look ultrachic with breezy brunch separates.
"My family loves brunch! Normally, my kids eat really healthy food, but I always let them order whatever they want at brunch (pancakes and chocolate milk, obviously!). Sneakers are the perfect weekend staple. They are stylish and as comfortable as a pair of slippers! I like to wear lightweight, airy pieces that will keep me cool on a Summer day. When they were babies, I used to carry a huge bag so that I was prepared for ANYTHING they might need, but now I've edited it down to a small crossbody so I can be hands-free."
For a fun urban adventure, Dana opts for a fuss-free dress in a tailored silhouette to look instantly put-together. Meanwhile, the shoes help her remain comfortable and ready for wherever the day takes her.
"I'm really into art and lucky enough to live near so many amazing museums. I think most kids really enjoy it if you make visits frequent and brief. I like to show them a few paintings before we go, and they get excited to see it in person. A cotton dress, straw bag, and sneakers are one of my Summer weekend go-tos."