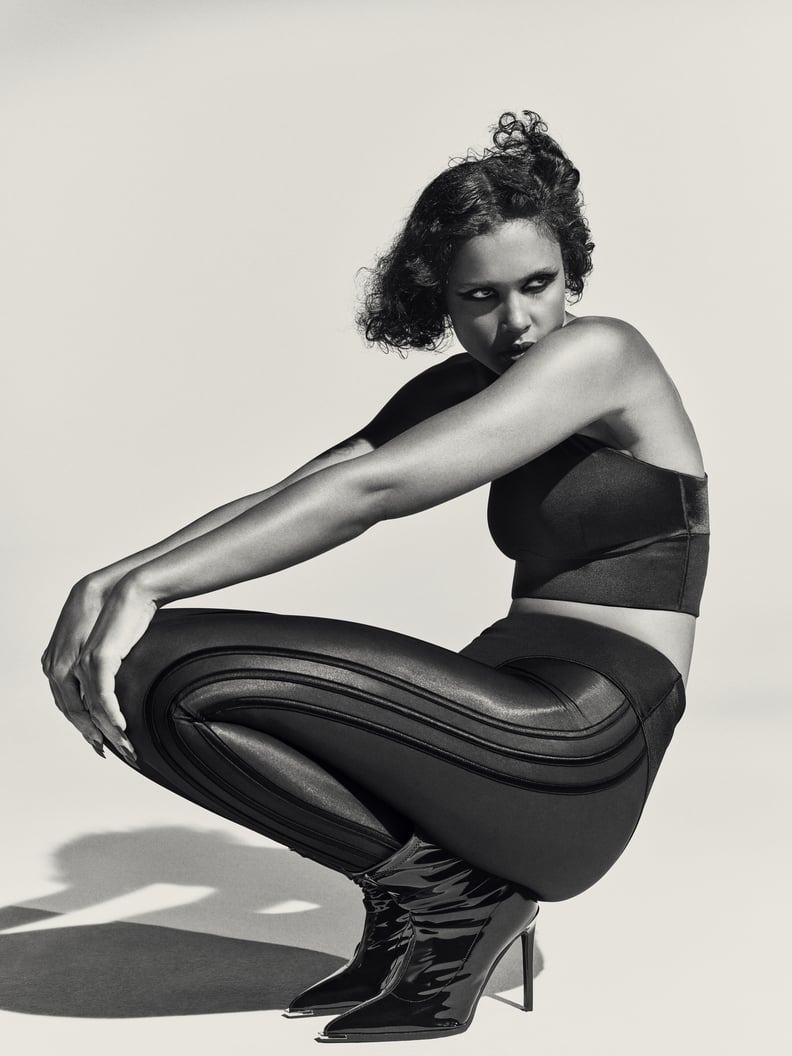 Adidas
As POPSUGAR editors, we independently select and write about stuff we love and think you'll like too. If you buy a product we have recommended, we may receive affiliate commission, which in turn supports our work.
Following years of countless collaborations and surprise drops, Adidas x Ivy Park (arguably one of fashion's most talked-about partnerships) is coming to a close this season — but not before bidding adieu with perhaps its edgiest capsule to date. Leave it to Beyoncé, right?
Debuting today is the Adidas x Ivy Park Noir collection, which marks the grand finale in a series of fashion collaborations that have teamed Ivy Park's individualistic aesthetic with the athletic functionality of Adidas's designs. The all-black capsule is made to "champion the human form," with statement pieces that draw on themes of power and freedom.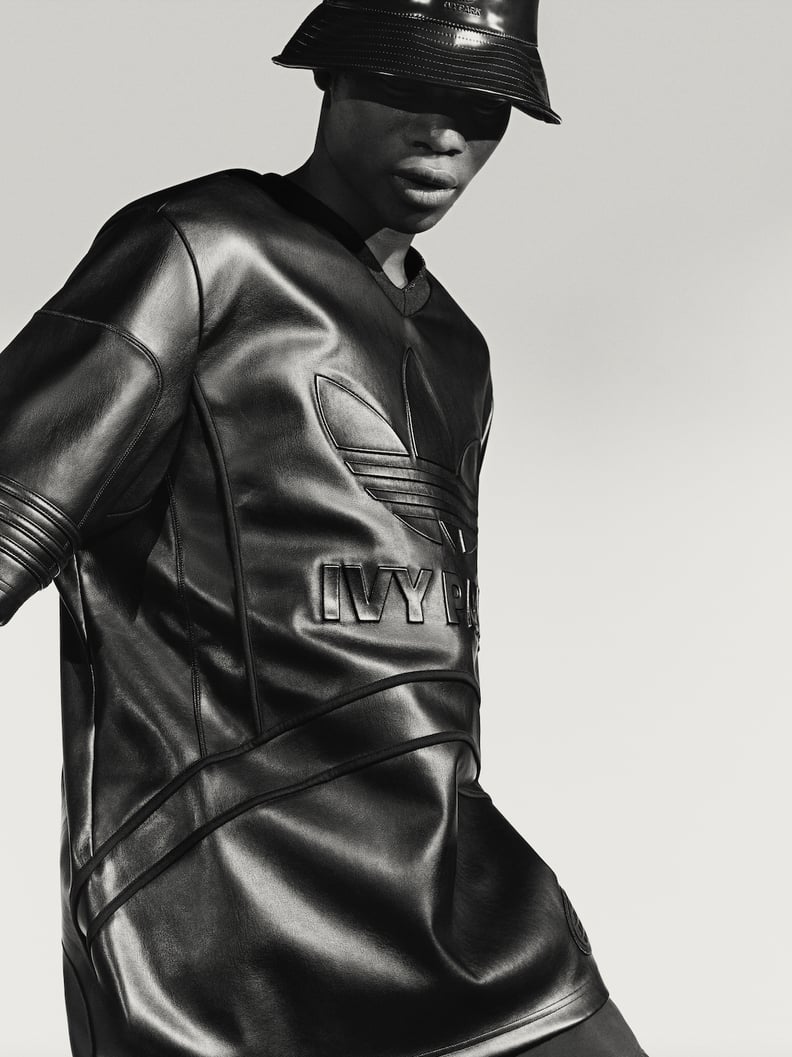 Similar to previous Ivy Park collections, the line features everyday styles with a twist — think shiny biker shorts, latex bucket hats, and sporty crossbody bags that are as practical as they are inimitably cool.
With prices starting at just $30, Ivy Park Noir is a capsule that's perfect for every type of fashion obsessive — and their accompanying budget. From cool crew socks to latex straight-leg pants that look like they're straight out of Catwoman's sultry wardrobe, shop every bold piece from the collection below — with sizes ranging from XXS to 3XL.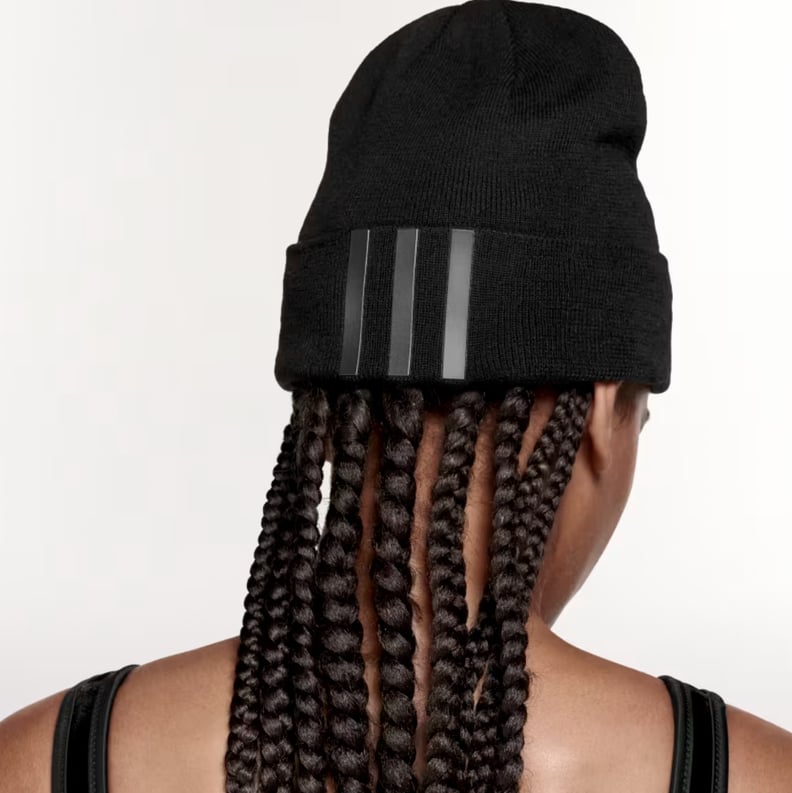 A Cozy Beanie
Adidas x Ivy Park Beanie ($30)
While the Adidas x Ivy Park Noir collection has plenty of high-end styles, with this classic beanie, you can stock up on a piece from the collection without having to break the bank — thanks to its under-$50 price tag. The accessory is crafted from a cozy knit material and features an edgy faux-leather strip design on the back that adds some fun texture.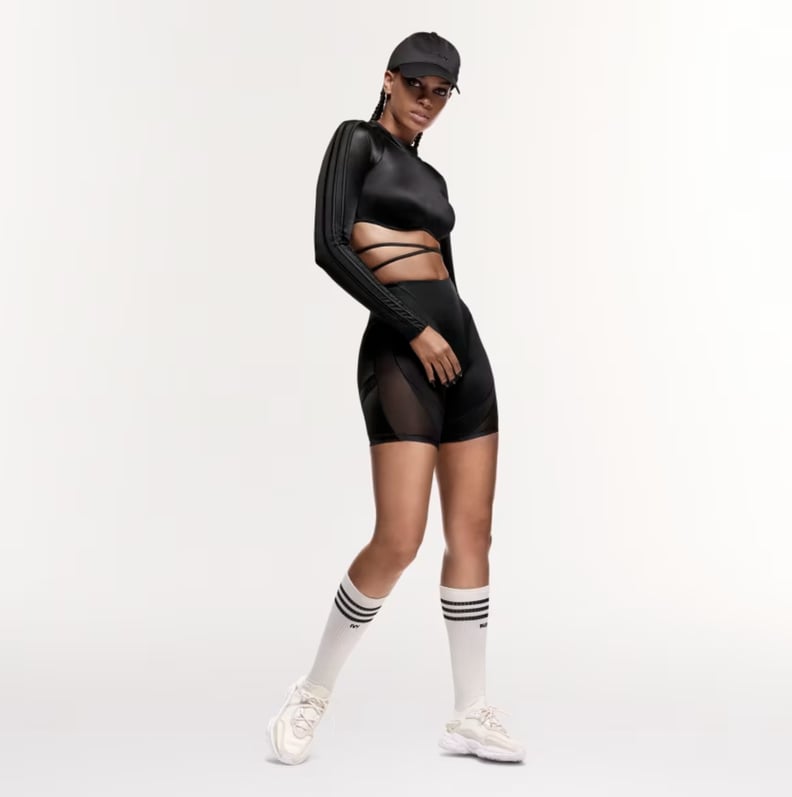 Sporty Crew Socks
Adidas x Ivy Park Crew Socks ($35)
Logo fashion is having a moment this fall, and if you're looking for a fresh way to embrace the mania, we recommend keeping it classic with these sporty crew socks. The bundle includes three unique pairs, with some featuring a cool striped design and others showcasing the iconic Ivy Park logo.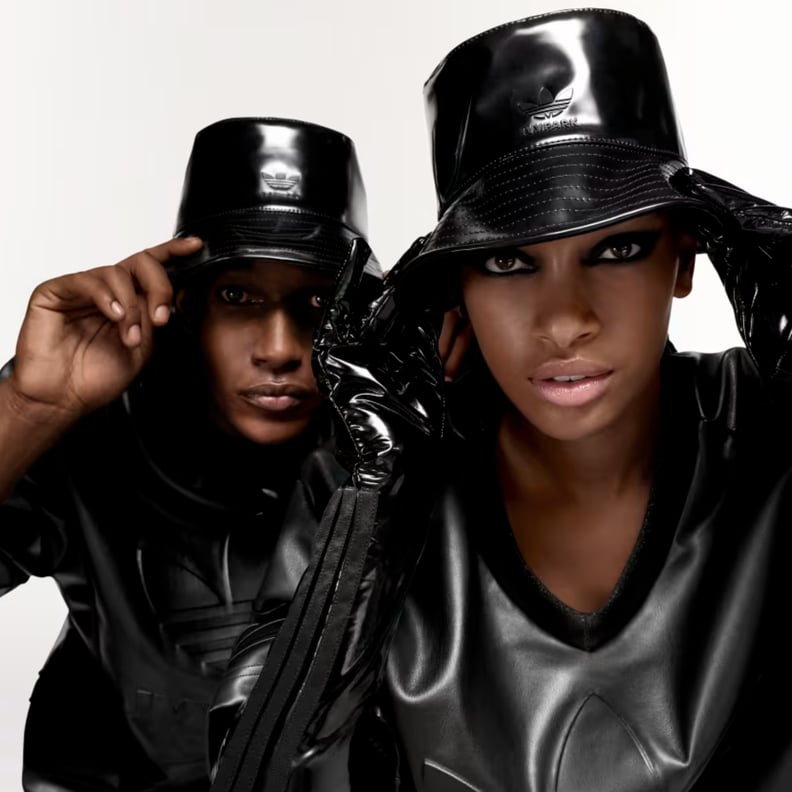 An Edgy Latex Bucket Hat
Adidas x Ivy Park Reversible Latex Bucket Hat ($55)
Just when we thought bucket hats couldn't get any cooler, Adidas and Ivy Park dropped a latex variation that's as edgy as it is statement-making. The glossy accessory takes everything you love about a classic bucket hat and elevates it into a sleeker style that's perfect for day-to-night wear.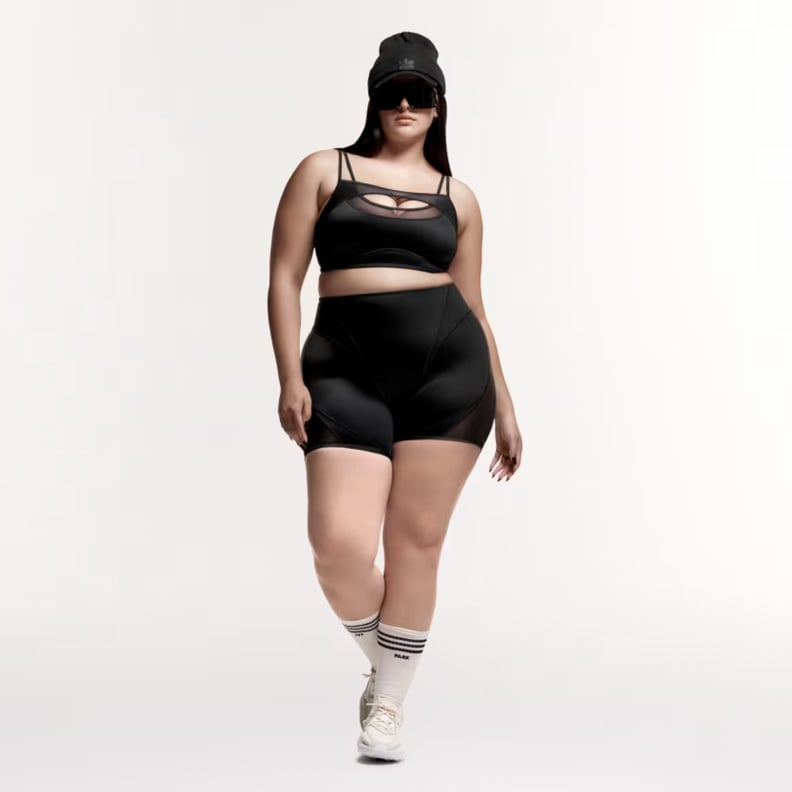 Shiny Biker Shorts
Adidas x Ivy Park Shiny Biker Shorts ($60)
These shiny biker shorts are designed to help you showcase your curves in a whole new way. Made from a tricot material — and teamed with cool mesh accents — the bottoms boast plenty of stretch without sacrificing on style. You could wear them for a workout or add them to your growing street style collection.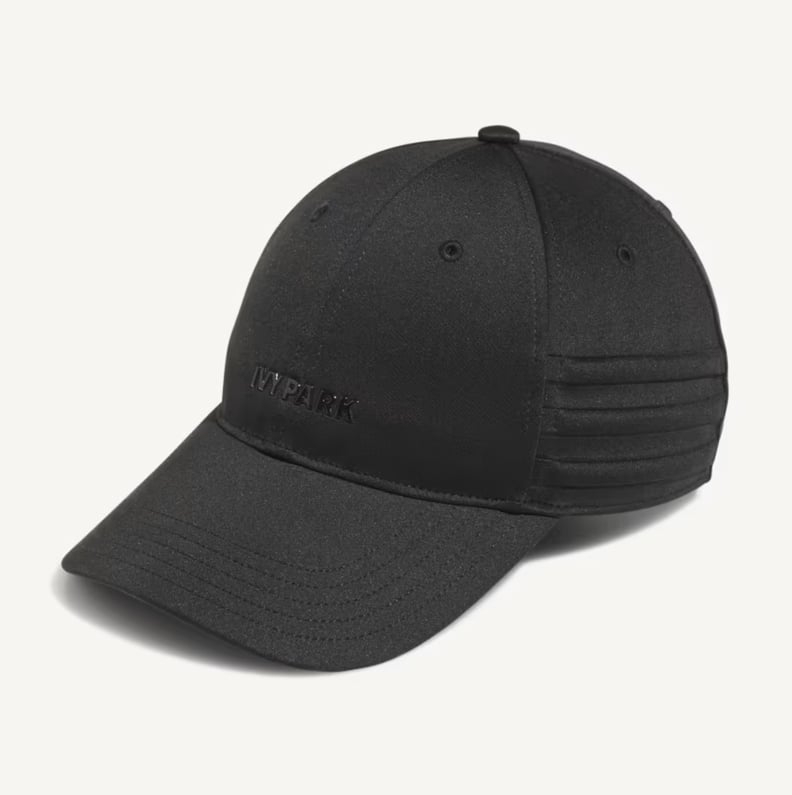 A Classic Baseball Cap
Adidas x Ivy Park Baseball Cap ($35)
Sleek, subtle, and embossed with Ivy Park's signature three-stripe design, this low-key baseball cap ticks all our style boxes and then some. Best of all, it's fitted with an adjustable back closure that allows you to customize the accessory's fit to your liking.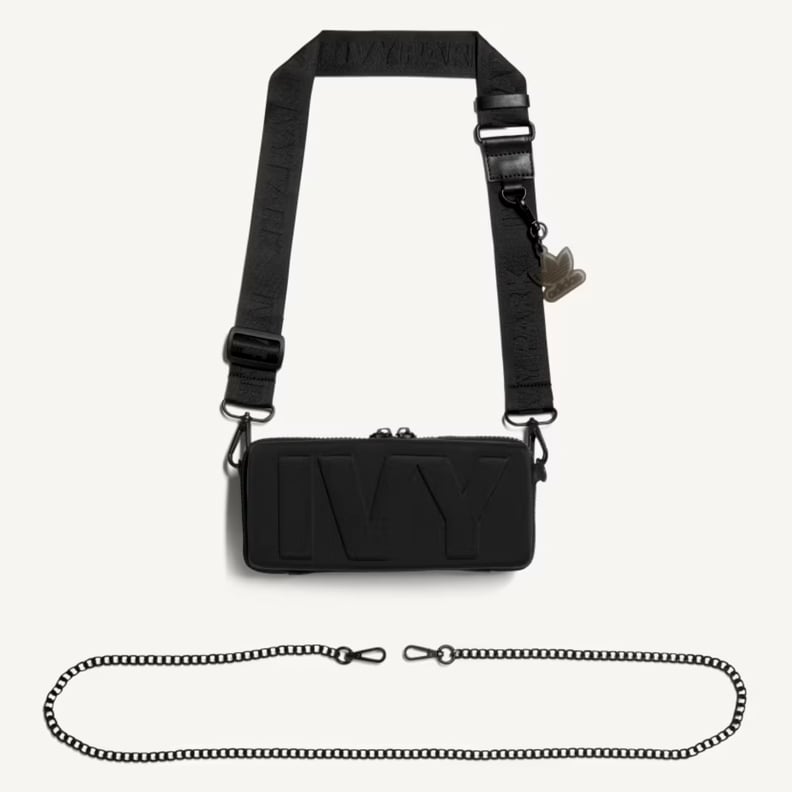 A Crossbody Bag
Adidas x Ivy Park 3D Crossbody Bag ($120)
It doesn't get much cooler than this 3D crossbody bag. Despite its compact frame, the small but mighty accessory actually boasts plenty of interior space, which includes a zippered main compartment. Plus, it comes with two different straps, so you can swap them depending on your mood.
Everyday Trainers
Adidas x Ivy Park Savage x Ivy Park Trainers ($180)
These white trainers might not fit the all-black theme of the Adidas x Ivy Park Noir collection, but they are undeniably cool and double as the perfect everyday shoe. Pair them with the capsule's logo crew socks for a more cohesive (and cozy) look.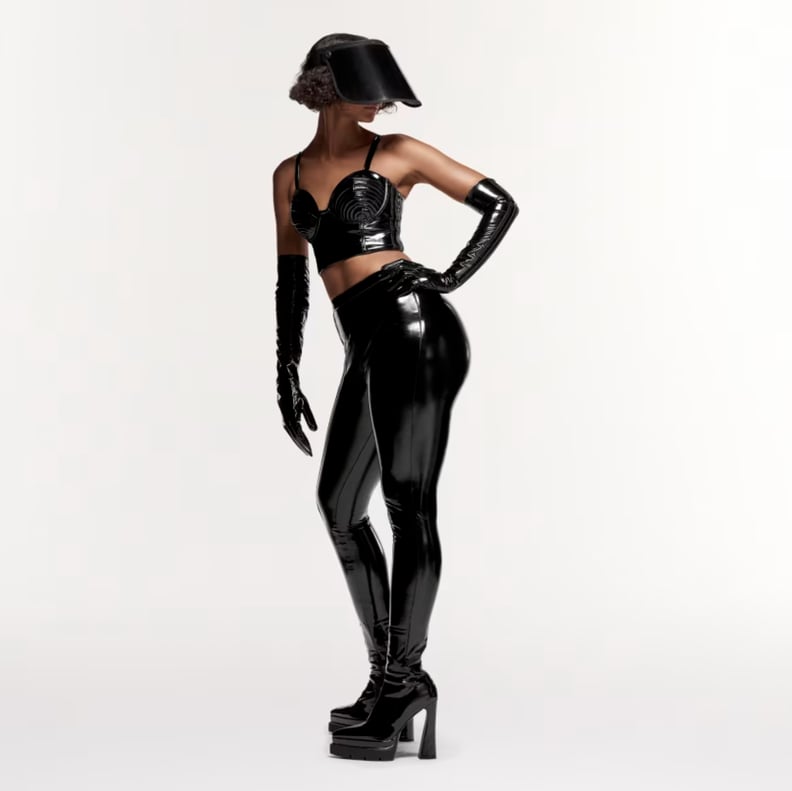 A Latex Look
Adidas x Ivy Park Faux Latex Straight-Leg Pants ($120)
These latex pants take a page straight out of Catwoman's sultry wardrobe with their curve-hugging silhouette, shiny appeal, and subtle ribbed detailing along the sides. Wear them with comfortable sneakers and a cropped white T-shirt for an elevated daytime look, or pair them with the Adidas x Ivy Park Latex Bra Top ($75) for a sexy evening ensemble that's bound to turn heads.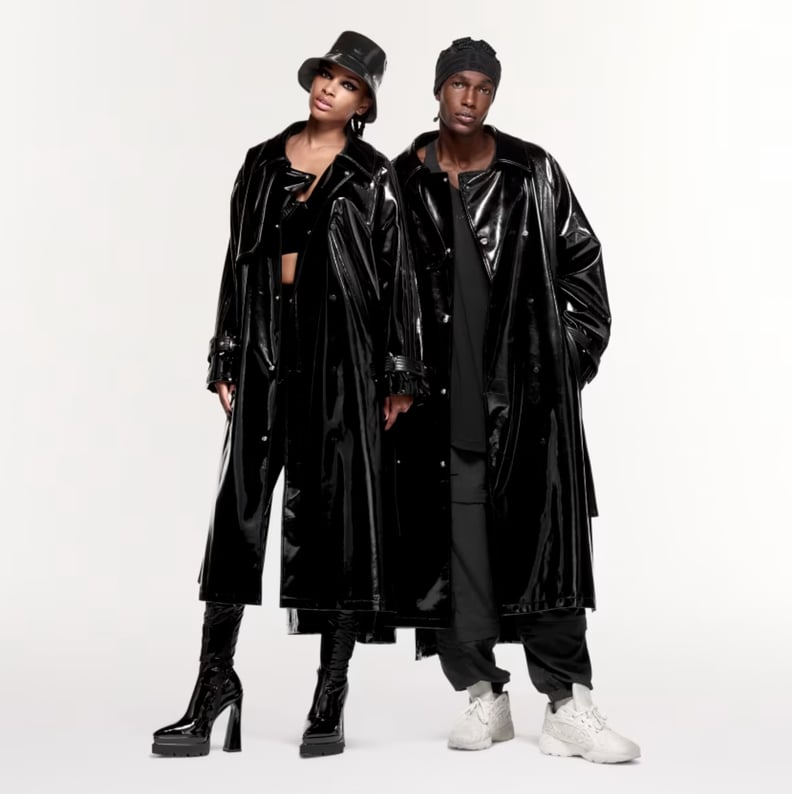 A Moody Trench Coat
Adidas x Ivy Park Latex Trench Coat ($275)
In the market for a new coat for winter? Look no further than this bold latex style from the Adidas x Ivy Park collection, which is designed to revive even the most muted look with a more eye-catching flair.