As POPSUGAR editors, we independently select and write about stuff we love and think you'll like too. If you buy a product we have recommended, we may receive affiliate commission, which in turn supports our work.
Bucket hats are a seriously great style to wear during the spring and summer months. Not only can the relaxed accessory help protect you from harsh sun exposure, but it also works to elevate any outfit with a breezier flair. Unlike sun hats or a basic baseball cap, bucket hats provide full-coverage protection on your head, allowing you to keep your scalp and ears covered on even the warmest days without messing up your hair in the process.
Regardless of your style preferences, there are also so many different types of bucket hats to shop for the new season that can make a welcomed addition to your spring wardrobe — whether you're in the market for a trendy fashion bucket hat, something timeless like a '90s bucket hat, or even stylish bucket hats that are versatile enough to be worn to brunch, the beach, and beyond.
These days, you'll find no shortage of great bucket hat brands to shop from, but few are as beloved by fashion editors as Lack of Color. To help you search out the perfect style for your closet, we enlisted the expertise of Tess Corvaia, co-founder of Lack of Color, to break down why the accessory is predicted to trend this spring, and what you should look for when buying a bucket hat of your own.
What to Consider When Shopping Out Bucket Hats:
According to Corvaia, there's a reason shoppers can expect to see more bucket hat styles popping up in stores and online this season. "Bucket hats are really the perfect hat for people who think they aren't hat people! They're an accessory that you can throw on any time, versatile for all kinds of activities, for all kinds of people and all kinds of hair," says Corvaia. While the accessory certainly isn't new to mainstream fashion, it's seen a resurgence over the last few years, with celebrities like Hailey Bieber, Kylie Jenner, and Dua Lipa all putting their own spin on the accessory.
Corvaia notes that when shopping out bucket hats, there are a few key things to look out for to ensure you're investing in a style that'll last. "Fabric is definitely key — we've had a lot of our wool, cotton, and straw fabrics tested for their UPF rating, and all perform well under the sun." She also explains that even more important than the product's material is its fabric weave. "Most of our straw styles are tightly woven by hand to ensure elevated sun protection (think the Inca Bucket Hat) and minimize gaps between the fibers. Poorer quality straw or material, and poor manufacturing processes will likely impact a style's sun protection, so that's definitely something to watch out for," says Corvaia.
To help you search for the best bucket hats for women, we rounded up the most stylish ones to stock up on this season — with pieces from brands like Lululemon, H&M, Madewell, Urban Outfitters, Amazon, and more. From leather bucket hats and snug crochet styles to straw bucket hats that are equally breathable and chic, these are our favorites.
01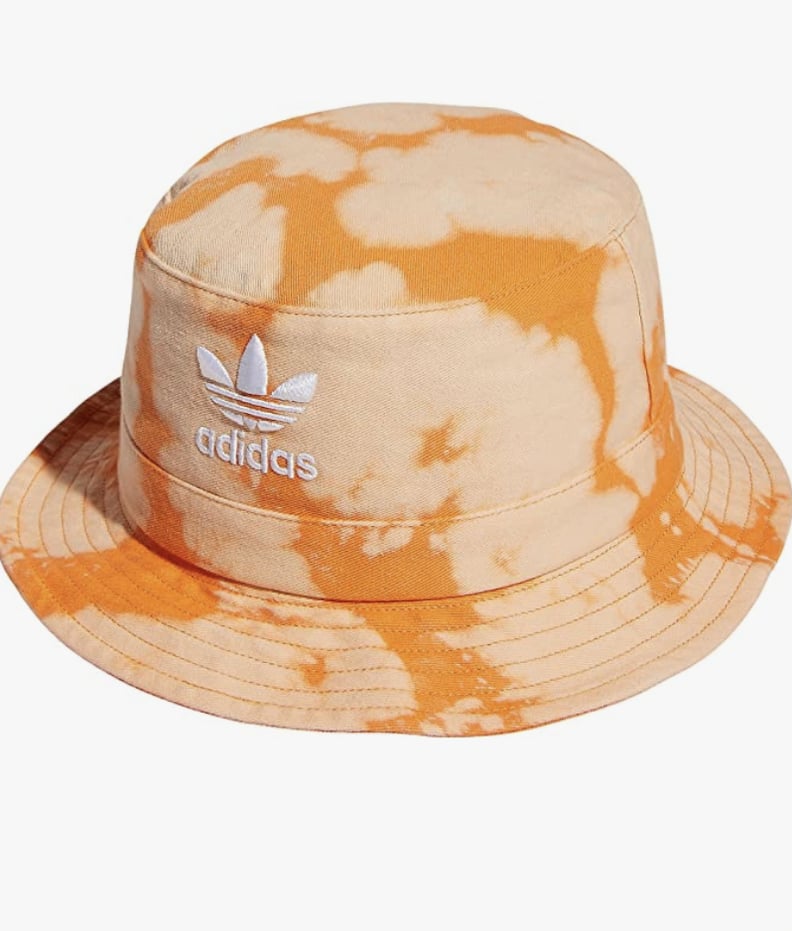 Best Summer Bucket Hat
Adidas Originals Washed Bucket Hat ($32)
We love this vibrant Adidas style because it pairs the edginess of a trendy bucket hat with the notoriety of a branded bucket hat and blends the two into one effortlessly cool piece. Made from a 100 percent cotton material, this accessory is breathable yet still thick enough to fit firmly onto your head. Plus, f the orange tie-dye pattern isn't your vibe, the colorful bucket hat is also available to shop in purple, red, and baby blue shades.
02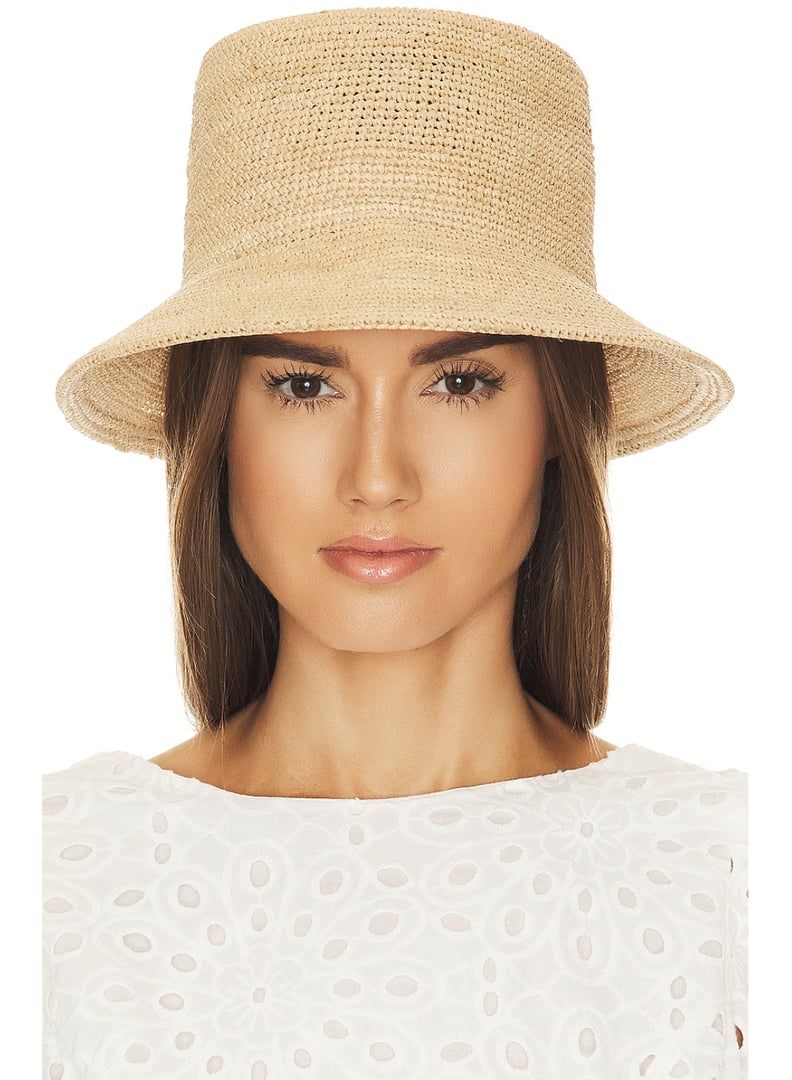 Best Straw Bucket Hat
Lack of Color Inca Bucket Hat ($149)
For a more elevated fashion bucket hat, we recommend this woven accessory from Lack of Color. The unique bucket hat boasts a dipped-in design that contributes to the piece's one-of-a-kind shape, and also creates a more expanded fit that effectively shades the face from direct sun exposure. The style also features a tight weave, which mirrors the design Corvaia recommends when shopping out long-lasting bucket hats. One POPSUGAR editor called it a "spring wardrobe essential" in this review of the Lack of Color Inca Bucket Hat.
03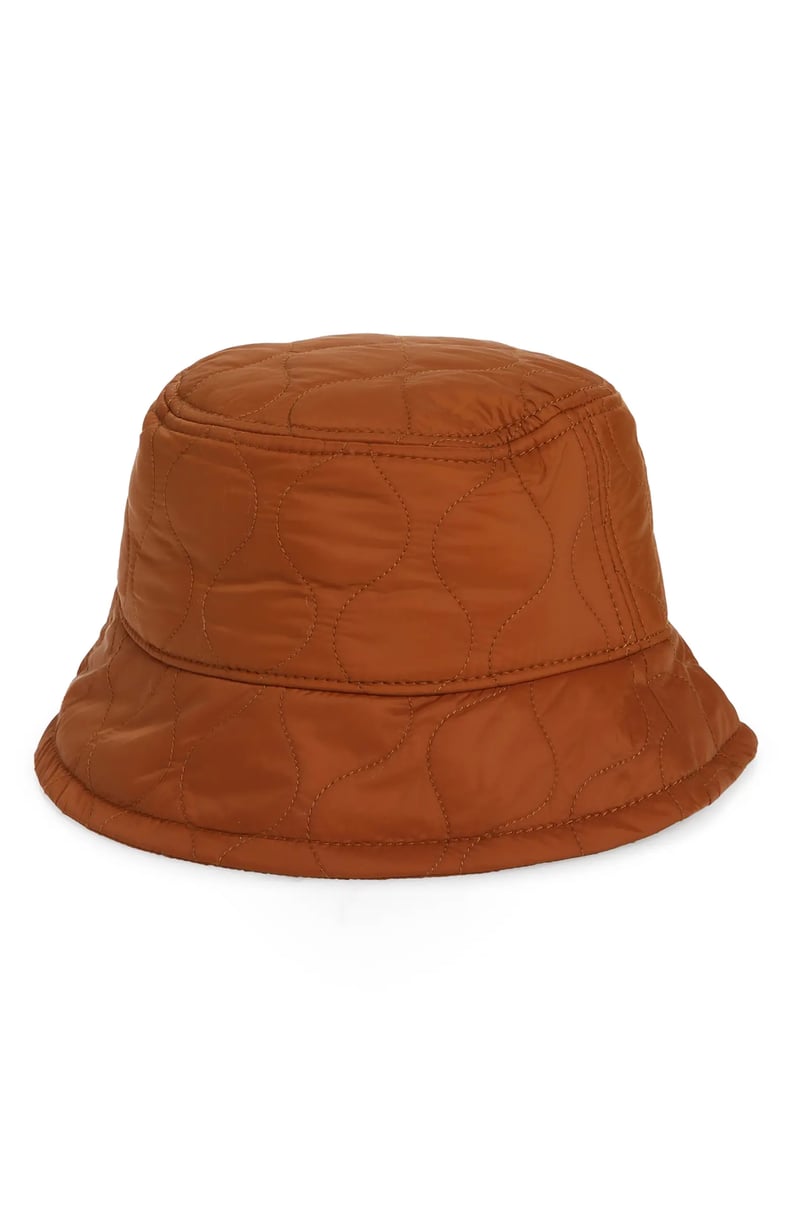 Best Nylon Bucket Hat
Madewell Quilted Nylon Bucket Hat ($36)
A truly good bucket hat combines style with functionality. Perhaps that's why we're so taken with the design of this padded accessory from Madewell, which is crafted from a recycled nylon material that's ethical (we love that) and equipped to withstand all kinds of weather — from heavy rainfall and winds to harsh sun exposure and more.
04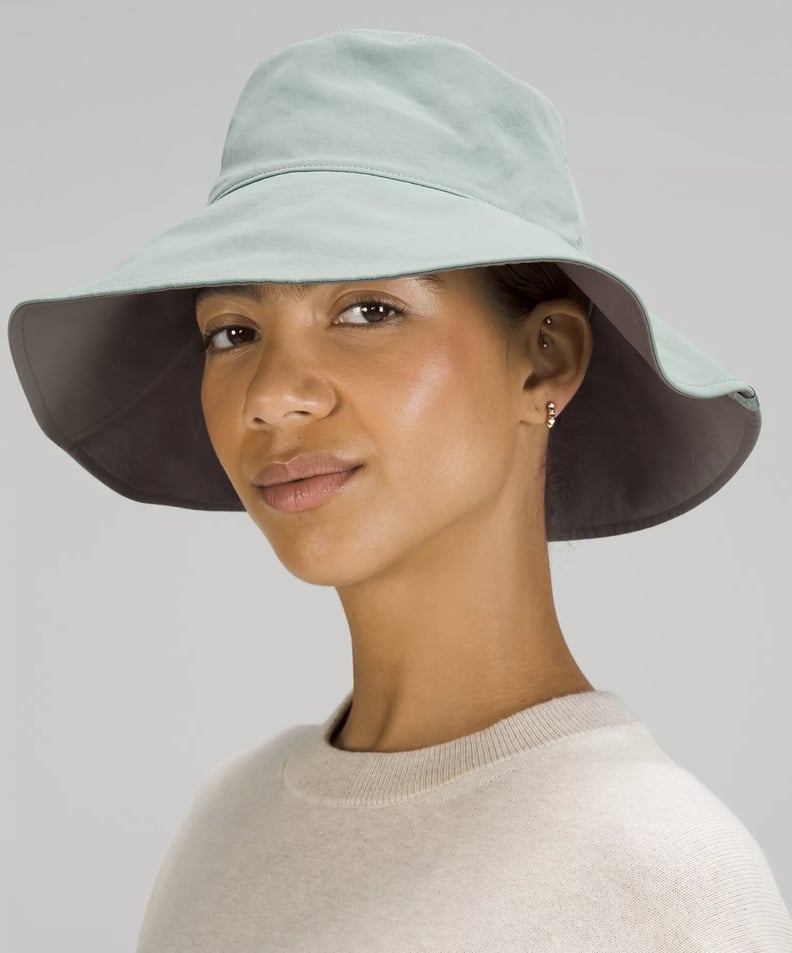 Best Branded Bucket Hat
Lululemon Wide Brim Logo Bucket Hat ($58)
This wide bucket hat is a cult-favorite piece for a reason — as are most of Lululemon's sporty, TikTok-approved styles. We love the accessory's delicate blue coloring and wavy side flaps, which drape beautifully over the face and are sure to help protect your skin from any direct UV rays — whether you're laying on the beach or partying at a music festival. Plus, the bucket hat is crafted from a waterproof and wind-resistant material, meaning it's a great style to wear in any season where you might be navigating harsh outdoor weather.
05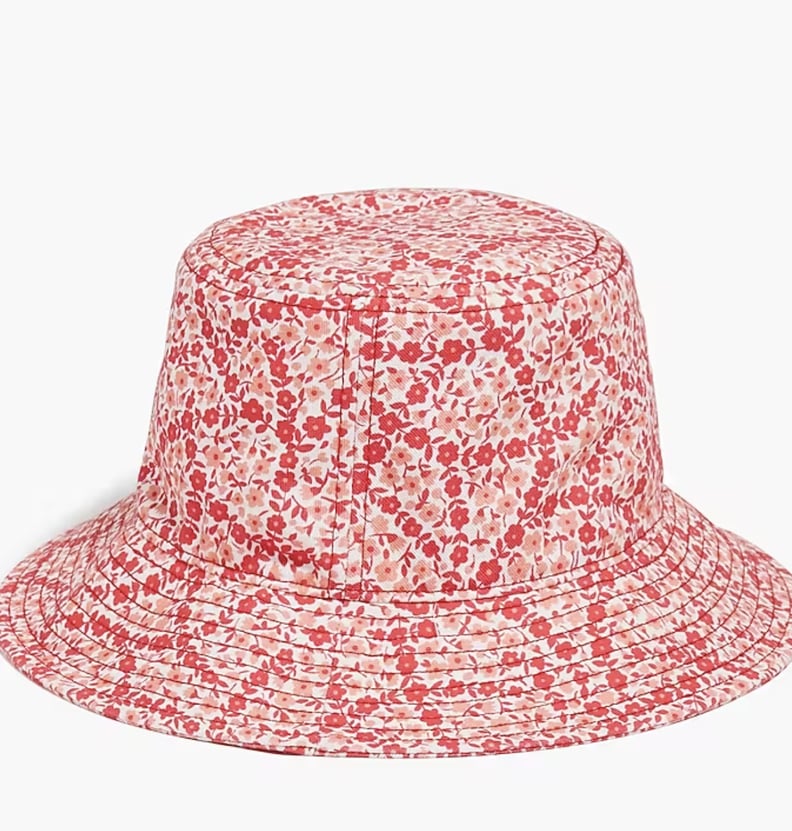 Best Printed Bucket Hat
J.Crew Printed Bucket Hat ($25, originally $60)
It doesn't get much more fun than this red bucket hat from J.Crew. The printed piece features a colorful, floral-adorned print that's totally unique and on trend for the new season. Pair it with your bathing suit and a white T-shirt dress for an ensemble you'll want to wear to brunch, poolside, and beyond.
06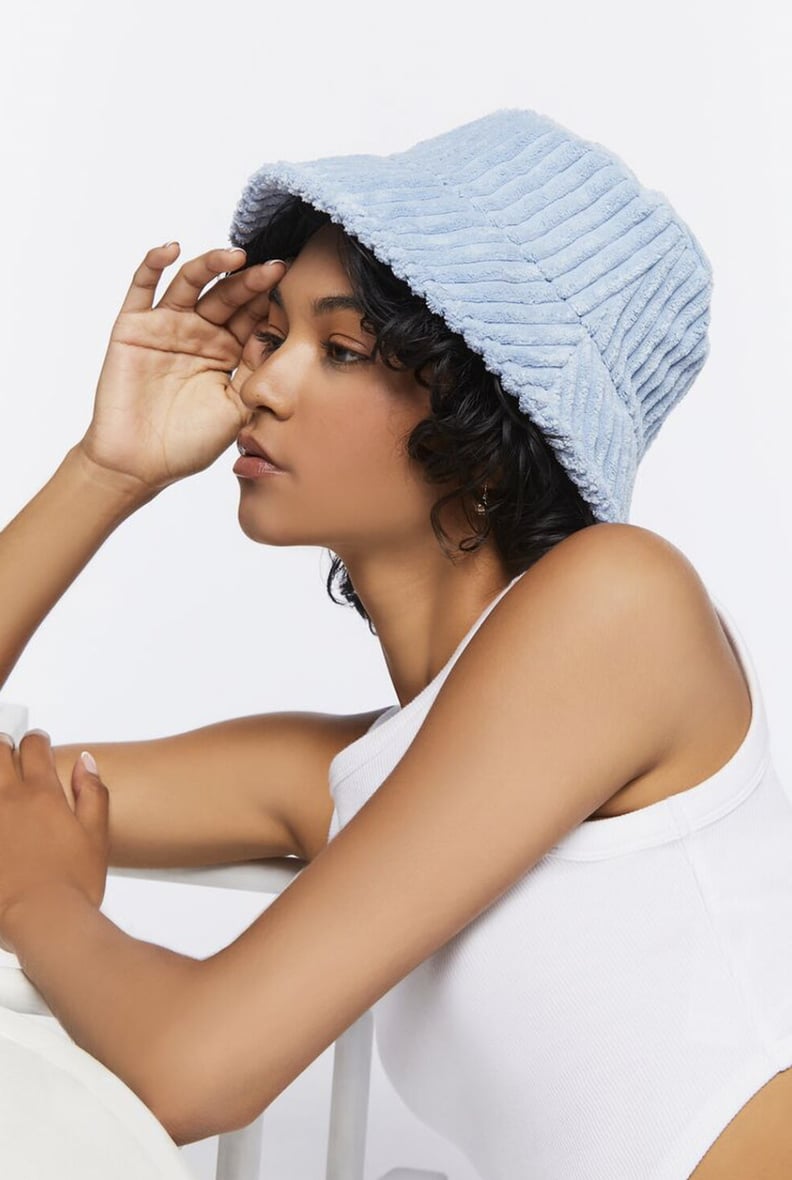 Best Corduroy Bucket Hat
Forever 21 Corduroy Bucket Hat ($15)
While corduroy might have a reputation for being popular in the fall and winter months, we're just as obsessed with the fabric for spring, too. Between cozy, lightweight jackets and corduroy pants, there are so many styles to love — though we really adore the vibe of this ribbed bucket hat from Forever 21. Pair it with a more muted ensemble to give any look a textured upgrade!
07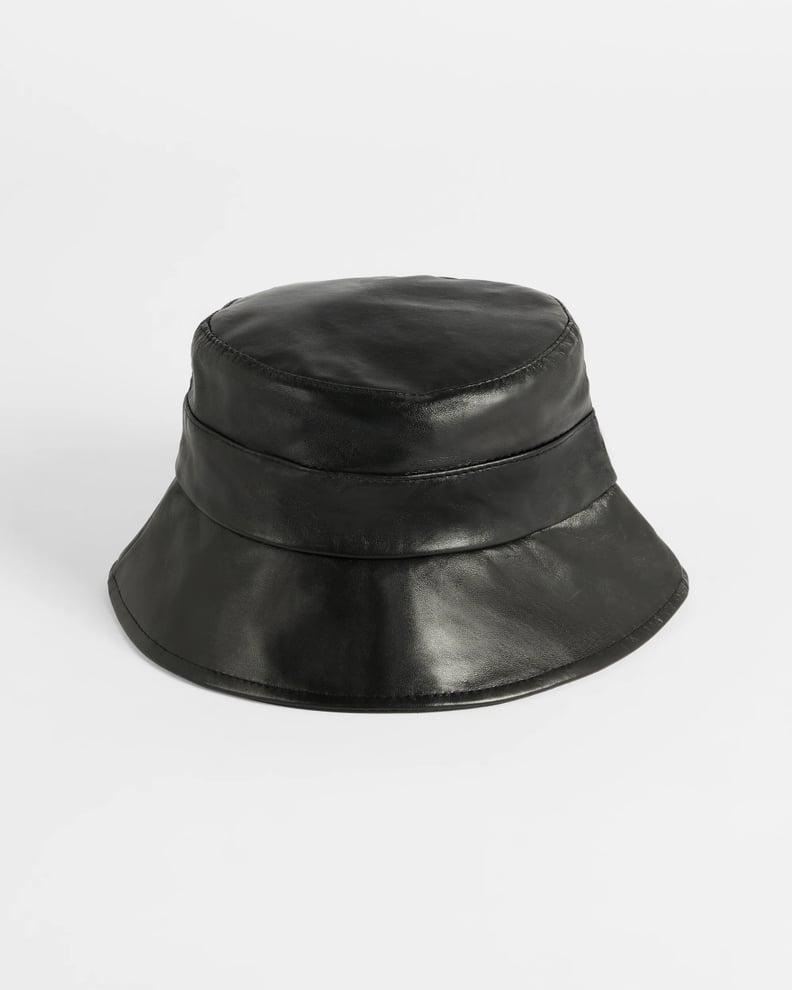 Best Leather Bucket Hat
Ted Baker Bucket Hat ($110)
Leather is often a savior material during the cooler months, but the style can be just as versatile throughout the spring. Case in point: this sleek, black bucket hat which is made from a matte leather material and is designed with durability in mind. The accessory is especially great for wear in the evenings as it's sophisticated-looking without feeling too formal or stuffy.
08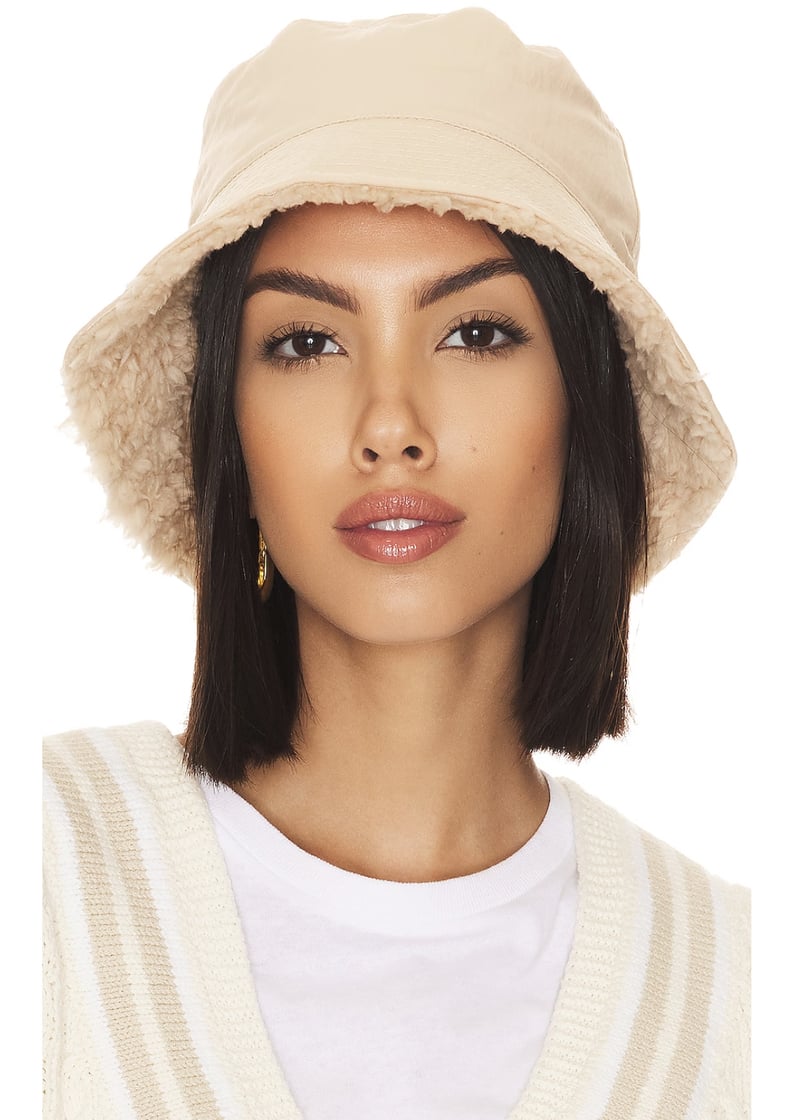 Best Faux-Fur Bucket Hat
Beis The Bucket Hat ($48)
We haven't completed escaped cool temperatures just yet, and if you're looking for an accessory to pull out on those lingering chilled mornings or when the next spring rainstorm rolls through, you can't go wrong with a style like this beige bucket hat from Beis. The accessory is available to shop in several neutral colors, and features a faux-fur interior lining that's plush and super-comfy.
09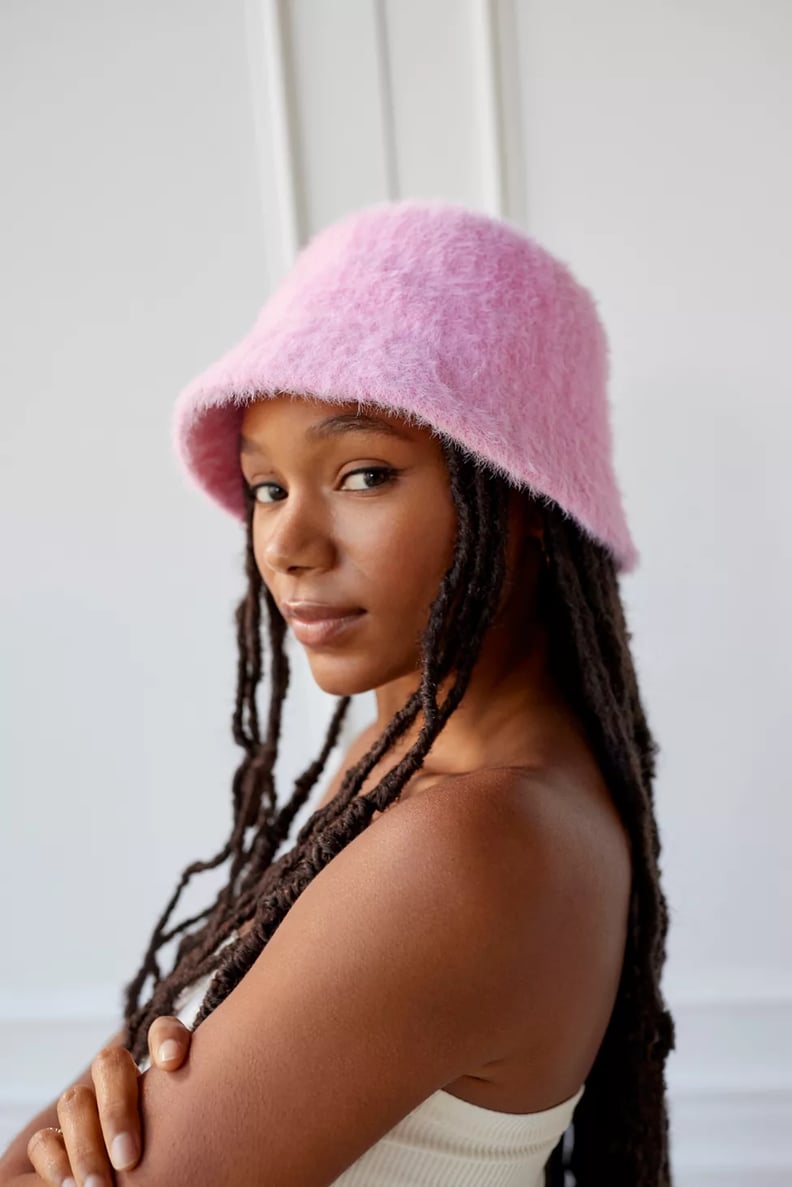 Best Fuzzy Bucket Hat
Urban Outfitters Juno Fuzzy Bucket Hat ($15, originally $25)
Treat your seasonal wardrobe to a serious pop of color, provided by this bubblegum-pink bucket hat, which doubles as the perfect accessory for tapping into the Barbiecore trend. Bonus: the style is available to shop in six other unique colors, too.
10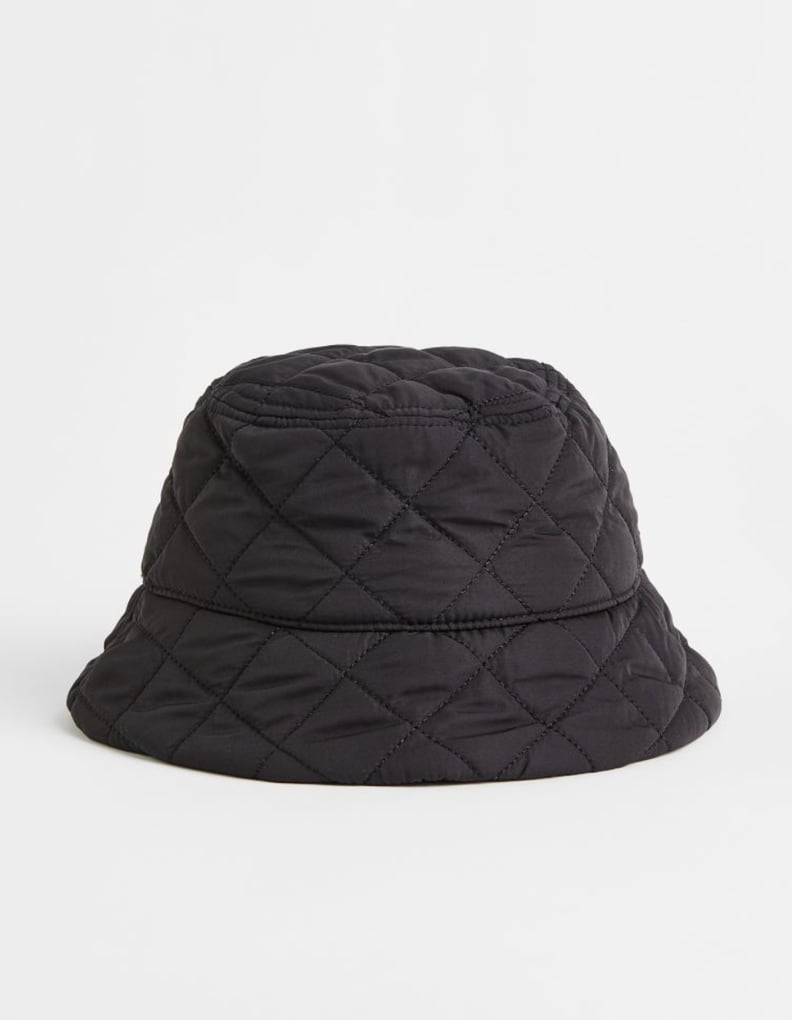 Best Waterproof Bucket Hat
H&M Bucket Hat ($12, originally $18)
Crafted from a plush, woven polyester fabric, this weather-friendly bucket hat is equal parts simple and stylish. The accessory can go with just about anything — from a sleek, faux-leather jacket to a breezy, long-sleeve dress and more. We love the sporty look of this accessory, and the fact that it's designed to go with you anywhere.
11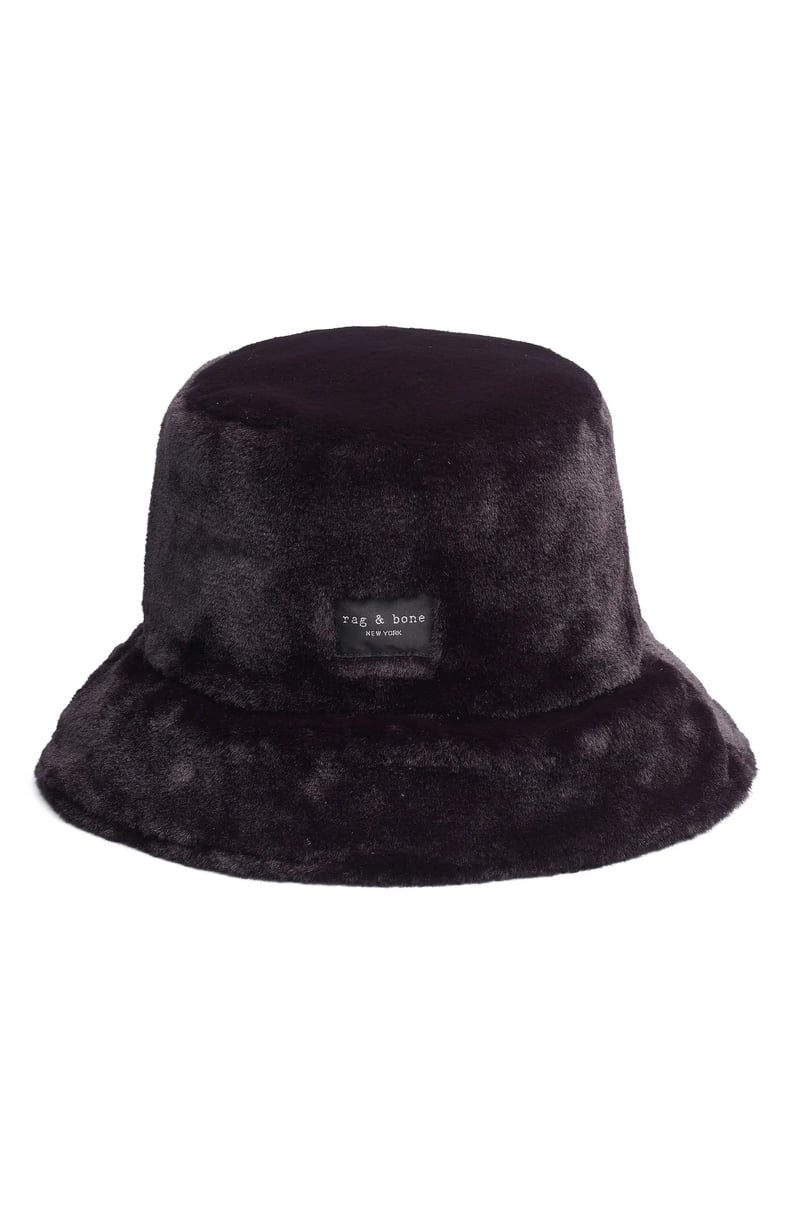 Best Reversible Bucket Hat
Rag & Bone Addison Reversible Faux-Fur Bucket Hat ($99, originally $165)
For a truly versatile bucket hat, opt for this reversible accessory which features a faux-fur lining on one side, and a quilted, weather-friendly design on the other. This is the type of bucket hat you'll want to travel with, as you'll be able to sport the piece wherever you go — regardless of the weather or outside temperatures.
12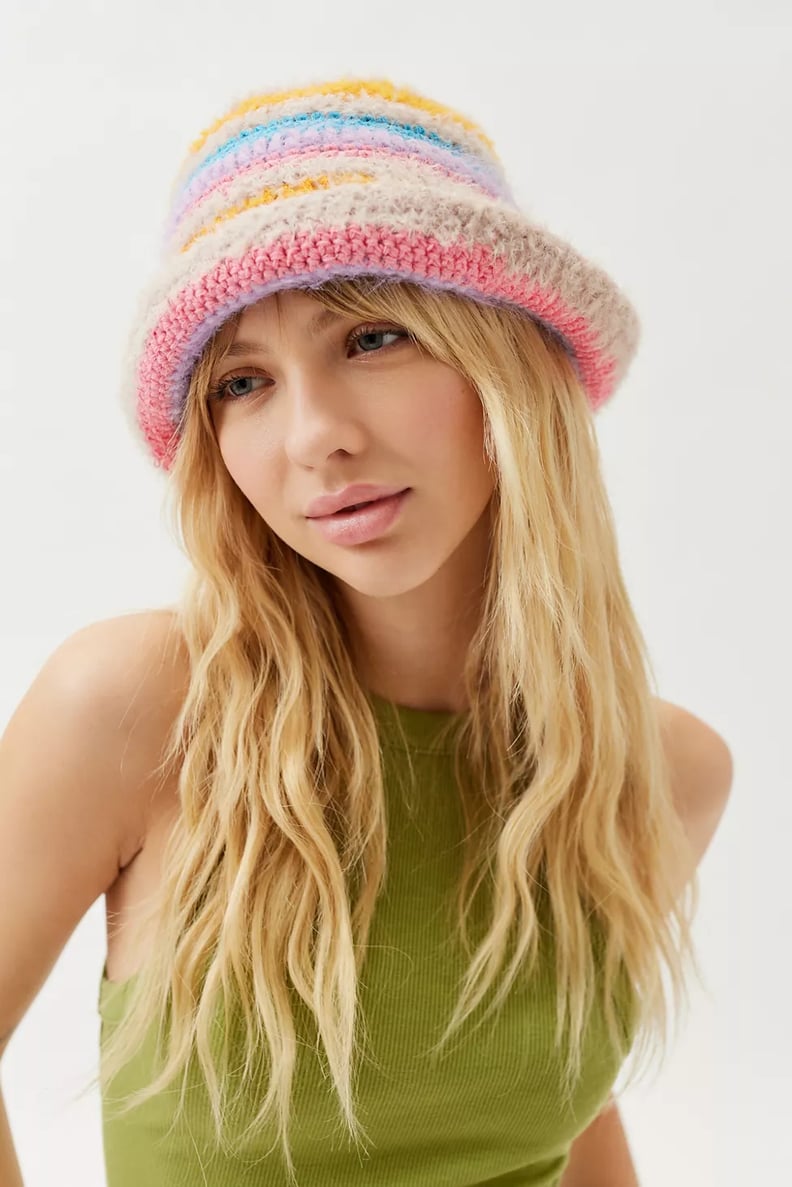 Best Crochet Bucket Hat
Urban Outfitters Luna Crochet Eyelash Bucket Hat ($29)
It doesn't get any more spring-friendly than this pastel-colored bucket hat, which is made all the more darling with its multicolored, boho-knit stripes throughout. The crochet accessory is elevated even more with an eyelash texture that's soft to the touch and made to feel so cozy when you're wearing it.