How This Cool Bride Mastered a Wedding Look That's Both Low-Key and Crazy Sexy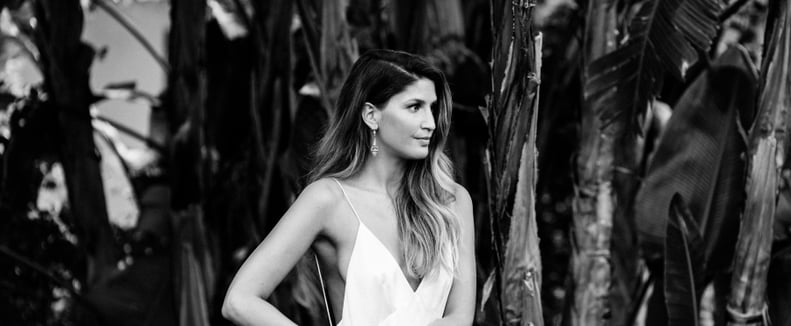 Sarah Falugo
How do you capture the laid-back cool of Palm Springs in a wedding dress? If you're Alexandra Basch, longtime brand director at A.L.C., you turn to your friend and creative director Andrea Lieberman. Andrea seemed to have a vision from the moment Alex was engaged, and the result was the stuff of minimalist bridal dreams: a dress that captured Alex's "left of classic" aesthetic.
The key was focusing on the fabric and the perfect fit, which was designed simply with one high-impact detail: a low-slung, sexy back. Add to that a pair of silvery luxe Gianvito Rossi heels the bride purchased serendipitously just a day before the ceremony and the art deco jewels from her grandmother, steeped in family memories, all of which culminated in something truly special without being overdone.
Alex seemed to effortlessly master the art of crafting a bridal look that stays true to yourself. Like the whole of the wedding, which took place at the charming albeit low-key Colony Palms Hotel in Palm Springs — a spot beloved by the bride and her groom — the wedding look doesn't come with any pretense. It's romantic without trying too hard and memorable for all the right reasons. Read on for all the details about the look straight from the bride and soak up the inspiration in her gorgeous wedding photos.
PS: How did you choose the dress/know when you had found "the one"?
Alexandra Basch: I have worked at A.L.C. since its inception in 2009. Andrea, the creative director and founder of A.L.C.'s first response to my engagement was, "I cannot wait to make your dress." Needless to say I was overjoyed. I knew I wanted something really simple, nothing too bridal, and I was confident that after eight years of working with Andrea she would not only understand that, but be able to conceive the perfect balance, something a little to the left of classic. We had a few back-and-forths on my dress and finally decided on a very restrained approach, all about the fabric (a double-faced silk she found on a trip to Paris for the fabric show) and fit — simple at the front with an iconic A.L.C. back detail, in this case very low. Our team is so talented and the ultimate perfectionist and they truly brought the dress to life.
PS: What were you looking for when choosing wedding shoes?
AB: I paired the dress with silver velvet Gianvito Rossi heels, a last-minute purchase a day or two before the wedding. I wanted something elegant and simple. I have to admit that as soon as dinner was over I slipped into a pair of flat suede sandals with a simple ankle strap. Despite being a terrible dancer, I knew I wanted to dance all night and there was no way that was happening in heels!
PS: Were there any special wedding traditions that were important to you to incorporate into your look?
AB: My grandmother passed two years ago and I knew I wanted to represent her and feel close to her so I wore pieces that she had given me that were once hers. A beautiful set of 1920s art deco diamond and sapphire earrings and a myriad of art deco rings. Unplanned, Andrea and I actually ended up using one of my grandmother's vintage broaches to pin up the train of my dress in the back so I could slip into flat sandals for dancing! Additionally, in the tradition of "something borrowed," Dylan's [the groom's] sister Taylor got married in April and I thought her veil was perfect — she insisted I wear it!