After Conquering NYFW Twice, This 13-Year-Old Fashion Designer Is Fighting APIA Hate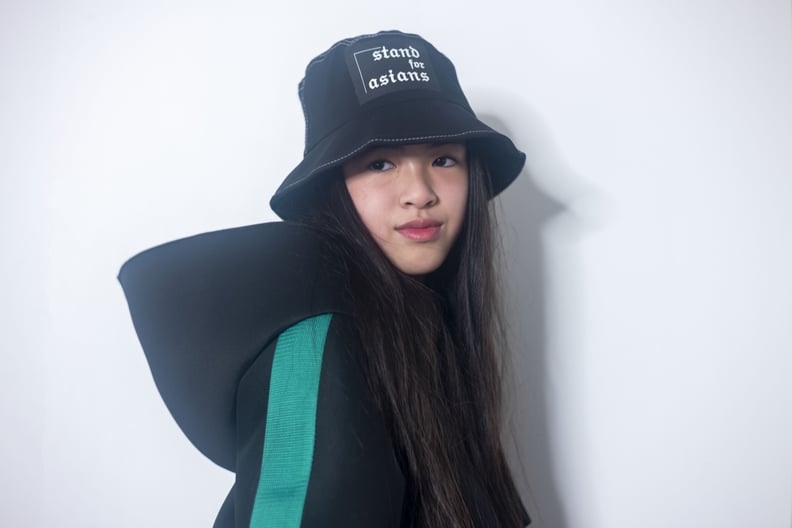 Angela Wu
Angela Wu
When Ashlyn So puts her mind to something, there's no stopping her. Merely three years after attending her first sewing class at age 6, the fashion designer made her New York Fashion Week debut, presenting an enchanted forest-themed collection among designers five times her senior. And that's just one of many accomplishments on her already-extensive résumé. Nowadays, 13-year-old Ashlyn is using her platform to speak out against the rise in hate crimes targeting Asian Americans, proving she's ready to express herself with more than just a needle and thread. In honor of APIA Heritage Month, POPSUGAR caught up with Ashlyn about her fashion design endeavors and activism efforts, and the conversation instantly solidified our prior decision to include the talented San Francisco native on our 21 Under 21 list.
Ashlyn's obsession with sewing dates all the way back to preschool. While her classmates played with blocks and finger paint, she was hooked on stitching together stuffed animals and Christmas ornaments. By age 7, after asking her mom to be "challenged" more, she was enrolled in a camp taught by Project Runway season 12 runner-up Alexandria von Bromssen, learning how to cultivate her eye for design. Ashlyn's mother, architect Angela Wu, fondly recalled a story from around the same time when Ashlyn proactively made a shirt for herself to wear before a family outing.
"I thought, there's a seed of something in there."
"She said she didn't have any top like the one that she wanted to wear," Angela told POPSUGAR. "I said, 'OK, we have to leave in an hour, so if you can make something, then make something." The result was a white off-the-shoulder blouse that looked straight off the racks at Nordstrom— and yep, they were still out the door on time. "I thought, there's a seed of something in there," Angela said of the proud moment.
Ashlyn has since sent her creations down the NYFW runway twice — once at age 9 and again at age 12 — and both experiences were pretty darn epic. "It felt like a dream almost," she said, joking that she doesn't remember how many people were in the crowd because she was practically floating on cloud nine. Whereas she currently gravitates toward wearing streetwear (think: oversize jackets, hoodies, bucket hats, and beanies), the pieces Ashlyn makes are on the opposite end of the spectrum. "I really like to design avant garde and structural designs," she said, citing Alexander McQueen and Phillip Lim as sources of inspiration. "I usually use much stiffer fabrics, and most of my designs are not something people would wear every day. It's more of formalwear, and it's all inspired by different shapes."
Her ultimate bucket list goal is to design a gown for a Met Gala attendee, preferably Lady Gaga. Something tells us that dream will absolutely come to fruition one day, especially because she already has experience conceptualizing and creating couture dresses for themed parties. While attending a Mandarin immersion school, Ashlyn made outfits for her classmates' mothers to wear to the annual school gala. For the recent Shanghai Tang-themed shindig, Ashlyn honored the Chinese luxury fashion house by making one mom a highly detailed dragon-inspired dress featuring origami-like fabric pieces.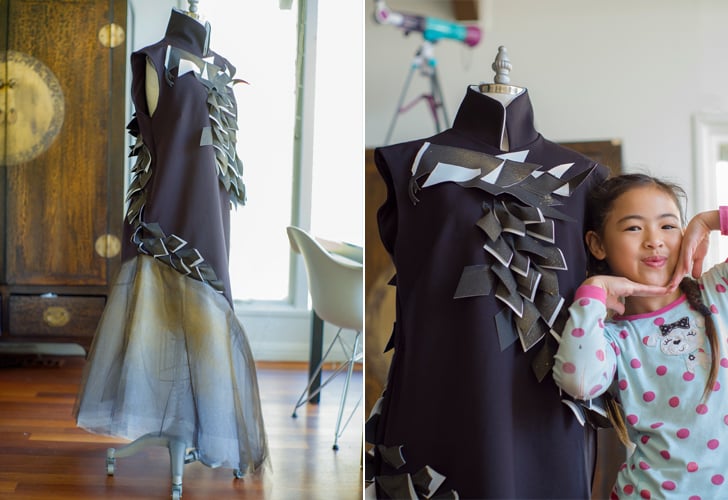 That's not the only example of Ashlyn using her design chops to benefit others. Last year, she sewed and donated hundreds of stylish face masks for healthcare workers on the front lines of the COVID-19 crisis. Her charitable efforts fittingly earned her the people's hero award at the 2020 People's Choice Awards. While accepting the honor during the virtual show, Ashlyn said, "I hope my story encourages young girls to help those in need and make a difference in this world" — and her masks garnered a sweet compliment from host Demi Lovato. NBD!
These days, Ashlyn is focusing most of her time and energy on the other pandemic plaguing the US: systemic racism. After seeing social media footage of an Asian American elder being violently targeted last year, she felt the need to speak up and do something about it. "This is my culture, these are my people," the seventh grader said, adding, "This could've been my family," as a reference to the influx of hate crimes involving APIA since the COVID-19 outbreak began.
"It's about putting my worries aside to help others."
Ashlyn wound up planning her very own Stand For Asians rally, which took place on Feb. 27 in San Mateo, CA. (Mind you, she organized the whole thing with community leaders after school hours while still getting her homework done like a total boss.) Hundreds attended, and though she was admittedly on the shy side growing up, Ashlyn gave a speech during the event — wearing one of her homemade face masks, of course. "With the first few rallies, I was really shaking, but when I actually got to speaking, I realized it's not about me and it's about putting my worries aside to help others," she said. "I totally feel a surge of energy when I'm speaking, and I feel very empowered."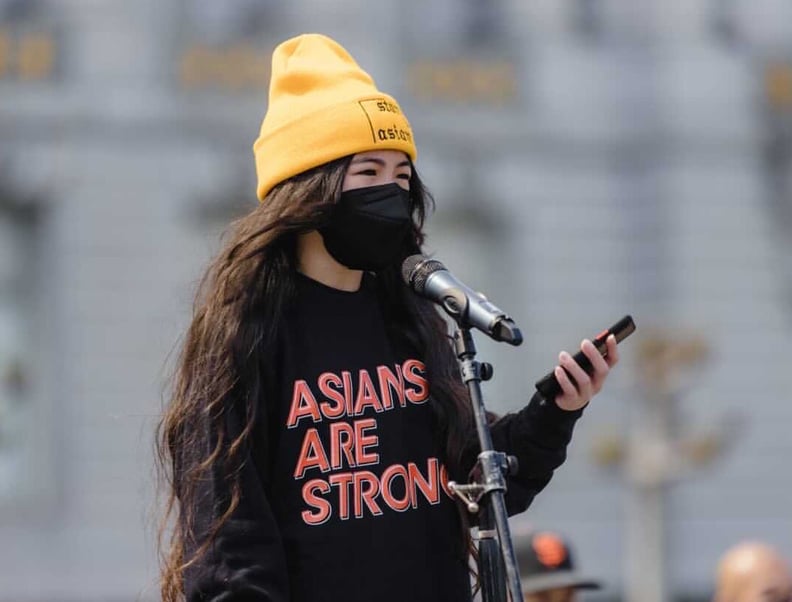 Ashlyn has gone on to attend and speak at dozens of marches and virtual panels since then, but she knows they're providing just a small sliver of the insight needed to properly teach other young people about Asian American experiences. That's why she started an official Change.org petition for schools to add Asian American history to their curriculums so students are educated about topics like the Chinese Exclusion Act and Japanese internment camps. Ashlyn herself recently learned about these issues by watching PBS's Asian Americans series. "I'm in seventh grade and I hadn't even learned [about those issues]," she said. "It was a huge shocking moment for me knowing that this happened in our own country." She suggests the PBS series as a resource for anyone looking to educate themselves on the challenges APIA have faced.
The 13-year-old's sudden interest in not only learning more about her Chinese-American heritage but also using that knowledge for good made a profound impression on her mom. "I'm a first generation immigrant, and I feel like I have a lot of baggage that culturally tells me put your head down, don't make waves, just keep going and if no one's hurt, just suck it up," Angela told POPSUGAR."For her to speak up, it was almost an awakening moment for me, too . . . I really think that she helps awaken a lot of us by saying, 'Hey, don't take the status quo because we need to change.'"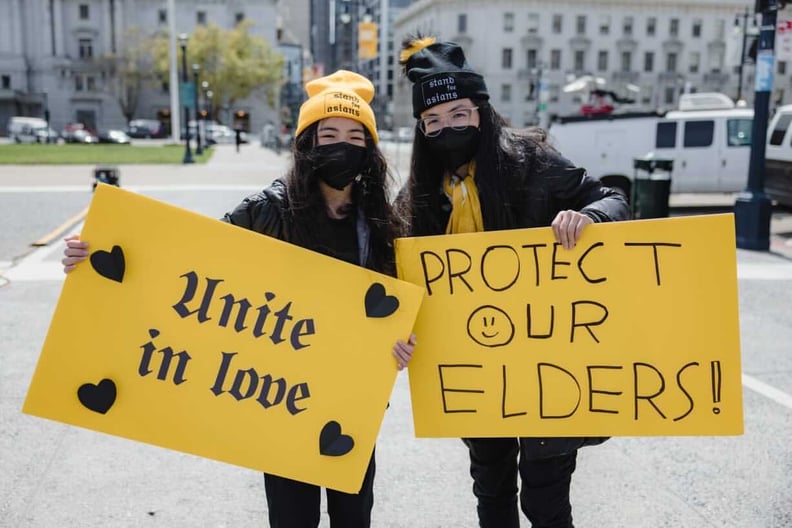 When she's not busy spearheading rallies, promoting her petition, or writing speeches, Ashlyn is cranking away on her latest fashion design projects. She recently released a merch collection in support of the Stop Asian Hate movement, with proceeds benefitting small APIA-owned businesses. The items — including a "Stand For Asians" beanie she's modeled at past marches, as well as a "Unite in Love" t-shirt — are available for purchase on Ashlyn's website. Plus, for a fashion show taking place this September, she's working on a more high-end collection involving optical illusions. "There's going to be a lot of similar shapes combined, and it resembles our community coming together and saying something," she teased.
"If you see a person doing something that you don't think is right, you should call them out for it."
When we asked Ashlyn for her advice on how to be an ally to the Asian American community as it grapples with such hostility, she summed up her response with several worthy action items. "Support small Asian businesses, sign petitions, post about it on social media, so your friends and people from school actually know about it too," she said. "If you see a person doing something that you don't think is right, you should call them out for it."
Despite ongoing hate incidents toward those in her community, Ashlyn remains optimistic about the future. She has her sights set on attending Parsons School of Design in New York City and continuing to mix her passions for fashion and activism. Luckily, there's a growing group of fellow youngsters who are more than ready to march right alongside her. "I see so many people posting about it but also organizing rallies and organizing seminars," she said. "I see conferences, and that really makes me hopeful, not only for 2021 but for the future, too."