As POPSUGAR editors, we independently select and write about stuff we love and think you'll like too. If you buy a product we have recommended, we may receive affiliate commission, which in turn supports our work.
Just when we had started to embrace short skirts in all of their cropped, micro glory, colder temperatures began to take over and (as to be expected) have seriously limited our ability to continue wearing the leg-baring styles. Fortunately, for those of us fatigued by constant jean-wearing (hi!), there is another style that's already proving to be the winter's answer to one of the year's most coveted staples: the maxi skirt.
If you think about it, maxi skirts are really the perfect cold-weather alternative. They provide all of the same '90s charm as their cropped counterparts, just in a thicker (and frankly much warmer!) design. Long maxi skirts also provide so much styling versatility — giving you the freedom to pair them with everything from sneakers and loafers to knee-high boots and more.
After months of stocking up on miniskirts in just about every variation you could imagine — from country-chic denim minis (inspired by Kendall Jenner, of course) to teeny-tiny patent styles that just oozed Barbiecore vibes — we're more than ready to embrace some cozier and more conservative ensembles through the maxi skirt trend. If you're also hoping to ditch your pants altogether this winter, we've rounded up the best maxi skirts for women to shop this season — with styles that range in everything from boho maxi skirts (a year-round favorite!) and high-waisted maxi skirts to faux-leather styles, skirts with pockets, and even denim maxi skirts, too. Browse our picks ahead!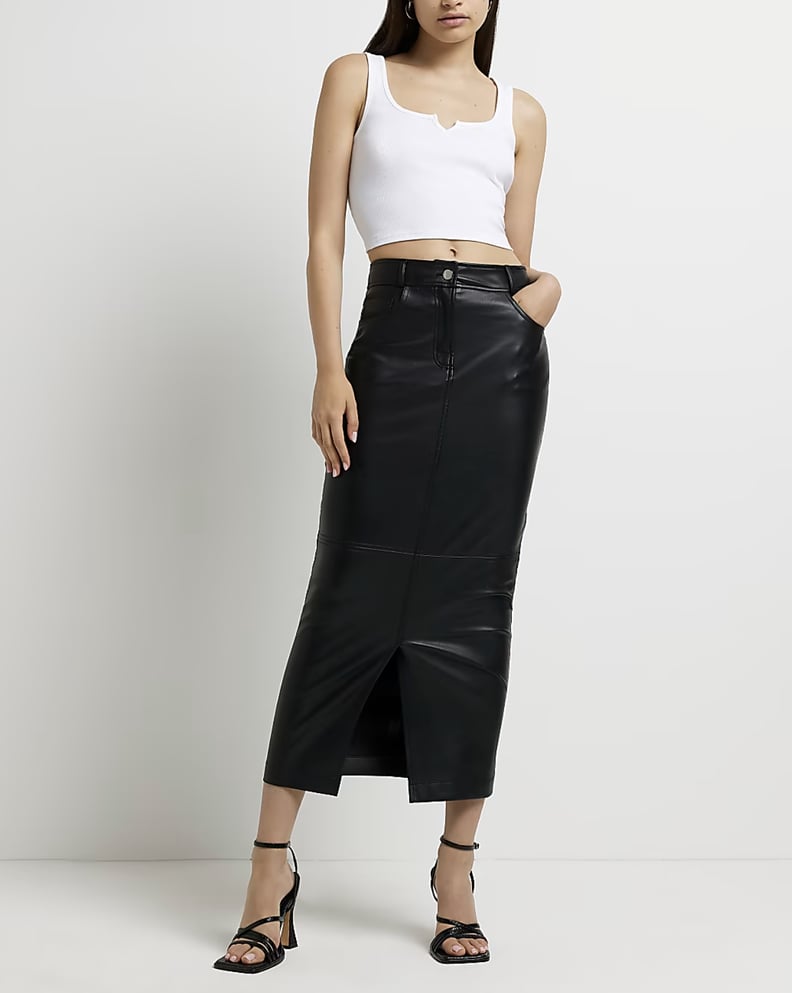 Best Leather Maxi Skirt: River Island Black Faux-Leather Maxi Skirt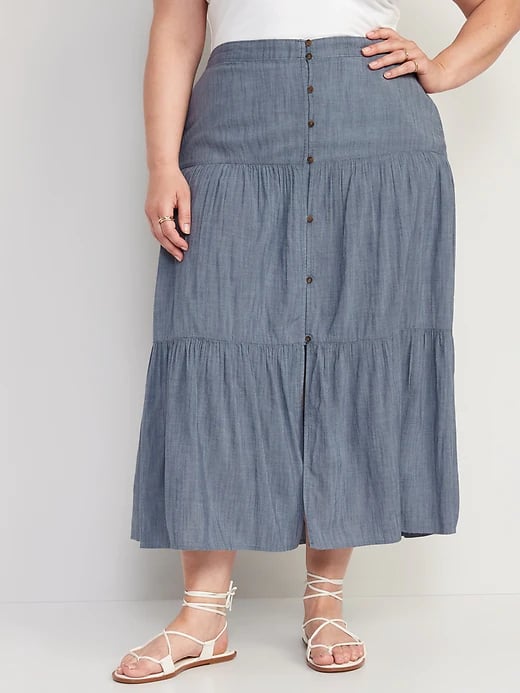 Best Light Maxi Skirt: Old Navy Slub-Weave Tiered Button-Front Maxi Skirt
Perhaps you're in the market for more of a lightweight maxi skirt that you can wear year-round, regardless of the season or temperatures? This Old Navy Slub-Weave Tiered Button-Front Maxi Skirt ($40) is an especially versatile option, thanks to its six-button front design and breezy, tiered structure.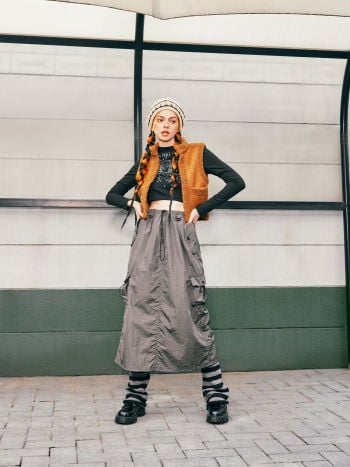 Best Parachute Maxi Skirt: Cider Solid High Waist Cargo Parachute Skirt
The '90s called and they want this Cider Solid High Waist Cargo Parachute Skirt ($26) back. In all seriousness, this style oozes a Britney Spears-like flair that's equal parts nostalgic and fun. The maxi skirt even has an elastic waistline, making the piece feel more breathable and easier to move around in!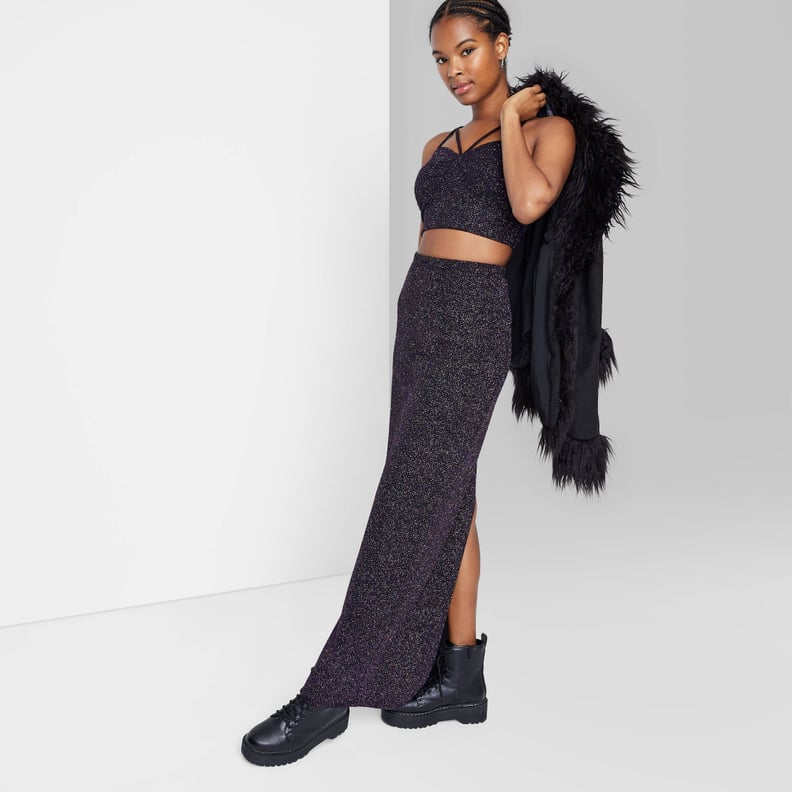 Most Stylish Maxi Skirt: Best Wild Fable Maxi Skirt
Not all maxi skirts are the same — as demonstrated by this glittery Wild Fable Maxi Skirt ($24). The ribbed slip breathes new life into an otherwise conservative and muted style. And the stretchy maxi skirt is wrapped in a shimmer finish that's sure to help you sparkle in any room.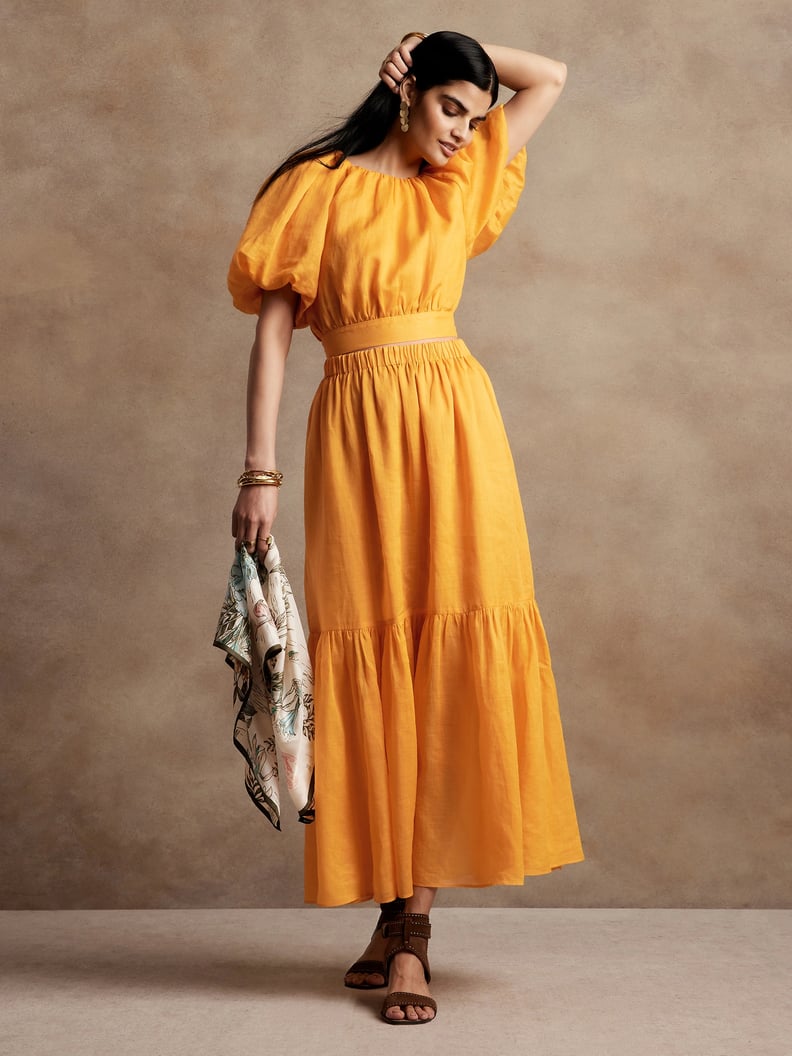 Best Boho Maxi Skirt: Banana Republic Ramie Maxi Skirt
Boho maxi skirts are a notable summer staple. But this golden Banana Republic Ramie Maxi Skirt ($60, originally $140) proves the piece can actually be worn in any season — assuming you know how to style it, of course. Pair this sunny number with a cropped white sweater and brown boots for a look that's as unique as you!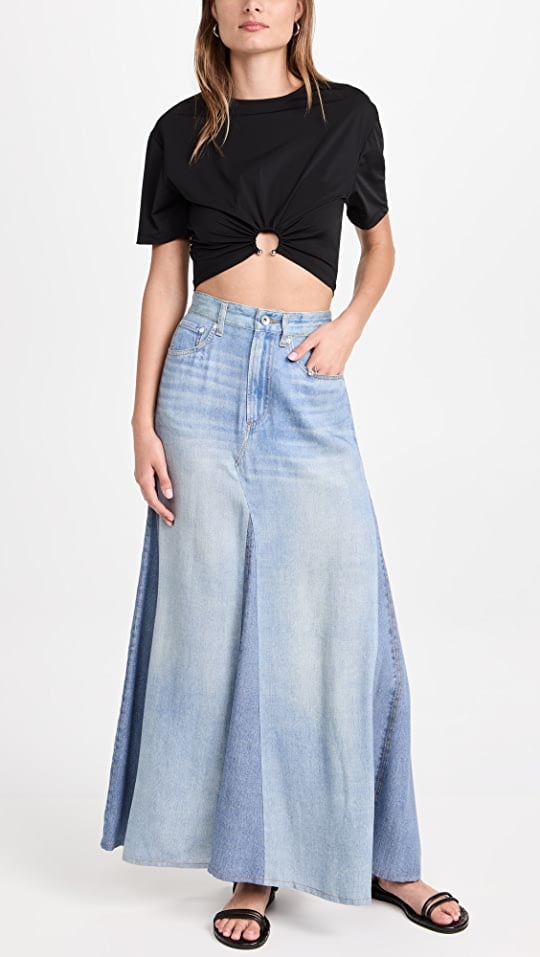 Best Denim Maxi Skirt: Rag & Bone Liquid Miramar Maxi Skirt
Keep it cute and country-chic in this Rag & Bone Liquid Miramar Maxi Skirt ($350). Denim maxi skirts have enjoyed a pretty major style resurgence this year (thanks, in part, to Kendall Jenner and Bella Hadid's religious commitment to wearing the piece). We love the pleated design on this version, which helps to elevate the style with a flowy charm.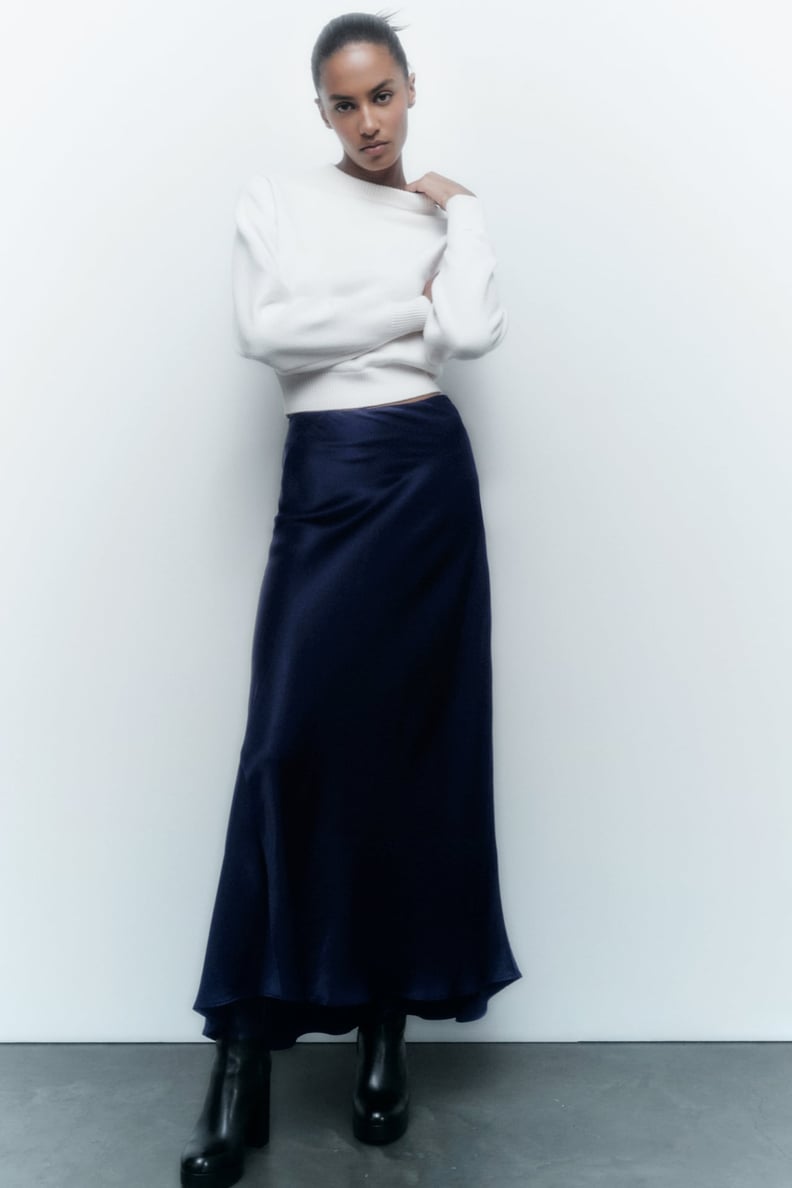 Best Satin Maxi Skirt: Zara Satin Effect Skirt
You can never go wrong with investing in a Zara maxi skirt — especially if it's as chic as this Zara Satin Effect Skirt ($70) style. The glossy, high-waisted piece is crafted from a viscose material that's both unique and comfortable. If the navy blue coloring isn't your style, there's also a variety of other color options to shop the satin-like maxi skirt in, too.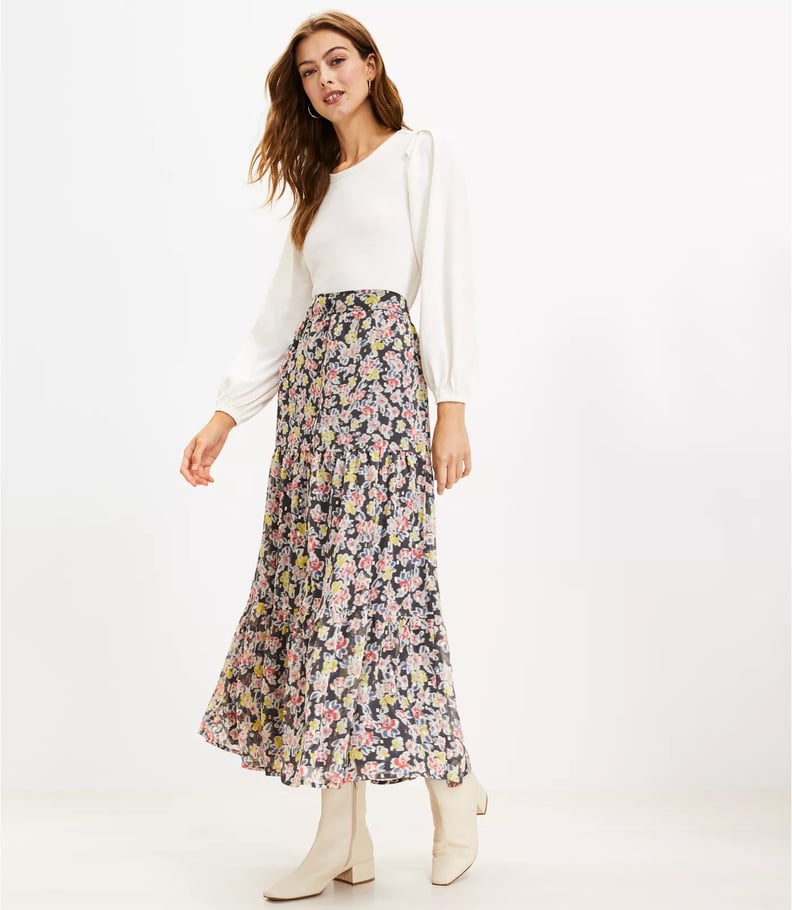 Best Patterned Maxi Skirt: Loft Shimmer Floral Button Tiered Maxi Skirt
Simplify your winter wardrobe and let this Loft Shimmer Floral Button Tiered Maxi Skirt ($80, originally $90) be the focal point of your next seasonal ensemble. The flowy maxi skirt is wrapped in a floral design that's simply darling. And with the variety of colors incorporated into the piece, you'll have no problem matching the skirt with any lighter sweater in your closet.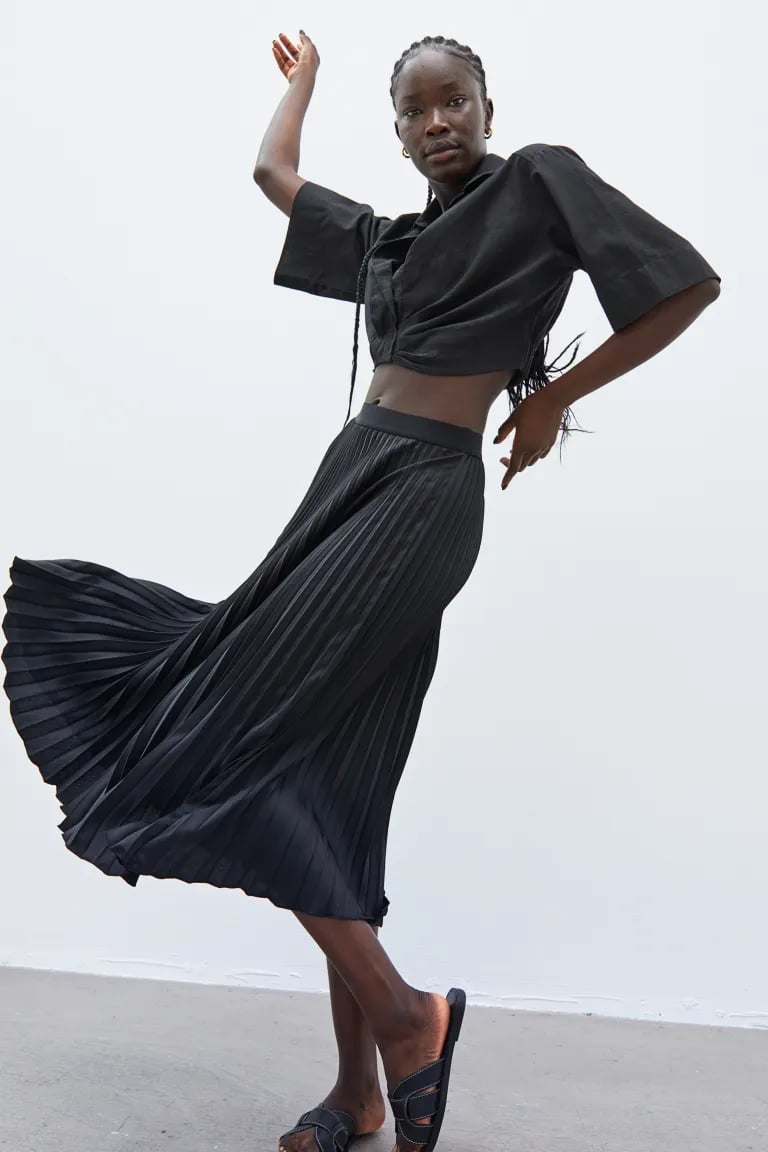 Best Pleated Maxi Skirt: H&M Pleated Skirt
From the dance floor to your next work function and beyond, you're sure to be endlessly twirling the night away in this sleek H&M Pleated Skirt ($40). The pleated piece is crafted from a woven fabric that helps to give the style its soft yet still luxe texture.