As POPSUGAR editors, we independently select and write about stuff we love and think you'll like too. If you buy a product we have recommended, we may receive affiliate commission, which in turn supports our work.
If there's anything we've learned from the fashion trends of the past two years, it's that both nostalgia and color have come back in a big way (thanks TikTok). We've seen it with Y2K fashion, and now with Greta Gerwig's highly anticipated "Barbie" movie finally premiering in theaters, the Barbiecore aesthetic has already proven to be this season's biggest style trend — and managed to seep its way into seemingly every corner of mainstream fashion, too. Hot-pink hues have been popping up everywhere this season; celebrities like Lizzo and Anne Hathaway have embraced the bold look, and many furniture brands are even getting in on the Barbie obsession with bubblegum-colored home decor pieces.
Whether you're running errands, attending an event, or just want to find your perfect movie theater 'fit for when you see Margot Robbie's bleach-blonde version on the big screen, we've rounded up a few Barbie-inspired picks for you. From tailored trousers and oversize tops to dresses and platform shoes, there are so many fun and unique ways to embrace the viral TikTok fashion trend, all while putting your own spin on it.
We browsed our favorite brands like Nordstrom, H&M, Revolve, and more online retailers to highlight some of the best pink fashion picks we could find. Come on Barbie, let's go party — shop our picks for the best Barbiecore fashion finds ahead.
Additional reporting by Haley Lyndes
01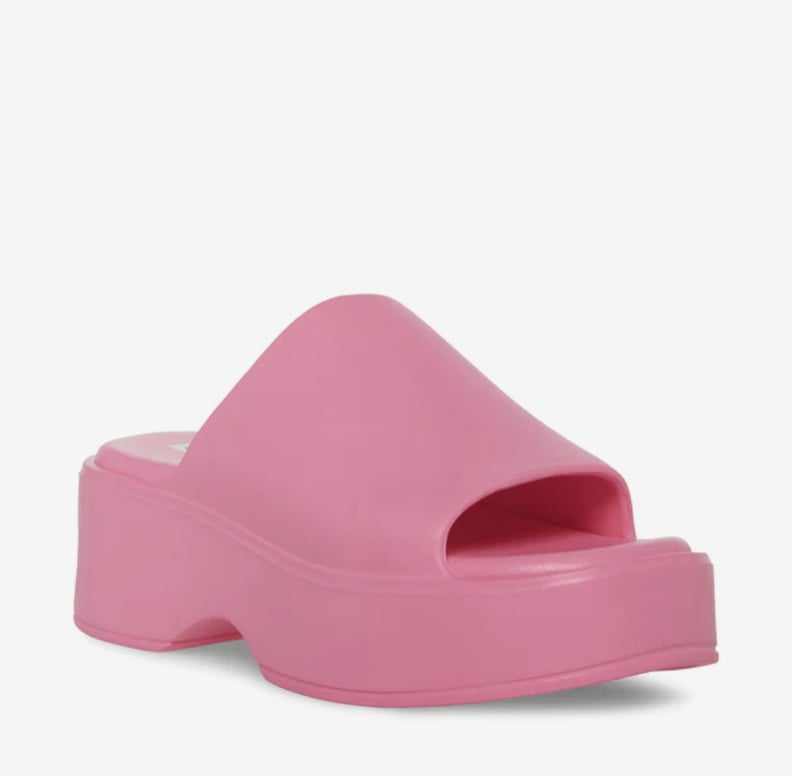 Best Barbiecore Fashion: Platform Sandals
Steve Madden Slinky J Pink Sandals ($50)
There's nothing that a good pair of platform shoes can't fix, and we personally love the chunky, bubblegum-inspired flair of this open-toed style in matte pink. The shoe gives off a doll aesthetic that goes along with Barbiecore so well, and we're obsessed with its curved design which totally pays homage to the Barbie-foot heels trend. Pair this sandal with comfortable jeans or a skirt for a cute fashion moment.
02
Best Barbiecore Fashion: A Rib-Knit Tank Top
Old Navy Strappy Rib-Knit Cropped Tank Top ($6, originally $15)
Keep it pretty in pink with this vibrant basic from Old Navy. The ribbed tank top is available to shop in a number of colors — but we're obviously partial to the light and hot pink colorways. We love that the top plays into the trend without feeling too loud or overbearing. Wear it with a pair of high-waisted jeans and top it off with a cardigan to have in case the theater gets too cold.
03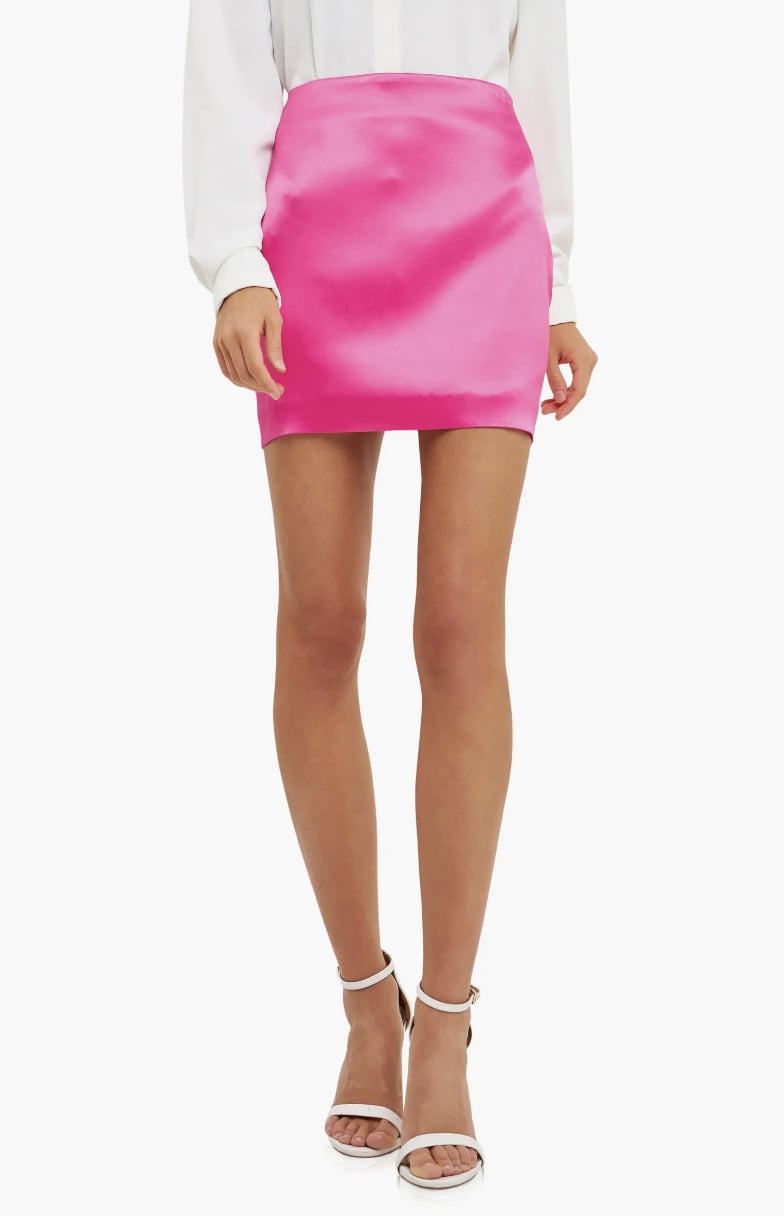 Best Barbiecore Fashion: Satin Miniskirt
Grey Lab Satin Miniskirt ($60)
We're all for dual-purpose styles, which is probably why we love that this satin style allows us to tap into two of the biggest fashion trends this season — miniskirts and the Barbiecore trend. Within a single piece of clothing, you'll have the chance to experiment with two major TikTok trends at once, all while maintaining an edgy flair thanks to the style's shiny design. Pair the unique piece with heels for a high-fashion moment that'll turn heads in any room.
04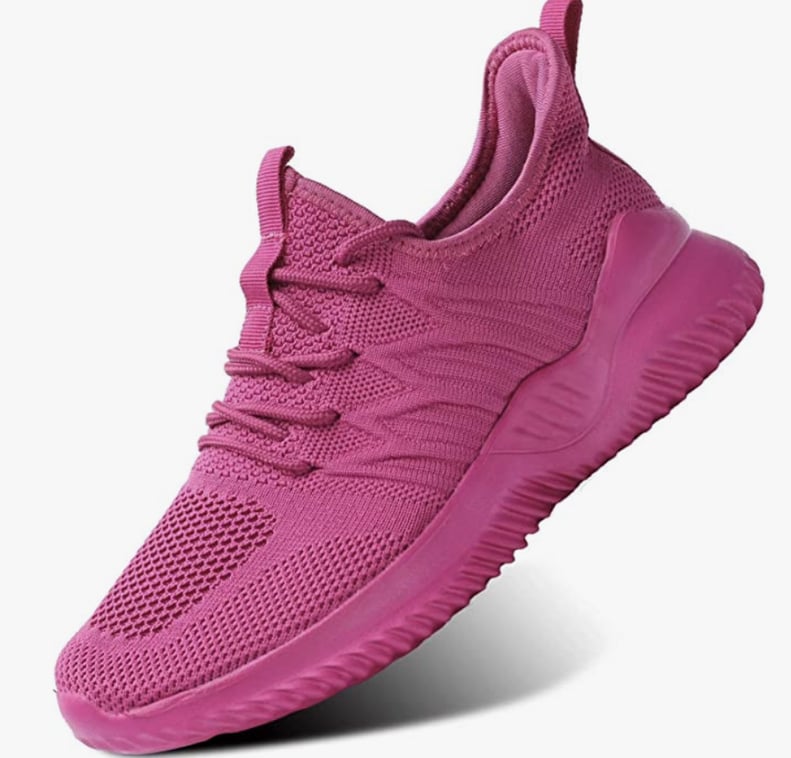 Best Barbiecore Fashion: Colorful Everyday Sneakers
Keemz Lightweight Sneakers ($30)
Yes, even your running attire can get a Barbiecore update with these colorful trainers from Amazon. The shoes, which show off a dominant hot-pink colorway that extends across every inch of the trainers, will bring all the attention to your feet. Their light silhouette feels great for cardio workouts, and they're sure to make even the most muted ensembles more fun with their bold, pink-infused design.
05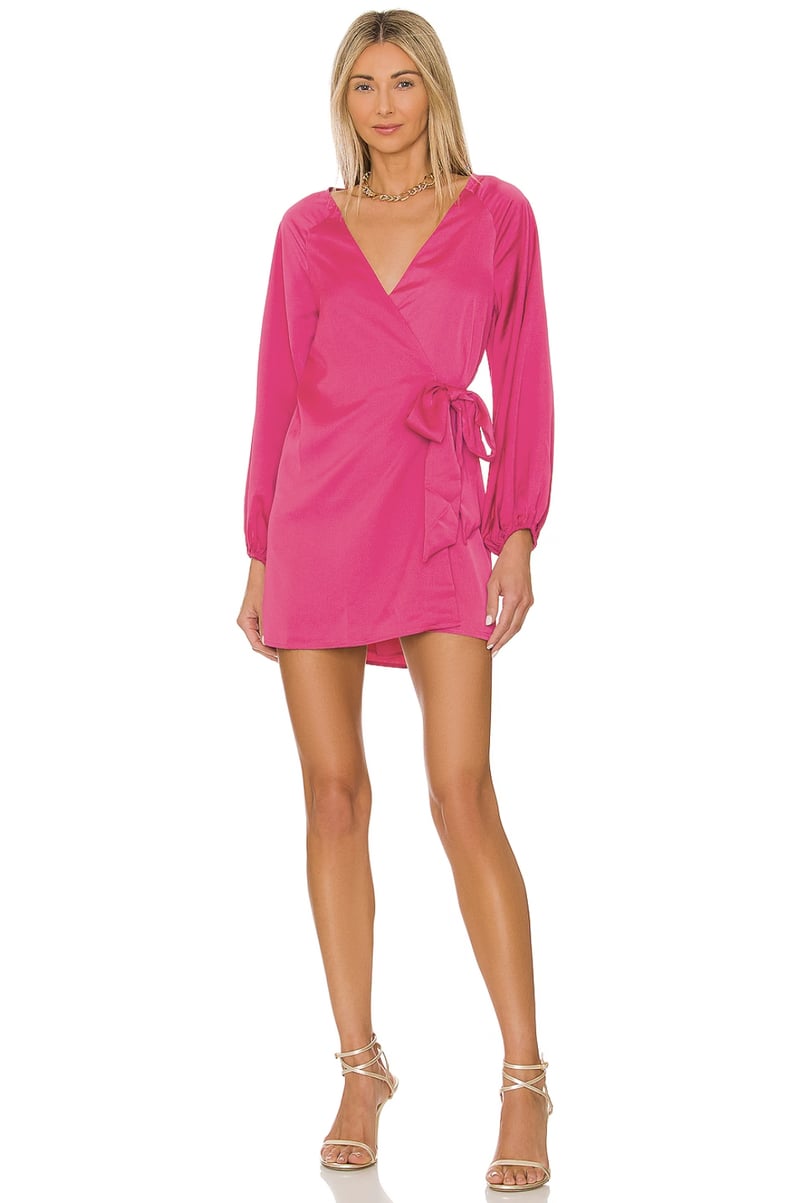 Best Barbiecore Fashion: A Hot-Pink Dress
Lovers and Friends Megan Mini Dress ($122, originally $258)
This vibrant cropped dress boasts such a rich pink coloring that's sure to make a serious statement in any season — though we really love it for summer in particular. Unlike other mini dresses, this body-hugging piece boasts a wrap-around design that elevates the look with a more playful flair, while the plunging neckline adds a sultry flair. Coordinate it with a pair of strappy shoes for a fashionable ensemble bound to bring in compliments.
06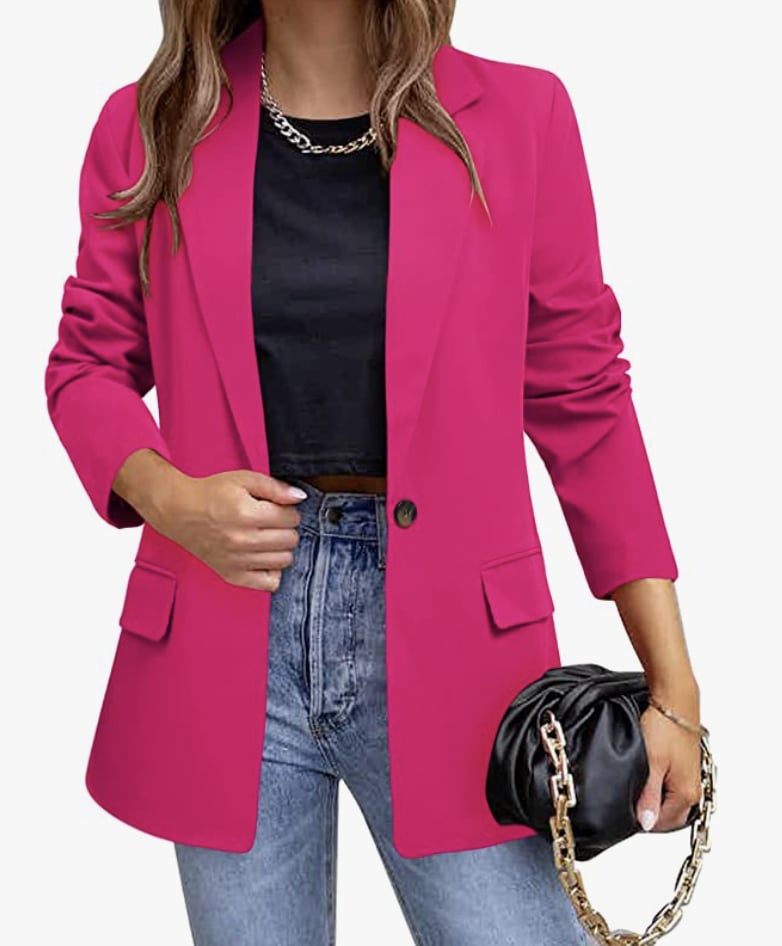 Best Barbiecore Fashion: An Oversize Blazer
Crazy Grid Business Fashion Blazer ($53)
Statement blazers have been popular all year, and we don't expect to see them go away anytime soon. The appeal of this particular hot pink blazer lies within its bulky frame, sharp silhouette, and eye-catching color. Whether you're layering it on top of a blouse or styling it by itself, this top is chic enough to do it all. Plus, if you begin to feel at all fatigued by the Barbiecore aesthetic, this blazer is also available to shop in several other unique colorways.
07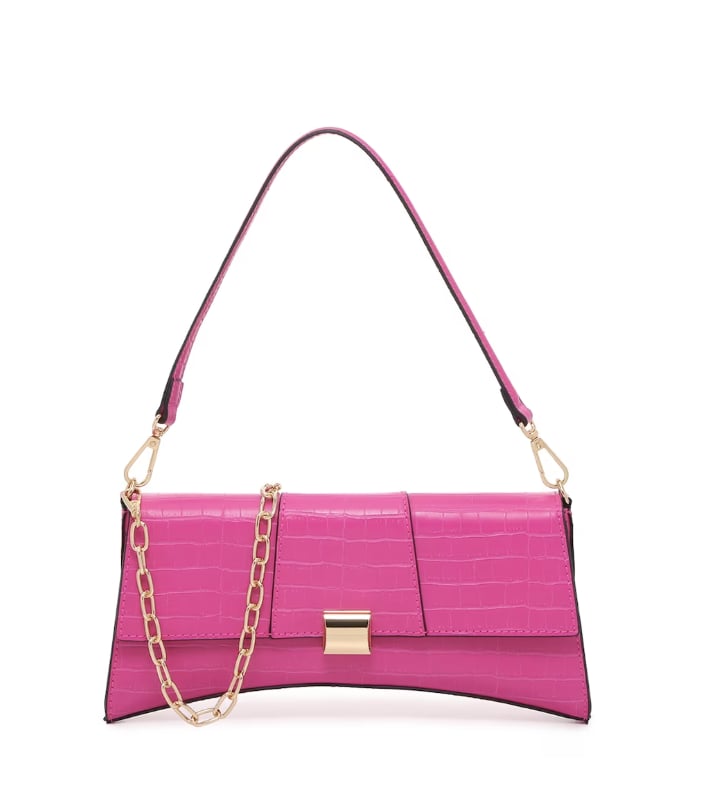 Best Barbiecore Fashion: A Chic Handbag
Aldo Aseelax Shoulder Bag ($60)
Add a pop of color to your summer style with this structured handbag from Aldo. The accessory's bright pink coloring plays into the Barbiecore trend perfectly, and if you're looking for something more muted, it comes in an additional black color as well. The gold hardware accents make it easy to style up or down, and it's a great piece to pair with any of your favorite delicate gold jewelry pieces.
08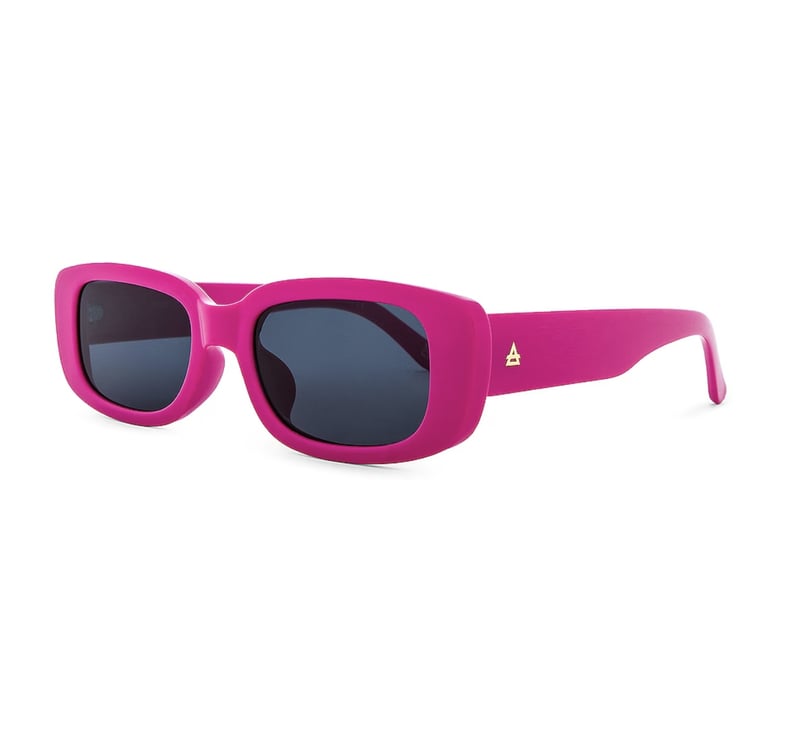 Best Barbiecore Fashion: Statement Sunnies
Aire Ceres Sunglasses ($39)
Even long after the Barbiecore fashion trend fades (assuming it ever will), these hot-pink shades will remain a trusted accessory you can turn to again and again — regardless of what new fashion fad has taken over TikTok. Plus, since they're made from recycled plastic materials, they also double as a great eco-friendly option that you can feel really good about wearing.
09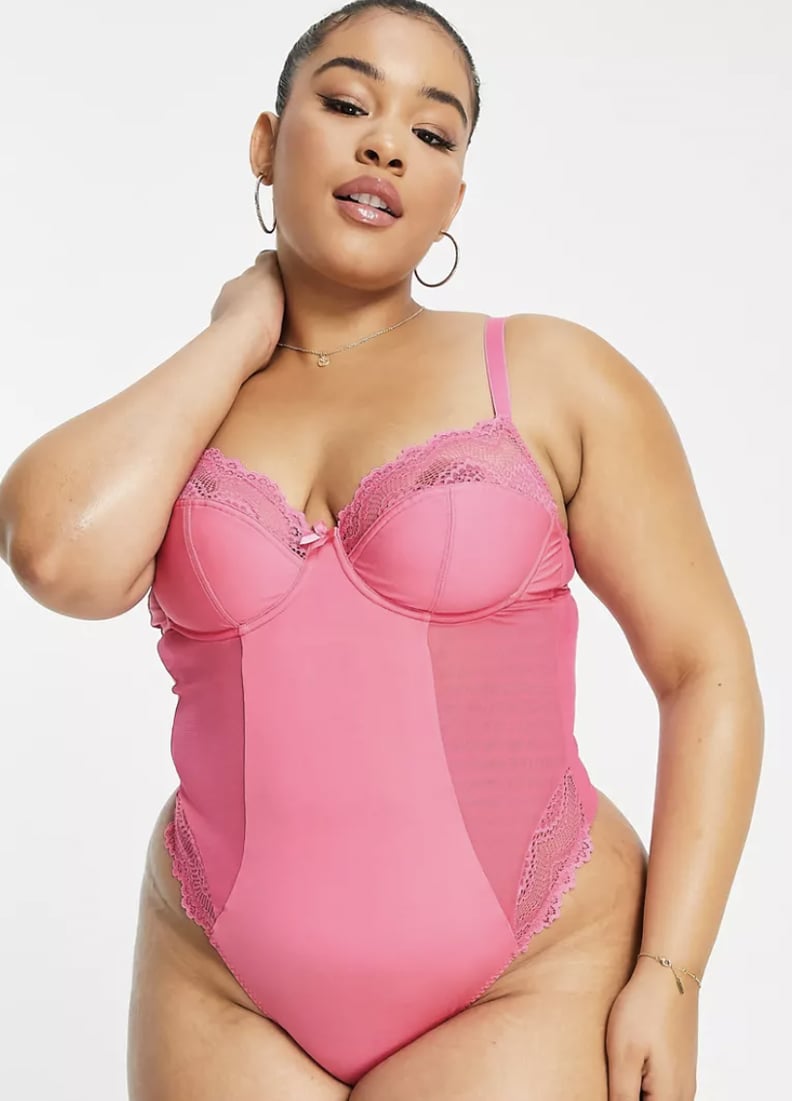 Best Barbiecore Fashion: A Flattering Bodysuit
Ivory Rose Mesh Microfiber Bodysuit ($34, originally $42)
This pink-colored bodysuit is the perfect item to add to your closet to show off your love of Barbiecore. The style's soft pink coloring is so chic, and its lacy lining and subtle bow accent make a statement. Pair it with your favorite jeans or denim shorts, and prepare to stand out.
10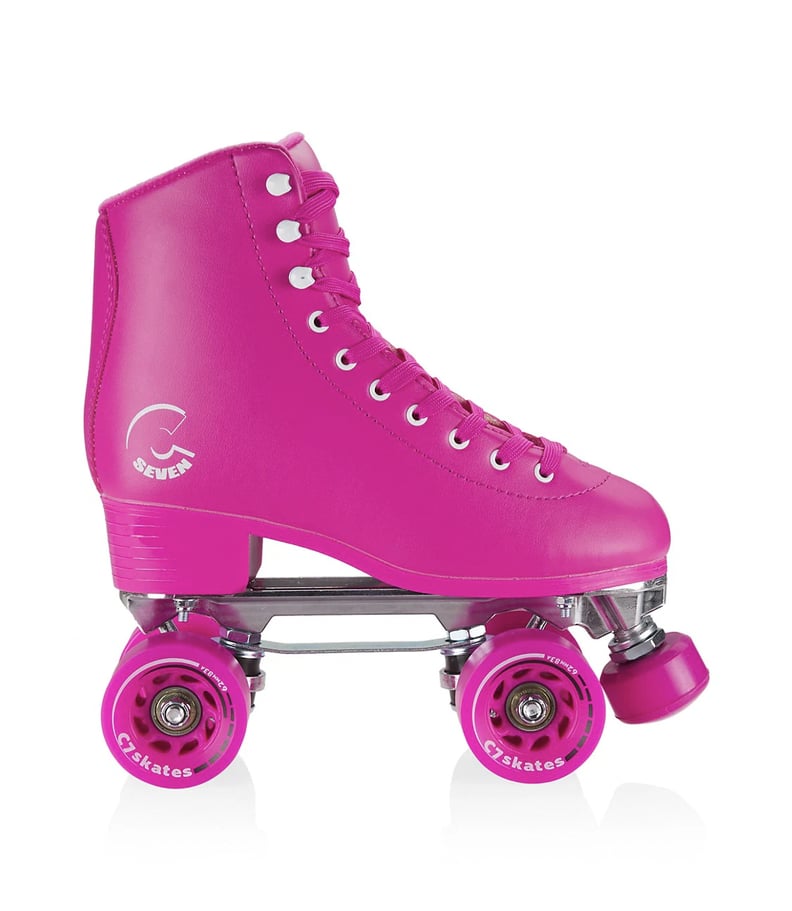 Best Barbiecore Fashion: Hot-Pink Rollerskates
C7 Hot Pink Roller Skates ($139)
You might not look as cool as Margot Robbie and Ryan Gosling skating their way through Venice in matching hot-pink ensembles, but with these nostalgic roller skates, you can at least channel their carefree energy for a truly unique (and stylish) Barbeicore moment. The skates feature a lace-up strap design and an acrylic heel.
11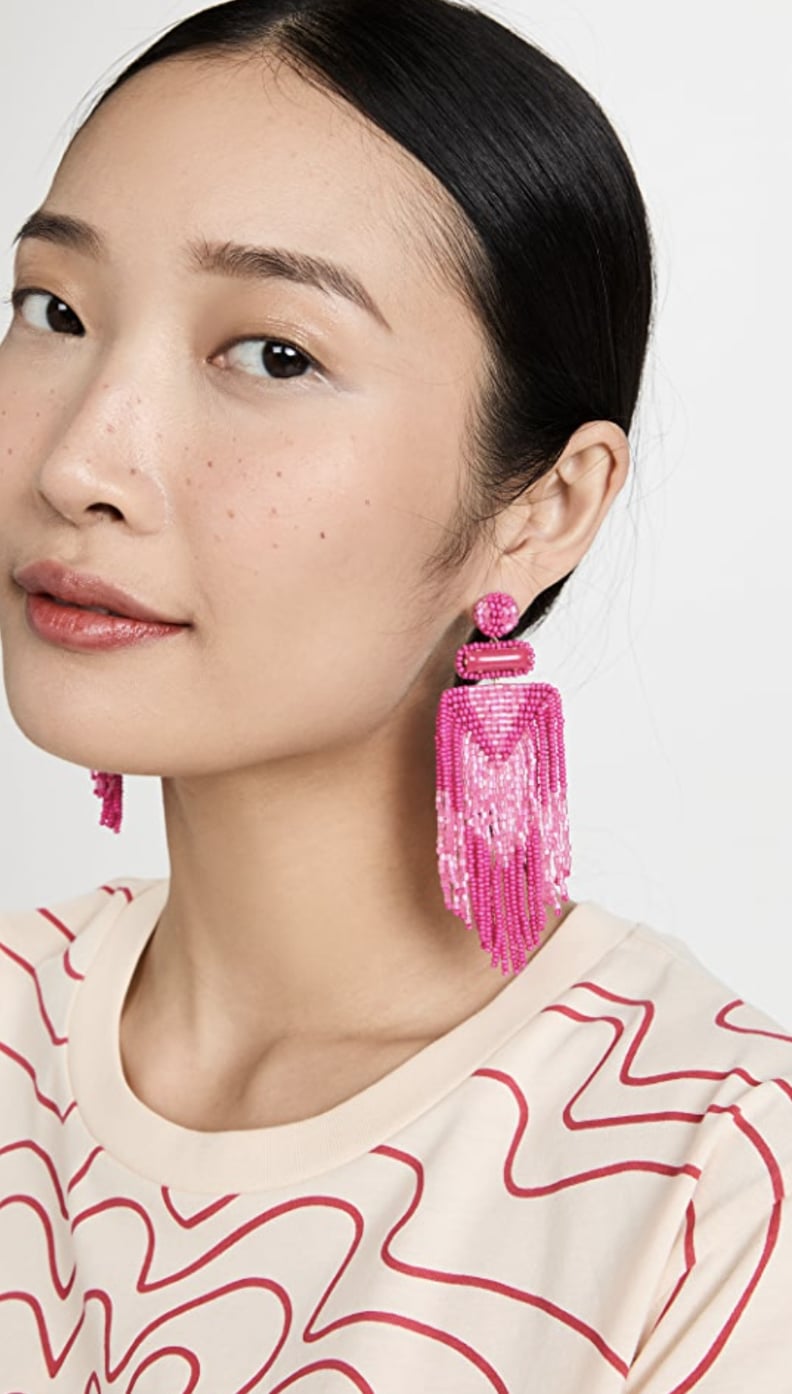 Best Barbiecore Fashion: Extra-Large Earrings
Deepa Gurnani Jody Earrings ($60)
With these chunky Deepa Gurnani earrings, you can channel the Barbiecore fashion aesthetic in your own unique way. Rather than donning a head-turning, monochrome pink ensemble, simply opt for these darling raindrop earrings and watch the compliments roll in. The beaded accessory is on the heavier side, but they're well worth the investment if it means you can embrace the trend in a more understated way.
12
Best Barbiecore Fashion: Pink Pants
Favorite Daughter The Pant Pleat Pants ($218)
The Barbiecore trend strikes again in these pleated pants from Favorite Daughter — aka the internet's favorite fashion brand. Wrapped in a hot-pink color and fitted with a four-pocket design, you'll definitely turn heads and make a serious (bubblegum-pink-infused) statement in any room. Pair it with a crop top for a look that's sporty yet still comfortable.
13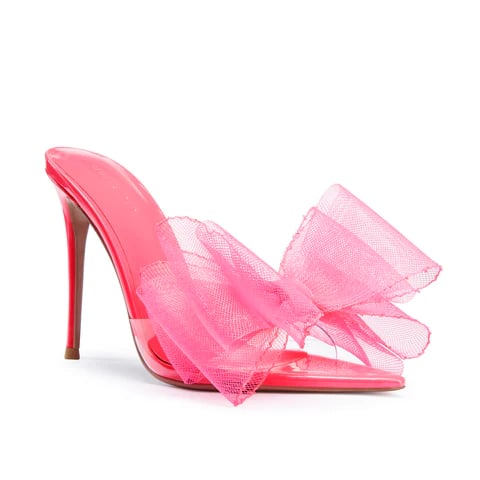 Best Barbiecore Fashion: Pink Heels
Flor de Maria Samantha Bow Stiletto Mules ($449)
Channel Stereotypical Barbie herself in a pair of pink heels, but instead of the poufy sandals, go for a dramatic bow instead. These neon-pink mules feature a 4-inch heel and a padded insole for extra comfort.