35 Black-Owned Fashion Brands You Should Be Following on Instagram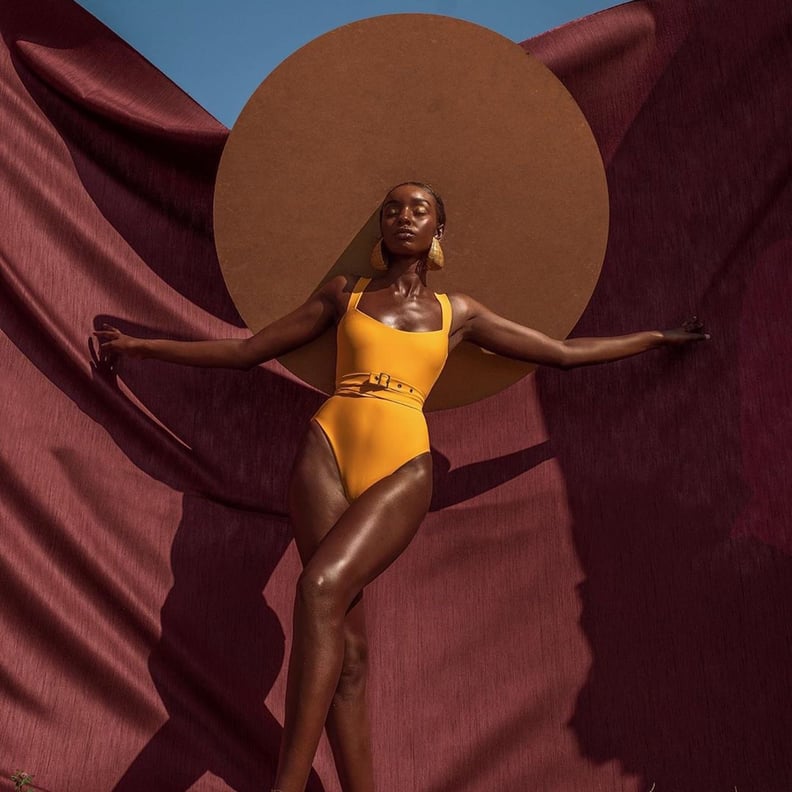 This month, we're rounding up a list of Black designers who have been inspiring us with their dreamy designs on social media. With the demonstrations protesting the unjust death of George Floyd, there are many things we can all do to step up to the plate and show our support. Besides being actionable by calling your local government officials, donating money to charities, and signing petitions, you can also show your solidarity to Black-owned fashion labels by following these brands on social media and, more importantly, purchasing pieces from them. A lot of these brands are also helping the planet by using sustainably sourced materials and employing artisans all over the world to keep traditions alive.
There's something so wonderful about Christopher John Rogers's creations. His designs, like the red-feathered top in this list, sparks joy with its bright color and feminine silhouette. Aurora James is also constantly dreaming up designs for her brand Brother Vellies that are not only sustainable but absolutely gorgeous, too. If you're more into streetwear pieces, check out Heron Preston's sculptural black and orange heels ahead. Keep reading to see the rest of our list of Black designers you can follow on Instagram.
Andrea Iyamah
What can I say about this gorgeous swimsuit from Andrea Iyamah? Just looking at this stunning image made me wish I was on an island wearing this exact outfit.
Asata Maisé
Looking for a dose of nostalgia? Asata Maisé's handbags and bucket hats are actually inspired by classic movies.
Brother Vellies
Aurora James's brand Brother Vellies has gorgeous bags and shoes, like the ones pictured here, that are sustainably handcrafted by artisans hailing from Kenya to Ethiopia.
Heron Preston
I've always been a fan of Heron Preston's cool streetwear pieces and I can't stop thinking about these sculptural heels. Heron has a way of perfectly blending art and music into his designs.
Victor Glemaud
Indya Moore looks unreal in this yellow knitwear crop top and cardigan set by Haitian designer Victor Glemaud. I love that it's paired with a sleek green pencil skirt.
Petit Kouraj
There's something so dreamy about Nasrin Jean-Baptiste's accessory brand Petit Kouraj. I would honestly carry this bag around my house and pretend like I'm on vacation.
Fe Noel
How gorgeous is this sheer orange dress by Fe Noel? You can dress it up with heels or style it with lace-up flats for a more casual look.
Mateo
There's nothing more classic than pearls. This strand of gorgeous Baroque pearls by Matthew Harris's brand Mateo is simply divine.
Christopher John Rogers
Christopher John Rogers's colorful and theatrical designs always spark joy. Case in point? This feathered top.
Edas
If you're looking for a bag that makes a statement, Edas is for you. All of the pieces that designer Sade Mims creates is made-to-order so the company creates less waste.
Phlemuns
As you can see, every Phlemuns piece makes a statement. His designs have caught Solange Knowles's eye.
Hanifa
This strapless white dress by Anifa Mvuemba's size-inclusive label, Hanifa, is simply gorgeous.
Diarrablu
Fun fact: Diarrablu's latest collection was inspired by math.
Nubian Skin
In the market for lingerie and hosiery? London-based designer Ade Hassan started Nubian Skin for women of color.
Thebe Magugu
Thebe Magugu's womenswear pieces are both sleek and refined.
Telfar
Telfar's iconic bag, pictured, has been dubbed "Buschwick's Birkin."
Cushnie
Cushnie's flirty designs have been worn by many including Selena Gomez who wore this exact dress in her Boyfriend music video.
AAKS
AAKS's whimsical woven bags are all handcrafted in Ghana.
House of Aama
House of Aama is actually created by the mother-daughter designing duo Akua Shabaka and Rebecca Henry.
Savage x Fenty
Rihanna's Savage x Fenty is not only affordable, but sexy as heck.
Lemlem
Lemlem's stunning resort and swimwear pieces are handmade in Africa from natural cotton sourced in Ethiopia.
LaQuan Smith
Elisa Johnson is rocking the heck out of this LaQuan Smith two-piece set.
Pyer Moss
How chic are these Pyer Moss x Rebook sneakers?
Ama Nwoke
If you're looking for colorful tailored pieces, check out Ama Nwoke.
Zelie For She
You can feel great about buying pieces like this pink jumpsuit from Zelie For She because the brand produces pieces in limited quantities to promote sustainability and help minimize waste.
Mint Swim
Here, singer Saweetie show's off one of Mint Swim's animal-print bikinis.
Bello|Edu
If you're searching for a puff-sleeved dress, this one is pretty darn perfect.
Kahmune
Kahmune is a footwear label that caters to all skin tones and comes in a total of 10 different shades.
Third Crown
If you're into architectural jewelry, Third Crown will be right up your alley.
Sergio Hudson
Looking for an '80s-inspired gown? Sergio Hudson has dressed a number of red carpet gowns including the one pictured here that Ryan Michelle Bathe is wearing.
Riot Swim
Riot Swim creates cheeky one-pieces and bikinis that come in neutral colorways.
Khiry
We're obsessing over these gold jewelry pieces by Khiry.
B.FREEDOM
We can picture ourselves rocking this silky jumpsuit all summer long.
Mochips
How fun are these custom crochet pieces by Mochips?
XhaleSwim
Xhale's colorful swimsuits are designed to "complement, flatter and support a woman's body" and are handmade in Miami.