Carrie Bradshaw Rewears Roger Belt From Sex and the City
Carrie Recycles Her Roger Belt For the Reboot — Here's Where SJP Had It Hiding
As POPSUGAR editors, we independently select and write about stuff we love and think you'll like too. If you buy a product we have recommended, we may receive affiliate commission, which in turn supports our work.
As soon as a desperate Carrie Bradshaw emerged from the big black car in And Just Like That... episode three to seek a meeting with Big's ex-wife Natasha, I grabbed the remote and hit 'pause.' Was she wearing the belt? The same belt from the 2008 Sex and the City movie that cinched her green floral dress underneath the contrasting short-sleeved overcoat? Of course she was. She first teamed it with the famous Timmy Woods Eiffel Tower bag for apartment hunting with Big, the landmark accessory being the one most people probably remember from the film's first scene.
"I can't think of any show that can go back into the lead actress's archive and pull a belt out."
But I always had eyes for the belt, which Sarah Jessica Parker later revealed she called 'Roger'. I loved it when she wore it over a pink minidress later on in the film while out shopping. And I still love it now, over yet another pink frock 13 years later on the series reboot. Carrie is, in fact, recycling her outfits, which is something we can all appreciate for more reasons than one.
"She's good about recycling and that's what makes this show such a unicorn. I can't think of any show that can go back into the lead actress's archive and pull a belt out and say in the fitting, 'Hey, why don't we use Roger with this outfit?' And it goes back on them 12 years later. I think it's really unusual to be able to pull from her archives and incorporate them into her modern closet," costume designer Molly Rogers told POPSUGAR, acknowledging the fact that fans watching the show would be able to pick things out in the deep background.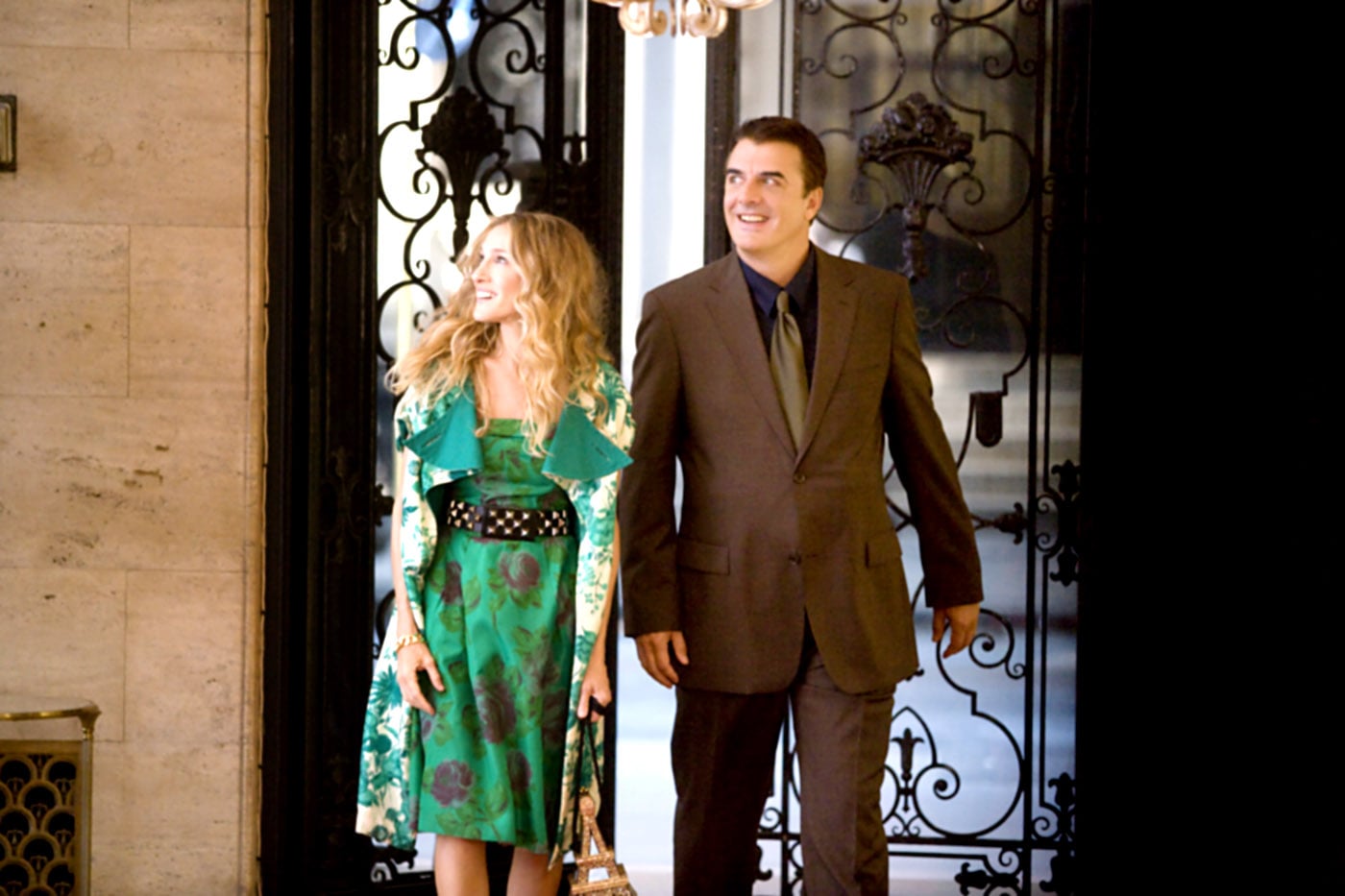 Image Source: Everett Collection
Well, color me one of those fans. Of course, we all have our favorite Carrie Bradshaw outfits, but to see them brought back to life also speaks to the current climate we're in, where so many of us are repurposing our closets most importantly to do better by the environment and reduce our carbon footprint, but also to extend the life of our well-worn pieces that are seeped in history. "Sarah Jessica loves things that are distressed. They have such an energy to them. When you pick up a hat and it's 40 years old . . . vintage clothes have stories," Molly said.
The Roger belt itself was originally from co-costumer Danny Santiago's thrifted collection, and he gave it to Sarah Jessica Parker after the movie to hold onto. She then allowed the wardrobe team back into her closet while planning for AJLT. "We knew we had unlimited access to SJP's wonderful archive and felt whatever we gave a second chance to needed to be a fan favorite, like the Roger belt or the blue Manolos," Molly said, also referring to the pumps that Carrie wears the night of Big's death.
If you have a good eye, these two Carrie keepsakes will not be the only ones you recognize as you continue to enjoy the episodes, but the belt moment was certainly worth talking about — for me, anyway. From green dress to pink, Carrie wears it well, infusing her looks with unexpected edge from a literal standpoint, but more whimsically speaking, complete and total vintage magic. Ahead, shop some takes on the belt that have made rounds on the internet to prove Carrie Bradshaw's style still stands the test of time.