And Just Like That: Why Did They Kill Off Mr. Big?
The And Just Like That... Showrunner Explained Why That Shocking Mr. Big Twist Was Necessary
Watch out! This post contains spoilers.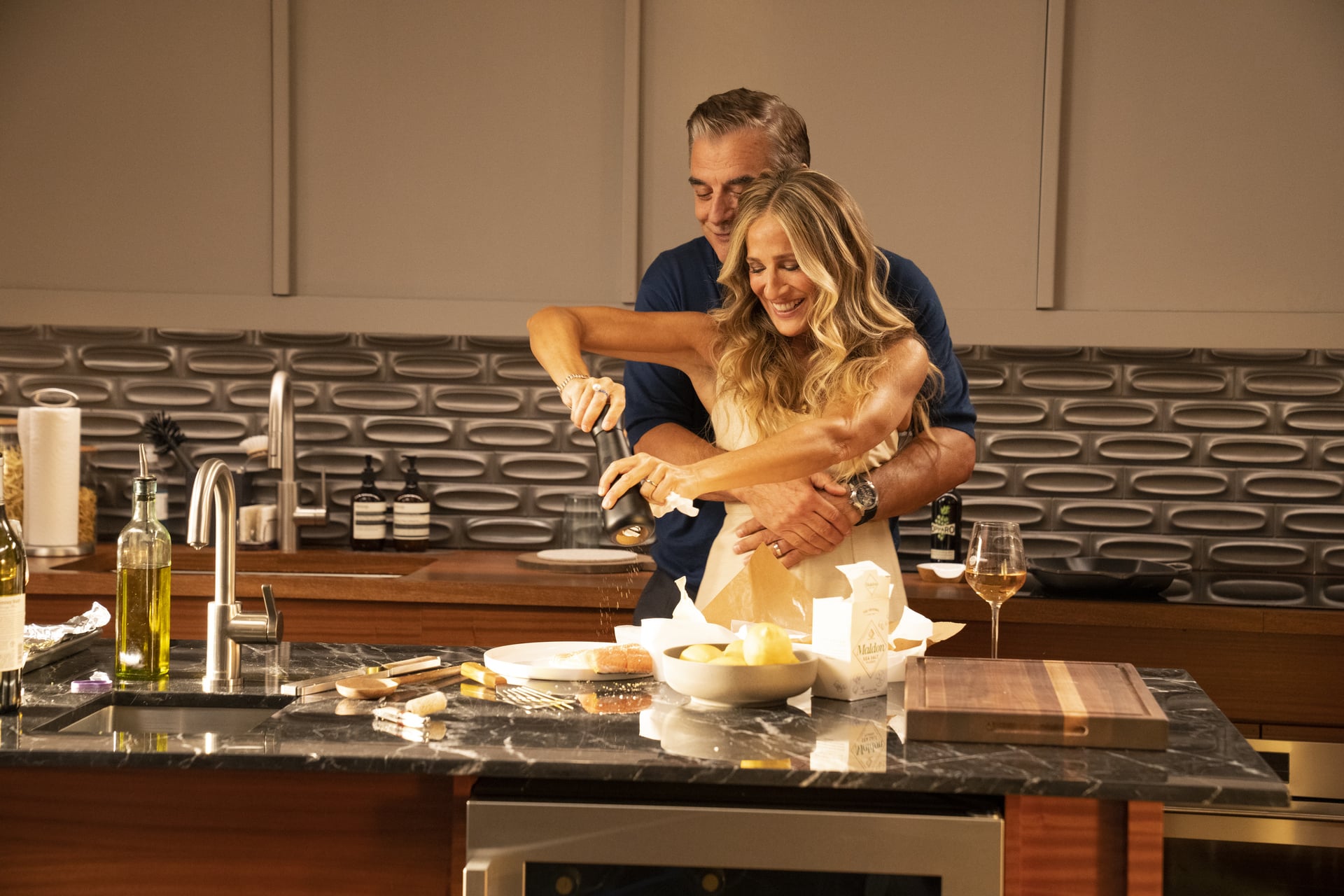 The 10-part HBO Max reboot of Sex and the City, And Just Like That…, has returned us to the iconic franchise after 11 long years. The premiere episode caught us up on what our beloved trio of friends — Carrie, Miranda, and Charlotte — are up to in 2021, but its final moments threw a wrench in the blissful life the characters had nestled into over the years. In an unexpected twist of events, Mr. Big (Chris Noth), Carrie Bradshaw's (Sarah Jessica Parker) long-time romantic interest and now-husband, suffered a heart attack following a workout and died. But was killing off Mr. Big a last-minute creative choice or mapped out in advance? Let's find out!
Why Was Mr. Big Killed Off in And Just Like That...?
The Sex and the City — and now And Just Like That…'s — writer-director-showrunner Michael Patrick King addressed the shocking plot point in a December 2021 interview with Vanity Fair, revealing Big's sendoff was years in making. "Dying was the origin story. Nobody wanted to come back if [the show] was not going to be different," he said. "When I told Chris that Mr. Big dies in the first episode, he definitely knew it wasn't [going to be the] same. And we had to talk about it. He really wanted to talk about why he's dying and what it does for this series. The more we talked about it, the more he understood that it was for Carrie — and Carrie's storyline is it's better to have loved and lost than never have loved at all."
King elaborated on the matter, adding that he wouldn't have returned for the reboot at all had it not been for Noth's decision to come on board for the show. "I couldn't have done the show without him. I wouldn't have done the show without him. I wouldn't have done the show if Mr. Big didn't die in the last five minutes [of episode one]. And I also wouldn't have the show if he wasn't so charismatic and charming and alive in the first 40."
Was Big's Death in And Just Like That... Planned?
It's interesting to note that if the scrapped third Sex and the City movie had gotten off the ground, it probably would've panned out similarly — with Big dying. The plot detail reportedly led to Kim Cattrall's disinclination to reprise her iconic character of Samantha Jones in the movie because it would have, by and large, focused on Carrie navigating the loss of her husband, leaving Cattrall's Samantha with very little material.
How Does Chris Noth Feel About Big's Death in And Just Like That...?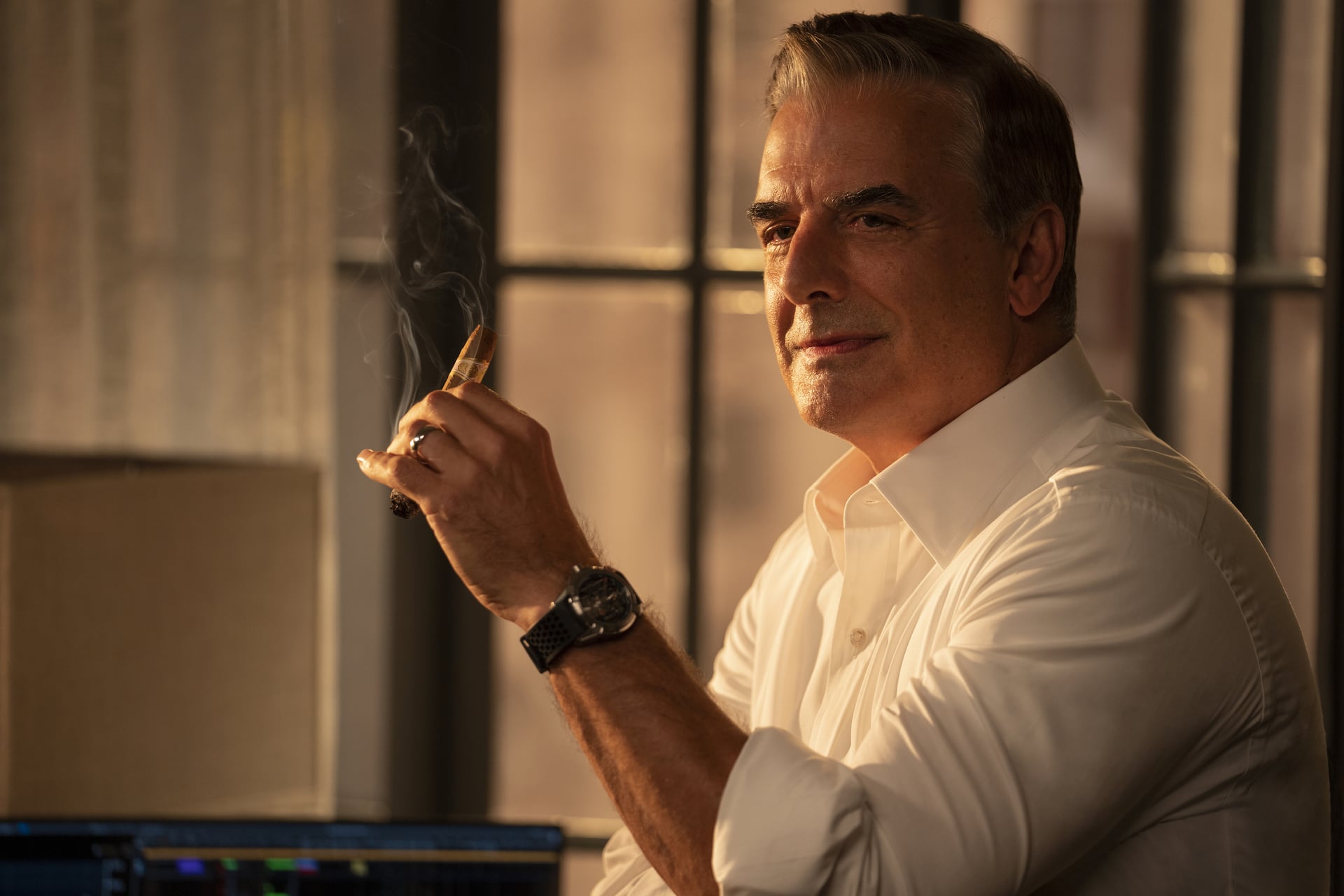 Image Source: Craig Blankenhorn / HBO
While Noth was initially reluctant to join the reboot, he discussed Big's narrative trajectory at length with King. He understood how it would play a crucial role in helping the core three characters on the show, especially Carrie, rediscover themselves outside of their comfort zones. He was so hell-bent on keeping the massive twist under wraps, he even filmed a red herring funeral scene ahead of the premiere to throw off the speculation regarding Big's fate. When the episode finally dropped on Dec. 9, viewers were understandably shocked over the turn the show took!

"Once Chris really understood that it would be amazing for Carrie, he made a sacrifice for us, and because he loves Sarah Jessica [Parker] so much. The legacy of that character wouldn't diminish but would increase his legend by leaving," King said of Noth's commitment to do right by the character.
Did Mr. Big Die From a Peloton Workout?
The short and firm answer? No, Mr. Big did not die because of a Peleton workout.
When asked about the specificity of the role played by the Peloton bike in Big's unfortunate death, King, a self-proclaimed Peloton user himself, insisted the product placement was merely there to mirror Big keeping up with today's trends. "Well, we knew he was going to have a heart attack. So the Peloton had nothing to do with the heart attack. The Peloton is a thing [though] that people have now, right? It reflects [modern] society. I wanted something to show that Mr. Big was current. Everybody kept coming and saying, 'Oh, [the characters] are old. They're old.' These characters are alive and vibrant."
He further added, "The fact of the matter is, it could have been any bike. It could have happened walking down the street. It could have happened slipping on a banana peel. It could have happened in his sleep. But what we wanted to do was reflect the world as we know it, and people are exercising on that beautiful, beautiful item. And it's gorgeous. So it belonged in that bathroom."
The Aftermath of Big's Death in And Just Like That...
The first two episodes of the Sex and the City revival took conscious creative risks and explored uncharted territory while incorporating modern themes and a welcome dose of self-awareness. How Carrie and the gang emotionally come to grips with this seismic loss of Big will likely be one of the main focuses of the rest of the season.
"If you can find someone who loves you, that's fabulous. But this really lets us test out that thesis — the voiceover we end the series with in Sex and the City — that the most significant, challenging, difficult, and rewarding relationship of all is the one you have with yourself," King said of the future of the central characters.
King also echoed that the series is centered on these women in their 50s, something that is, shockingly, not represented much on-screen. "It's also really interesting to me because 55 and single is a whole new ballpark. You thought 35 and single was a story. 55 and single is a story as well."
While it's an incredibly hard fictional death to wrap our heads around, we are grateful to be able to witness this next chapter unfold in Carrie, Miranda, and Charlotte's lives all these years later!
The first two episodes of And Just Like That… are now available on HBO Max. New episodes hit the streaming service every Thursday.
Image Source: Craig Blankenhorn / HBO