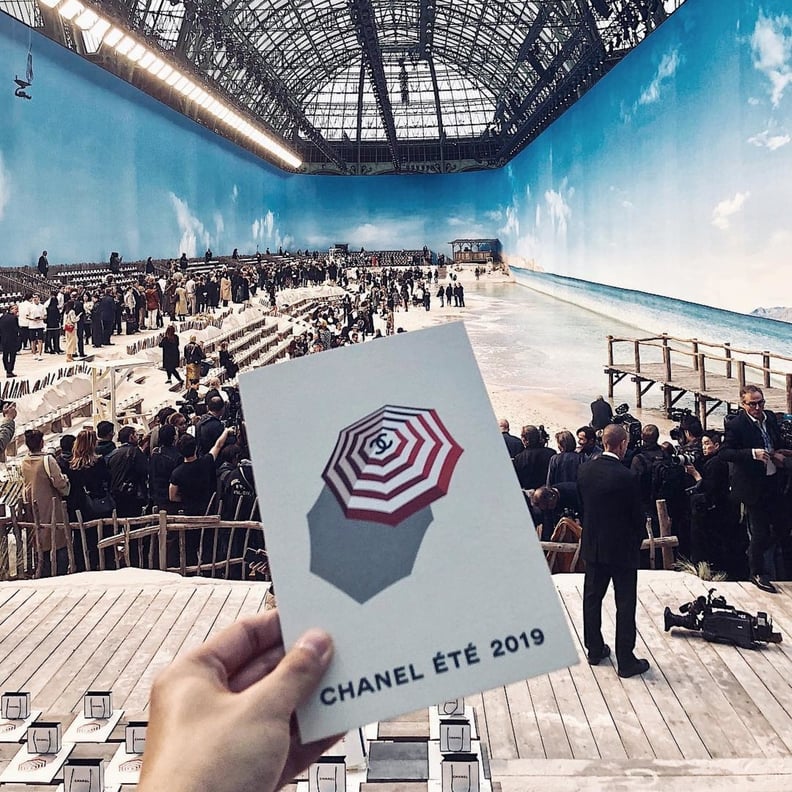 When you think about Chanel, tweed, intricate detailing, and insane runway designs immediately come to mind. Well, for the French brand's Spring Summer '19 collection, Karl Lagerfeld took his grand display of clothing five steps further by creating one of the most spectacular sets known to the fashion crowd, bringing the actual beach to the Grand Palais.
Following a monumental Cruise show that featured a full-blown cruise ship, the designer invited journalists, influencers, and fashion gurus to witness his latest dazzling brainchild — sand, waves, beach huts, lifeguards, and all. Ahead, take a look at some of the coolest 'grams, straight from the Chanel by the Sea show, then check out our spotlight on the accessories.
The Invitation Hinted at What Was to Come
But No One Could Have Been Prepared For Such an Incredible Set
Some People Got to Have Their Feet in the Sand
While Others Relaxed on a Decked Area
How Karl Lagerfeld Managed to Bring the Actual Beach to the Grand Palais? We'll Never Know
But the Result Was Absolutely Breathtaking
Of Course, the Chanel Beach Got Really Crowded
The Best Job in the World?
Being a Lifeguard at the Chanel Show, of Course
Some Models Walked on the (Beach) Runway With Their Shoes in Hand
Others, Like Kaia Gerber, Wore Very Appropriate Beach Slides
The Collection Included Double Bags, Straw Hats, and Gorgeous Bikinis
The Finale Was Pretty Epic
Whatever Angle You Viewed It From