Coi Leray Shares the Story Behind Her No-Pants Look: a Bodysuit and Thigh-High Boots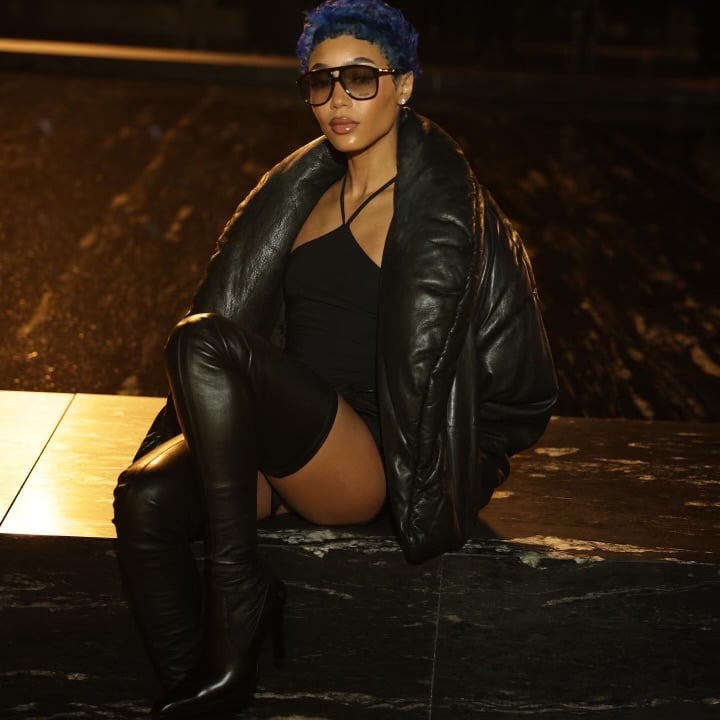 Will Sterling/Sterling Pics
Will Sterling/Sterling Pics
Set, as it is ritualistically season after season, against the backdrop of Paris's famed Eiffel Tower, Saint Laurent's Spring 2024 show offered up a lineup of neutral-hued ensembles in the form of boiler suits, pencil skirts, and slinky tanks. Shown at Paris Fashion Week, the collection was in line with the overarching trend of designers returning to classic dress and an emphasis on wearable clothing. In attendance is always a handful of today's most popular celebrities, as it's one of the most coveted tickets on the calendar. Sitting front row this season was "Players" rapper Coi Leray, donning a bold and almost blanket-style puffer jacket straight out of Saint Laurent's recently released Pre-Fall 2023 collection. Leray styled it with a black halter-neck bodysuit, wraparound miniskirt, and ultra-tall, thigh-high boots.
Leray tells POPSUGAR the look was handpicked for her by Anthony Vaccarello, the fashion house's creative director of seven years. "I love Saint Laurent and the relationship we've been developing," Leray says. "Every show Anthony invites me to, they style me from head to toe." Leray's outfit was a bit more pared back than her previous looks during Fashion Month, including a trench jacket worn over a bra-and-underwear set for a Tommy Hilfiger event, and an embellished, netted gown for the Lanvin show. She wore an all-white number from the brand during the week as well: a bodysuit paired with a lengthy, fuzzy coat. "I love a sexy sleek look," Leray says.
Ahead, Leray talks her favorite designs from the Saint Laurent show, her experience over a month of playing dress-up, and more.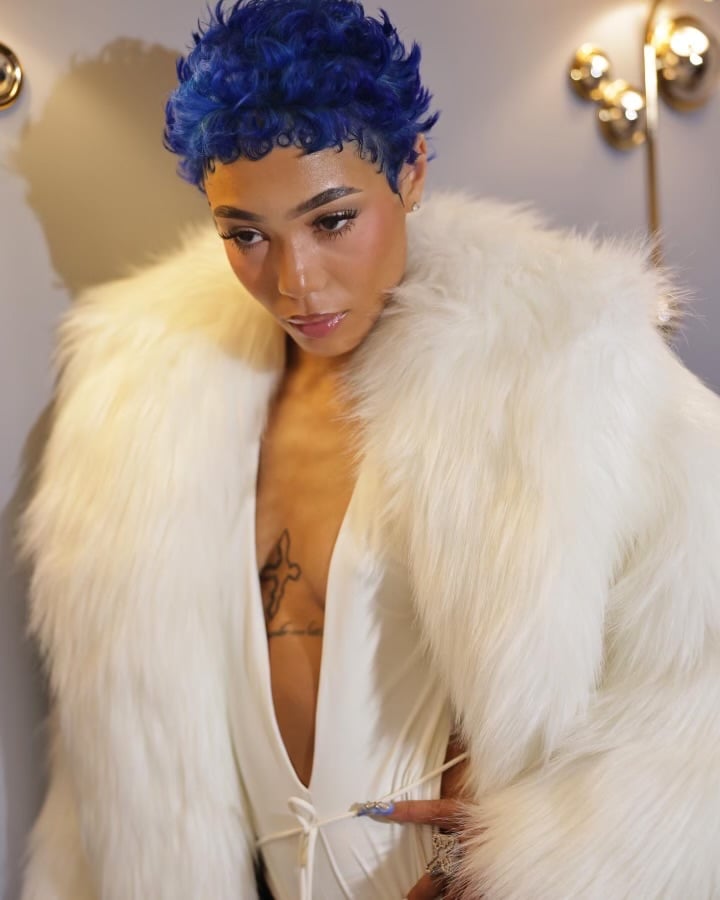 On Packing For Fashion Week
Leray's Fashion Week travel schedule was not for the faint of heart. Based in Los Angeles, the rapper traveled to New York City for shows, then packed in trips to Paris, Singapore, and Australia all in 48 hours.
In preparation for fashion or travel emergencies, the BET Award nominee has a good handle on packing for just about anything that can go wrong. First on Leray's list of must haves? Nipple covers. Then, little black-and-white tops ("just in case you can't fit anything"); sneakers ("because you'll end up wearing heels all day"); and as someone with a schedule far too packed for pit stops back to the hotel, a portable phone charger.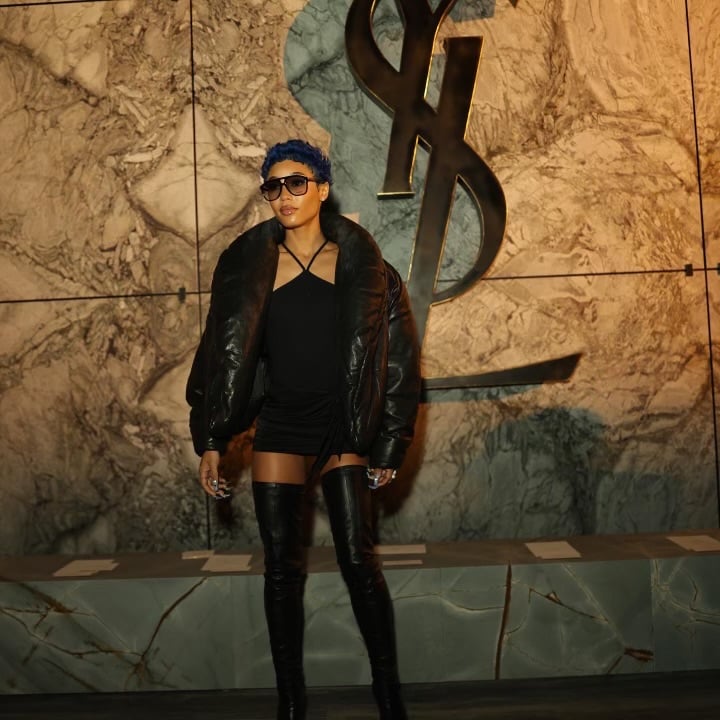 On the Saint Laurent Show
"My favorite part of the show is the music," Leray says. "It feels like you're in a '007' movie or something." When it comes to the actual designs, it was Saint Laurent's array of jumpsuits that stood out most. "It's so me," she says.
Postshow, the busy star was scheduled to jet off to Australia, but not before enjoying a bowl of pasta bolognese back at her luxurious hotel. "I'm [also] obsessed with the green juice [there]," Leray says. "Saint Laurent treats me like royalty when I come into town. I'm so blessed and grateful."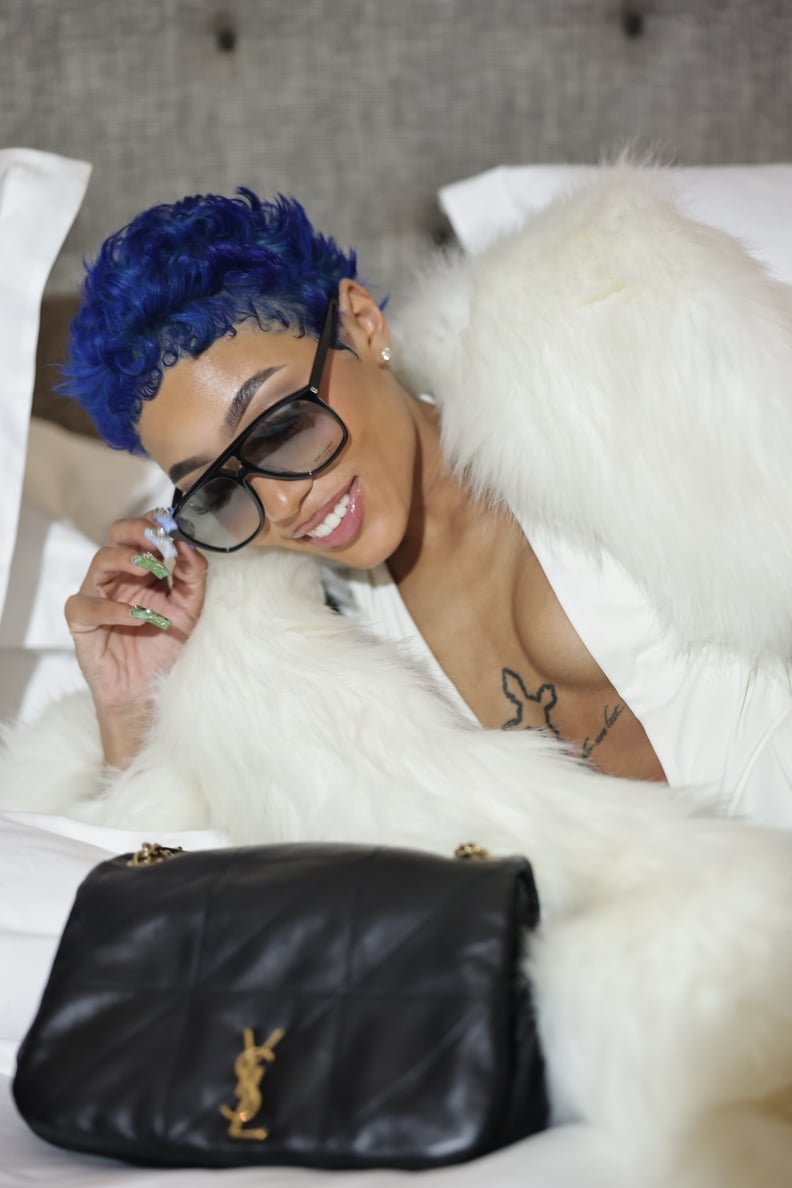 On Putting Together Looks
For anyone who's been watching (and with over seven million followers on Instagram, it's safe to say many are), there's no doubt of Leray's sartorial range, from fun, revealing tops and heels to a bomber jacket and sneakers. "I love when I pop out looking sexy," she says.
Specifically, donning really cool undies (sans any other bottoms) has been "a vibe" lately. "Then, at night if we hit a club, I might throw on some baggy pants and a tank."
In recent weeks, Leray's new short 'do, recently colored blue, has been the focal point of many of her looks. "I've been playing with colors, just having fun experimenting."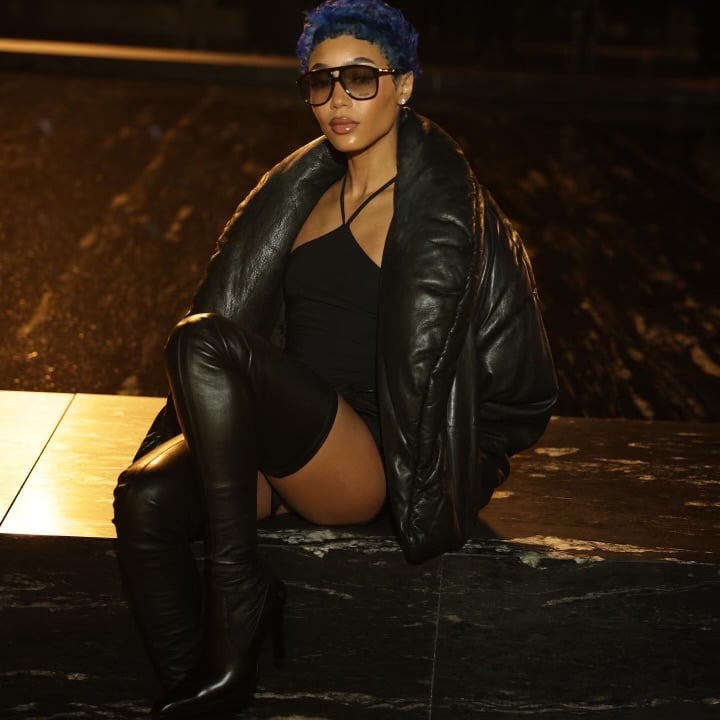 On Upcoming Projects
Leray's latest EP "Blue Moon," was just released in August, following the success of her hit song "Players" over the summer, which went 4x Platinum. After wrapping up a packed year, Leray is looking forward to some time to relax. "As we get prepared for the holidays, I'm spending time with family, and praying a lot," she says. "And getting ready to lock out for fourth quarter."