46 Stylish Outfits That Dare You to Ditch the Color Black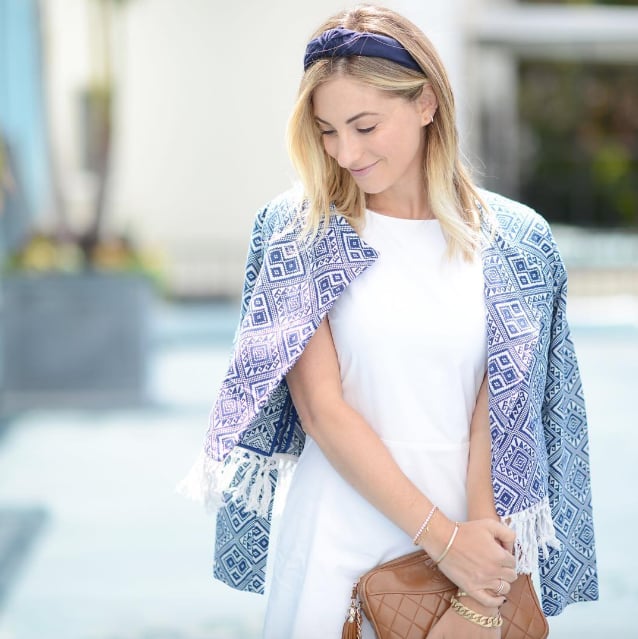 Give up black? You heard right. We're challenging you to shun the biggest portion of your closet and aim for color. As challenging as that may sound — your go-to flats and favorite crossbody bag probably come in the easy-to-style shade — wearing an outfit that consists of vibrant hues is unexpectedly freeing.
Whether giving up black forces you to finally slip into those neon shoes you invested in or introduces you to all things denim, let the easy styling hacks and eye-catching outfit inspiration take hold here.
— Additional reporting by Victoria Messina
01
Pair a Flowy Army-Green Dress With Simple Ankle-Strap Heels
02
Let the Stripes on Your Tank Top Direct You to the Right Accessories
03
Coordinate Your Colors With a Matching Top and Oversize Jacket
And don't forget the white sneakers.
04
Top Off Your White Dress With a Patterned Jacket and Matching Headband
05
Start With a Button-Up Skirt and Top, and Finish With a White Bag
06
Be Bold in a Tropical-Printed Dress
07
Polish Off Your Look With a Multicolored Purse
08
Go Simple With a Muted Dress and White Sneakers
09
Decorate Your Denim Jacket With Colorful Patches
10
Pick a Crop Top That Matches Your Midi Skirt
11
Don't Let the Rainy-Day Blues Get the Best of You
12
Navy-Blue Stripes Are the Way to Go
13
Let Colorful Lace-Up Shoes Do the Talking
14
Blend In With the Trees in an Outfit That's Blooming
15
Add a Pop of Color to Your Overalls With a Bright Purse
16
Go All White For Winterwear
You'll stand out among the all-black Winter ensembles.
17
Stock Your Closet With Pieces in Your Favorite Color, Then Wear Them Together
18
Navy Blue Is the New Black, We Promise
19
When Choosing Between the Black Bomber and the Shimmering Olive Shade, Go For the Latter
20
Get Subtly Patriotic With Red, White, and Blue Items
21
Polish Off Your Look With a Knotted Headwrap
22
Don't Shy Away From Standout Jumpsuits
23
Ditch Your Black Shorts and Try Gray Ones Instead
24
Go For a Brown Suede Lace-Up Dress
25
Surround Yourself With Colorful Things and Your Wardrobe Will Follow Suit
26
When on Vacation, Wear Colors That Stand Out Against the Ocean
27
Those Black Lace-Up Flats Come in Brown, Too
28
Wear Nothing But a Sheer Rose-Covered Dress
29
Keep Your White Jeans in Steady Rotation
30
Buy That Amazing Cobalt Dress You Can't Stop Dreaming About
Refuse to style it with anything boring.
31
Try a Funky Pair of Patterned Socks With a Bright T-Shirt
32
Pick a Bold Lip Color That Matches Your Floral Dress
33
Rock Muted Neutrals and Standout Lace-Up Heels
34
A Matching Striped Blazer and Shorts Feels Preppy and Light
35
An Oversize Army-Green Jacket Gives Off That Effortless Cool-Girl Vibe
36
Aim For Outfits With Little More Than 3 Pieces
37
Start With Denim-on-Denim and Finish the Look With Bright Kicks
38
Wear Different Brown Tones in 1 Outfit
Don't forget the matching bag!
39
As Much as You Love Your Leather Jacket, Stow It Away
We bet your denim one has the power to top all the same outfits.
40
Piece Together a Muted Ensemble and Go For Standout Patterned Booties
41
Tie Your Look Together With a Bright Bib Necklace, Not Those Black Heels
42
Give Your Black Bomber a Break and Go For a Silky Rose 1 Instead
43
A Bright Metallic Belt Elevates a Casual Patterned Jumpsuit
44
When the Only Shoes You Have Will Weigh Your Look Down, Give Them Up
At least, when you're on the beach.
45
Match Your Nail Polish and Accessories to Your Coat
46
Amp Up Your Neutral Outfit With Multicolored Pom-Pom Shoes