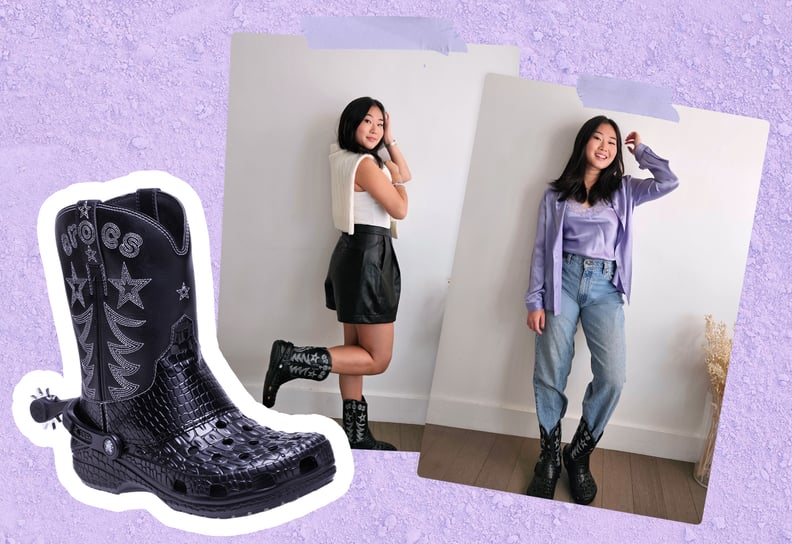 POPSUGAR Photography | Yerin Kim / Getty / sbayram / Crocs.com
POPSUGAR Photography | Yerin Kim / Getty / sbayram / Crocs.com
As POPSUGAR editors, we independently select and write about stuff we love and think you'll like too. If you buy a product we have recommended, we may receive affiliate commission, which in turn supports our work.
Go big or go home, right?
It's not wrong. When our team first caught wind of the news — and saw photos — we were certainly taken aback. With metallic embroidery, croc-skin texture, and the brand's signature vent holes and uniquely shaped footbed, the Crocs are quite the sight. The rubber, mid-calf boots also come with a removable spur on the back strap, as well as gold star and cowboy Jibbitz charms. Though the brand has debuted a plethora of funky styles over the years, like bejeweled platforms, heeled mules, and Shrek-inspired clogs, it never ceases to surprise us.
Despite some of its bizarre yet buzzy launches, I've often heard people rave about how comfortable Crocs are. I've also seen fashion girlies style — and look very cute in — these rubbery clogs. Of course, I've never owned a pair before, so it just felt right to choose the Classic Cowboy Boot as my first. Go big or go home, right?
I've seen how cool street style stars and celebrities have worn Crocs, but the half-clog, half-cowboy-boot hybrid presented a challenge. Upon unboxing, I was admittedly overwhelmed by the thought of styling these bad boys. But once I threw on some basics and played around with different styling cues, they started growing on me. In fact, I actually found cowboy Crocs to be pretty chic once built into an outfit. That said, I did opt out of adding the Jibbitz charms because they were a little too flashy for my taste, not to mention difficult to attach and remove.
Needless to say, I kept the styling minimal and true to my personal fashion because I knew the boots would do the talking. You'll see they took the lead against more casual basics like my everyday straight-leg jeans, effortless Bermuda shorts, and a structured blazer. Ahead, see how I wore the much-talked-about shoe, and snag your own pair before they sell out completely.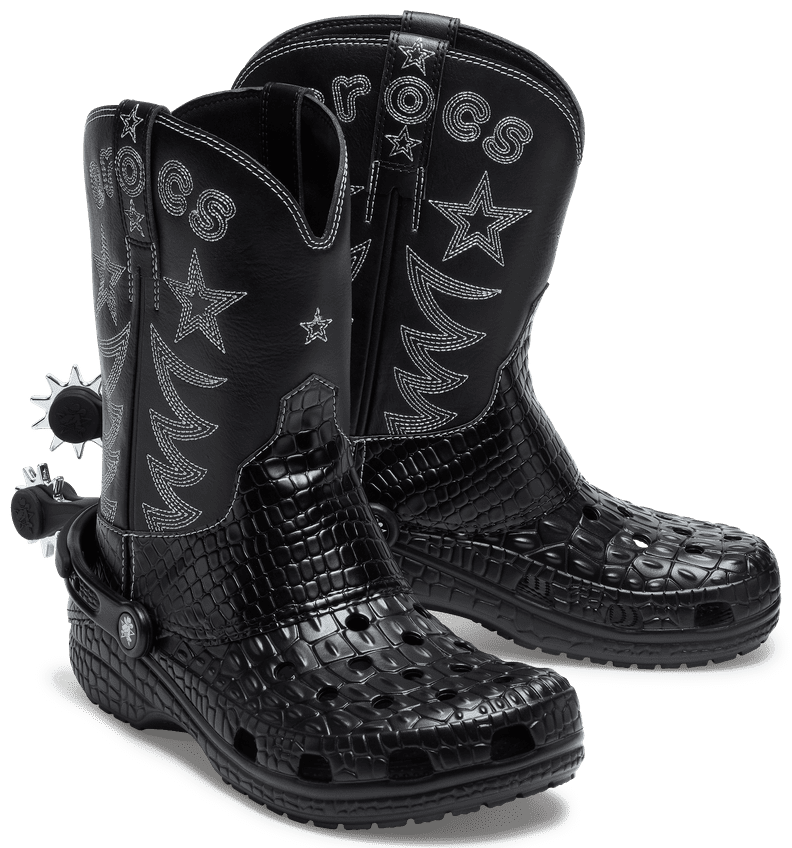 Shop the Crocs Classic Cowboy Boot
Crocs Classic Cowboy Boot ($120)
While sizes are quickly dwindling, the cowboy boots are still available to shop at $120 a pair. The quirky footwear comes with a removable spur and two gold Jibbitz charms.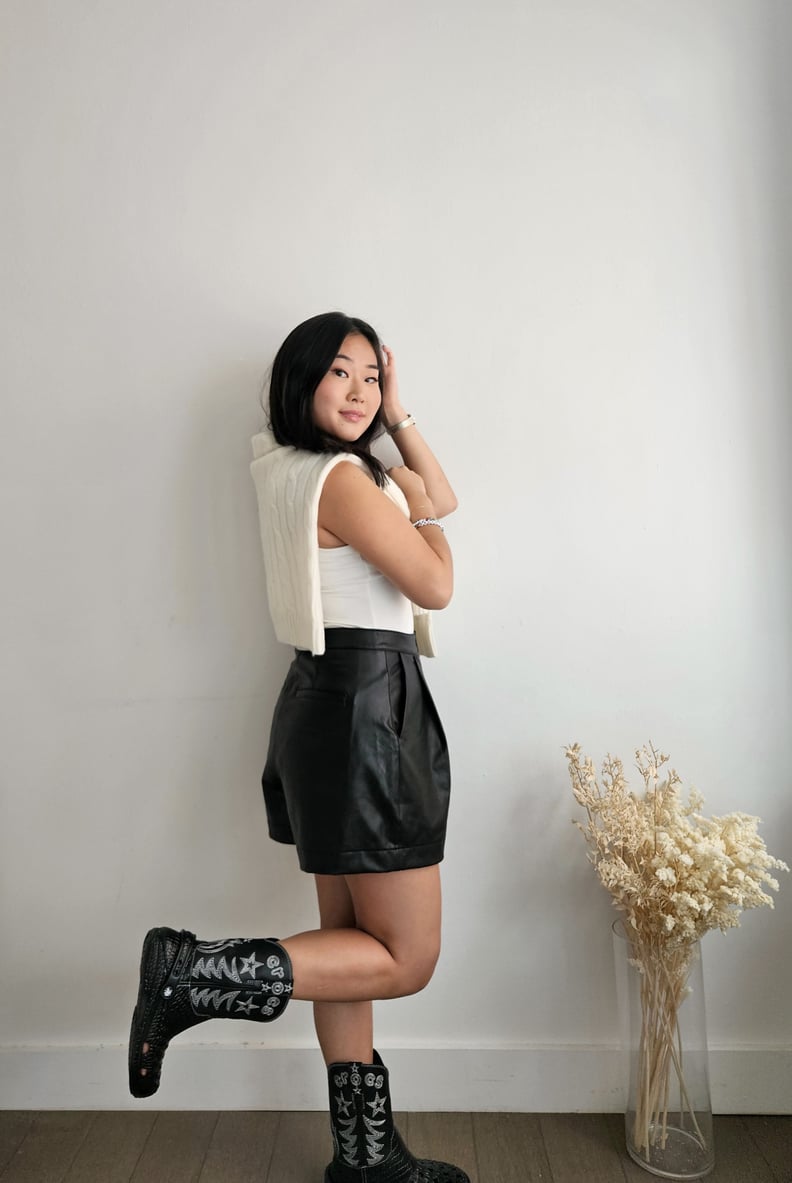 Styling the Crocs Classic Cowboy Boot
My strategy was to treat them as regular cowboy boots and edit from there, so I started with a tried-and-true outfit formula. When it comes to styling any kind of boot, you can't go wrong with a miniskirt or shorts. They're easy to throw on, and you don't have to worry about any awkward tucking or competing textures. I reached for a pair of faux-leather shorts as the base. From there, I added a versatile white tank and draped an oversize cashmere turtleneck over my shoulders for that effortless, preppy look. Pretty chic, right?
Above Outfit: Splendid Vegan Leather Short ($82, originally $118), & Other Stories Ribbed Tank Top ($17, originally $28), Roxanne Assoulin The Big Easy Bracelet Bunch ($115), Aqua Mock Neck Cable Cashmere Sweater ($139, originally $198) (similar)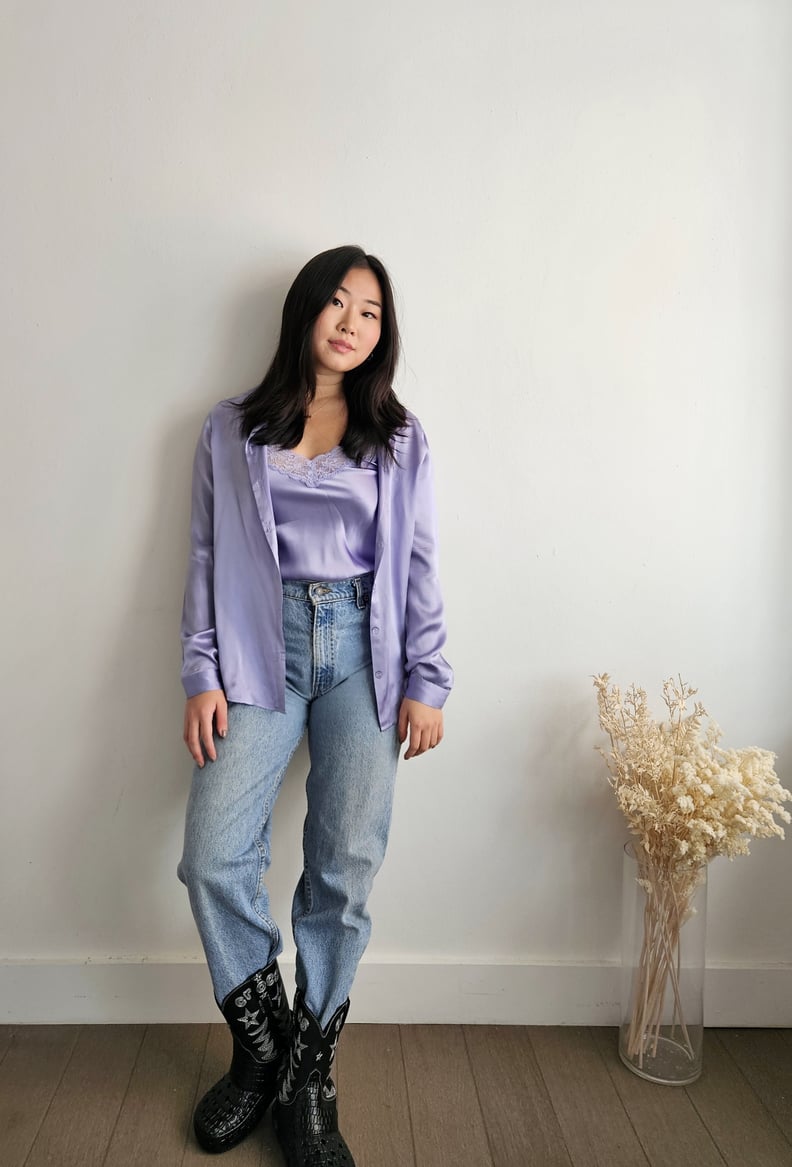 Styling the Crocs Classic Cowboy Boot
These Levi's are my favorite everyday pair, so I knew I wanted to make them work with the Crocs. I took a page out of Princess Diana's playbook — she famously tucked her denim (and sweatpants!) into Western boots. I was skeptical about the loose, straight-leg jeans against the rubbery shoe, but the Diana boot tuck did the trick. To elevate the bottom half of the casual outfit, I opted for a bright color and luxe fabric with this silk cami and matching long-sleeved shirt.
Above Outfit: Intimissimi Lace and Silk Top ($79), Intimissimi Long Sleeve Silk Shirt ($159), Levi's 501 Straight ($98) (similar)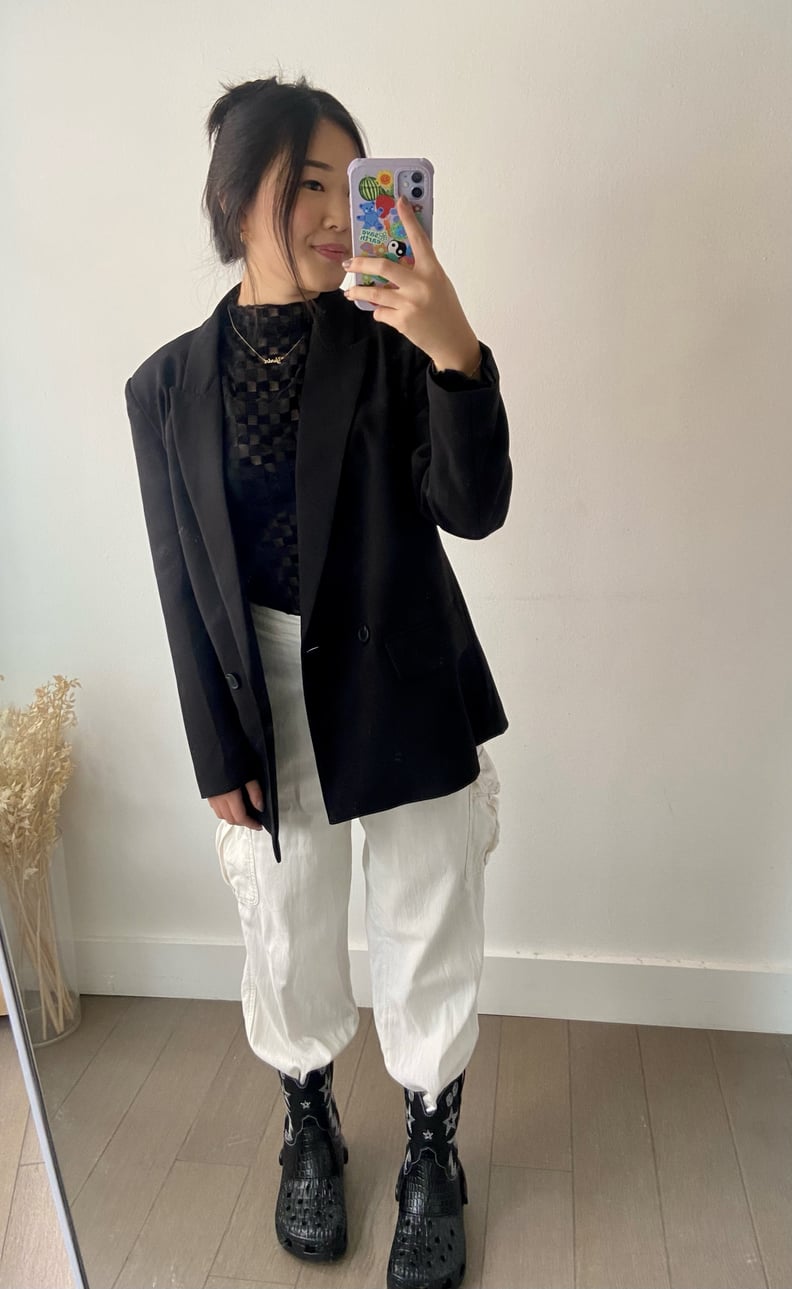 Styling the Crocs Classic Cowboy Boot
Like with any hard-to-style accessory or statement piece, these Crocs paired well with a classic black-and-white ensemble, regardless of textures or patterns. The mid-calf boot does make it slightly tricky for tucking, so I'd recommend experimenting with different straight-leg or ankle silhouettes. These cargo-style pants were easy to tuck thanks to the cinched ankle fit. For the top, I wore a sheer patterned mockneck to match the playful vibe of the shoes and dressed up the whole look with a sleek, structured blazer.
Above Outfit: Find Me Now Harmony Checkered Mesh Top ($79), Love, Bonito Stela Button Down Front Blazer ($69), Anthropologie Sanctuary '90s Cargo Pants ($139) (similar)