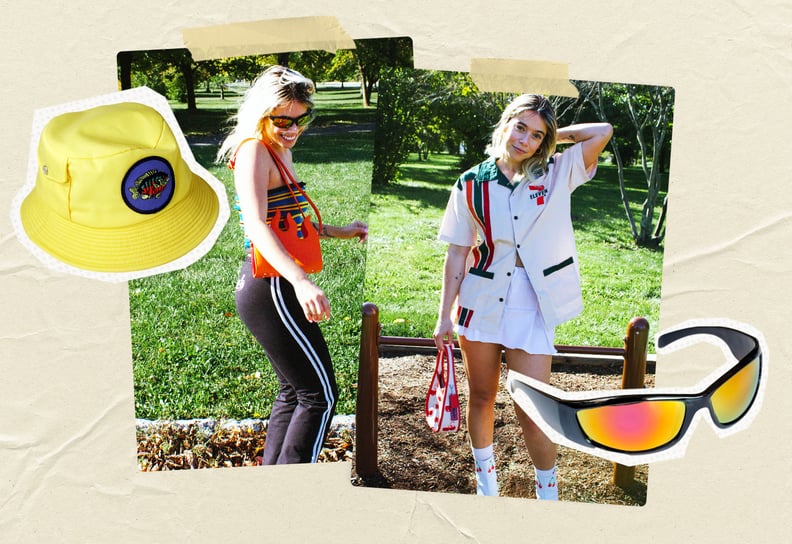 POPSUGAR Photography | Sarah Wasilak
Getty | creischl neilkendall
POPSUGAR Photography | Sarah Wasilak
Getty | creischl neilkendall
As POPSUGAR editors, we independently select and write about stuff we love and think you'll like too. If you buy a product we have recommended, we may receive affiliate commission, which in turn supports our work.
I think gas stations first became a source of style inspiration for me after watching Lucy Wagner (Britney Spears) sing "Bye, Bye, Bye" in her bucket hat in the back seat of a yellow convertible. The movie was "Crossroads," released in 2002, and it was full of fashion ingenuity. Wagner later fills up the tank of her Buick in velour pants, a graphic tee, and a messy ponytail — and that scene was pictured on the iconic movie poster. It's an outfit I will always associate with gas-station fashion.

"You're probably going to think everything is heinous, but it's a mindset shift . . . don't judge a gas station by its cover!"
So, when WSJ named artist Josie Francis the face of the latest viral TikTok trend, gas-station-core, I was instantly curious about Spears's old stomping grounds and their sartorial impact. Is gas-station-core still the same aesthetic I knew and loved when I was 10?
Today, gas-station-core is mostly about sifting through the nearly empty racks and shelves next to your favorite candy to find hidden "gems": affordable items you can work into a grungy look. Think oversize tees and outerwear, rugged utility clothes, and outdoorsy accessories. Francis shared an arsenal of tips for achieving peak gas-station-core, although she did note that you should interpret the "ugly" trend to make it your own. "Think twice about everything, give it a chance," she tells POPSUGAR. "You might see a hat and right away your brain might tell you that it's ugly as f — and it might be — but don't walk away yet. Is it actually ugly ugly OR could you make it fun and style it in a way that would make sense? You're probably going to think everything is heinous, but it's a mindset shift . . . don't judge a gas station by its cover!"
Ahead, discover the ethos of the gas-station-core TikTok trend, then see how I made it my own with outfits you can shop.
What Is Gas-Station-Core?
Gas-station-core is the latest viral TikTok "ugly" trend that involves collecting affordable, mostly oversize pieces from convenience shops at gas stations. Wardrobe essentials in a gas-station-core closet include hunting and fishing gear; big, roomy tees with a wolf print, perhaps; reflective sport sunglasses; slogan baseball caps; and utility vests.
Francis pointed me to the section of the store with miscellaneous merch and lonely hats, both hidden gems that could have been plucked from a thrift store. She maintains that she'll never spend more than $35 on any one item, as the whole idea of gas-station-core is to shop on a budget. Her personal favorite gas stations to shop at are in Wisconsin off I-94, but I ended up finding great material at my local stops in Jersey City, NJ.
How to Wear the Gas-Station-Core Aesthetic
While Francis's look is colorful, quirky, and grungy all at once, I used my gas-station finds to pay ode to the '90s and 2000s. TikTok videos will suggest you wear your items with Daisy Dukes, baggy jeans, or Converse and cargos.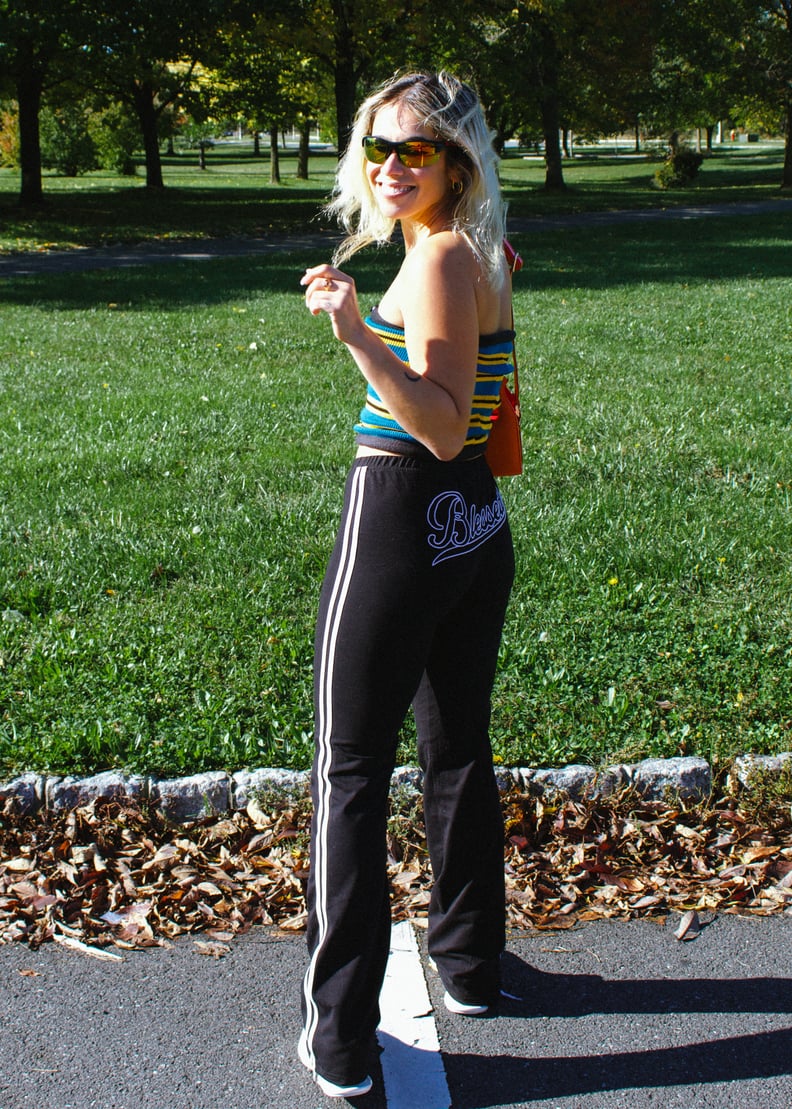 Gas-Station Neck Gaiter
Believe it or not, this makeshift top is actually a $10 wool neck gaiter with a drawstring at the front that allowed me to adjust the fabric around my bust and secure it into a tube top. I loved how the stripes ran perpendicular to those on my I.Am.Gia track pants, which felt very early 2000s. I finished my look with Fendi First 1 sneakers and Studiocult's flame bag.
My outfit: Studiocult Flame Bag ($150), I.Am.Gia Zosha Pants ($50, originally $80), and Fendi First 1 White Fabric Running Shoe ($995)
Similar gas-station item: LMMHeizi 2 Pack Neck Warmer ($12)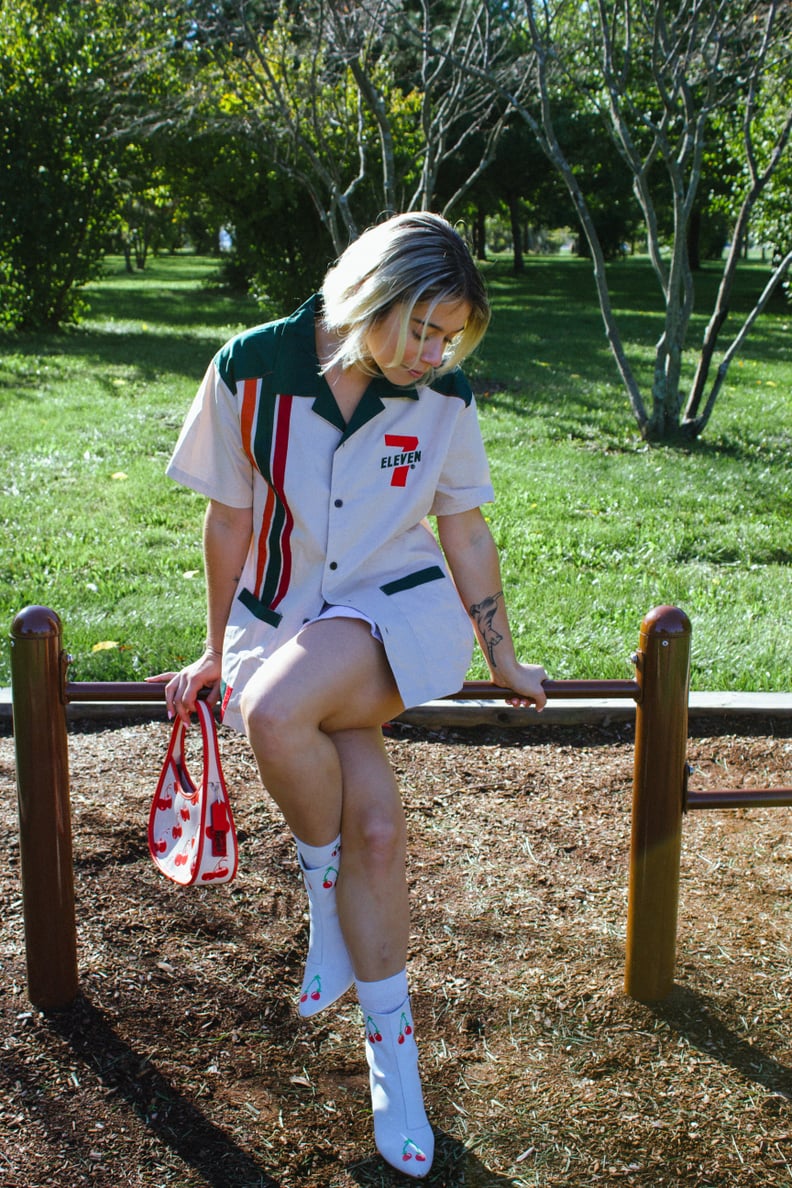 Gas-Station Shirt
I really took the theme to new heights with my 7-Eleven bowling shirt. This was perhaps my favorite gas-station find, and I teamed it with a pleated cargo skirt and Coachtopia shoulder bag to achieve a '90s look.
While the 7Collection rings in a bit higher than the graphic tees you'd typically find at any old gas-station convenience store, I knew I would continue to repurpose this top for years to come since it's such a classic. The same goes for my cherry Thursday boots, which I've now owned for almost 10 years. Just like gas-station-core is a trend that transcends time and can be reinterpreted depending on the shopper, these boots can, too. I feel like they also gave the look subtle '50s flavor, while of course nodding back to my purse and matching embroidered socks.
My outfit: Fanvereka Low Waist Pleated Skirt ($16), Ergo Bag In Coachtopia Leather With Cherry Print ($275), Thursday Cherry Heartbreaker Boots ($125), and Princess Polly Emelita Socks ($15)
Gas-station item: 7Collection Retro Woven Button-Up ($50)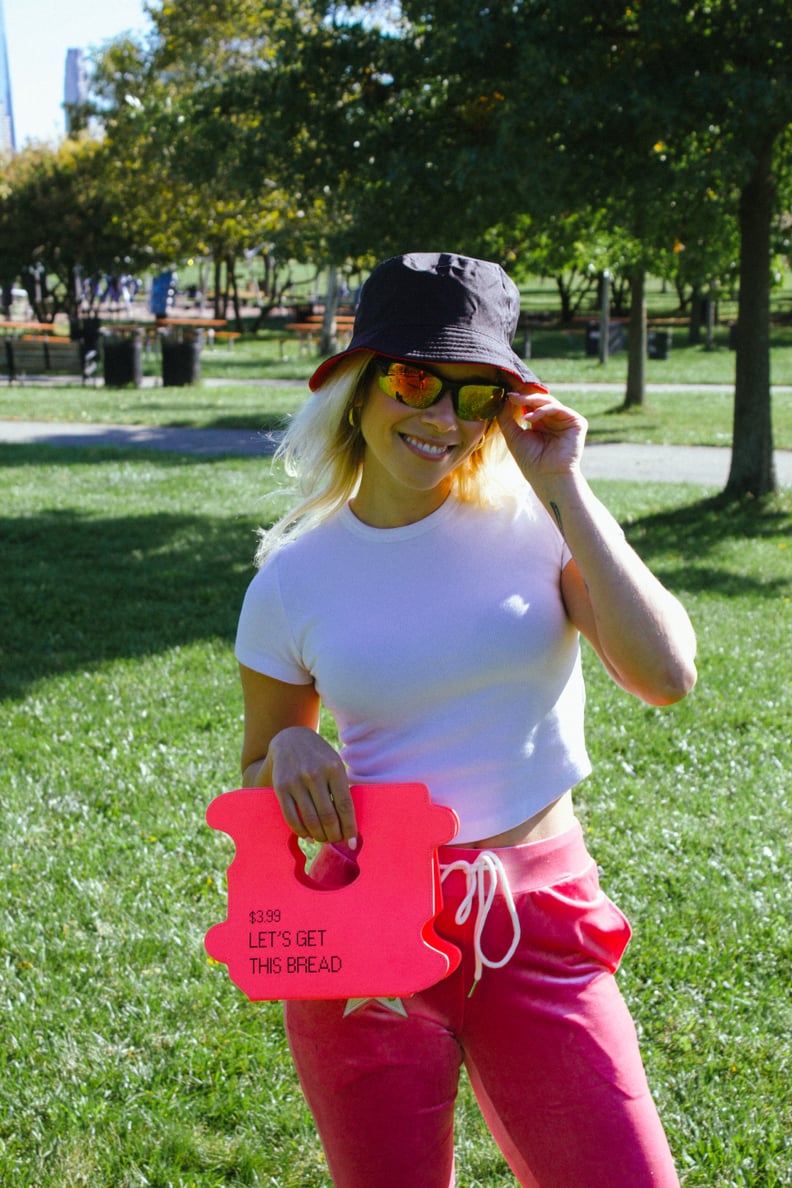 Gas-Station Sunglasses
Francis named sunglasses and baseball hats the best gas-station finds, so I set out to land upon a pair of reflective sport sunglasses with rainbow lenses. This style is, after all, one of the many silhouettes I see TikTok users pick up to achieve gas-station-core. The shape feels very '90s (I'm pretty sure my dad used to wear this exact pair around Disney World when I was little), and these honestly look similar to the shield sunglasses I personally wear running.
I channeled Britney Spears in "Crossroads" with the rest of my look: a white baby tee, velour track pants, and a bucket hat. This Studiocult bread-tag bag was another kitschy nod to the idea of shopping on a major budget. My sunglasses were only $8, and there was even a place for me to try them on — the mirrored strip of plastic glued onto the stand by the cash register.
My outfit: Sunday Best Bliss Cropped T-Shirt ($25), Shein Icon Star Patched Drawstring Waist Velvet Pants ($15), Shein Fire Print Reversible Bucket Hat ($3), and Studiocult Pumpernickel Pink Bread Tag Bag ($100)
Similar gas-station item: RockBros Polarized Sunglasses ($22)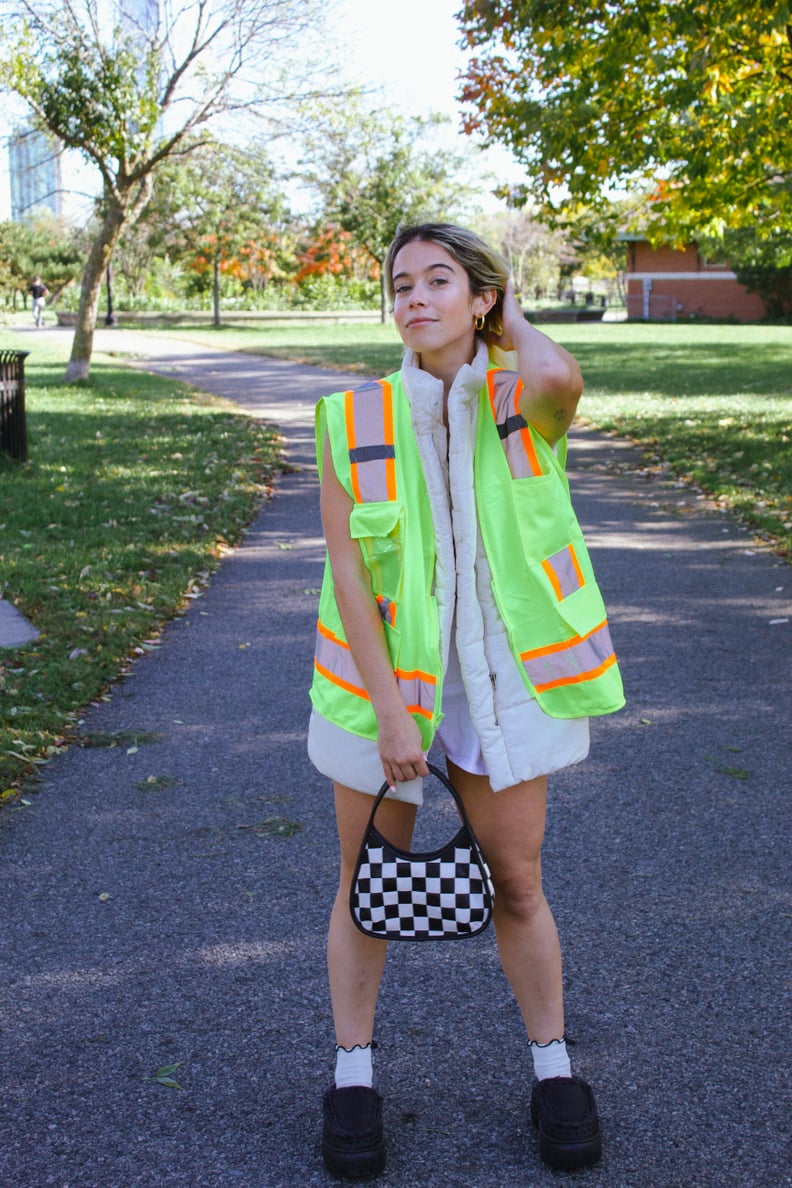 Gas-Station Reflective Vest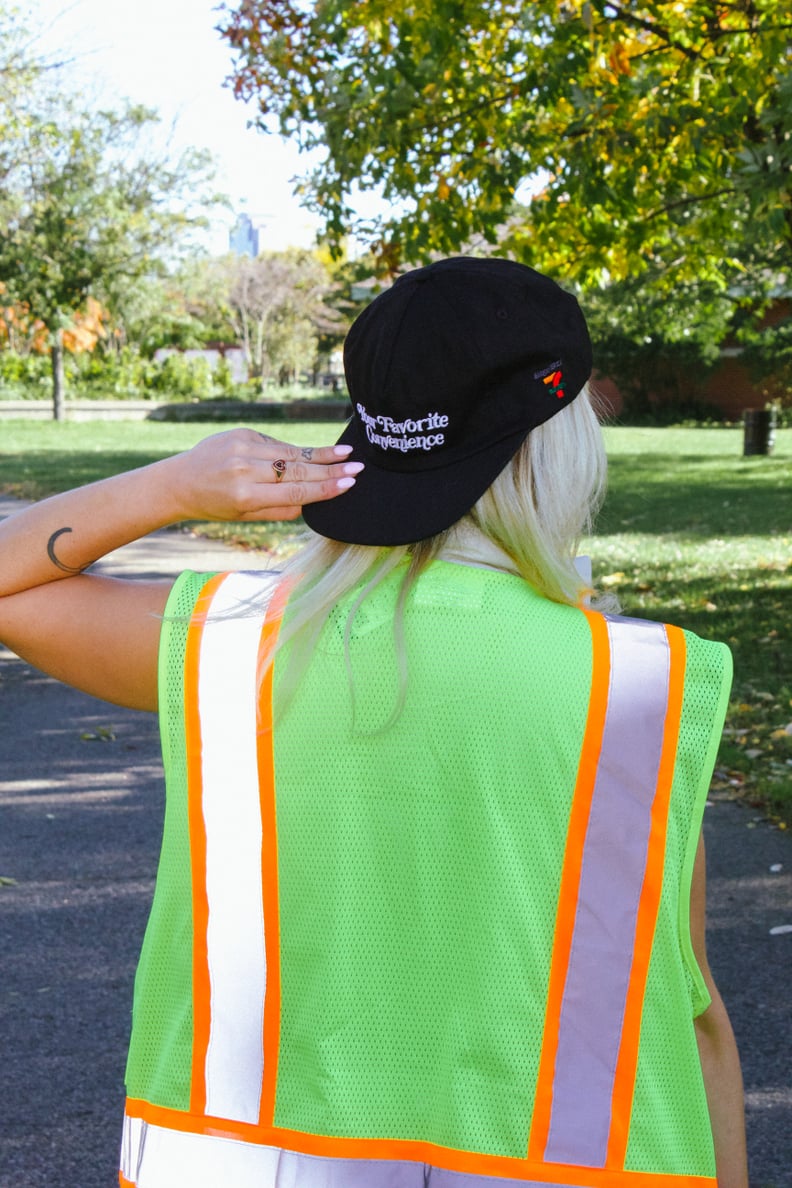 Gas-Station Baseball Cap
While Francis maintains that her favorite gas-station baseball cap is this pink Wisconsin stunner that touts cheese and beer, I couldn't help but fall in love with this 7Collection hat that reads, "Your favorite convenience." The little 7-Eleven logo at the side brings my gas-station-core outfit to the max, but I also love a hat embroidered with a saying that makes people do a double-take. With the addition of the reflective vest, I felt pretty hard to miss. On the other hand, I wanted to opt for something black and white that could go with the majority of my closet.
Gas-station item: 7Collection Your Favorite Convenience Hat ($25)