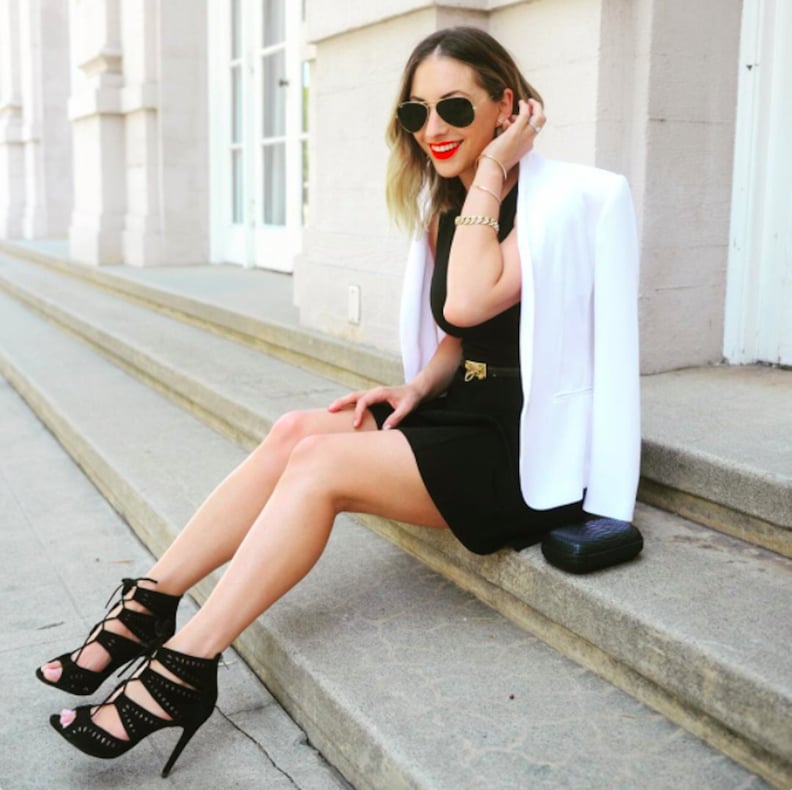 After talking to blogger Emily Schuman about her new Cupcakes and Cashmere e-commerce site, a project she boldly took on in addition to running her namesake clothing label, it's clear she's an industry vet. Actually, "blogger" doesn't even begin to describe Emily's career. It's a word that doesn't lend her quite enough credit when you consider the entrepreneur she's become. So when we talked to Emily, we wanted to pick her brain about all of it — from the little things to what it's been like to watch the industry change over the past nine years.
Most importantly, we appreciated Emily's response to the Vogue blogger controversy, and her unwavering perspective that there's a place for everyone. True, the term "blogger" has many different definitions, but in a world where girls gain a tremendous amount of followers just by smiling for the camera and tagging their outfit credits on Instagram, Emily's carries a lot more weight. Scroll to take a few tips from the wise woman behind Cupcakes and Cashmere.
Emily's Take on the Blogging Industry Today
"I'm pretty blown away by the blogging industry today. It was such a small, niche thing back in 2008 when I started, and it's just exploded in such a crazy way. I'm inspired by what my peers are doing. It's pretty incredible to be surrounded by a lot of other like-minded entrepreneurs who are willing to take risks and carve their own paths. I've never really paid much attention to any so-called controversy - there's room for everyone and we all have such different paths that the idea of competition is simply silly."
How Having a Child Affected Her Dressing Routine
"Besides being a little more wary of wearing white around Sloan, things have pretty much stayed the same. I was never too precious with my clothing and accessories though. If you own something you love, wear it! My go-to outfit with her is a cotton jumpsuit — the ones we carry by Ripley Rader are perfect. They're super soft and feel like pajamas, but hug in all the right places, so they're flattering and chic."
Emily's Number 1 Tip For Closet Organization
"Edit often. People hold onto things for all kinds of reasons (sentimentality, guilt, etc.), but it's important to get rid of things that you're not wearing or are in bad shape. Make sure that each time you go into your closet, you only see items that you love."
On Whether She Holds Regrets About Her Early Blogging Days
"I've had a ton of fashion missteps, but none that I'd consider as 'regrets.' There's nothing wrong with experimenting (and occasionally getting it wrong). Clothing is too fun to take seriously, plus who doesn't love a good #TBT when you're able to laugh at yourself?"