Ever since Denise Bidot's start as a supermodel in 2014, when she made headlines for being the first curvy woman to walk the runway at Fashion Week for regular-size brands, she's exploded onto the scene. Denise is here to serve a purpose: to let women know "there's no wrong way to be us," a message she sends out to her Instagram followers on a regular basis just by sharing unedited photos of her curves and cellulite. But Denise turned her lesson into a movement in 2016, when she launched No Wrong Way, a platform you can subscribe to for a hefty dose of positive inspiration.
Even if you don't tap into Denise's site on a regular basis, you'll see her in the pages of magazines or on billboards, posing with confidence. Her latest ad is for Lane Bryant's "The New Skinny," an introduction to a stretch jean that comes in sizes 14 to 28, is functional and comfortable, and has the perfect pocket placement to flatter your butt. We talked to Denise about what it was like to work on this campaign specifically, as well as her recent Target swimsuit ad that went viral, her buzzy Sports Illustrated placement, and raising a daughter in a world in which the conversation around weight and body type continues to be an important one.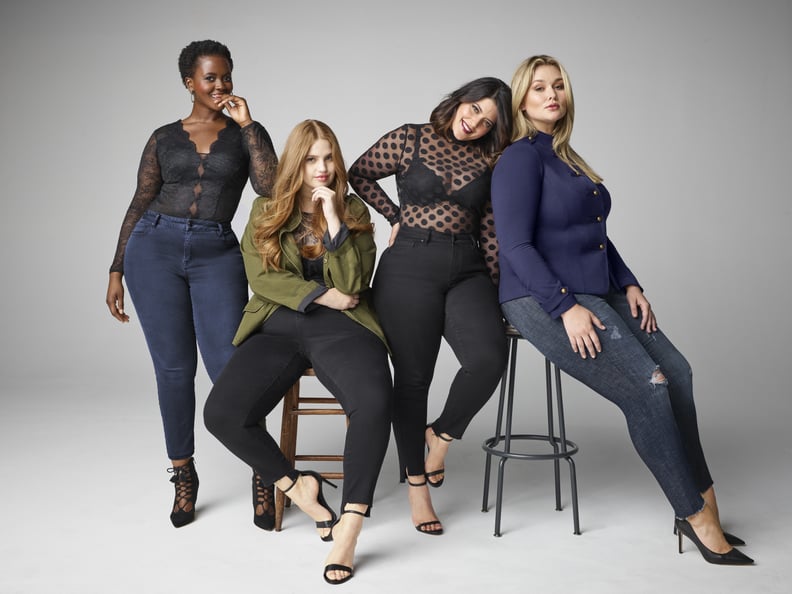 Denise Stars in "The New Skinny" Lane Bryant Campaign
The campaign features Denise, dancer Lizzy Howell, fashion influencer Kelly Augustine, and models Hunter McGrady, Philomena Kwao, and Bree Kish. "It's fire, and people will take notice. Lane Bryant is always on the forefront of change in advertising and how we show plus-size women. They have a lot in store."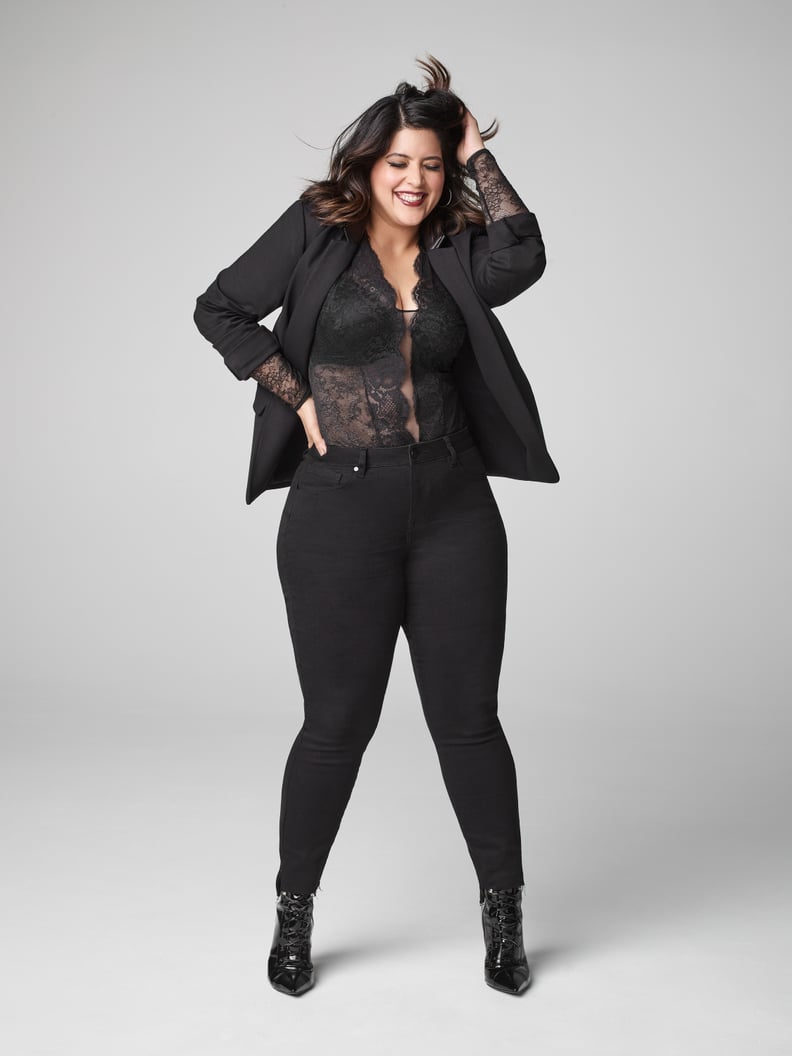 Denise Didn't Always Feel Encouraged to Pursue Modeling
"I actually received a lot of bad advice when I decided to be a model . . . people telling me I wasn't enough: tall enough, skinny enough, young enough. The best advice I got was from myself, which was that, as a mother, my instincts were on point! I knew what I was capable of deep down; I just had to show the world. Every step of the way, I've realized that the more I was myself, the more I shined and was able to help others shine as well. It's a beautiful cycle." She Was the First Supermodel to Show Stretch Marks in Sports Illustrated With This Lane Bryant Ad
"It was incredibly empowering to have support from Lane Bryant to allow me to show my stretch marks in such a prestigious magazine issue. I started showing my stretch marks on my Instagram as a way to show my followers and myself that there was "no wrong way to be us," and people really got behind it. It's inspiring to me to see brands jump on these movements. My goal was just to walk the walk. I didn't realize the effect it would have until I started getting messages from women all over. They've inspired me more than they know."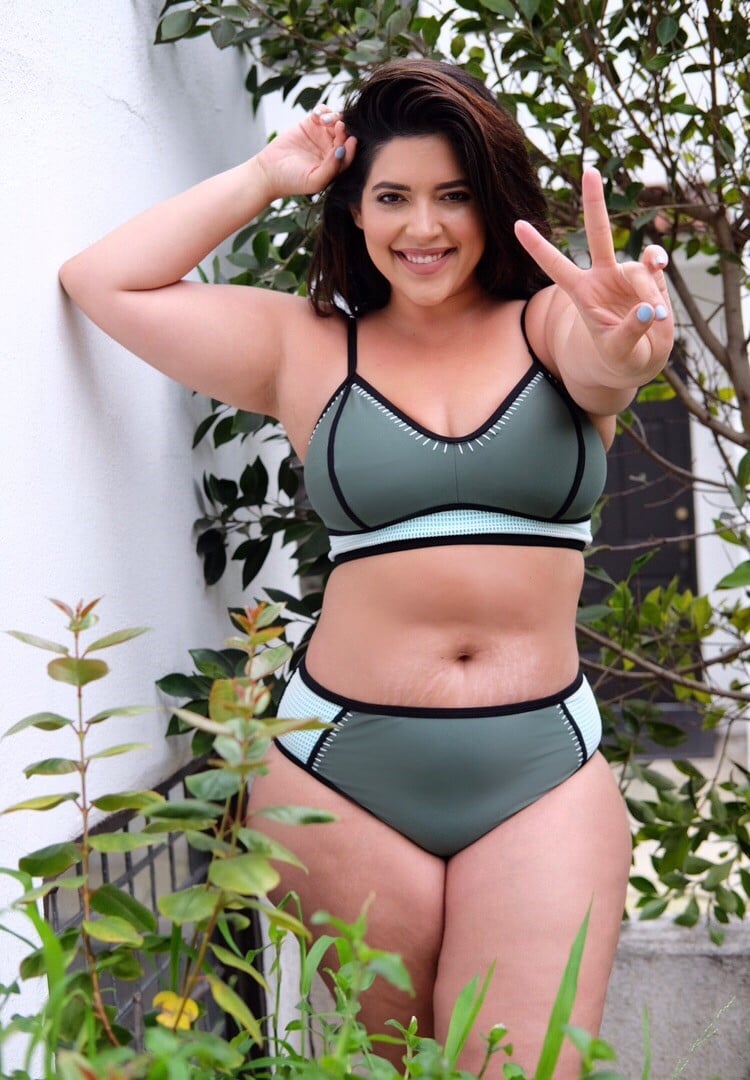 Her Photoshop-Free Target Ads Went Viral Too
"Working for Target is always a dream. That photo shoot was amazing, and I love the fact that they didn't retouch the images and released them as is, because it meant a lot to a lot of women."
Denise's Outlook on Feeling Good in a Swimsuit Is Positive
"I get it. A lot of people have directly or indirectly told you that you had to look a certain way to be comfortable in a suit. But the suit itself is really just some piece of clothing that covers up your body as little as possible so you can have fun in the water. So you can make people smile with your bright color choices, or turn your partner on with a sexy cut. It's not about having a rock-hard body. Going to the pool or the beach is about having fun, and a swimsuit just helps you do that. I don't know who decided a bikini is something you can only wear if your body is "ready," but it's a lie. Personally, I love a good high-waist bikini bottom and a sexy bralette top with good support. I especially love a swimsuit in bright, bold colors."
Denise's Daughter Helps to Inspire Her Career and Purpose
"My daughter has been on-set with me a lot. She knows what her mommy is talking about, and she's faced it too. There is a lovely moment in Straight/Curve where [my daughter] talks about the types of conversations she's heard in schools about weight and body. I am inspired by my daughter because she gets it, and her friends get it too. That gives me hope. She's like, "Yes, of course! Why wouldn't I love myself?!" That carefree attitude of hers lets me know I've done something right, and that change is actually occurring. I want to raise a daughter in a world where she knows her opportunities are endless and where she puts more value on her intellect rather than a pant size."
But Denise Is Also Inspired By Fellow Models and Friends in the Industry
"I think Iskra Lawrence is incredibly articulate on the subject [of promoting body diversity], and Becca McCharen of Chromat is someone who I'm always in awe of and who always has amazing representation through her runway shows and campaigns. She is a huge inspiration to me on and offline."
Denise Feels Like She Still Has a Lot of Work to Do
"I think the fashion industry overall really needs to start seeing and talking to who they affect with their limited perspective on beauty. Superretouched images reveal only one kind of beauty, and that's damaging to women's self-esteem and productivity, which isn't good for our future. In the documentary Straight/Curve that I was a part of, they break down the numbers, and it's staggering. We still have a lot of work to do. Luckily, a lot of us encourage the change."