You'll smile wider than you've ever smiled in your life when the runway portion of HBO Max's Friends reunion kicks off. Cara Delevingne, Justin Bieber, and the one and only Cindy Crawford arrive on set to try on some of the most memorable outfits that aired on the hit TV show, with Cindy taking the cake for iconic moments. Even though Cara does slip on the pink, poufy dress Rachel wears to Barry and Mindy's wedding in season two and Ross's Holiday Armadillo costume, Cindy strutting in Ross's famous leather pants is something else entirely.
"They are the EXACT Agnès B. pants that Ross wore, and they fit her perfectly!"
I spoke to stylist Erica Cloud, who headed up the wardrobe team for the reunion episode (now streaming on hbomax.com). Cloud confirmed that the Cindy moment was as special as it looked: "They are the EXACT Agnès B. pants that Ross wore, and they fit her perfectly! No one else has worn them besides those two icons! She even wanted to carry the baby powder and lotion down the runway, but they ended up doing no props in the end." As disappointing as that may be, Cindy totally did the pants justice, working them with lug-sole boots and a silk gray button-down just like the one Ross wears on his date in the pants.
Read on to see snippets from the Friends reunion fashion show and a brief recap of the leather pants scene (you're so welcome). BTW, you're probably going to marvel over how well Delevingne carried off the armadillo. Cloud says it was quite heavy, explaining, "We ended up having to rig a belt and suspenders underneath to keep it up and for Cara to even be able to walk in it. They had custom feet replicated and were like slip-on sneakers. There are multiple layers to the look including: helmet, body, forearms, shin guards, furry garter belts (at knee joints), feet, and a full body stocking to wear underneath. Cara was completely dedicated and beyond excited, so she made it work!"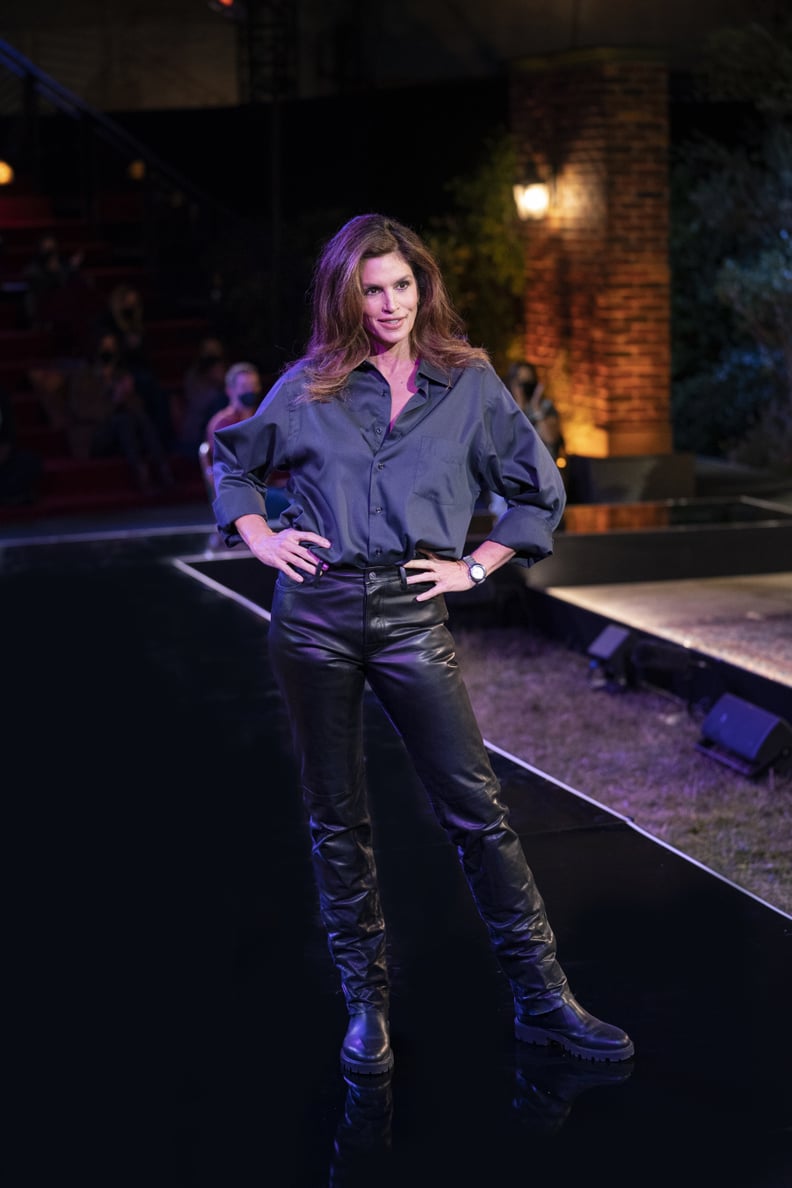 Cindy Crawford at the Friends Reunion in Ross's Leather Pants
Enjoy a Recap of Ross's Iconic Agnès B. Leather Pants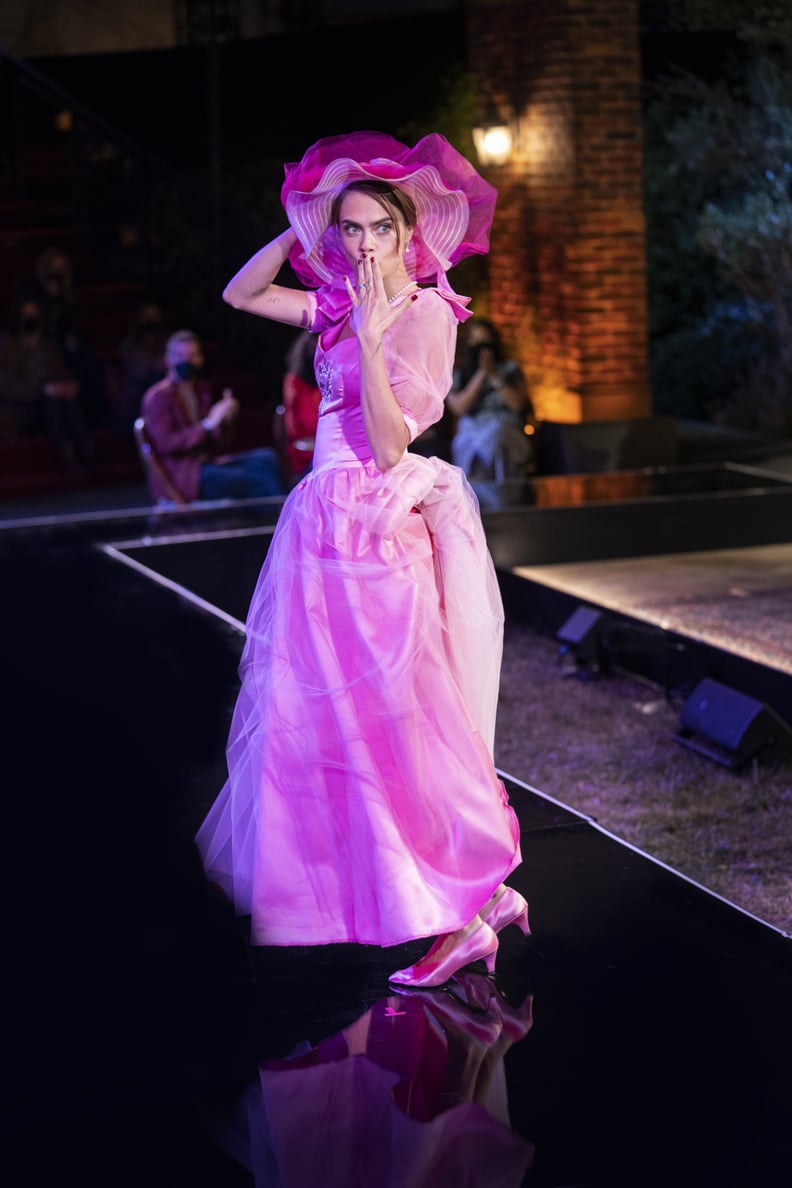 Cara Delevingne at the Friends Reunion in Rachel's Pink Dress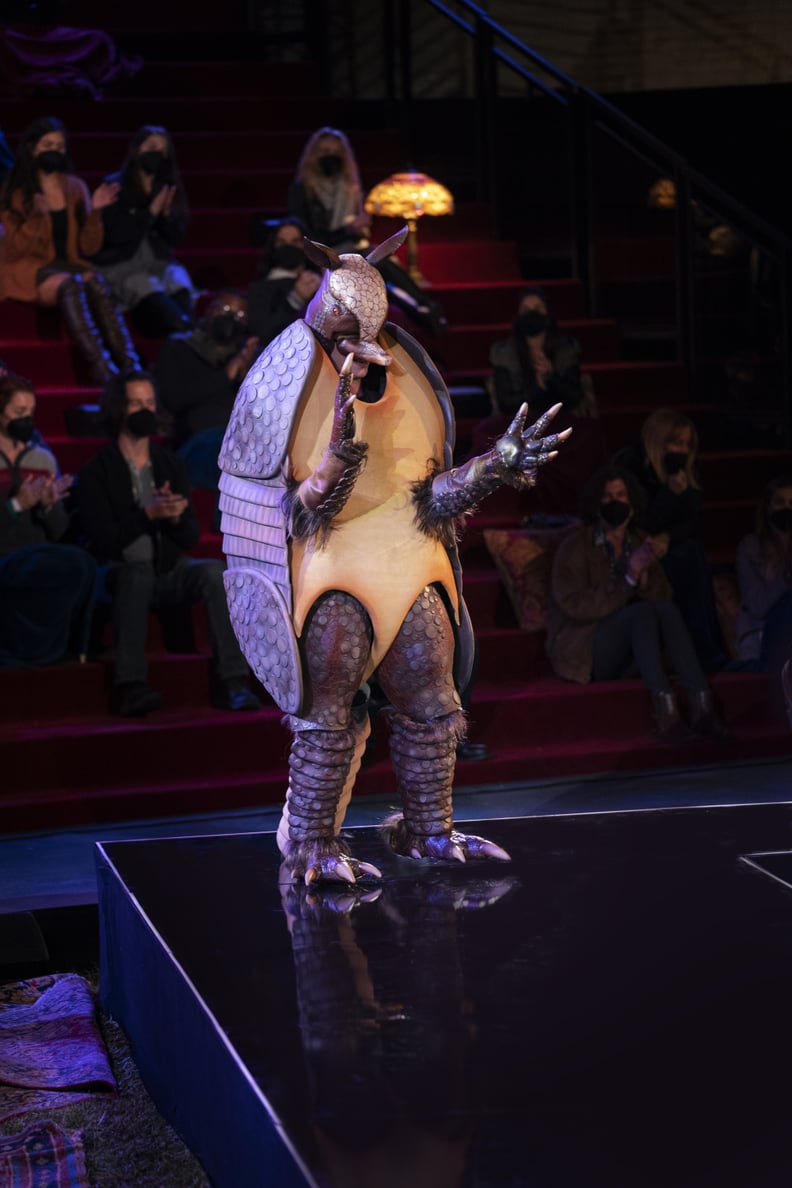 Cara Delevingne at the Friends Reunion in the Holiday Armadillo Costume