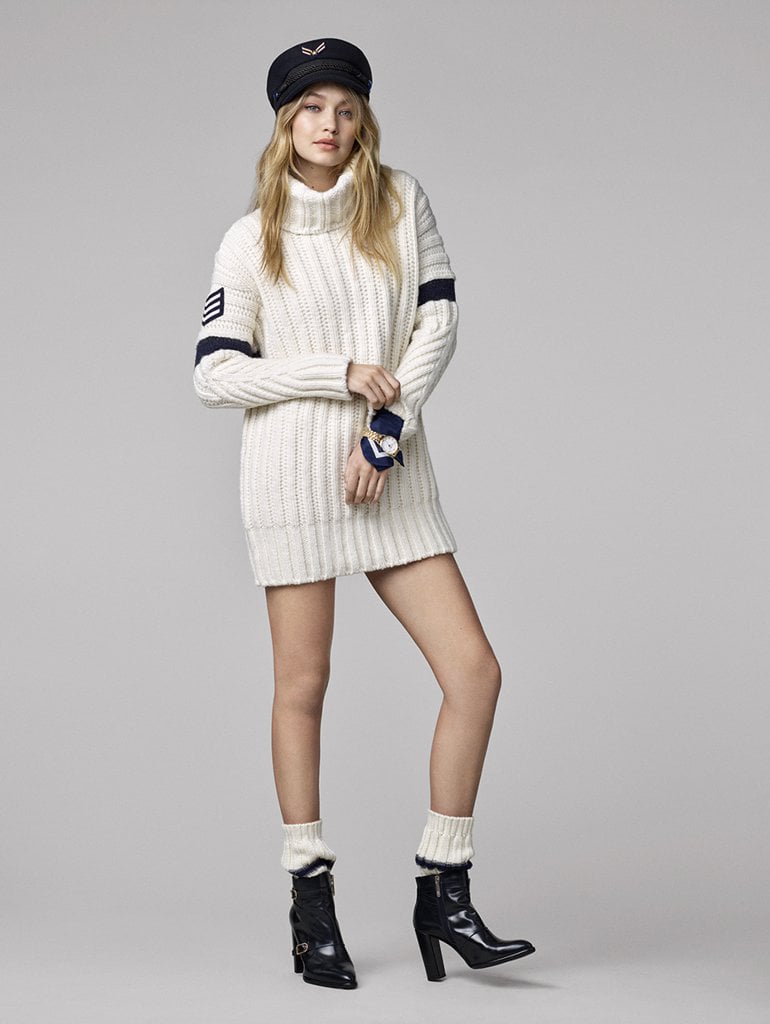 Tommy Hilfiger
Tommy Hilfiger
It was only a matter of time before Gigi Hadid tried her hand at designing — she's already conquered the rest of the fashion world, right? But what we really respect is that the supermodel is creating a line for a brand she truly loves: Tommy Hilfiger. Gigi wears pieces by the iconic American label both on the street and on the red carpet, and she was the leader of the pack at the Spring '16 show. It's really no surprise, then, that she was also named the face of Tommy Hilfiger's newest fragrance, The Girl, inspired by Gigi's free-spirited personality!
While you can browse behind-the-scenes shots of the campaign, we're sure you're more focused on Gigi's apparel collection, which is shoppable online and via touch screen at the Sept. 9 runway show. As soon as the clothes hit the runway (Gigi will open the catwalk in her debut pieces), they'll become available on Tommy.com. Read on to see all of the standout coordinates, from military blazers to cozy cable knits, retailing from $50 to $600, then enter for a chance to win all the items ahead of time.
— Additional reporting by Marina Liao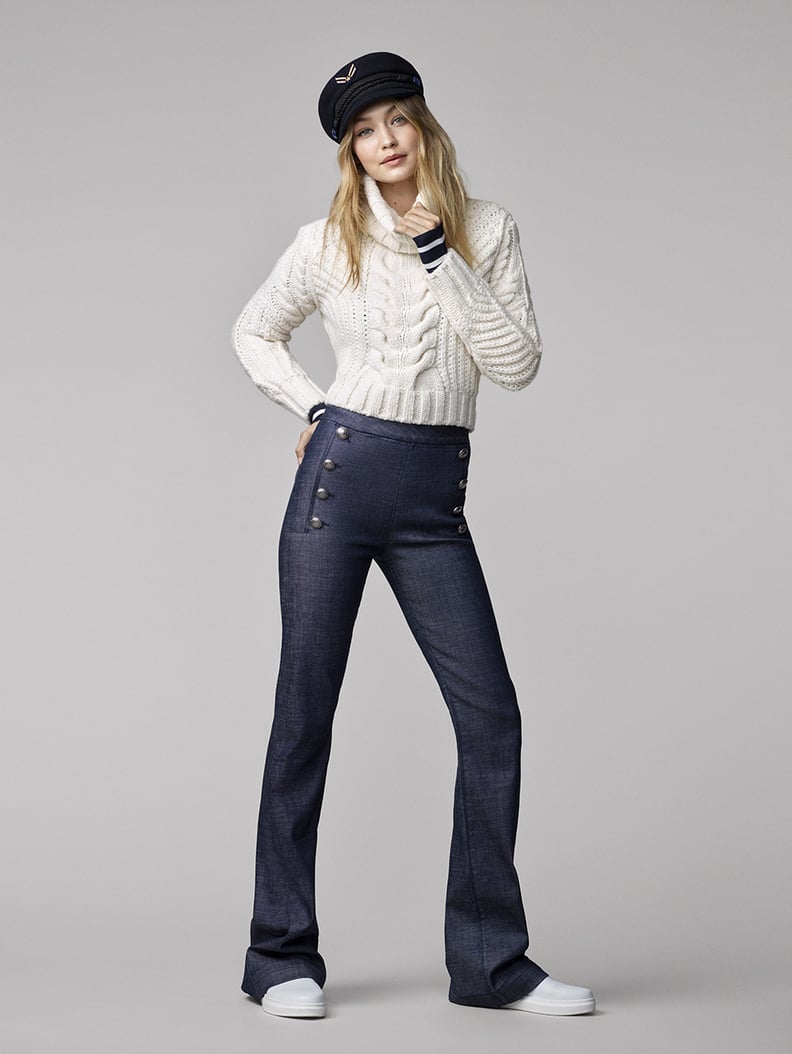 Here's Gigi in a crop cable-knit sweater with flare jeans.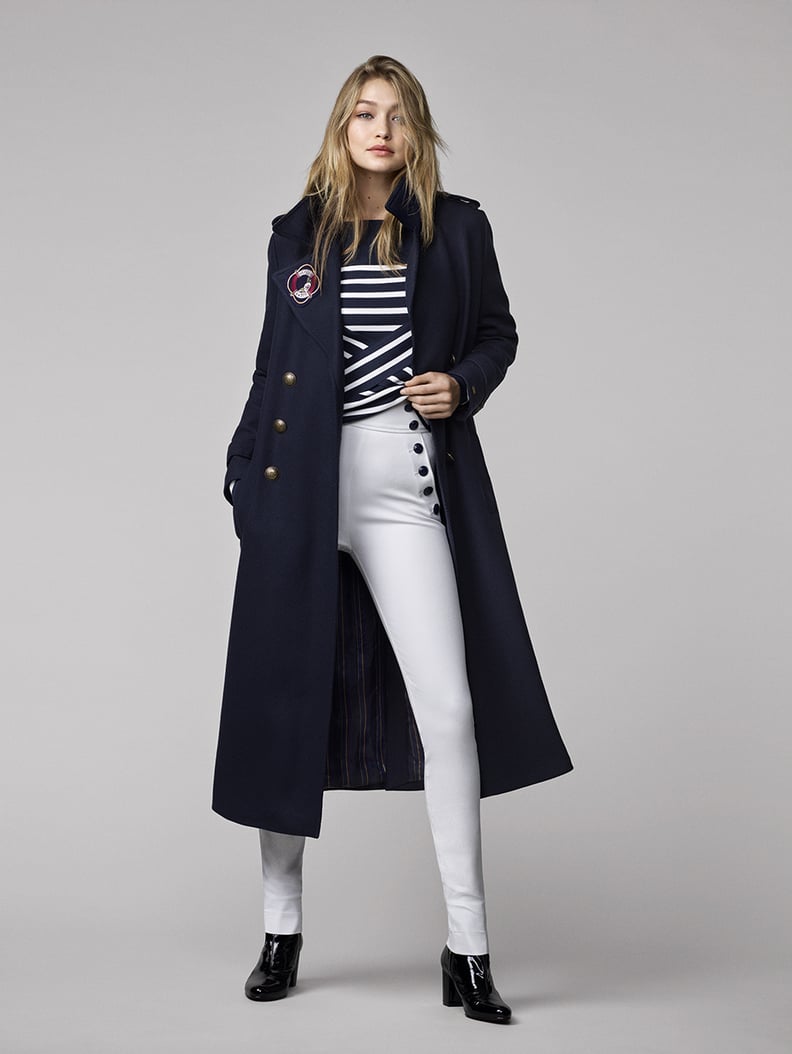 She knows Fall isn't complete without a navy-colored trench.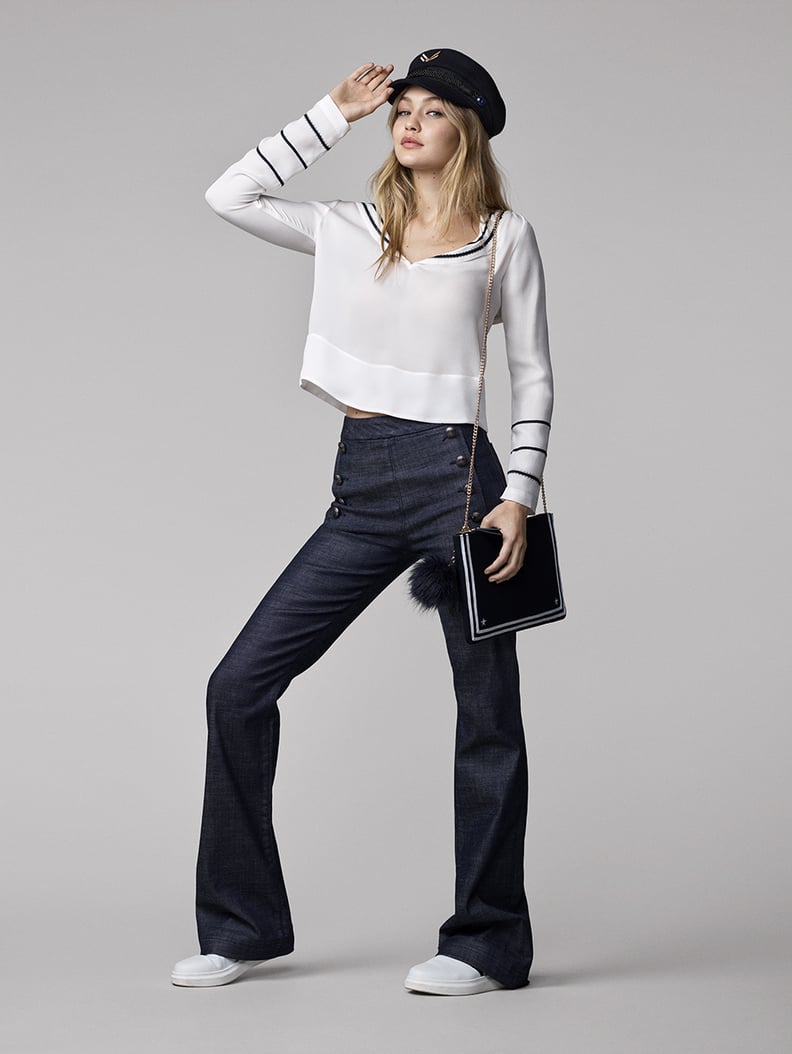 Gigi loves her sailor cap and paired it with a nautical crop top.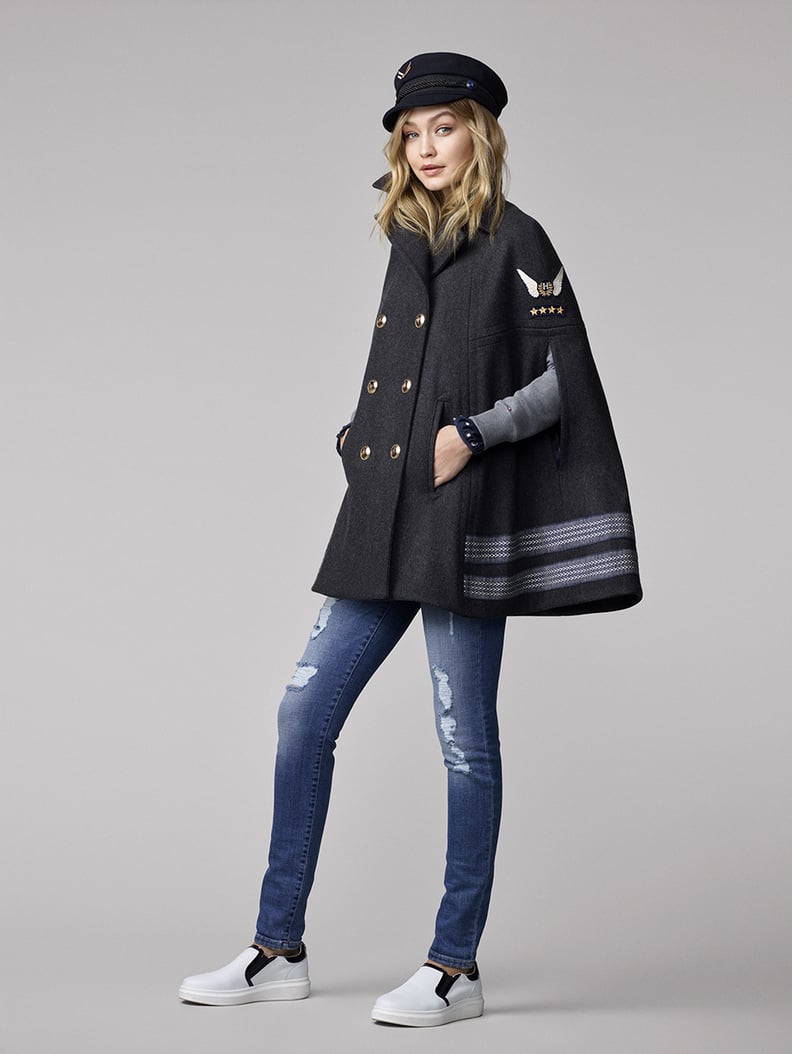 When the weather gets cooler, Gigi can slip into her poncho.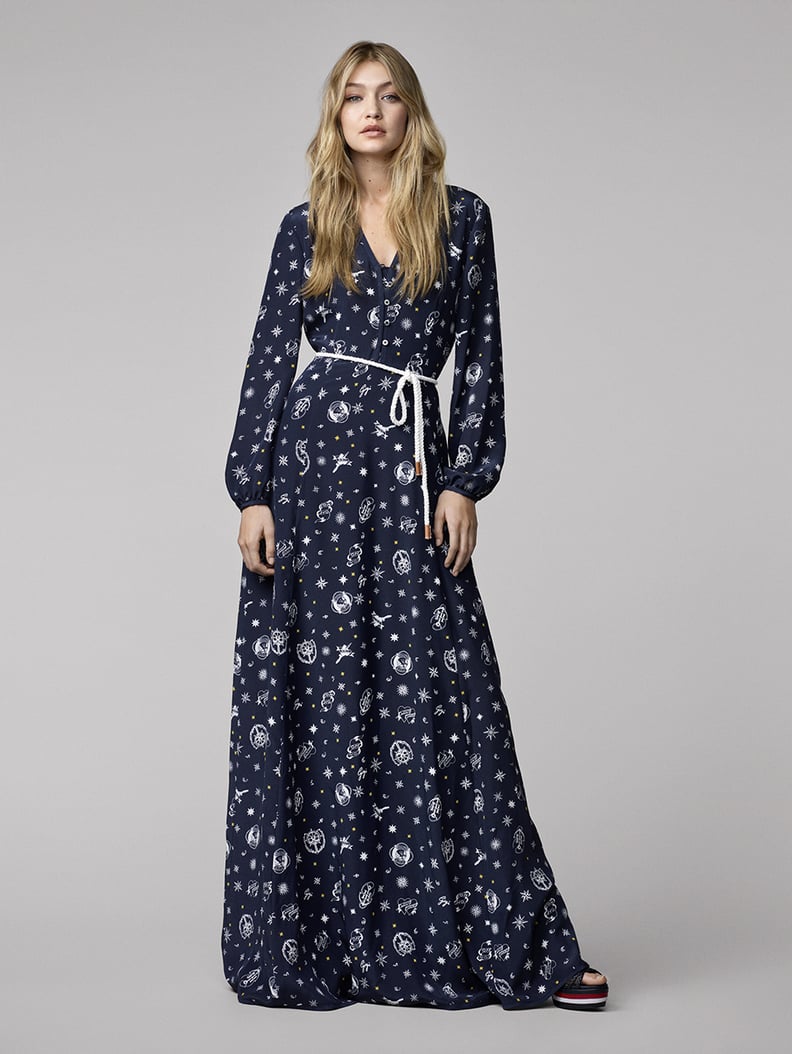 Thanks to the sleeves, this maxi dress is Fall appropriate.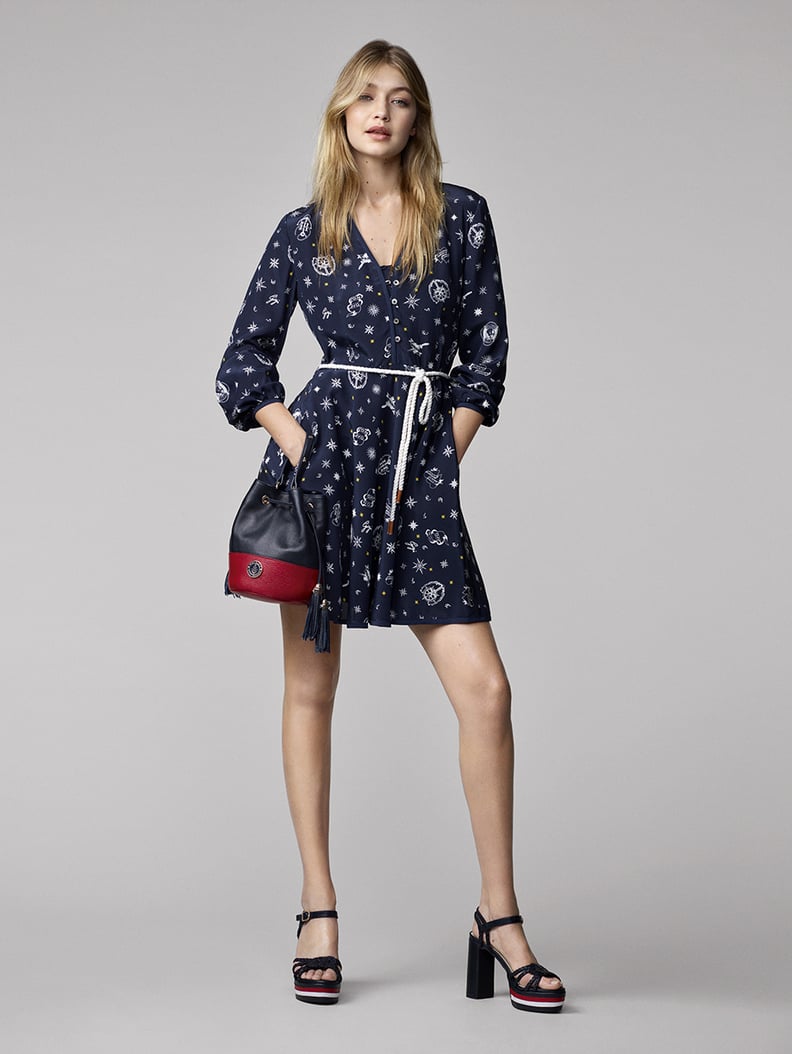 The maxi version also comes in a shorter length for Summer.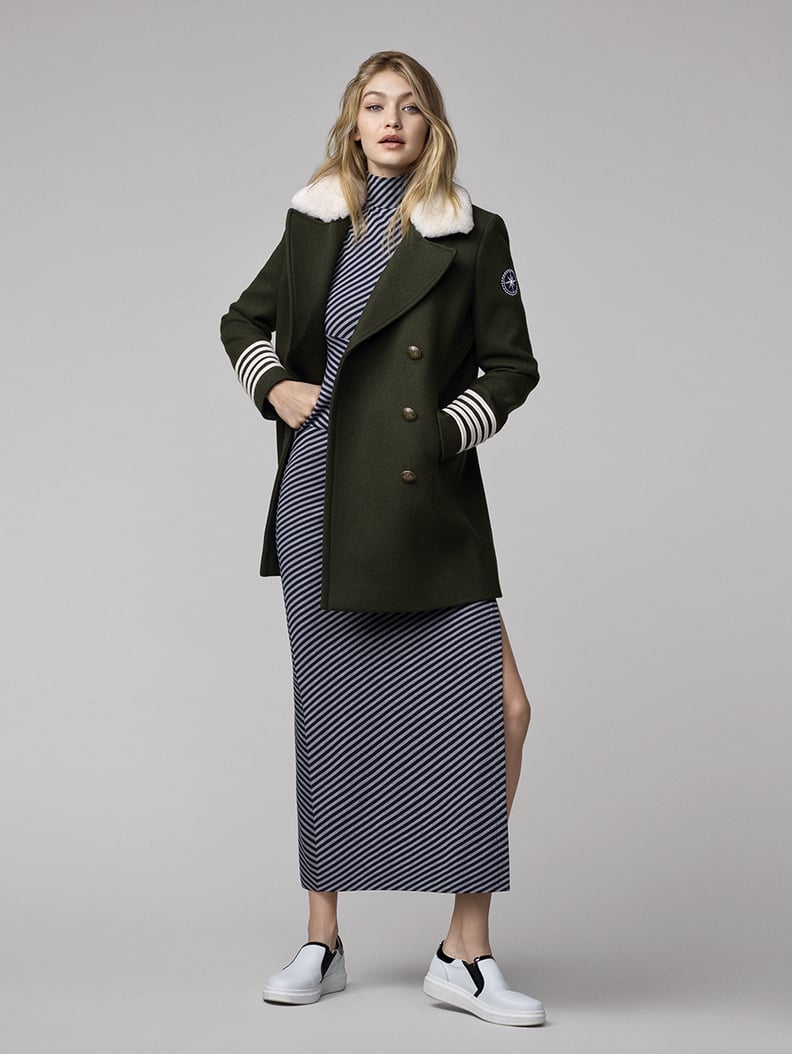 Gigi wears a classic wool trench over a dress.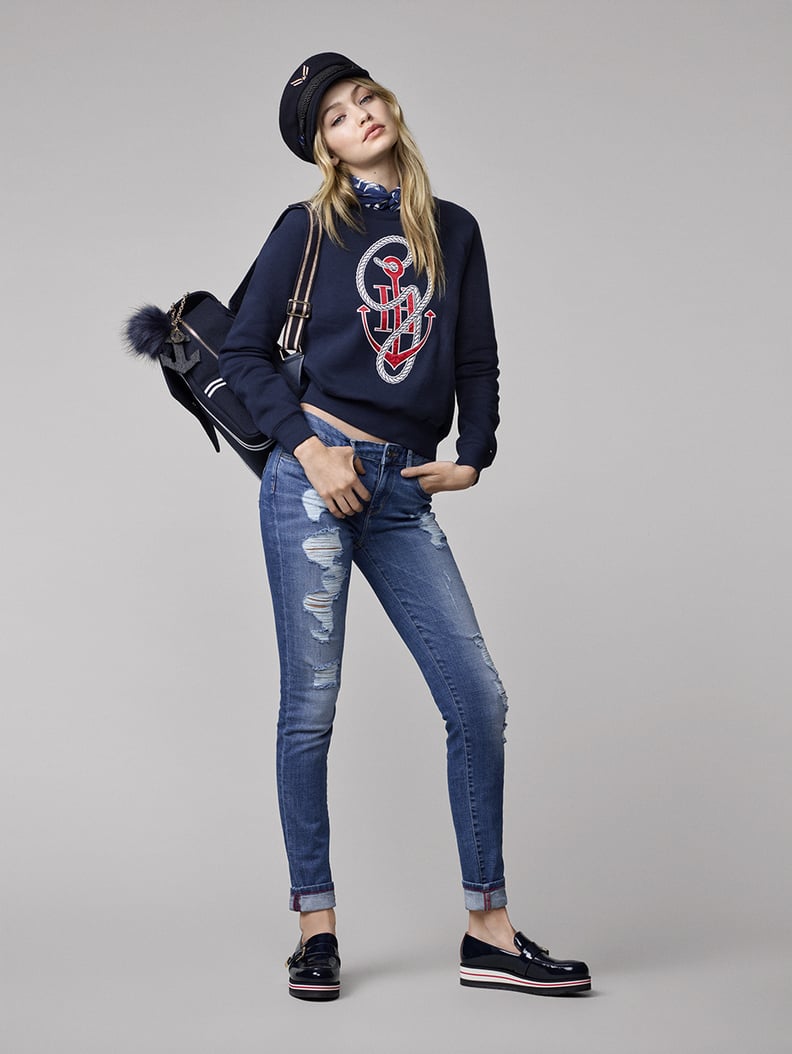 She even designed a more casual look you can wear to Sunday brunch.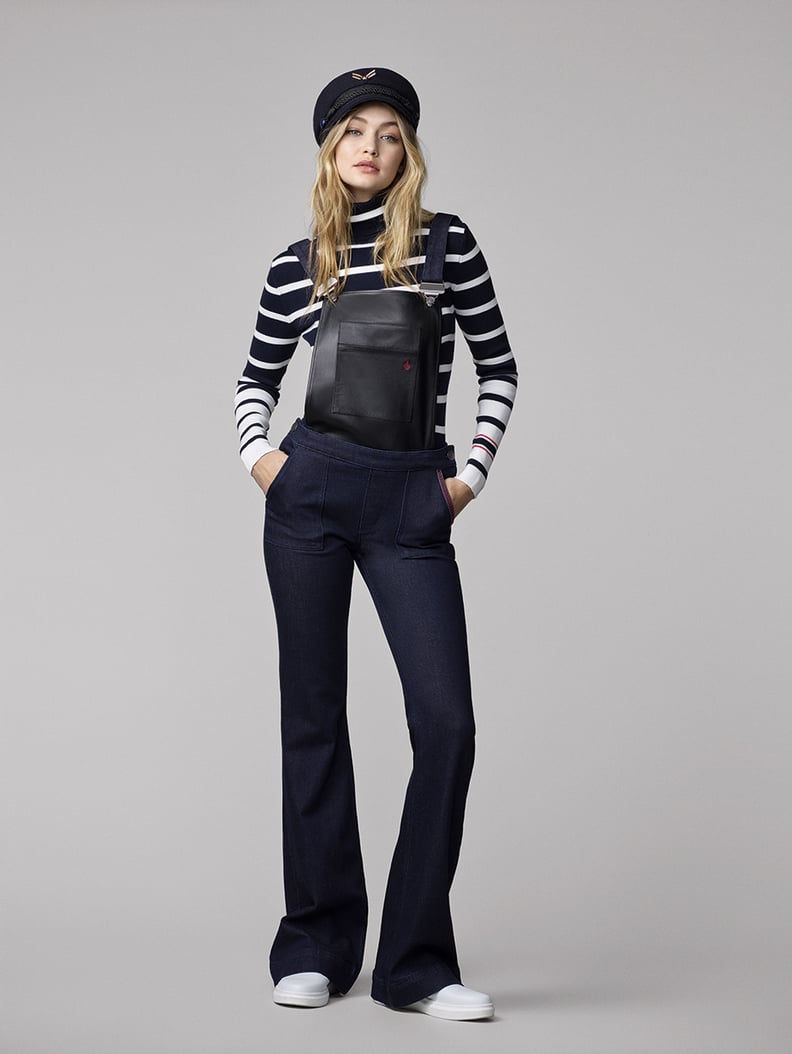 Gigi wears a striped shirt under her overalls.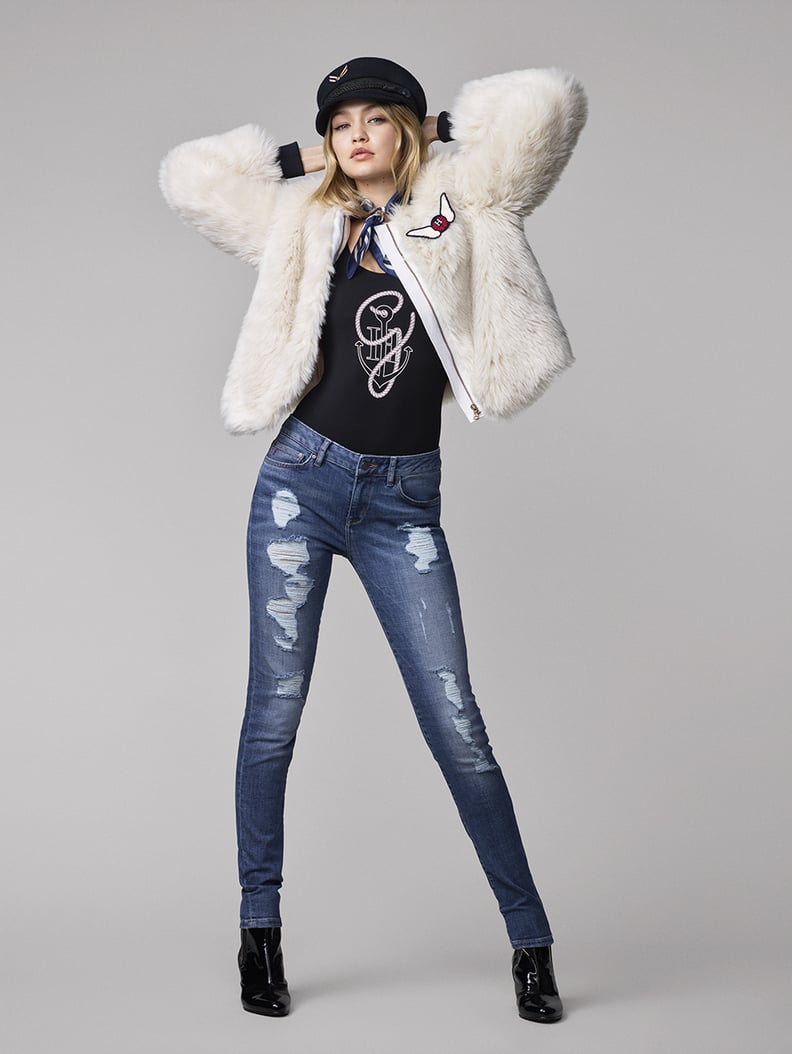 She is all about the furry white coat.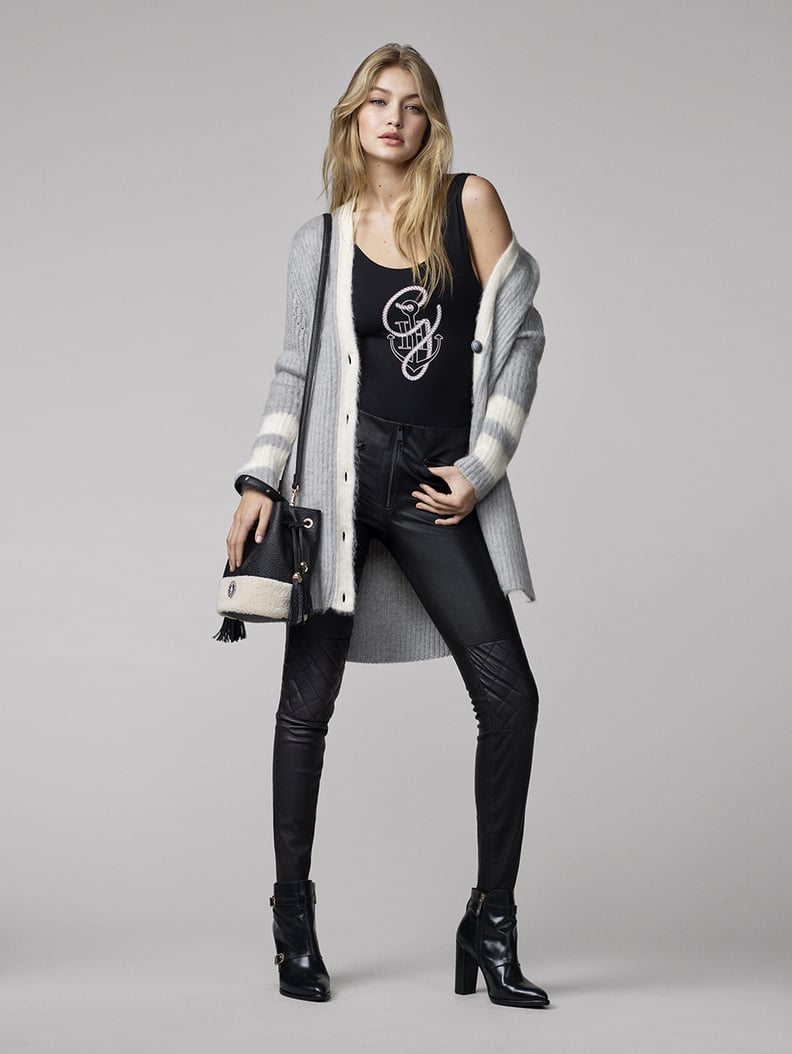 Gigi masters the art of layering by wearing a simple tank under her cardigan and accessorizes with a bucket bag.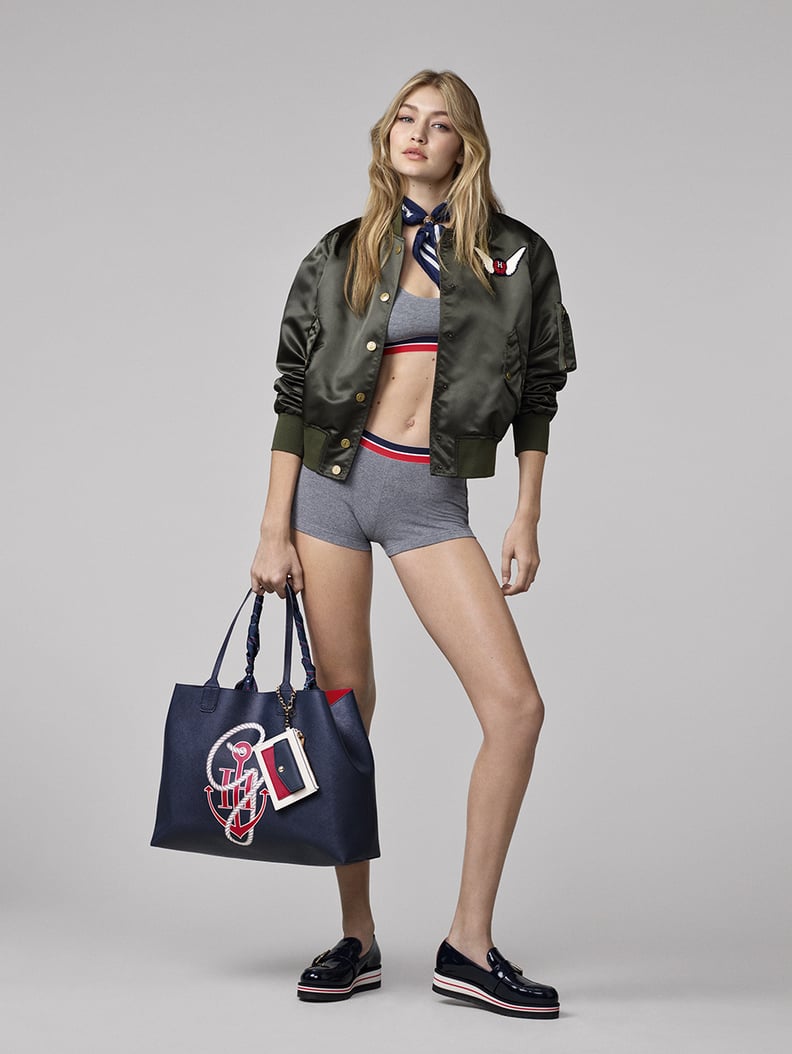 She wears a green bomber to cover her undergarment ensemble.
Gigi is ready for Winter in this turtleneck sweater.
Gigi knows how to amp us up for her collection debut. You can also enter to win the entire line right now.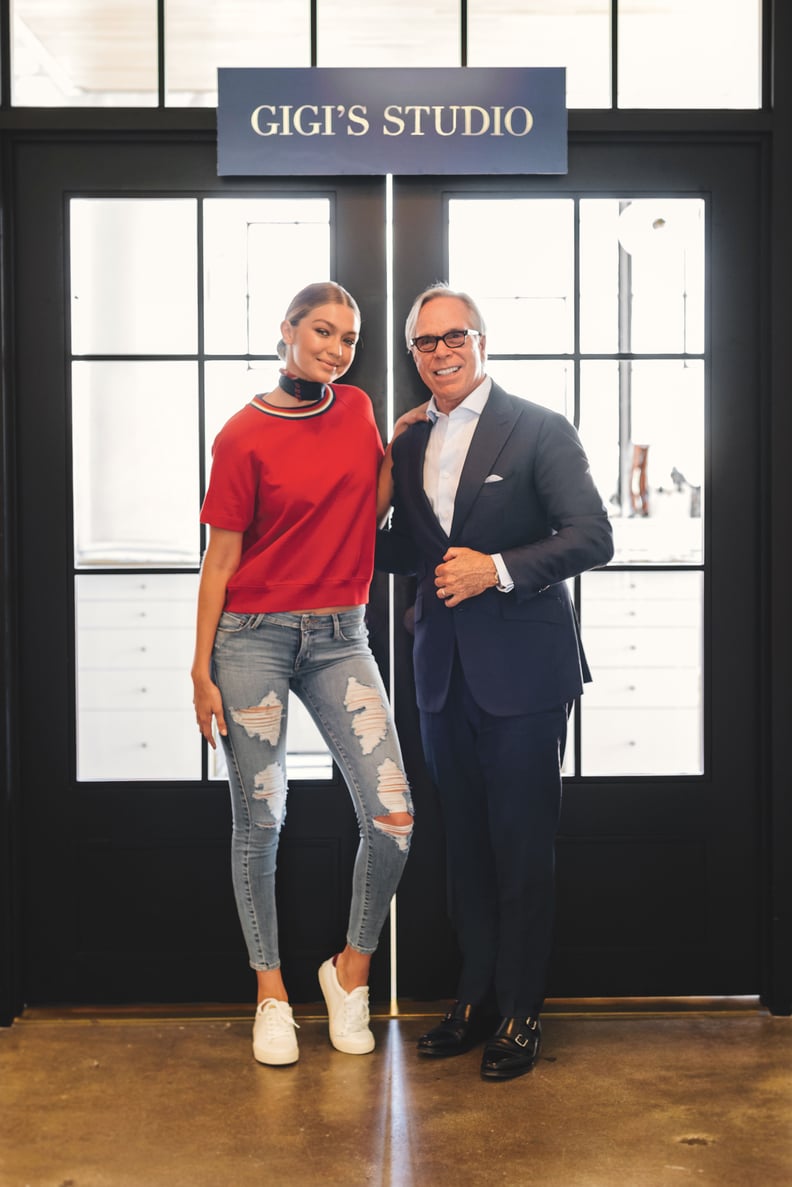 Gigi truly loves the spirit of the Tommy Hilfiger Brand, saying, "I never thought I would be asked to design a capsule collection, so it still feels like a dream that Tommy approached me to collaborate. His company is one that I genuinely love and have been a fan of for my entire life, and Tommy is the easiest, most fun person to work with. I have always looked up to his brand, campaigns, and design style. I think our collection celebrates the iconic Tommy lifestyle and mixes a bit of everything: there are styles that are really hippie-chic, styles that are sporty streetwear, and styles that are tomboy but girly; everyone's going to love a different part of it."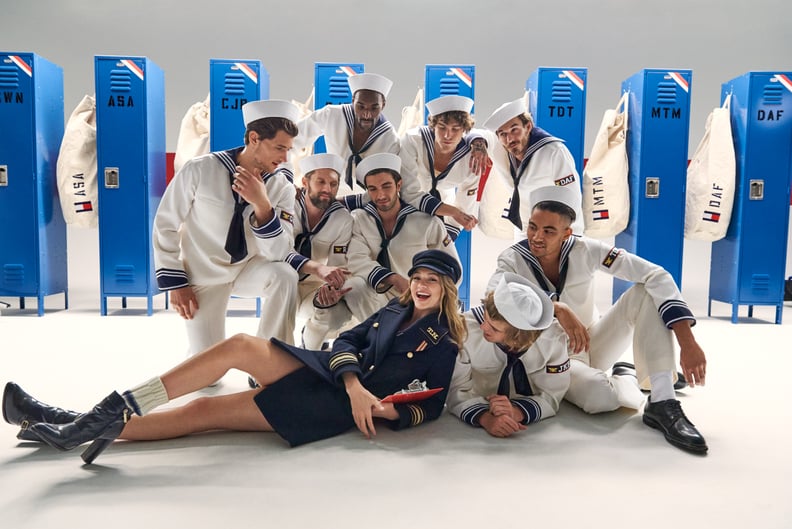 One of her first campaign images featured her hanging out with the boys in a laid-back look.
Gigi even shared this sneak peek on Instagram of her sales tag, which looks just as luxe as the pieces she designed.