Harry Styles Wore the Same Yellow Marc Jacobs Suit as Lady Gaga
Harry Styles had multiple outfit changes at the 2020 BRIT Awards. The "Watermelon Sugar" singer started on the red carpet wearing a wool jacket with a lilac felted wool crewneck sweater from Gucci's Fall/Winter 2020 collection. He finished his look with a pair of black leather Mary Jane shoes by the Italian luxury designer as well and added a simple black ribbon to pay tribute to his ex-girlfriend Caroline Flack. Harry then switched into a gorgeous, all-white lace Gucci jumpsuit for his performance of "Falling." Later in the evening, he switched into his third and most striking outfit.
For his final look, Harry wore a bright yellow Spring 2020 Marc Jacobs suit that reminded us of the classic '90s Jim Carrey movie The Mask. He wore it with a lavender polka-dot button-up blouse and matching purple tulle scarf tied in the front. The singer also wore a pin that had "Treat People With Kindness" written on it. The designer, Marc Jacobs, Instagrammed a photo of Harry wearing the look with a sweet caption, "A hu-MAN after my own heart. What more could one want? Handsome, talented and dresses like a BAD B*TCH. I love and admire his freedom of self expression. I am honored to have the chance to dress you in this suit, LOOK #2 from our SPRING 2020 RUNWAY collection." As it turns out, Harry isn't the first celebrity to rock this bright suit. Lady Gaga wore the exact look styled with a hat on the December 2019 cover of Elle magazine, and honestly, both of them rocked it. Keep reading to see all angles of Harry's suit, as well as Gaga.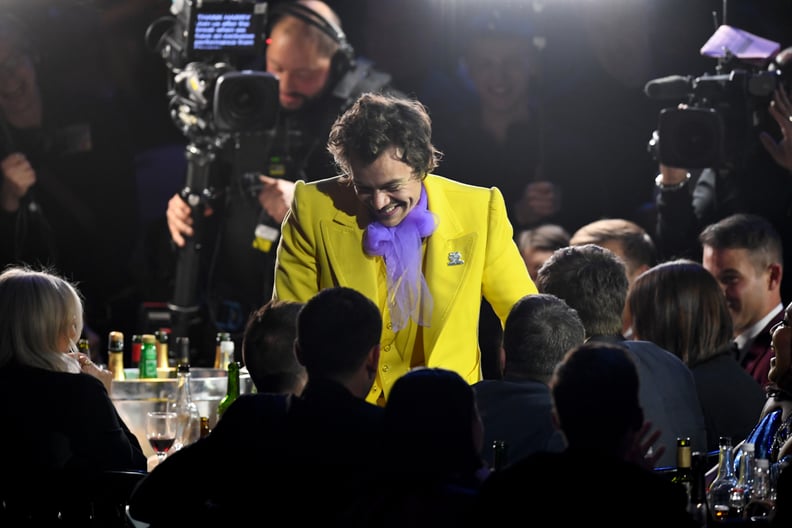 Harry Styles at the Brit Awards 2020
Harry Styles wore a bright yellow Marc Jacobs suit with a purple tulle bow tie.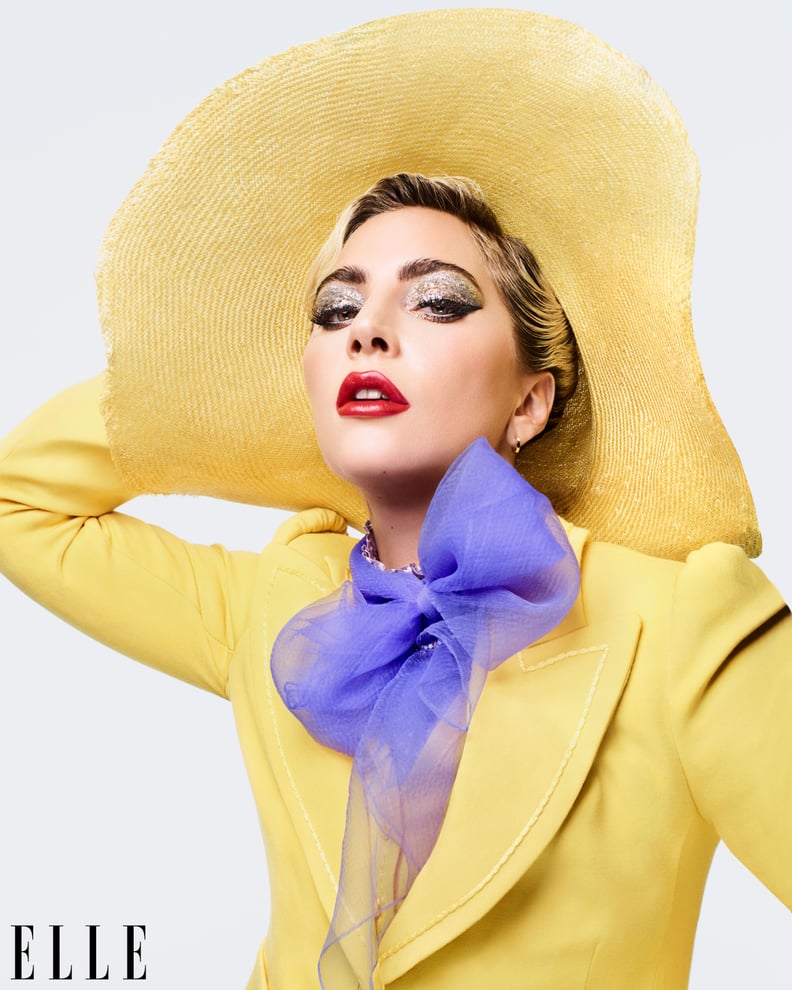 Lady Gaga on the Cover of ELLE