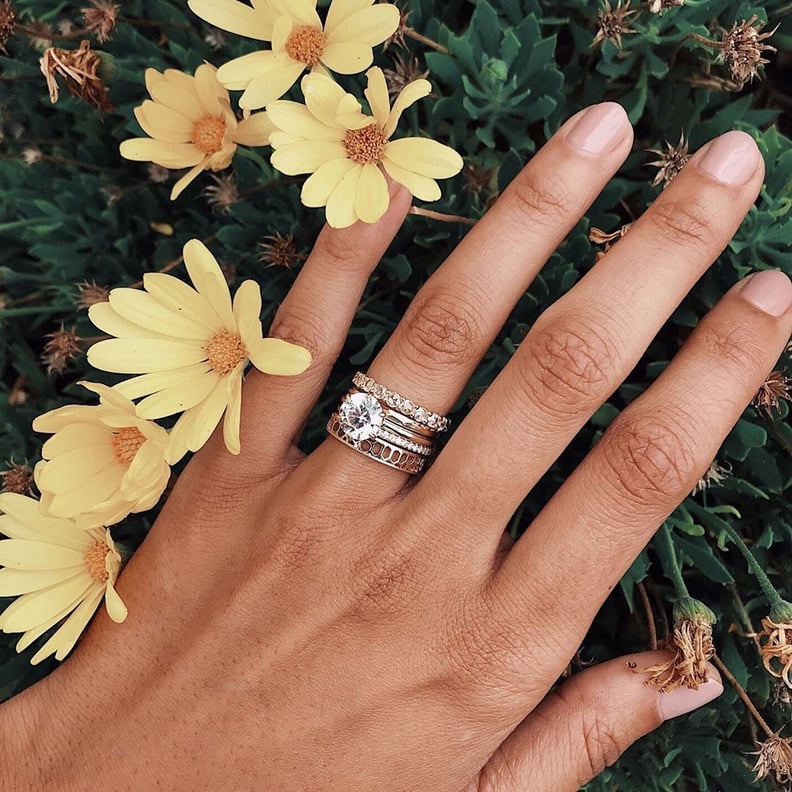 Whether you're married, engaged, or nowhere near that stage of your life, you've totally thought about the ring you'd like to seal the deal. Don't lie to us. But have you thought about your wedding band? If you have, we're sure you've got loads of questions: Should it be bigger or smaller than your engagement stone? Do you want more than one? Should it complete a set, or would you prefer it to be totally unique? Once you've got it, how should you stack it?
After some careful research, we realized there isn't one solution to any of these problems. That's because every bride's got a different style preference, and there's nothing wrong with that. In fact, it only inspires us to get super creative with the rings we want to flaunt forever and show off to everyone we know. On that note, read on to find 54 different tried and true ways to wear your wedding band . . . or bands. We know some of you lucky ladies have two.
— Additional Reporting by Haley Lyndes
01
Double the Shine With One (or 2) Diamond Bands to Match
02
Complement Your Ring's Unique Shape With a Band That Echoes It
03
Keep All Eyes on the Prize With a Thin Band Underneath
04
Play Up Your Engagement Ring With a Diamond-Encrusted Band to Match
05
The Bigger the Diamond Band, the Higher the Shine!
06
Keep to a Classic Stack With a Single Band Underneath
07
How Gorgeous Is This Stack of Round-Cut Diamonds?
08
Mix and Match Gold and Silver to Make Double the Statement
09
Create a Beautiful Pattern by Using Different Shapes and Sizes
10
Coordinate Metals For a Standout Stack
11
There's No Such Thing as Too Many Wedding Bands
12
Test Out a Band in Every Color
13
Sandwich Your Engagement Ring With Bands on Both the Top and Bottom
14
Contrast Your Wedding Ring With a Black Band
15
Accentuate an Emerald Ring's Crisp Lines With an Open Shank Band
16
Surround Your Engagement Ring With Diamonds Galore
17
Toss on a Few Bands of Different Shapes and Sizes
18
A Sapphire Engagement Ring With a Band to Match? Gorgeous
19
Complement Your Wedding Ring With a Band That Nests on Top
20
The More the Merrier With This Dreamy Look
21
Play Up Your Engagement Ring With a Triangle Band
22
Let Your Oval Cut Shine With a Coordinated Band
23
A Pop of Color Never Hurt!
24
Make Your Engagement Ring Pop With a Rose Gold Band
25
Keep to a Theme and Go All Rose Gold
26
The Rainbow Band Adds the Perfect Amount of Color
27
This All-Diamond Stack Is Striking
28
You Can't Go Wrong With a Stack Like This
29
Choose Tiny Diamonds to Play Up Your Solitaire
30
A Hand-Carved Leaf Will Feel Super Special
31
Create a Solid Stack on the Top of Your Engagement Ring With 2 Bands, Instead of the Bottom
32
Sapphires on Sapphires Is Fine by Us
33
Remember That Opposites Attract
34
Keep Your Bracelets in Line Too
35
Heighten the Effect of Your Halo
36
Echo the Shape of Your Unique Stone With a Coordinating Band
37
Pairing Silver With Gold Is Always an Option
38
Don't Be Afraid to Make Double the Statement
39
An Opal Is Gorgeous Alone — Play It Up With a Subtly Etched Ring
40
Go Classic Like Lauren Conrad
41
Play Up Your Set With an Aquamarine Cocktail Ring
42
Let the Bands of Your Engagement Ring and Wedding Ring Equal the Width of Your Husband's
44
Who Said Your Band Had to Be the Smallest Ring on Your Finger?
46
Opt For 2 Standout Bands on Either Side of Your Engagement Ring
47
There's No Better Add-On Than a Ring of Hearts
48
Your Stack Shouldn't Flash on By, but It Should Be Striking
49
Say You Mean It With Words
50
Let Your Baby's Toes Try It On First
51
Match the Band of Your Engagement Ring to Another Piece — It'll Thrust Your Wedding Band Into the Spotlight
52
A Crisscross Wedding Band Is One of the Most Highly Coveted
53
"Does This Work With My Chanel?"
54
Choose a Band in the Same Silhouette as Your Engagement Stone