How to Take an At-Home Mirror Selfie That Actually Looks Good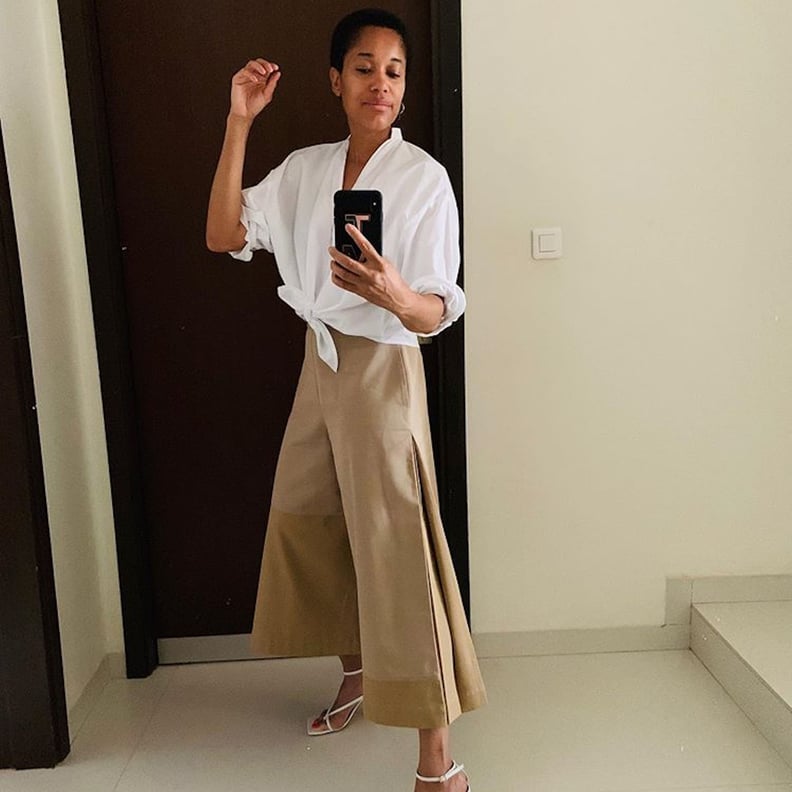 As POPSUGAR editors, we independently select and write about stuff we love and think you'll like too. If you buy a product we have recommended, we may receive affiliate commission, which in turn supports our work.
Mirror selfies are so important these days that I actually consider how the clothes I'm buying will look on my Instagram feed. Call me crazy, but some outfits, or pieces in particular, just warrant a certain pose — like that crouch-down-and-show-off-your-shoes move, for example. Come on, you've totally invested in a minidress or a blazer knowing what you'd wear it with and exactly how the combination would all photograph together.
We're big fans of the mirror selfie at POPSUGAR because it offers complete control over everything, from the caption and the pose to the lighting and the angle, although we definitely have recommendations for these crucial elements. While you 100 percent know what suits you best, there are tried-and-true tricks to the mirror-selfie magic that you should read up on before posting anything to your account, especially if you like to maintain a particular aesthetic.
We studied some of our favorite editors and influencers who have mastered the mirror selfie time and time again, and, ahead, we present you with the best advice for nailing your own solid look in the most flattering light. Scroll through to read up on our tips, then shop a few key items it wouldn't hurt to have on hand when you're in preparation mode.
— Additional reporting by Samantha Sutton
Mirror-Selfie Poses
When it comes to really showing off your look, the way that you stand or sit is oftentimes crucial. Wearing something loose or oversize? You definitely don't want a shot with your legs side by side — it might make you look frumpy, rather than fashion-forward. There are specific poses in particular it can be nice to stick with when taking mirror selfies, like the straight shot or the leg-up side-angle view (this is a great option when your shoes or pant legs deserve a moment!). Where you stand and how you position your phone can also have a major effect on how your photo turns out.
Just remember to:
Back Up: If you want to get your full body and outfit in the shot, make sure everything, from your head to your shoes, is visible before snapping.
Think About Phone Placement: The most flattering angle is to the side, right by your face. But if you're hoping to zoom in on a specific piece, inch closer to the mirror and manipulate the phone so it captures your cute top in the right light.
Mirror-Selfie Captions
Janelle Marie Lloyd of Wait You Need This is well-known for striking up a conversational tone about her looks and especially recently, as we've all been styling outfits from home. Janelle moves her mirror around the house in order to perfectly capture the details of her look. She's real and down to earth about what's going on (i.e. her day, her outfit, and the truth behind it). Her captions always speak to the very reason she's taking the selfie, which can be a fun route to take. You can also come up with a caption that describes the overall mood of your look or the weather outside. Captions that feel forced or disconnected from the outfit itself usually don't get as many double-taps.
Mirror-Selfie Flash and Lighting
Taking a photo in the bathroom or your dimly lit bedroom isn't always ideal, but aside from opening the shades and letting the sunlight shine in, there are ways to make your mirror selfies into something that looks slightly less amateur. Lighten up your pic with apps like Snapseed, Afterlight, and Lightroom. Even Instagram itself can help you lighten and brighten your photo, while ones like Aviary and Facetune can smooth out blemishes and whiten teeth. Feel free to play around until you're comfortable enough to make your pic public — just make sure you don't go overboard. People may call you out! In the same vein, there are fixtures you can add on to your phone to achieve that perfect glow, and time of day can obviously affect the amount of light filtering in from your window. It's all about trial and error when it comes to using natural light to your advantage.
Mirror-Selfie Outfit Ideas
Since it's all about the perfect #OOTD, there are a few things to consider outfit-wise when it comes to your photo. The cleaner the look, the better. When you're wearing busy prints or a handful of brights, make sure your background is all white or nondistracting. As for highlighting and flattering your silhouette, try accentuating your waist by adding a belt or wearing a jacket that hits at the hip.
The Best Selfie Mirror to Buy
Selfie mirrors should speak to your personality and even the style of your feed, so if you like to add a little dimension to your squares, consider something with a bold frame. The goal is to find something that allows for a full, head-to-toe shot and will even capture your entire look if you sit on the floor. After you settle on a mirror, make sure you continue to clean it! If you take your photo in front of a dirty mirror, you'll end up with weird spots and smudges all over your face and outfit.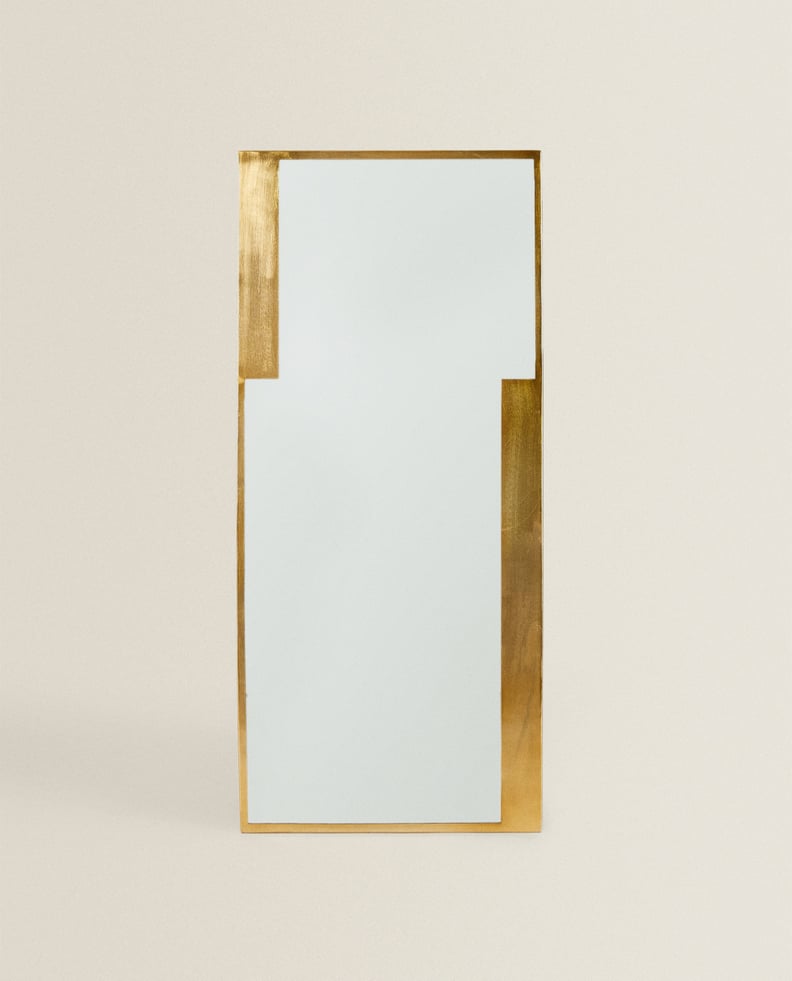 Zara Home Large Rectangular Brass Mirror
Selfie Ring Light
Play around with this clip-on Selfie Ring Light ($15) to master the lighting. Even if it's visible in the reflection of your mirror, it can help you achieve a pic that better focuses on your outfit.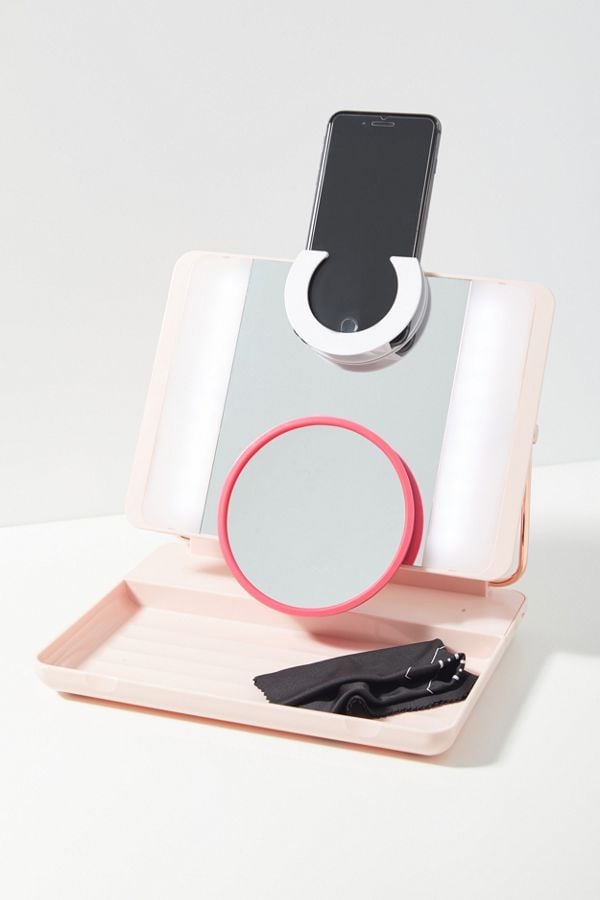 JOI Spotlite HD Daylight Makeup & Selfie Mirror