The Brands Behind the Celebrity Illusion Dressing Trend
Everything You Need to Know About the Illusion-Print Designs Celebrities Are Wearing
A number of trendy prints have catapulted (back) into popularity in the last few seasons. Among them, '50s and '60s-reminiscent checkerboard, '70s psychedelic motifs, and the never-ending revolving door of tie dye. Now, with the ongoing resurgence of '90s and Y2K fashion, another trend is: a bit less anticipated; inarguably more experimental; and depending on how you interpret it, sometimes even a tad risqué. For a small crop of designers — both emerging and longstanding — predictable patterns such as stripes and animal print take a back seat, and in its place come illusion-creating designs that mimic the body. In case you missed it, they're all over Instagram, and with a handful of fashionably-inclined celebrities to cosign.
The particular aesthetic comes in a multitude of variations. Some designers use a cluster of dots to create the illusion of a silhouette, while others may use abstract lines. In other cases, trompe l'oeil comes into play, a trick-of-the-eye technique artists use to fool the viewer into thinking they're actually looking at a 3D object. But before looking at the designers taking over the trend today, it's worth taking a look at some of its origins.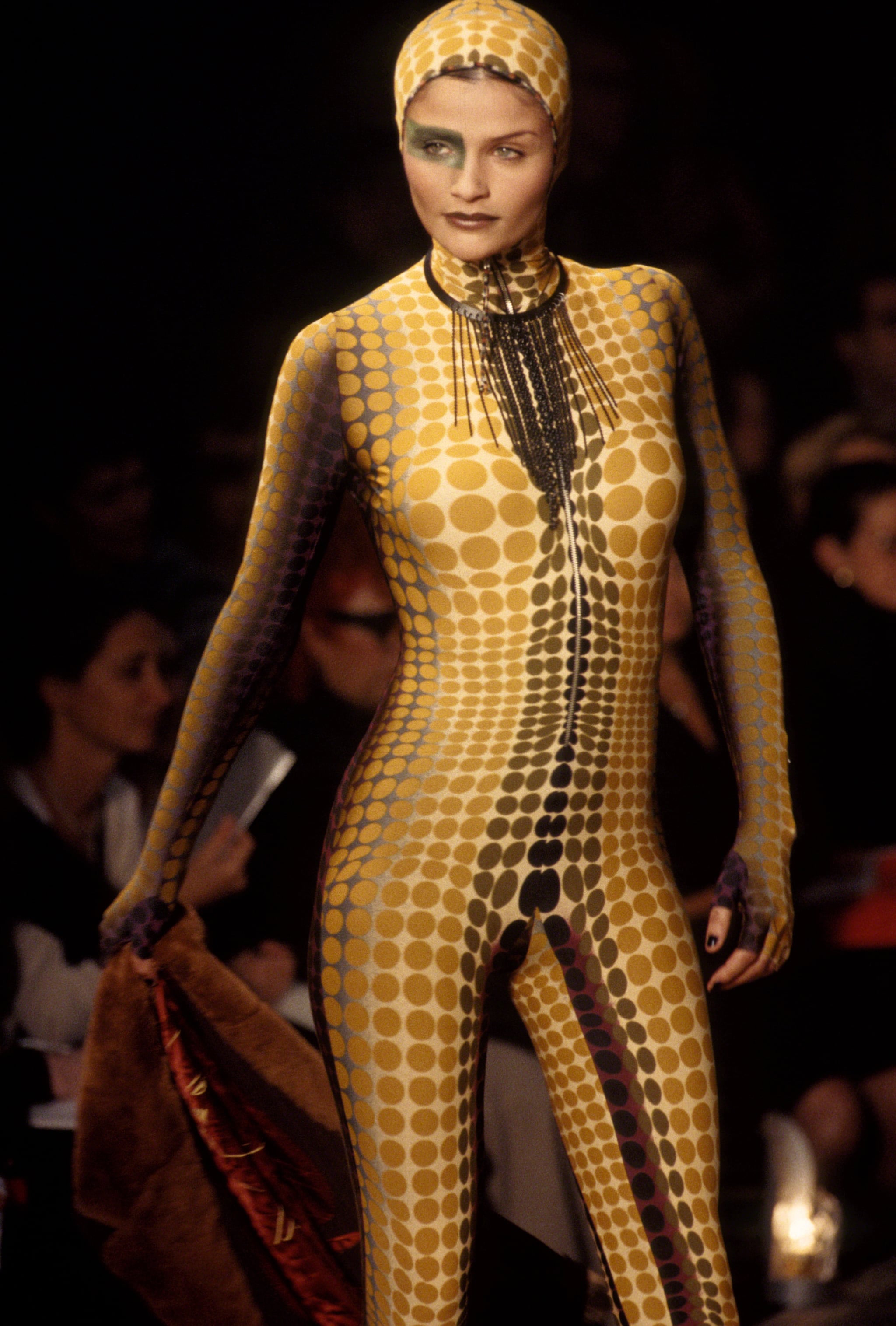 Image Source: Getty / PL Gould
Above: Helena Christensen at the Jean Paul Gaultier Fall 1995 show
It's hard to miss the Jean Paul Gaultier boom happening in fashion right now — especially if you have eyes and are on Instagram. For instance, pre-baby bump Kylie Jenner wore a different rare vintage dress from the designer at every chance, and a major part of the Y2K resurgence involves mesh tops with tattoo-like or illusion prints on them, a style heavily influenced by JPG styles from the '90s. But to pinpoint the moment that sparked a new life for the brand's archive likely points back to Cardi B. and Kim Kardashian each wearing a dress from its 1995 "Cyber" runway show. The show debuted in 1994, and after a handful of latex, leather, and fur-trimmed looks took the runway, then came a slew of designs bearing a print that became affectionately known as the "cyber dot". The motif was inspired by Hungarian artist Victor Vasarely, known as the leader of the op art movement. Looking back on the collection in 2020, Gaultier told Vogue he wanted to use the print to create the shape of the body. He used closely placed dots of different sizes, various colors, and shading to create the illusion of shape. On some of the styles, he even printed what looked like the silhouette of a bikini.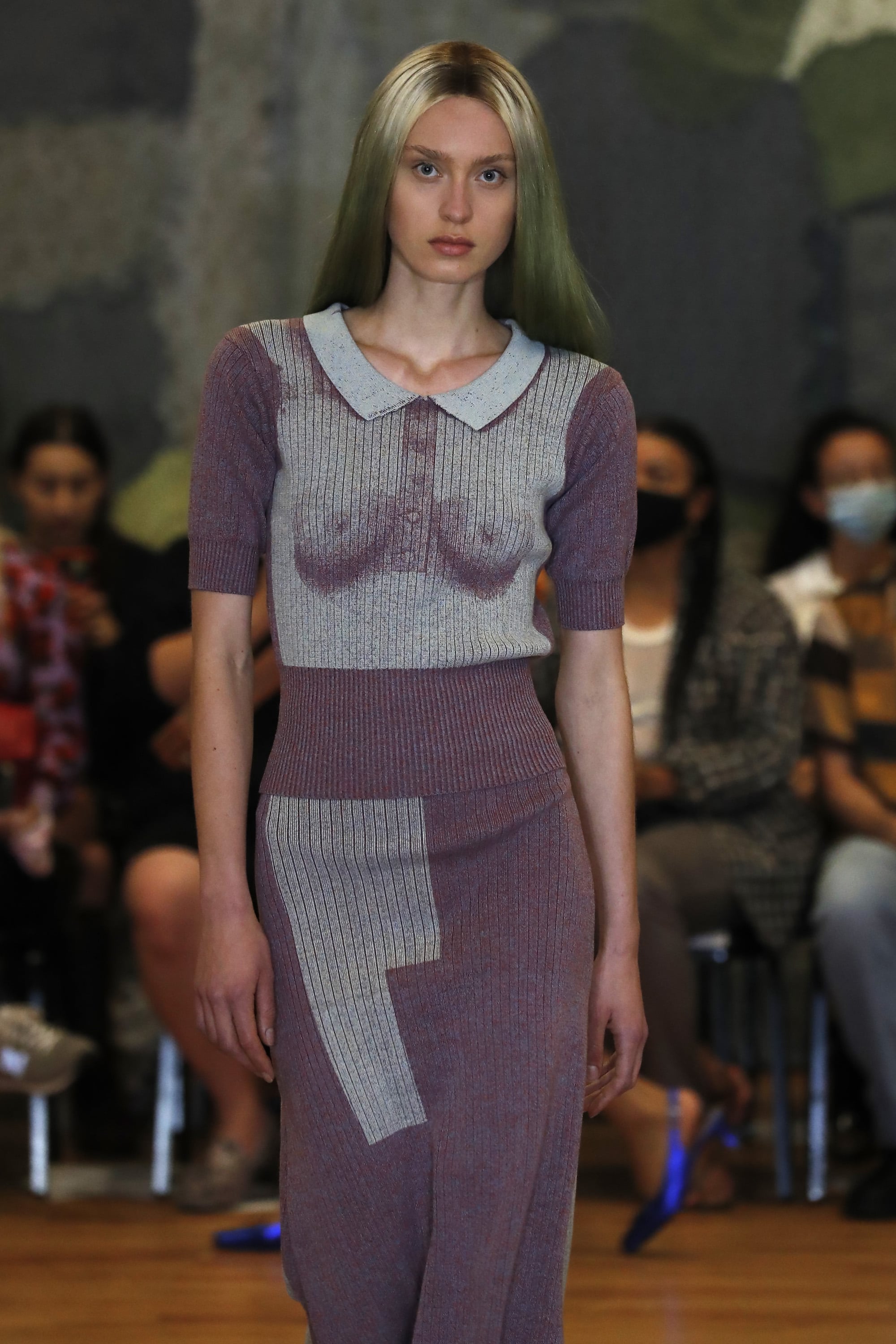 Image Source: Getty / John Lamparski
Above: A top from Puppets & Puppets' SS22 collection pays homage to the 1970s Vivienne Westwood Tits Tee.
One of the earliest occurrences of trompe l'oeil regarded in fashion today comes from Vivenne Westwood and former husband Malcolm McLaren. In the 1970s, the pair adopted the "Tits Tee" for their London boutique, Sex & Seditionaries, which became a popular shopping destination for bands such as the Sex Pistols and shaped the look of the punk movement. The tee was a high neck muscle tank with a pair of breasts painted in a rectangle at the chest, and at the time was often even worn by men. A knitted top which appears to pay homage to the Tits Tee appeared at fashion week in September from emerging brand Puppets & Puppets' Spring 2022 collection, while Thom Browne showed a series of statuesque trompe l'oeil looks that same season. Over on Instagram, though, celebrities such as Doja Cat, Megan Thee Stallion and Jenner give an idea of some of the other emerging designers behind the figure-loving trend.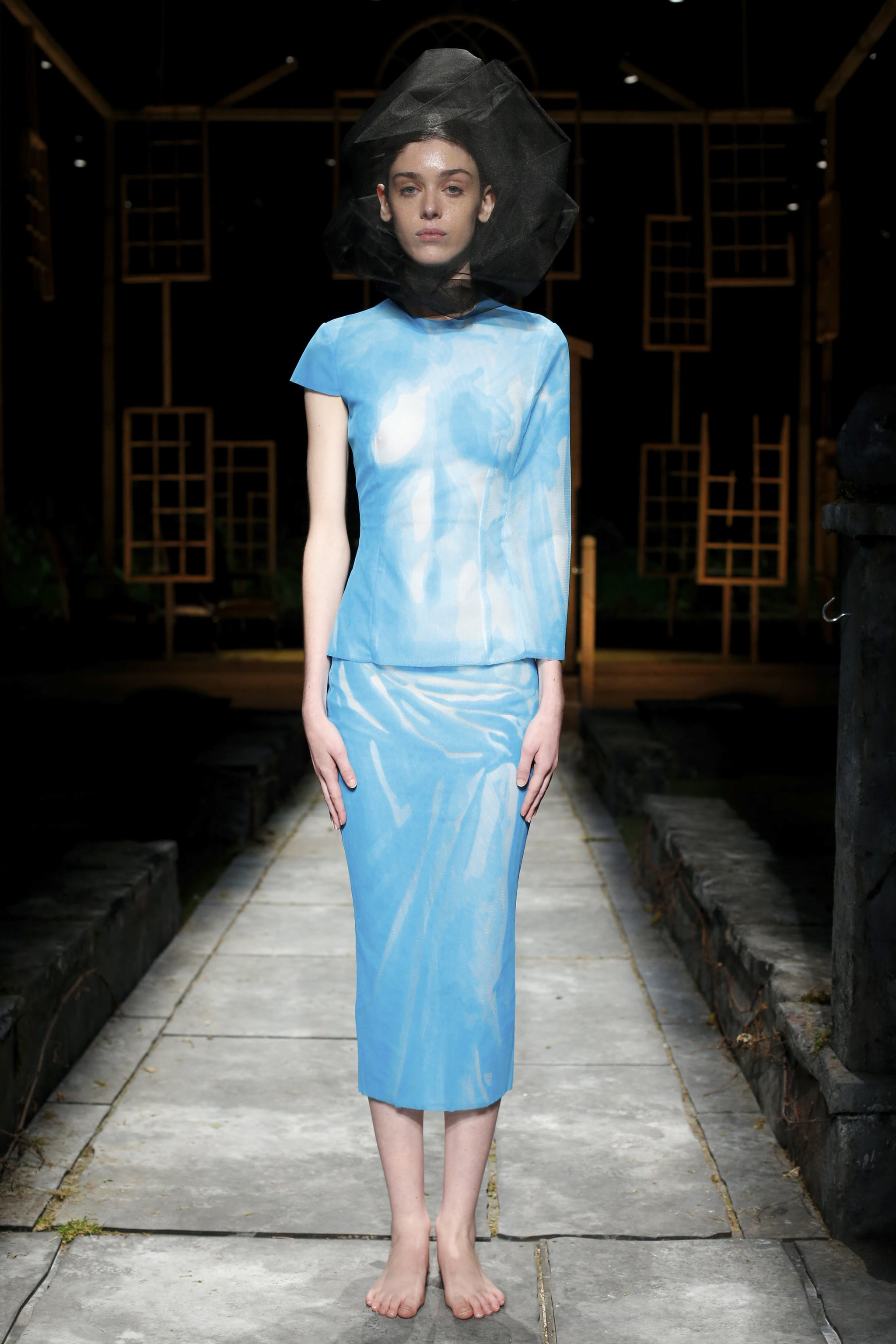 Image Source: Getty / Victor VIRGILE/Gamma-Rapho
Above: Thom Browne showcases its take on trompe l'oeil with its SS22 collection.
London-based brand Sinead Gorey entered the arena using the dot method (the designer dubbed her print "laser light dot points"), and celebs such as Kalis Uchis and Bia are already sporting the looks. "[The designs] come from the idea of curve enhancement, and really exaggerating the female form," Gorey tells POPSUGAR. The print comes with an almost muscular appearance, which Gorey creates by mimicking a thermographic heat gradient map using colors that tie the aesthetic back to the brand's DNA of rave culture. The designer takes a sustainable approach to the trend, using a digital printing technique on lycra that eliminates the consumption of water and the discharge of noxious effluents. "On the whole, I just think they look sexy on anyone," she says.
Designer Pierre-Louis Auvray of Forbidden Kn0wledge tells POPSUGAR he began using the technique in 2019 for an exhibition, a spin on a design he created in 2018 for his graduate design collection. Rather than a huge focus on dots to create the illusion of shape, most of Auvray's focus is on gradient color and shading, and he draws the prints by hand. "I'm exploring the idea of giving the illusion of another body you could wear on top of your own," he says. Kylie Jenner struck a pose at home in a bodysuit from the brand, paired back to a pink mini bag and metallic pumps, while Cardi B. casually wore one of Auvray's knit piping designs while out shopping with the hubby in Los Angeles. Meanwhile, Doja Cat donned a dress by Auvray while promoting her 2021 album Planet Her, and the singer's stylist even dressed Grimes in a design from the brand when she joined Doja Cat for her "Need To Know" intergalactic-clubbed themed music video.
Since lockdown restrictions were lifted, the fashion collective has all but unanimously agreed that "skin is in." While micro mini skirts and cut outs galore are all examples of this, the illusion print trend just might be shaping up to be its successor – at least that's what your eyes will be fooled into thinking. Scroll ahead for a closer look at some of the styles from designers leading the wave, as well as how celebrities are styling them IRL.