Checkered Prints Are 2021's Answer to Tie-Dye — Here's Proof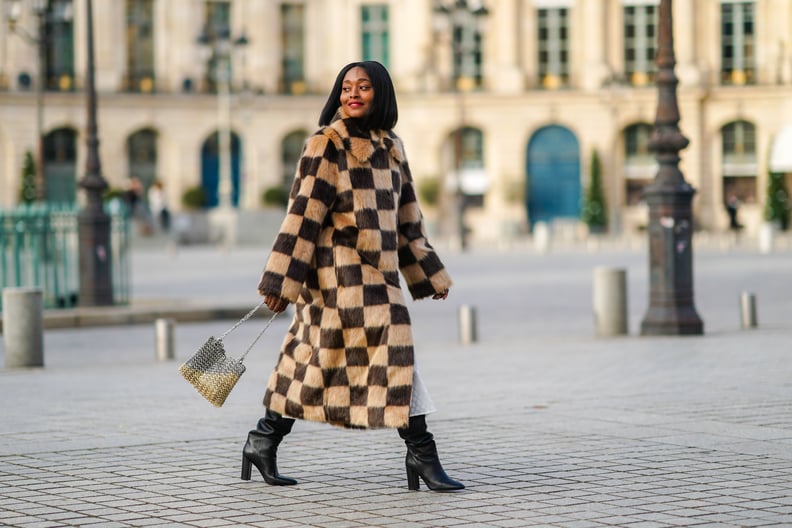 Getty | Edward Berthelot
If the summer of 2019 was defined by Réalisation Par's leopard-print midi skirt and the uniform of 2020 was a three-way tie between Hill House Home nap dresses, DIY tie-dye, and Entireworld sweatsuits, then 2021 is gearing up to be the year of the checkered print. More precisely: checkered prints from Holiday the Label.
It started out innocuously enough. When Sydney-based designer Emma Mulholland founded Holiday the Label in 2017, her intention was to create a quirky-cool brand that captured "the restless traveler's heart" with '90s-inspired looks that stir up feelings of "vacation nostalgia," and she certainly delivered with supercute slogan tees, psychedelic prints, and even scrunchies. Then, at the tail-end of 2017, we were unexpectedly introduced to the checked Kokomo pants, a print inspired by director Gregg Araki's '90s films, particularly 1995's black comedy thriller Doom Generation, that would propel the indie label into mainstream consciousness.

Just as all Instagram fashion trends are born, it began with a phalanx of influencers . . .
"I've always been drawn to checkerboard prints," Mulholland says. "But I wanted to do my own take on it so it wasn't a straight checkerboard. I came up with the hand-drawn 'wonky' check so it's easily recognizable. We're definitely known for it." In the three years since its inception, Mulholland's cult-favorite checkered print rose to popularity, making a splash in different colors (blue, red, olive green, marigold yellow) and styles (skirts, pajama sets, dresses), and debuting at various stockists, including beloved indie retailer Lisa Says Gah, which now offers its own floral version of the checkered print, done in collaboration with textile artist Katherine Plumb. "The check print quickly emerged as our customer's most beloved print," says Tori Freedman, director of merchandising at Lisa Says Gah. "It's the perfect 'non-print print' — it gives the easiness of styling yet still feels fun and cute."
Just as all Instagram fashion trends are born, it began with a phalanx of influencers, flocking to Holiday the Label's checkered pants and pairing them with other checks for a mega-checked fit or mixing and matching with other prints. Then came the celebs, namely a pregnant Gigi Hadid in the olive green pajama set. And soon enough, it was all checkered everything from a number of brands, like Stand Studio, Gimaguas, and Rotate Birger Christensen, to name just a few.
The checkered print is by no means a novel pattern — it's been around since the invention of chess in the 6th century (Netflix's The Queen's Gambit really couldn't have been better timed). It's appeared in tiling and flags that date back to the 1600s before showing up in fashion in the 1950s and '60s, gracing the pages of Vogue and Glamour. Most recently, those classic black-and-white squares have swept the runways once more, showing up in the Fall/Winter 2020 collections of Preen by Thornton Bregazzi, Erdem, Eckhaus Latta, and The Elder Statesman.
The ubiquity of checks, especially among the Instagram influencer set, is felt even with a simple, cursory scroll. We get it, Instagram was invented for that very reason: to show off what you love and to have that love validated with copious likes. But when there's a tidal wave of people who all love one thing at the exact same time, it invites criticism. London-based writer Emma Hope Allwood drew attention to the checkered trend on Twitter, christening the aesthetic "avant basic."
"It's algorithm fashion . . . quirkiness in the age of mechanical reproduction . . . vintage without the effort . . . if summer from 500 days of summer was an insta gal with a mullet," she tweeted.
Anything cool becomes uncool once it feels mainstream or manufactured. But it's not hard to see the appeal of the checkered print in the first place: when updated in unexpected hues or manipulated into a warped or distorted pattern, the result feels eccentric and unique without stripping it away of its familiarity. Its stark lines and clean contrasting squares make checks feel infinitely cooler than its preppier cousins, plaid and gingham. And the checkered print serves as a nostalgic nod to another time.
The checkered print serves as a nostalgic nod to another time.
"I think [the checkered print] is an easy and flattering print for people to wear — it's very versatile," says Mulholland. "It appeals to a wide range of people and it's something out of the ordinary as opposed to stripes or polka dots." Mulholland also wisely understands that Instagram trends can die as fast as they peak. "We are excited to roll with [the checks] — it was one of our first prints and we will continue to use it once the trend is over."
Here's hoping the end isn't near quite yet. In the meantime, check out how style setters from Yandeh Sallah to Camille Charriere are sporting the trend.
Yandeh Sallah in Stand Studio.
Mi-Anne Chan in Holiday the Label.
Jeanette Madsen in Rotate Birger Christensen.
Mica Argañaraz in Gimaguas.
Jazmine Rogers in Holiday the Label.
Camille Charriere in Gimaguas.