We hardly need to convince you that everyone thought Jacqueline Kennedy Onassis was a special woman. She was so special, in fact, that it took a while for her and then Senator John F. Kennedy to decide on an engagement ring spectacular enough for the bride. "Jack and I have looked at dozens of them. Some I didn't like and others weren't the right type," Jackie reportedly said, according to Jay Mulvaney, who wrote Kennedy Weddings.
Eventually, JFK and Jackie settled on a design from Van Cleef & Arpels in New York which featured two standout stones, including a 2.84-carat emerald-cut emerald and a 2.88 carat emerald-cut diamond. At the time of their purchase, the band, which extended from the emerald and wrapped around to the diamond at the bottom, was covered in baguette diamonds. It was spectacular from the beginning, but Jackie eventually had it jazzed up with 12 additional marquise stones that were arranged into a wreath-like form at the top and bottom, and the band was doubled in size. In its newest iteration, the engagement ring is a friggin' miracle.
Personally, I have always loved the idea of receiving an emerald sparkler since it's my birth stone, but even more than that, I just crave a burst of color. Jackie's ring was so unique, sophisticated, and iconic that it spoke to who she was as a person, and likely how JFK thought of her, which is exactly what I think an engagement ring should be. While Jackie wore white gloves with many an outfit and oftentimes opted for just her wedding band, every time I catch a glimpse of her engagement ring, I think of her signature elegance and grace. At the end of the day, I don't want Jackie Kennedy's exact engagement ring — Please! Who do I think I am? — I just admire its brilliant qualities and vintage aesthetic. Help a girl out and let my future fiancé know, will ya?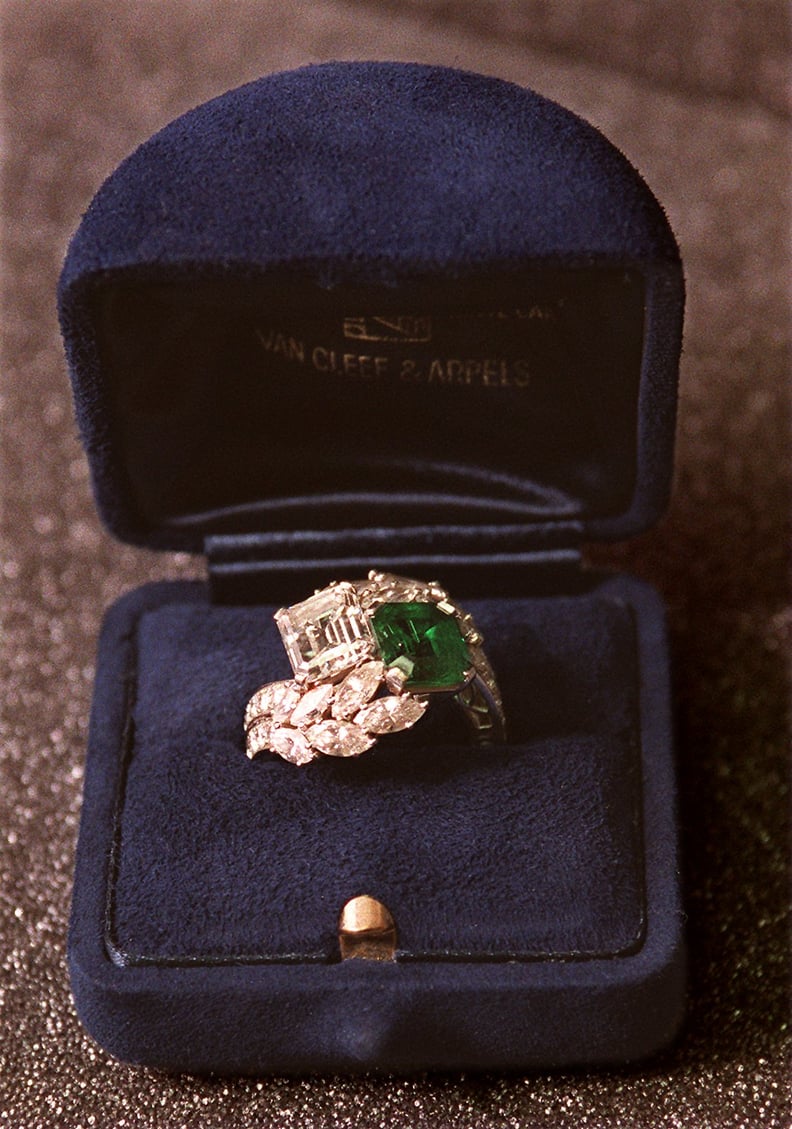 Jackie Kennedy's Engagement Ring Exhibit At The JFK Library in Boston, MA
Jackie Kennedy's Van Cleef & Arpels engagement ring in its final form.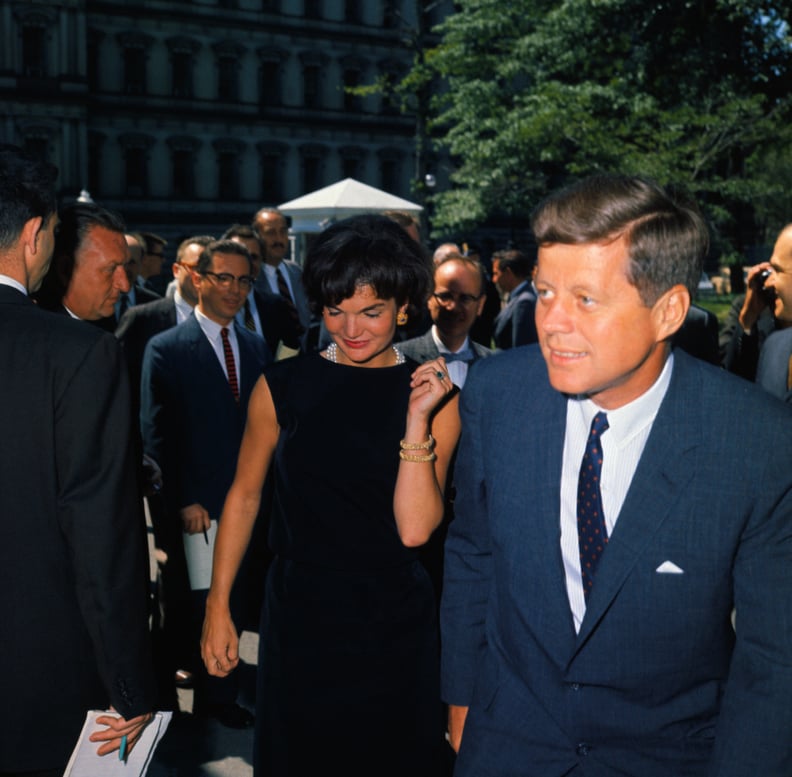 Jackie Kennedy Wearing Her Engagement Ring
In 1961, Jackie wore her engagement ring with a boat-neck LBD and pearls in Washington, DC.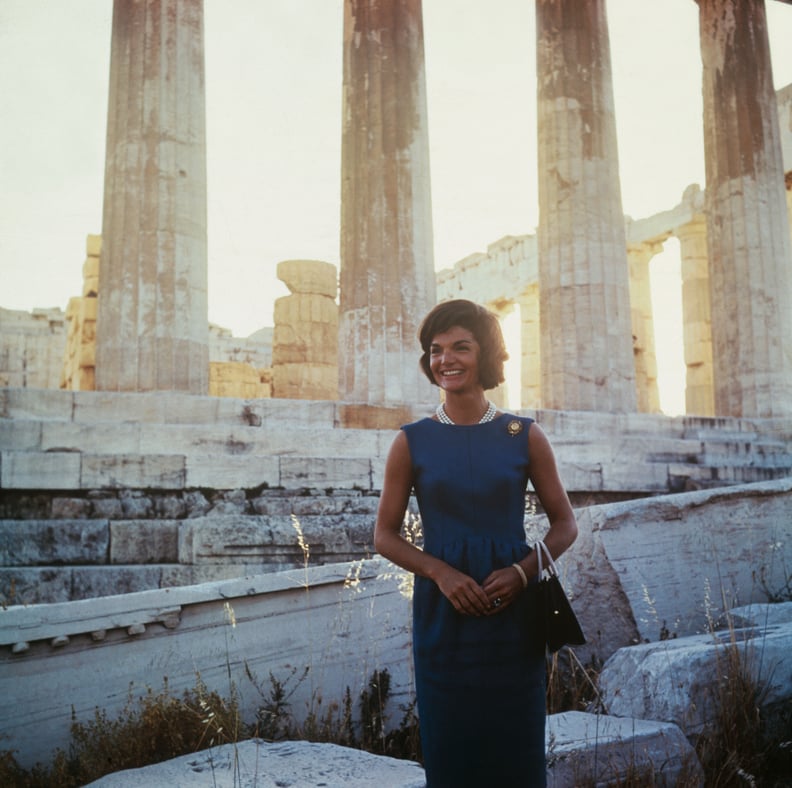 Jackie's stone looked gorgeous with a deep teal dress while touring the Acropolis in 1961.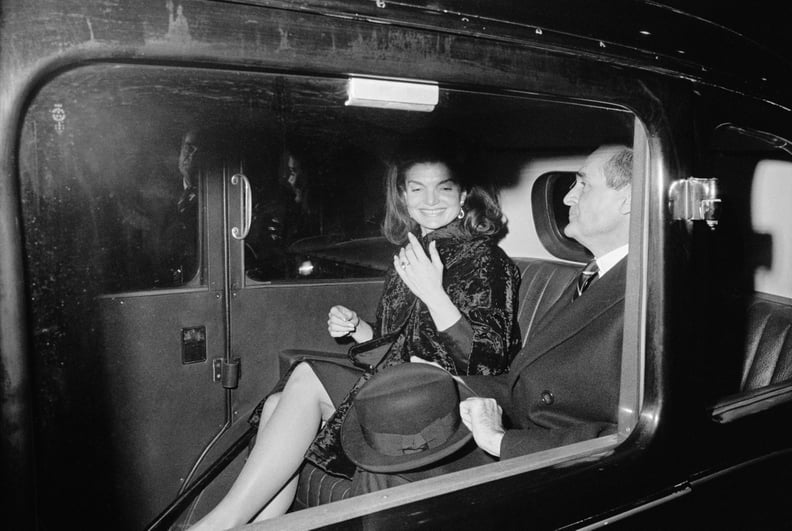 In December 1966, Jackie was pictured showing off the more intricate version of her engagement ring while leaving the Broadhurst Theatre where she saw Cabaret.