At 84 years old, Jane Fonda is covering Glamour for the first time since 1959. Styled by Michaela Dosamantes — with hair and makeup by Jonathan Hanousek and David De Leon, respectively — the May 2022 cover features the "Grace and Frankie" star posing in a vintage Gucci dress in front of a closeup of her 1959 cover photo. For her comeback, Fonda wore an elegant, carnation-pink blouse with a massive, gilded bow accent tucked into a floor-sweeping black skirt. She styled the look with pink drop earrings and wore her cropped hair swept back in elegant waves. Over the last 60 years, she's collected a lot more fame, wisdom, and confidence, which she wears just as boldly as any designer dress.
When reflecting upon her life over the past six decades, Fonda emphasized the importance of living intentionally. "When I was about to turn 60, I realized that I was approaching my third act — my final act — and that it wasn't a dress rehearsal," she told Glamour in conversation with writer and "Black-ish" star Yara Shahidi. "One of the things that I knew for sure is that I didn't want to get to the end with a lot of regrets . . . I realized the importance of being intentional about how we go through life."
Fonda's cover story is the perfect inspiration for living a life abundant with purpose and self-love, and the outfits are a mood board for confidence and timeless poise. See Fonda's stylish Glamour cover shoot, along with every designer detail, ahead.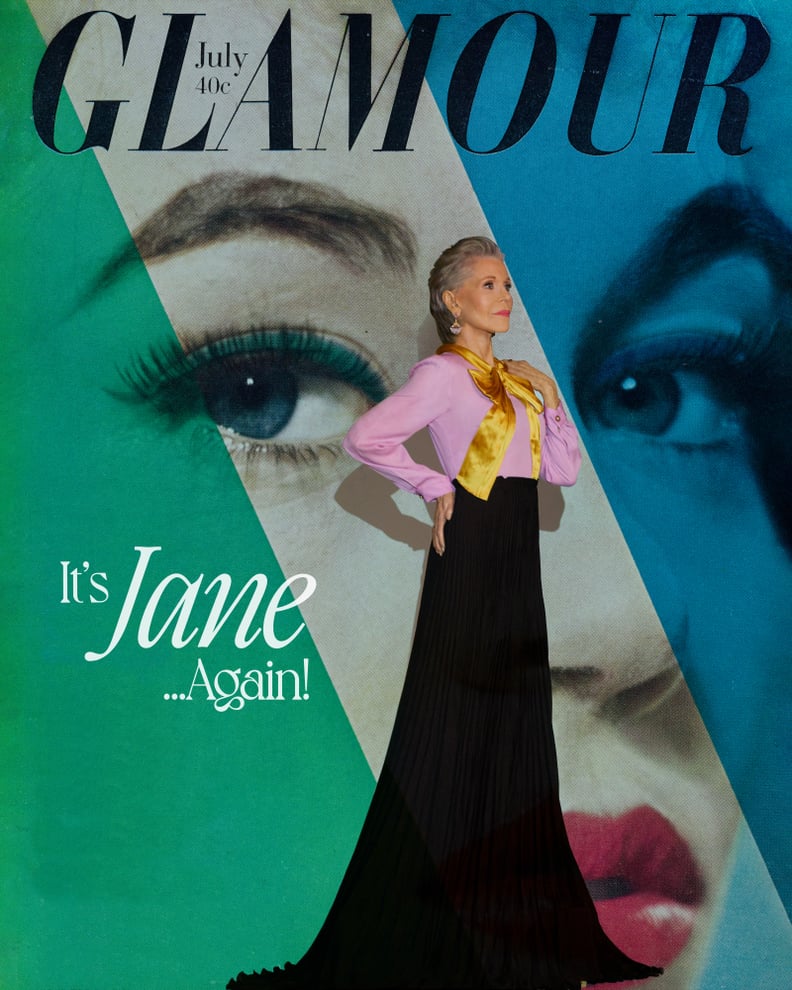 Jane Fonda in front of her 1959 cover in a vintage Gucci dress for Glamour.