Kanye West Is Escorted Out of Skechers Office After Showing Up "Unannounced"
Kanye West is finally facing a reckoning from the fashion industry for his consistent use of racist and derogatory remarks. The embattled rapper was once well-connected in the design space, boasting relationships with brands like Gap, Adidas, and Balenciaga and publications like Vogue. West used these partnerships to leverage his music and design aspirations and to make his now-estranged wife, Kim Kardashian, a household name within the fashion world. Now, after several public appearances during which he attacked Jewish people using antisemitic comments, the same brands are publicly denouncing his actions and severing ties from the Yeezy designer.
West, 45, first directed his ire toward the Black community, though that didn't immediately result in the loss of his many brand partnerships. Back in 2018, during an interview with TMZ, he amplified the far-right talking point that slavery was a choice made by enslaved people, subsequently earning praise from alt-right supporters and sympathizers.
More recently, he platformed anti-Black hate speech with a "White Lives Matter" T-shirt at his Yeezy fashion show; the phrase has been declared a white-supremacist slogan by the Anti-Defamation League as it was created to mock the Black Lives Matter movement in response to police brutality.
When fashion editor and critic Gabriella Karefa-Johnson lambasted the T-shirt, West bullied her with incendiary comments about her personal style and physical appearance on Instagram and during interviews. He later directed his angst toward the late George Floyd, promoting a false, hugely disrespectful conspiracy theory about the manner of his death, despite video evidence and a verdict to the contrary. Floyd's family are now suing West for defamation and harassment.
West then began publicly attacking Jewish people, promoting antisemitic conspiracy theories about their power and influence in the media and entertainment industries. Those comments led to the suspension of his Instagram and Twitter accounts. It also came to light that West made antisemitic comments during the aforementioned TMZ interview in 2018, but the footage was ultimately cut. On Oct. 22 in Los Angeles, the Yeezy designer's recent antisemitic comments were championed by Nazi protestors, who conducted the Nazi salute while flying a banner reading, "Kanye is right about the Jews."
In the wake of West's latest round of heinous, hate-filled attacks, fashion labels are at last cutting ties with the artist. Keep reading for updates on the status of West's working relationships with brands like Skechers, Balenciaga, Adidas, Gap, and Vogue.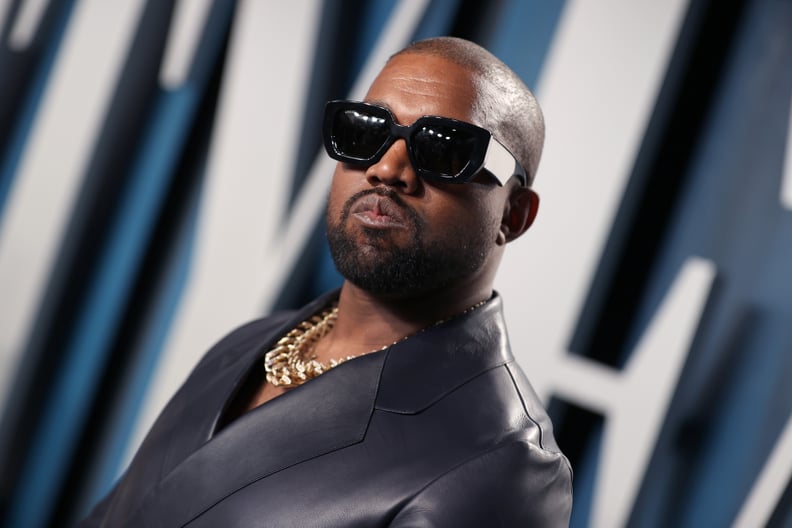 Kanye West's Skechers Relationship
West seems to be on the hunt for another sportswear partner after the loss of his deal with Adidas. On Wednesday, Oct. 26, Skechers released a statement saying the rapper showed up "unannounced and uninvited" to its corporate offices in Los Angeles. Because he had a camera crew present and was unauthorized to film, Skechers says he was escorted away from the premises.
As for a possible partnership, Skechers declined immediately. "Skechers is not considering and has no intention of working with West," the company said. "We condemn his recent divisive remarks and do not tolerate antisemitism or any other form of hate speech."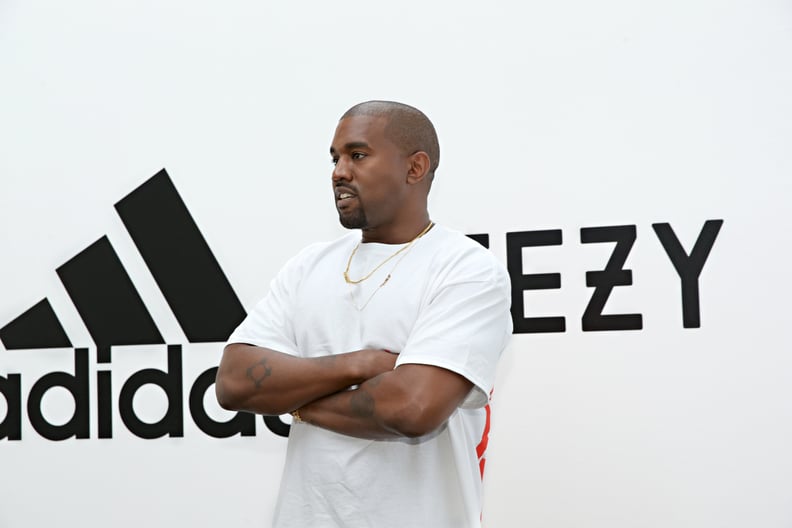 Kanye West's Adidas Partnership
Adidas has ended its partnership with West effective immediately. The German sportswear giant released a statement on Oct. 25, saying it "does not tolerate antisemitism and any other sort of hate speech." Adidas went on to say his "unacceptable, hateful and dangerous" antisemitic comments violated the company's "values of diversity and inclusion, mutual respect and fairness."
The company will cease sales and production of his products and will no longer pay West or his companies, resulting in a $246 million loss in sales for the brand.
West's relationship with Adidas has been troubled for some time. After he publicly accused the company of "copying" his designs, the sportswear giant released a statement on Oct. 7, saying the partnership is under review. "After repeated efforts to privately resolve the situation, we have taken the decision to place the partnership under review. We will continue to co-manage the current product during this period," it read.
But after West made several dangerous antisemitic remarks, activists began calling for Adidas to sever ties with West altogether. On an Oct. 16 episode of "Drink Champs," hosted by N.O.R.E. and DJ EFN on Revolt TV, West declared, "I can say antisemitic things, and Adidas can't drop me. Now what? Now what?" The video has since been removed.
Following the episode's release, #BoycottAdidas trended on Twitter and the Anti-Defamation League wrote a letter urging Adidas to sever ties with the rapper.
Adidas first announced its partnership with West in 2013, with the designer releasing his inaugural Yeezy collection in 2015. Bloomberg reports that the partnership earned $1.7 billion in revenue in 2020 alone.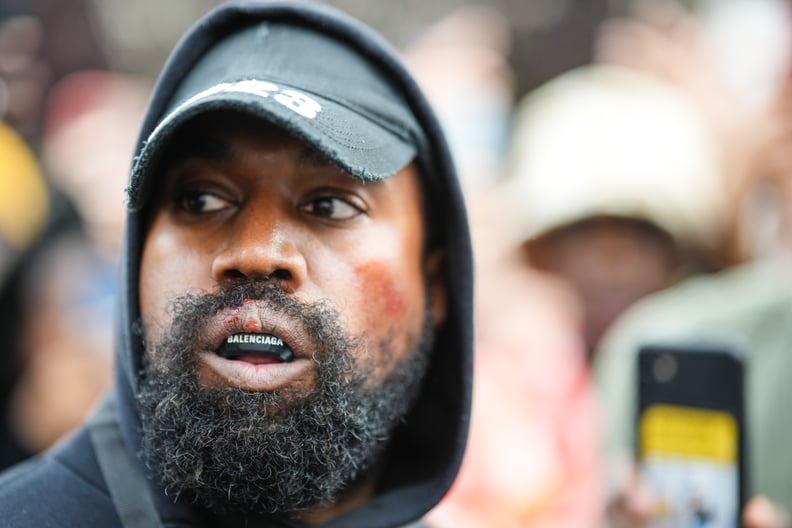 Kanye West's Balenciaga Partnership
On Friday, Oct. 21, Balenciaga formally distanced itself from West, releasing a statement to Women's Wear Daily on the matter. "Balenciaga has no longer any relationship nor any plans for future projects related to this artist," Kering, Balenciaga's parent company, said.
The French fashion house had a long and mutually beneficial relationship with the "Black Skinhead" rapper. West worked with creative director Demna on his now-defunct Yeezy Gap Engineered by Balenciaga collection. He also walked in the brand's spring 2023 presentation at Paris Fashion Week, opening the show in a military-style jacket. Most notably, West dressed Kardashian almost exclusively in Balenciaga's designs during the latter part of their marriage, and Kardashian now stars in the fashion house's latest ad campaign.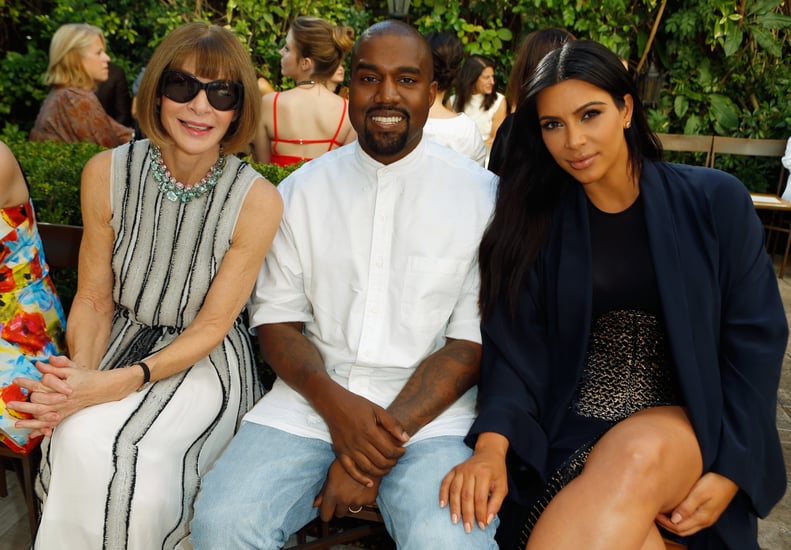 Kanye West's Vogue Magazine Relationship
Vogue is also distancing itself from West. Following his antisemitic comments, a spokesperson for the publication told Page Six that the magazine and Editor in Chief Anna Wintour have no plans to work with the Yeezy designer again.
This statement comes weeks after West targeted Karefa-Johnson, Vogue editor at large, for her commentary on his "White Lives Matter" T-shirt design. After West criticized her personal style and declared that she's "not a fashion person," Wintour reportedly arranged a meeting between the rapper and editor, filmed by Baz Luhrmann. That footage was never published.
Later, Vogue released a statement in Karefa-Johnson's defense, saying: "Vogue stands with Gabriella Karefa-Johnson, our global fashion editor at large and longtime contributor. She was personally targeted and bullied. It is unacceptable. Now more than ever, voices like hers are needed and in a private meeting with Ye today she once again spoke her truth in a way she felt best, on her terms." Throughout their 10-year relationship, West appeared on the cover of Vogue alongside his then-wife Kardashian and enjoyed a regular invitation to the annual Met Gala hosted by Wintour.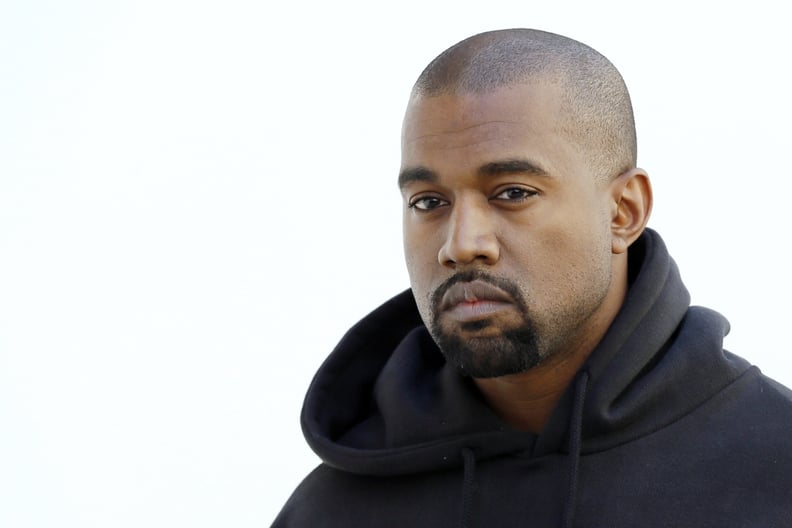 Kanye West's Gap Partnership
West parted ways with Gap in September. The rapper wrote a termination letter to the mass retailer, ending the collaboration and citing breach of contract as Gap failed to open stores that exclusively sold Yeezy products. Gap reportedly hoped its partnership with West, which began in 2020, would last 10 years and generate upward of $1 billion in sales annually. In reality, it lasted a mere two years and was fraught with controversy.
Gap allegedly will continue to sell existing Yeezy Gap products, including a line created for the holiday season, through early 2023.