13 Kate Middleton Looks That Will Remind You of a Very Specific Disney Princess
Some of Kate Middleton's most regal gowns leave our jaws on the floor. And others? They're gorgeous and all — but they immediately conjure images of our favorite Disney princesses. It's not that we think Kate copied their beautiful ballgowns. It's just that, well, maybe she took a little style inspiration from their iconic looks. From Jenny Packham designs that have swept the red carpet to cocktail minis and coat dresses, read on to see 13 of Kate's standout outfits that had us seeing double. Now tell us, is that Belle or is it the duchess?
01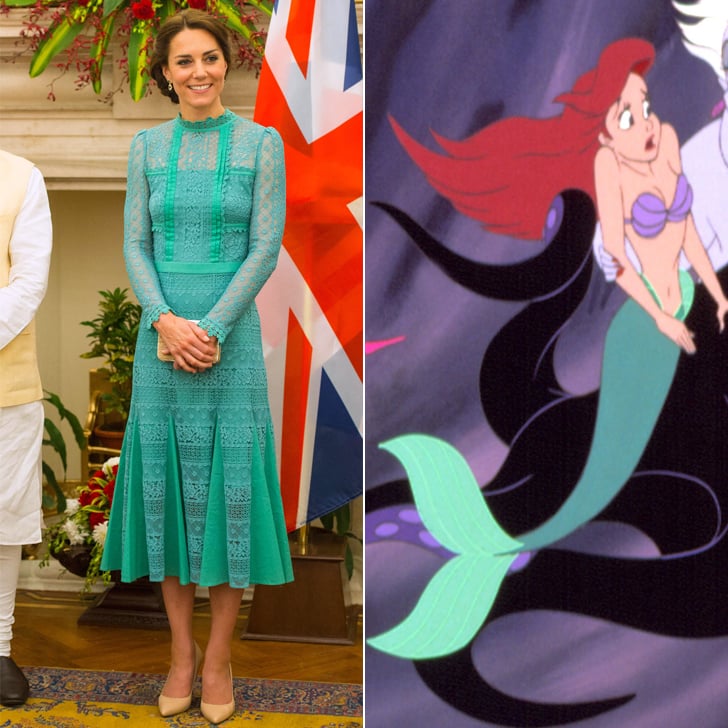 Kate as Ariel
Kate looked just like Ariel from The Little Mermaid in this Temperley London dress during the royal visit to India and Bhutan. Her skirt fanned out just like fins.
02
Kate as Belle
Kate wore this Alexander McQueen design for the Diamond Jubilee Tour in Malaysia, and everything from its neckline to the metallic embroidery reminded us of Belle's ballgown.
03
Kate as Mulan
When Kate visited the Singapore Botanic Gardens, she wore this satin Jenny Packham dress that boasted a similar wrap style to Mulan's hanfu gown.
04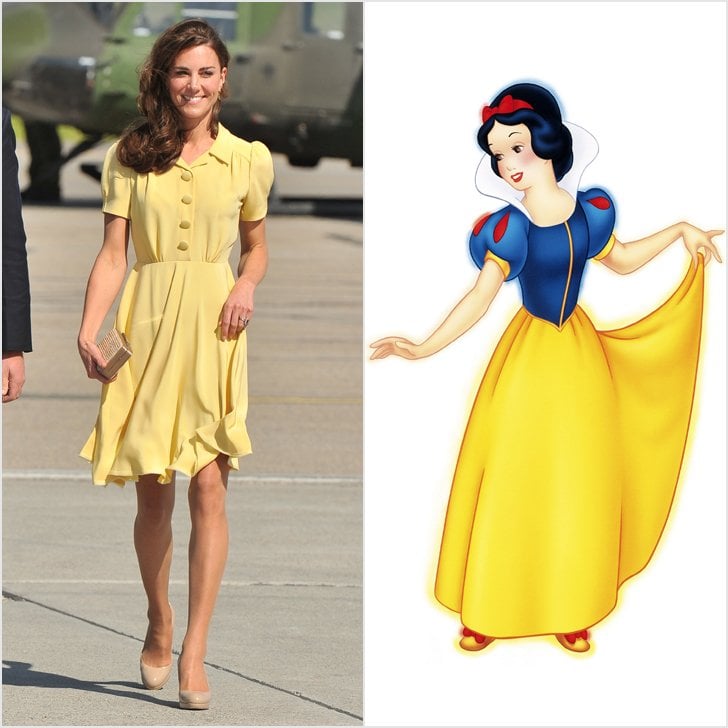 Kate as Snow White
While her look didn't feature a touch of blue, Kate looked like a modern-day Snow White in this Jenny Packham number. Snow White's puff sleeves are complete with teardrop detail while Kate's sporting buttons, but both sophisticated numbers are finished with a collar.
05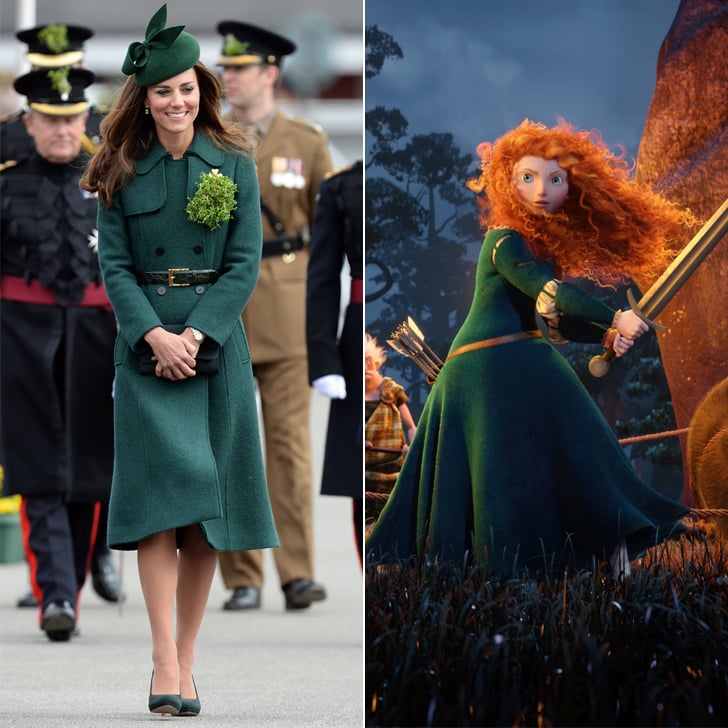 Kate as Merida
Kate's go-to St. Patrick's Day coat is by Emilia Wickstead, and when she suited up in the design for the 2014 festivities, Kate cinched her waist with a thick belt. The duchess let her wavy hair down just like Merida's, though she let the British guards handle the swords.
06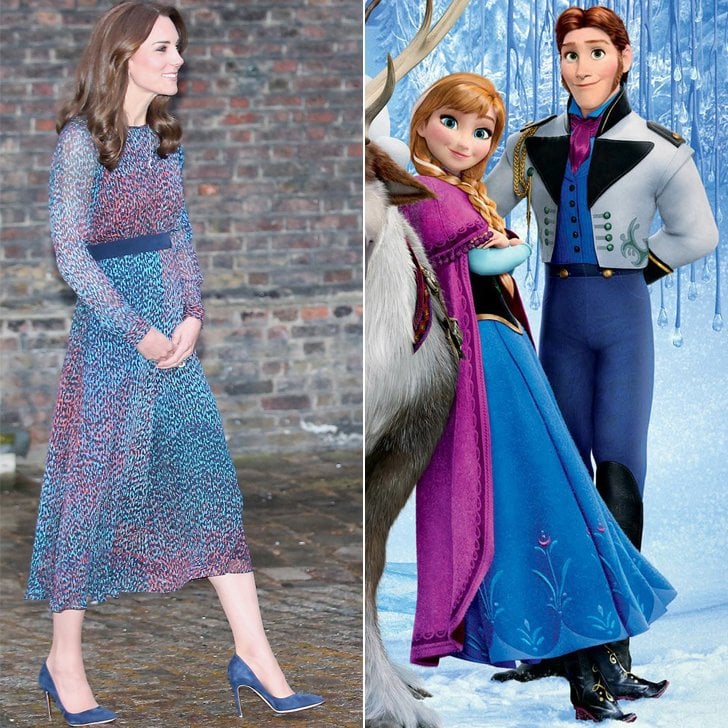 Kate as Anna
Kate selected a printed L.K. Bennett design when the Obamas visited Kensington Palace. Its vibrant pattern consisted of the same shades Anna wears.
07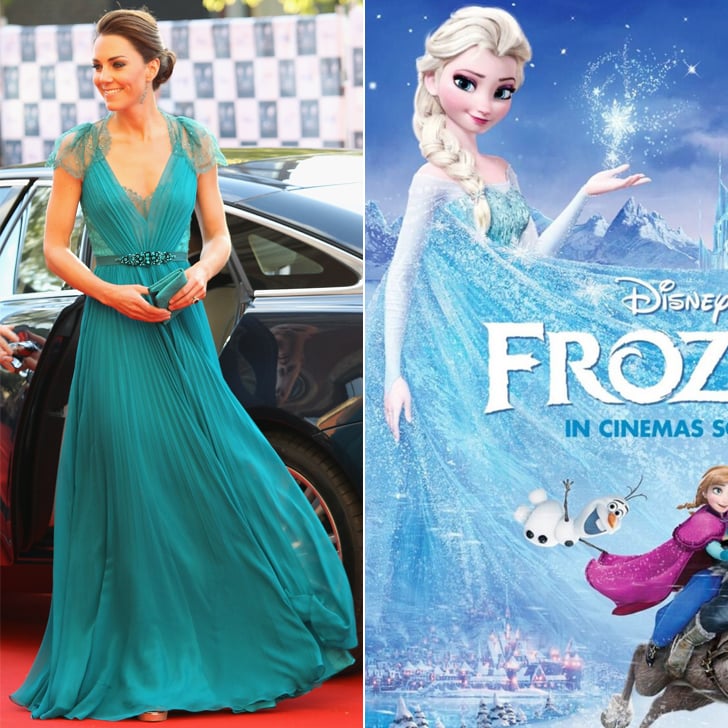 Kate as Elsa
Kate looked especially lovely at the Olympic Concert in 2012, where she wore this Jenny Packham number that's just a touch darker than Elsa's dress. From the way its jeweled belt sparkled to its lacy cap sleeves that look like Elsa's icy cape, we'd call it a great match.
08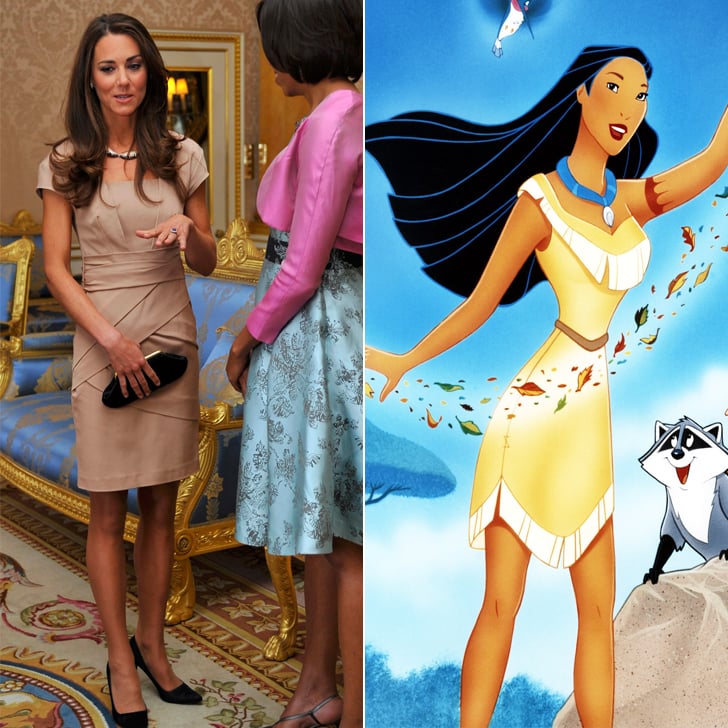 Kate as Pocahontas
When Michelle Obama and Kate Middleton hung out at Buckingham Palace, Kate slipped into this Reiss cocktail dress that flattered her figure. Though Kate's look wasn't textured from fringe, the stones on her necklace remind us of Pocahontas's pendant choker.
09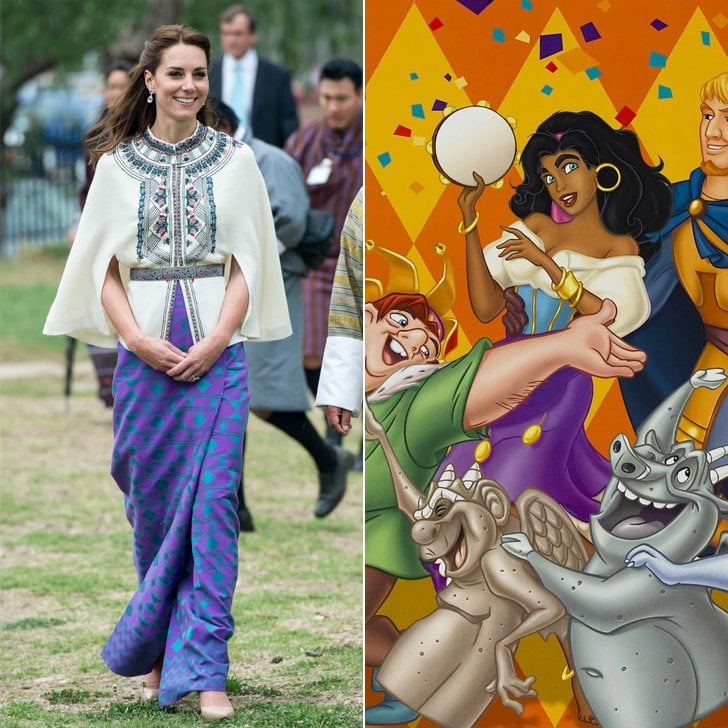 Kate as Esméralda
Kate wore this turquoise, purple, and white outfit combination for the royal trip to India. Her Kelzang Wangmo skirt and Paul & Joe capelet didn't take the same silhouette as Esméralda's dress, but it was equally eye catching.
10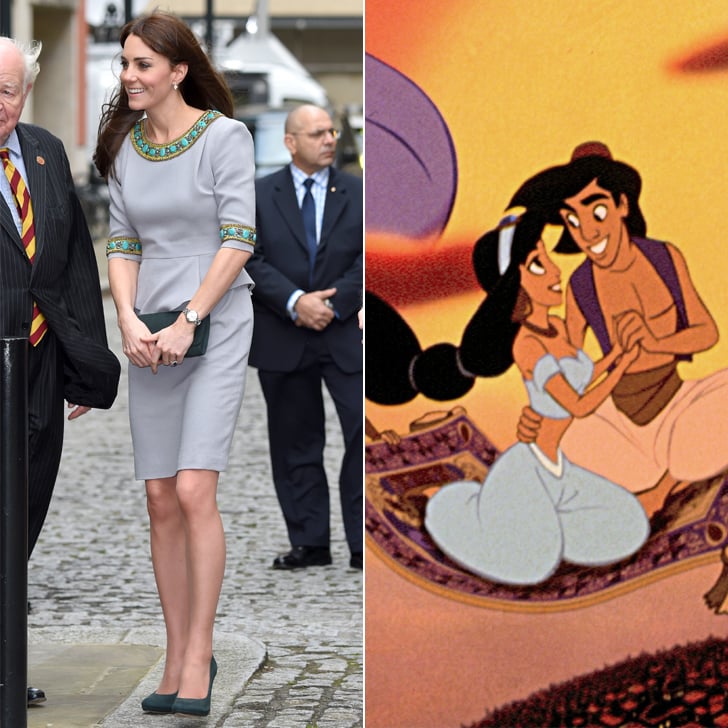 Kate as Jasmine
Kate's Matthew Williamson dress is a favorite. She wore it at the Place2Be conference, showing off its jeweled neckline. Its pretty blue shade and turquoise gems remind us of Jasmine's separates and standout headband.
11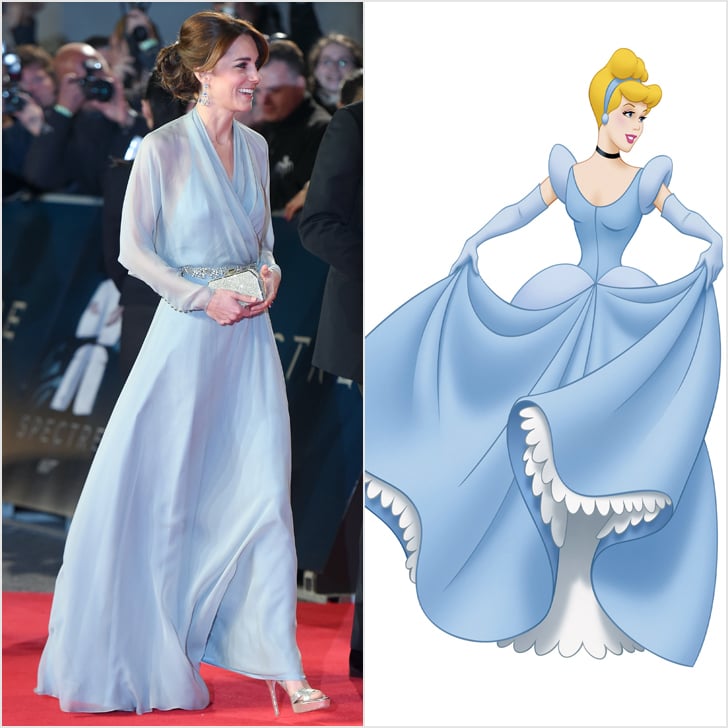 Kate as Cinderella
Though she may not have worn a choker or elbow-length gloves, Kate swept her hair back into a bun just like Cinderella's, and the powder blue shade of her Jenny Packham number couldn't have been more fitting for a princess at the Spectre performance.
12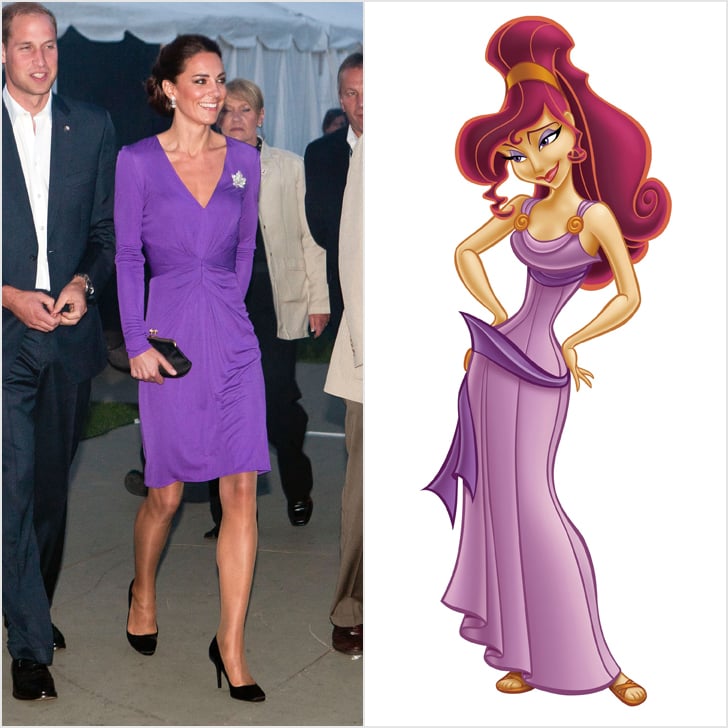 Kate as Megara
Forget Megara's curve-flattering belt — Kate drew attention to her waist with a ruched Issa design to celebrate Canada Day. Her look's strong shoulders mimic the detail on Megara's strapless maxi, and both ladies have their hair swept back as a finishing touch.
13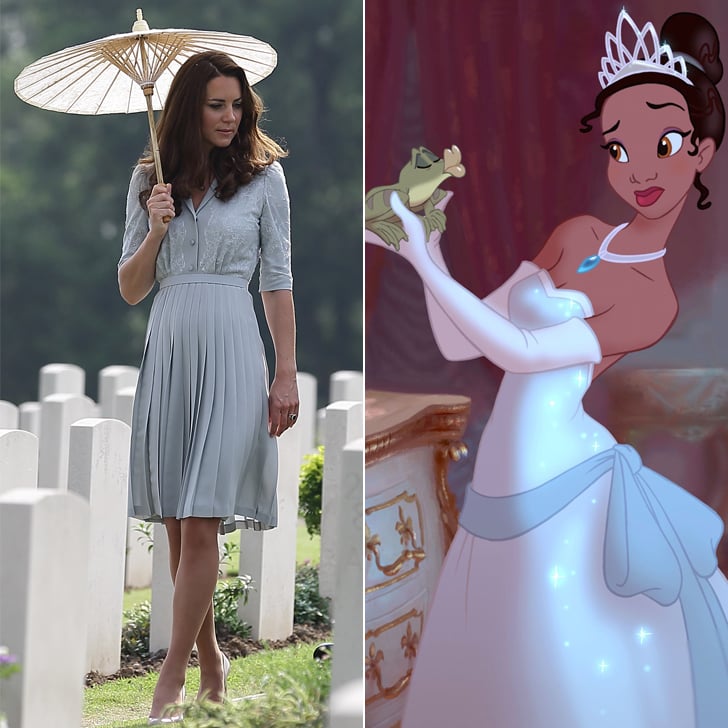 Kate as Tiana
Tiana's ballgown looks just like a lily pad, and we saw the same shape in the parasol Kate held as she walked through the Kranji Commonwealth War Cemetery. The duchess's mint Jenny Packham design is the same shade as Tiana's dress, and its embroidery looks regal just like the princess's crown.