How Kate Spade's Designers Are Reimagining the Iconic Brand For Spring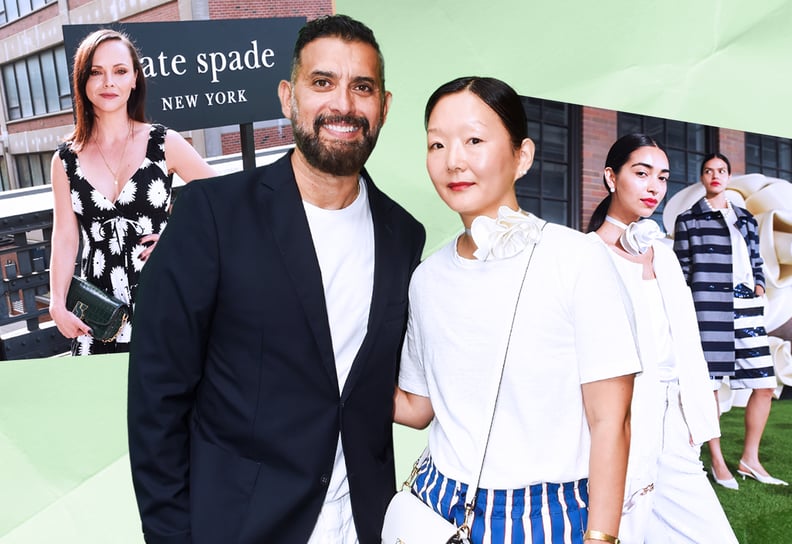 Celebrity Images: Getty | Gilbert Flores
Photo Illustration: Ava Cruz
Celebrity Images: Getty | Gilbert Flores
Photo Illustration: Ava Cruz
Florals for spring may not be groundbreaking, but alongside shimmery adornments, chic tracksuits, and playful plaids, Kate Spade New York sure made them interesting. Kicking off Fashion Week on Sept. 8, the storied New York City brand presented its joyful spring 2024 collection at the High Line. Against a backdrop of giant white floral sculptures and artificial grass, models posed in patterned sequins, "wasabi" green silhouettes, and recognizable archival prints.
Kate Spade's latest collection captures the "relief" you feel after a long winter, and represents the pieces you'll reach for when you abandon your winter wardrobe, explained Jennifer Lyu, Kate Spade's SVP and Head of Design, Leather Goods, and Accessories. Together with Tom Mora, SVP and Head of Design, RTW, and Lifestyle, the design duo wanted customers to feel the energy and excitement that comes with the first glimpse of spring, particularly in NYC.
At the presentation, celebrity guests stunned in a variety of vibrant, youthful ensembles representative of the line. Stephanie Hsu wore a peplum top and trousers in a plaid pastel print; Anna Cathcart looked adorable in a striped button-down and pleated skirt; and Justine Skye dressed in a tweed crop top and matching tiny miniskirt. Despite the mix and match of patterns, all the contrast worked well together, and still felt true to each of their personal styles. That's exactly what Mora and Lyu hoped for the collection.
"We're offering you this glimpse into the Kate Spade world and we would love to see what you do with it."
They didn't have one specific muse in mind; they wanted to see how different people would express themselves with the pieces. "We want that expression that's always been part of the brand, that idea of we're offering you this glimpse into the Kate Spade world and we would love to see what you do with it," Mora said. "That's such an important part of this brand. We celebrate that uniqueness and that personal style that our customers have."
The spring 2024 line marks the pair's third collection since joining Kate Spade last September. Their goal was to respect the essence of the longtime brand while evolving it into a more relaxed, modern vibe that's reflective of trends today. "There was a real restraint to the way this company was launched. It was really about shape and silhouette, and we continue to always keep that in mind," Mora explained. "There's a simplicity to the silhouettes of everything here, so you could amplify the codes like the stripes and checks. It was about really taking classic beautiful silhouettes and just making them more relaxed, giving them a little slouch and a little bit of more attitude."
Learn more about the story behind Mora and Lyu's designs in our interview with the team ahead.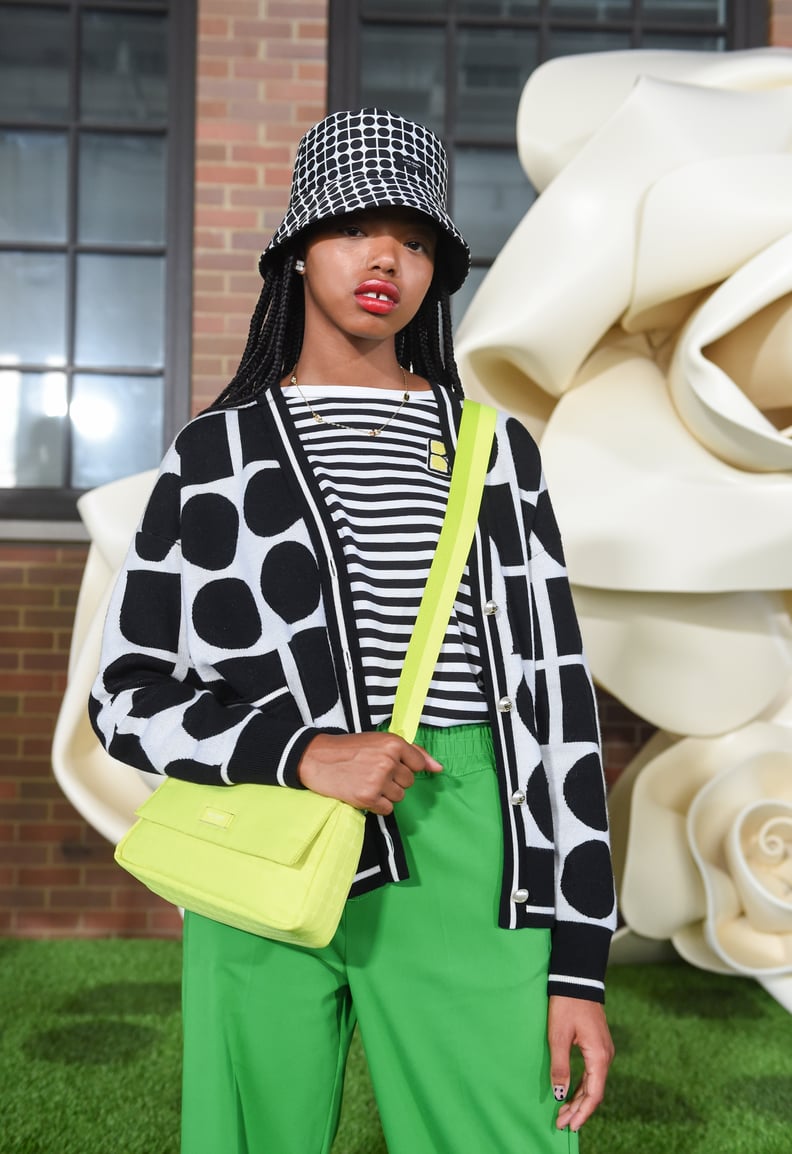 On Relaunching an Iconic Pattern
POPSUGAR: You brought back this pattern that Kate Spade herself designed back in the day. What made you want to bring this particular print into this collection?
Jennifer Lyu: It's one of the archival signature prints, and as soon as we both arrived [at Kate Spade], we were both drawn to it. It was only in handbags before, so we were talking about how we bring that expression of casual into the collection in a lifestyle way.
Tom Mora: We really felt like we needed this more casual expression within Kate's faith. Over the years, there's been different elements of casual dressing, but what we love about this one is that it really encapsulates not only casual, more relaxed dressing, but it also feels incredibly Kate Spade. All the little touches: the play of masculinity and femininity, the color expression, graphicness of it, and layering that you can do with it.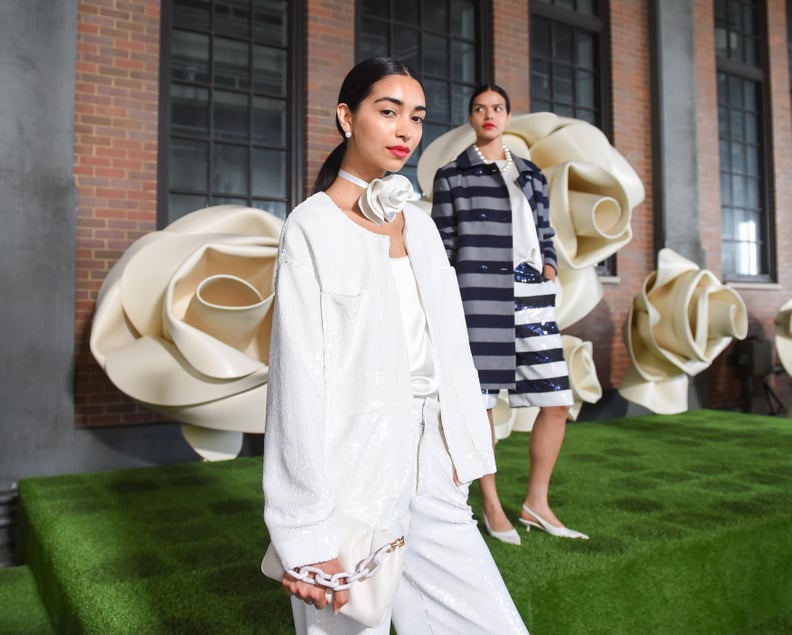 On the 1 Look That Represents the Collection
PS: Is there one look that you think epitomizes the collection as a whole?
TM: There's actually two, and they're both sequins: the all-white sequin suit with the flower and the tech taffeta sequins. The femininity and the masculinity, it's the contrast of us. I've never seen these from Kate Spade, but they still felt like Kate Spade. We reimagined the brand in a way that feels really modern for today.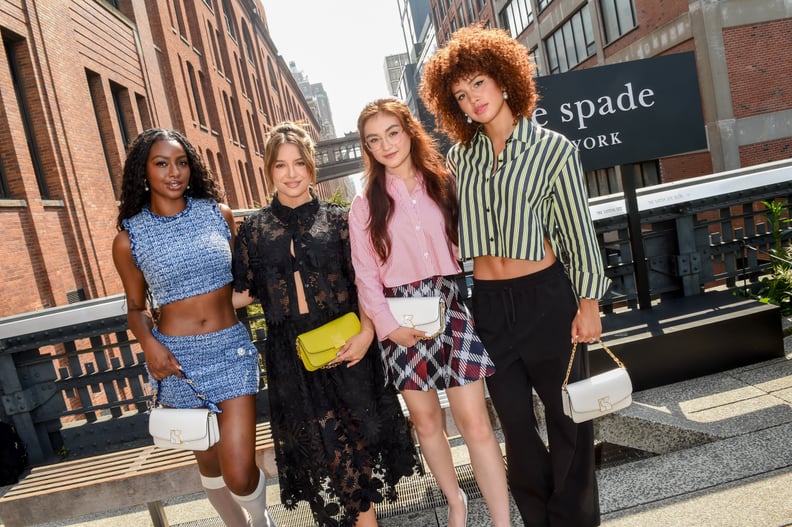 On the "It" Bag of the Season
PS: Tell me about the new Dakota bag, which all the celebrities here today are carrying.
JL: It's our pinnacle expression of what we can do within leather goods. It has the craftsmanship, the sharpness and silhouettes, and the functionality. We're launching an iconic logo. So much care and passion and love goes into just even having a perfect silhouette.