Kim Kardashian Wears Shapewear Just as Often as You Wear Underwear — Every. Single. Day.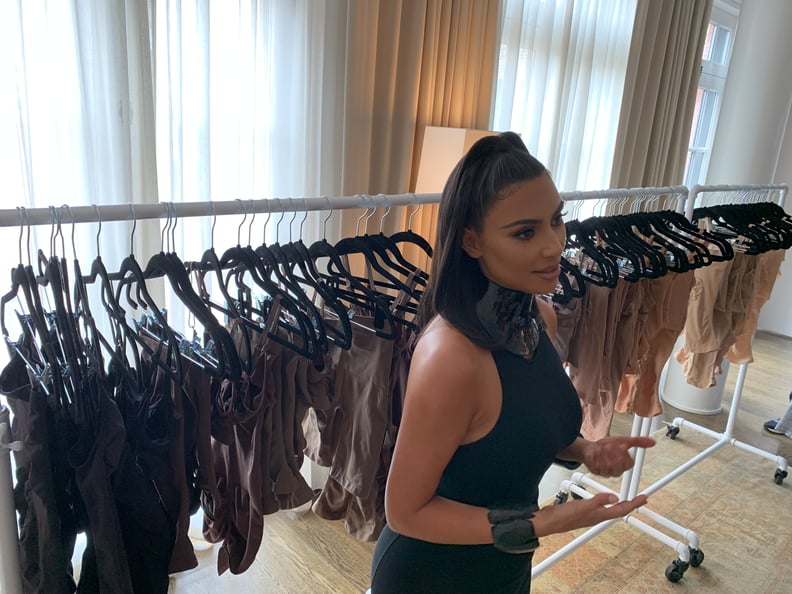 POPSUGAR Photography | Nikita Ramsinghani
Two things shocked me when I met Kim Kardashian. First, she's probably the nicest celebrity I've ever interviewed (she called me "boo" during the interview, and, no, I'm still not over it). Secondly, it's evident that the Keeping Up With the Kardashians star knows A LOT about shapewear. I had a chance to look at her new solutionswear collection, Skims, in person, and I was excited to see if it could give other brands like Spanx a run for their money.
When I got to the preview, we saw her walk into the opposite room for a quick makeup touch-up. She said a quick "Hi guys!" as she passed by, and we all thought that was the last we'd see of her. Fast forward to 15 minutes later, she came back into the room and ended up chatting with us all for over 40 minutes! (For reference, celebrity interviews typically last between five to 10 minutes, so you can see why I was surprised.) The same way fine tailoring can make or break an outfit for most people, I learned that finding the perfect shapewear is what makes all the difference to Kim. After talking with the starlet, it started to make sense why she knows so much about shapewear. After all, she has been wearing it for years now and considers it part of her daily wear.
"I use my shapewear as my lining, my slip. After I had kids, I would double up — I don't think I'd have to do that now. But I'm also the type that when I see really bad pictures of me in a bikini and see cellulite, I'll think, 'OK, I'm finding a bodybuilder to work me out and really tighten me up.' Body confidence for me isn't just always masking it, it's also saying, 'OK, I want to eat healthier, I want to motivate myself.' I literally use shapewear as my normal bra and underwear. It is my everyday, it is my 'I feel secure in it.' In the weirdest way, it's just become a part of my everyday life and has become a part of my clothes. It's in the lining of my dresses, and if I'm wearing a suit that has any wool in it, I have to wear solutionwear so that I'm not itching. It's more than that even, shapewear is a layer of my clothes," Kim told us.
After leaving, I found myself agreeing with Kim. It's confidence that makes an outfit, and if that means slipping into shapewear, then so be it.