Is Kleinfeld Actually Like It Appears to Be on "Say Yes to the Dress"?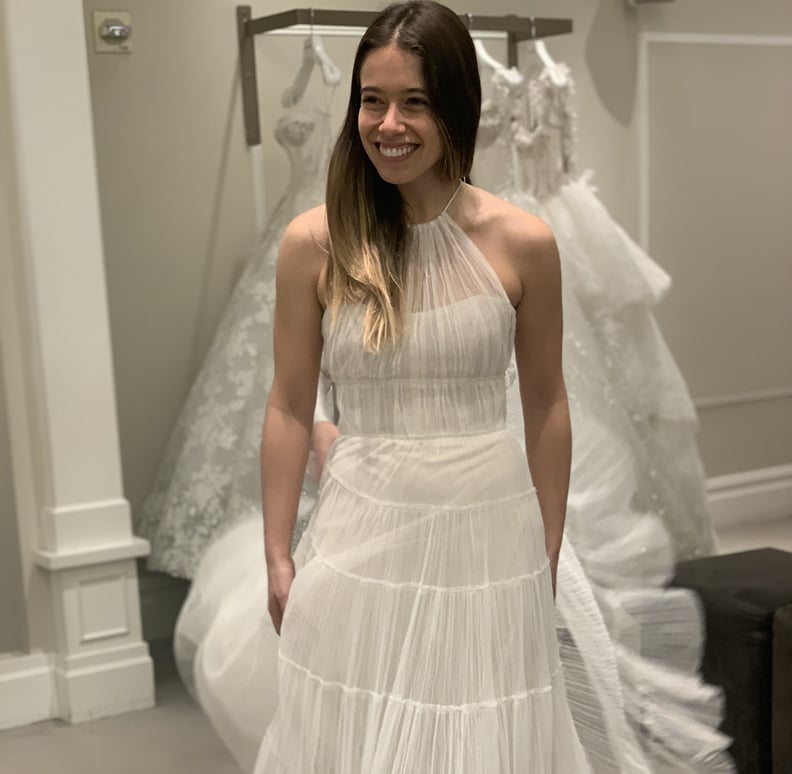 POPSUGAR Photography | Sarah Wasilak
Having watched a few episodes of "Say Yes to the Dress" throughout my lifetime, I was curious about the experience of shopping for a wedding dress at Kleinfeld's famous flagship location in New York City. Would it be as fancy inside the bridal boutique as the store appears to be on TV? Would it be super loud and chaotic, with brides-to-be, stylists, and maids of honor fussing all over the place? How many girls would actually say yes to the dress while I was in the store, and furthermore, would they get glasses of champagne delivered, even if they said yes at, say, 9 a.m.? (Which, by the way, just so happened to be the time of my appointment and was the first slot of the day.)
Fifteen minutes after I arrived, the lobby was packed with excited brides and families who were waiting to be assigned to a stylist. It quickly became obvious which customers were fans of "Say Yes to the Dress," because they pointed out and took photos with the stylists whose segments are televised most often. I was already a bit tired and thirsty as I picked up a Kleinfeld branded water bottle from a table near the threshold of the bridal room floor. I peeked over the mannequins wearing the latest gowns from bridal favorites Pronovias, Hayley Paige, and Pnina Tornai, trying to determine how this whole system worked, and whether or not I'd get to browse through the racks myself.
The boutique was average-sized and extremely organized, with mirrors at each "station" all across the floor. Each station was separated by a couch for the bride's crew. The gowns were hung on metal rack systems that lined the walls, spaced efficiently enough for stylists who knew the stock well and could easily recognize a dress by its details.
I was ultimately greeted by bridal consultant Antonella, who has made many appearances on "Say Yes to the Dress." Antonella calmed my nerves as she brought me directly back to my fitting room and handed me a silk robe, introducing herself as my personal stylist and quizzing me about my bridal likes and dislikes. Naturally, I just showed her my Pinterest board, because I wanted to let the pictures do the talking. She left, and minutes later returned with an intern (yes, you can be a Kleinfeld intern), plus three gowns to start trying on.
The next 90 minutes changing in and out of gowns flew by. While I didn't end up finding a dress, I learned a lot about what it's like to shop at Kleinfeld. By the end of the experience, I had a newfound appreciation for consultants like Antonella, who make women from all over the world feel beautiful when they visit Kleinfeld. I now understand why so many people end up choosing The One at this popular boutique. Ahead, read everything you've ever wanted to know about the in-store bridal shopping experience at Kleinfeld in NYC.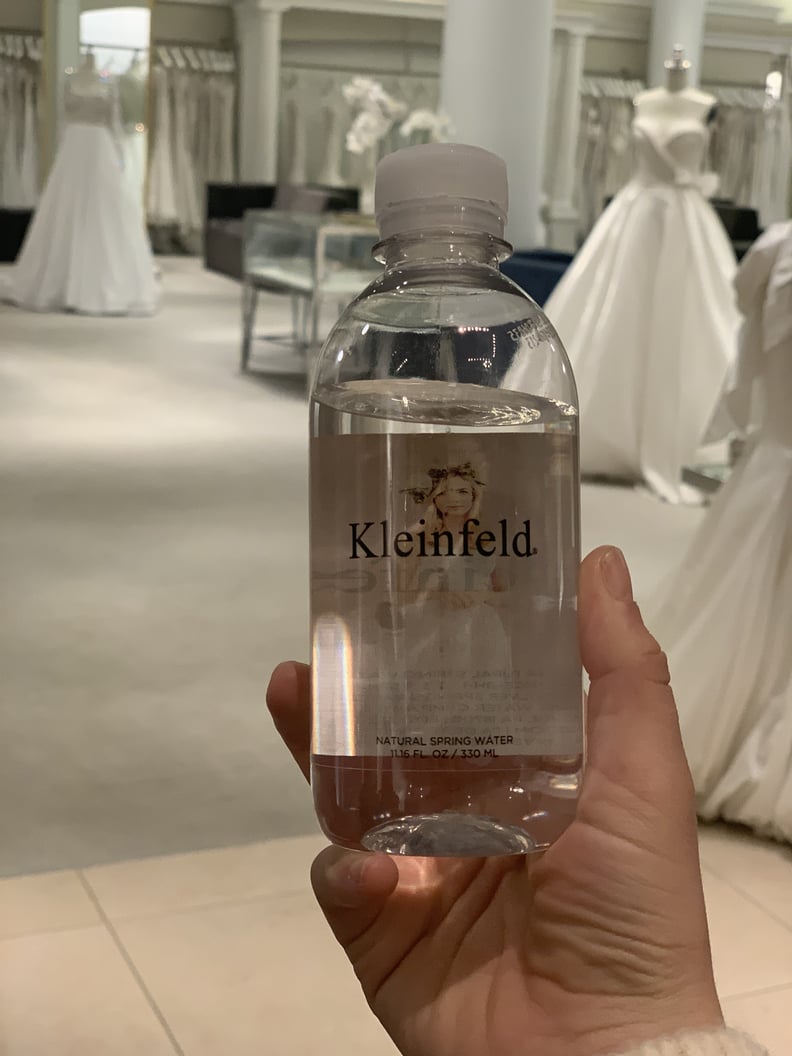 Kleinfeld Location
Kleinfeld is located in New York City, specifically in Chelsea, Manhattan, at 110 W 20th Street. There's a pristine white storefront that many people take photos in front of because of Kleinfeld's iconic name and the fact that it's the bridal boutique where TLC's "Say Yes to the Dress" series is filmed.
Kleinfeld: Do You Need an Appointment?
You cannot walk into Kleinfeld and shop for a dress without an appointment. You can make an appointment online, though weekend slots fill up months in advance. Kleinfeld does have bridal designer trunk shows quite often, and for those, you can usually just show up to shop. But a word of caution: People wait in extremely long lines that wrap around the entire block for the chance to shop past-season dresses at a discounted rate.
Kleinfeld: How Much Is an Appointment?
It doesn't cost money to make an appointment at Kleinfeld, but if you say yes to the dress, then that's a different story.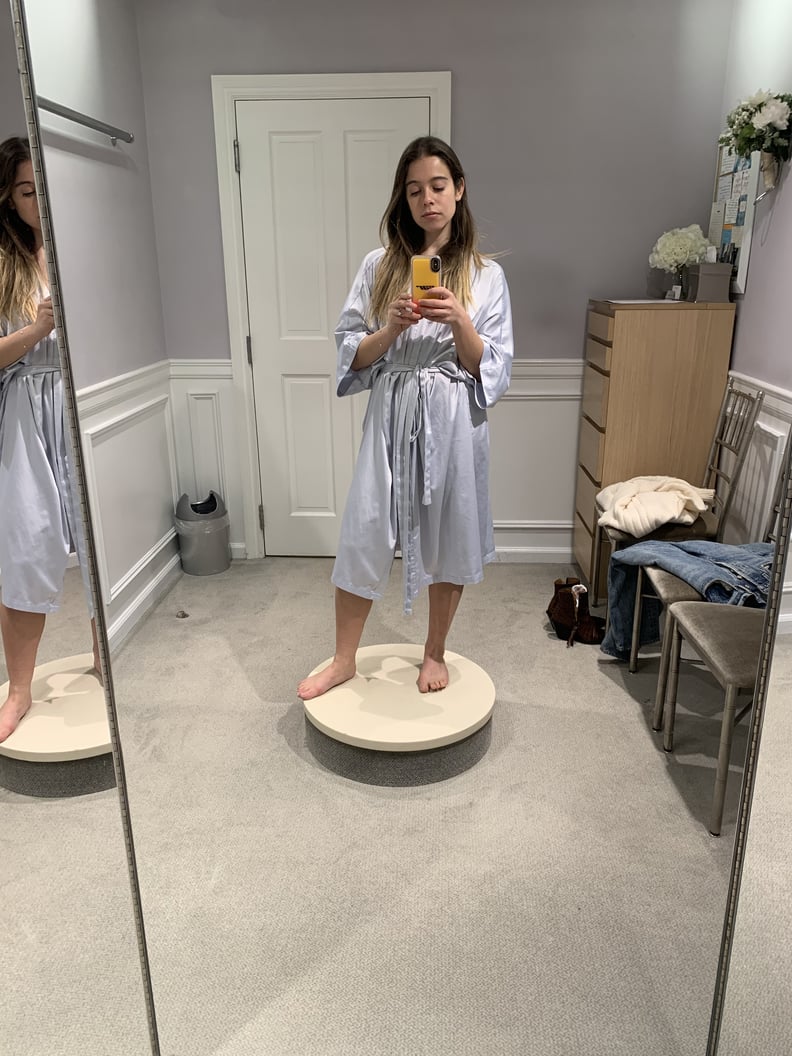 Kleinfeld: How Long Is the Appointment?
You're expected to show up 15 minutes before your appointment time to check in. Each bride is allotted 90 minutes and is permitted to try on just four dresses that speak to their sense of style, as described to the bridal consultant upon arrival. Once you make an appointment, you'll receive a confirmation email where you're reminded to save photos you love ahead of time, that way you can show your consultant where your head is at.
Kleinfeld: What Happens During the Bridal Appointment?
Unfortunately, shoppers are not able to hand-select dresses from the racks. Should you eye something you like, you must tell your bridal consultant, who can then retrieve it for you. The bride doesn't physically shop during the 90 minutes — their lineup is curated by the consultant and presented to them in the fitting room. After trying on each dress, the bride can step out of the fitting room to reveal the gown to their guests.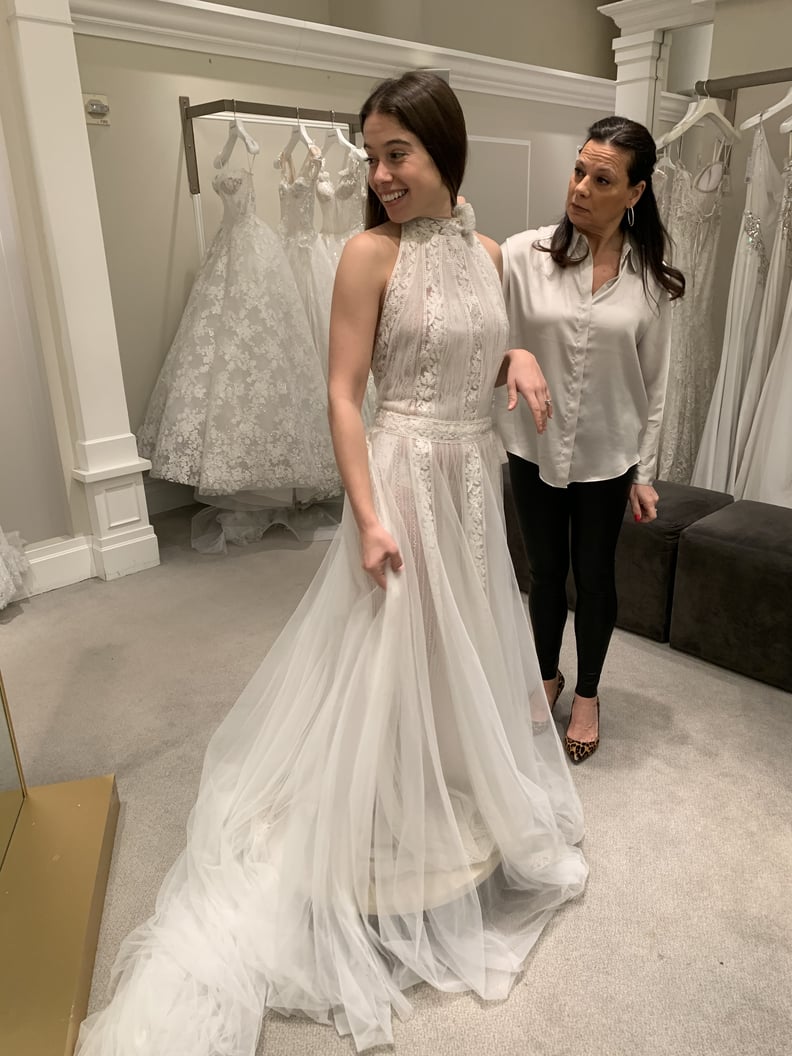 Kleinfeld: How Are You Matched With a Bridal Consultant?
I worked with Antonella, who is so kind and very funny (it's no wonder she's featured on "Say Yes to the Dress" so often). You are allowed to request a bridal consultant upon arrival if you're familiar with the Kleinfeld crew, but if you do not request, you'll be paired up randomly.
Kleinfeld: How Do You Get a Job at the Store?
Antonella scored an interview for a consultant position and has been working at Kleinfeld for 14 years. But she also has a history in styling. It helps to get your start in the fashion industry, whether it's in styling or merchandising. Each consultant takes an intern under their wing for the day, who learns how to help style, fit the dresses to the bride's body with clips, and search for dresses quickly when a consultant requests one. These people know the Kleinfeld offerings intimately, and they're well-versed in the store's current inventory.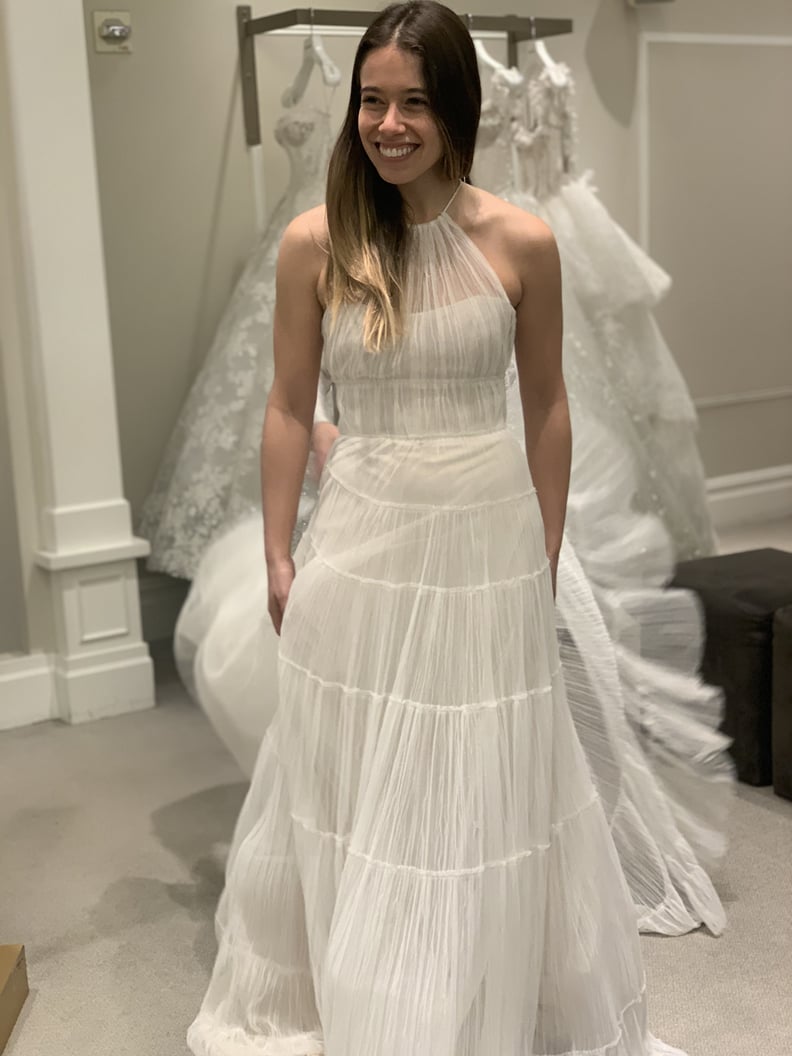 Kleinfeld: Are the Wedding Dresses Expensive?
The gowns I tried on at Kleinfeld ranged from $3,000 to $8,000, and I barely scratched the surface of the gowns available. Some are incredibly intricate with hand embroidery and carefully placed beads and sequins. It also depends on the designer you're shopping. If you attend a trunk show at Kleinfeld, there is a bit of a discount if you purchase day-of. You can find some dresses for below $2,000 at Kleinfeld, but with the well-known designers stocked at the store, most will ring in above that.
"Say Yes to the Dress": How Do You Apply For the Show?
You must apply for "Say Yes to the Dress" via TLC, and Kleinfeld works with the network to choose brides with a unique storyline. These brides do try on more than four dresses (which is typical of a standard appointment). They usually stay at Kleinfeld for a two-hour window (instead of 90 minutes). Consultants assigned to these clients are advised they'll be filmed for TV upon arrival at work.