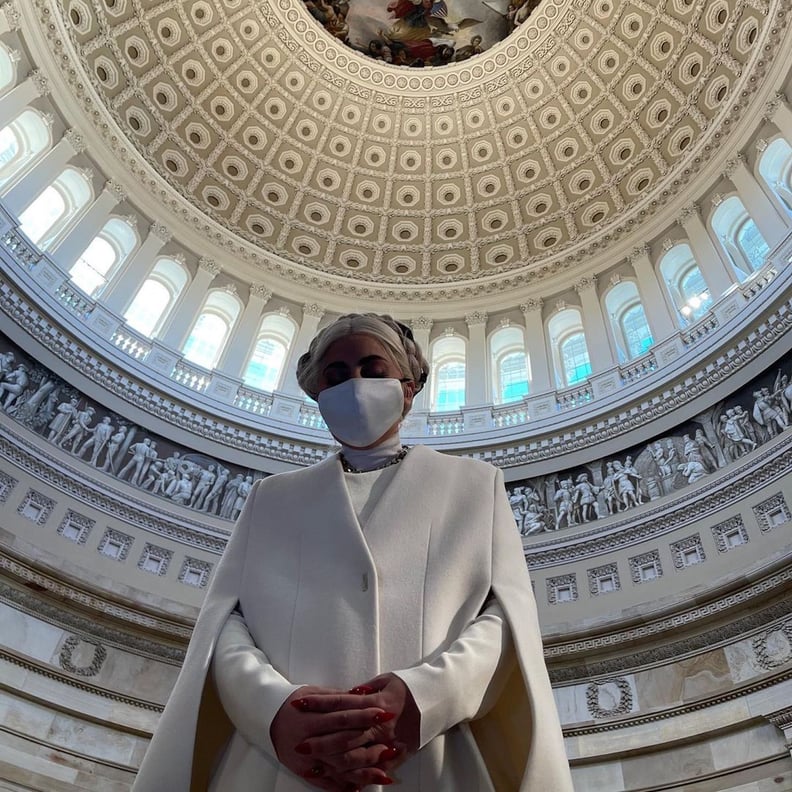 Lady Gaga arrived safe, sound, and expectedly stylish at Capitol Hill ahead of her performance for the Biden-Harris inauguration in Washington DC. The Fame Monster wore a white Givenchy cape coat by creative director Matthew Williams and a matching silk face mask, with her platinum hair styled in milkmaid braids — and we suspect there was a secondary meaning behind her defiant white cape.
"I pray tomorrow will be a day of peace for all Americans," Gaga captioned the hopeful image. "A day for love, not hatred. A day for acceptance not fear. A day for dreaming of our future joy as a country. A dream that is non-violent, a dream that provides safety for our souls. Love, from the Capitol 🇺🇸"
While Gaga's prayer for the United States is filled with optimism, it's easy to see that her choice of a white cape is a nod to the women of the suffragette movement. Much like Vice President Kamala Harris's white suit from her 2020 address to the nation, Alexandria Ocasio-Cortez's white cape blazer at the 2019 State of the Union address, and Hillary Clinton's white pantsuit while accepting the Democratic nomination for president in 2016, Gaga stands in solidarity with these women and those that came before them in the continued fight for equality and representation.
Ahead, a closer look at Lady Gaga's Givenchy cape coat.