"I researched the fashion of young women entering college and then incorporated 'LJ [Lara Jean] style' which is uniquely a mix of vintage and modern-day."
I talked with the movie's costume designer, Lorraine Carson, to learn more about all of the outfits from the film (she also designed the costumes for the second movie). She filled me in on the inspiration behind the looks and Lana's most treasured wardrobe pieces. "I did channel some Audrey Hepburn images for Lara Jean, such as the lilac cigarette pants she wore in NYC. We updated this with a fuchsia and lavender belt and platform sneakers. I made a callback to the 1959 Grease silhouette seen on Lara Jean's jean looks. We kept them slim fitting with a turned-up cuff, added a high wedge sandal, and tucked in blouses. I researched the fashion of young women entering college and then incorporated 'LJ [Lara Jean] style' which is uniquely a mix of vintage and modern-day," Lorraine said.
Keep reading to see more of my interview ahead and take a look at the best style moments from To All the Boys I've Loved Before: Always and Forever.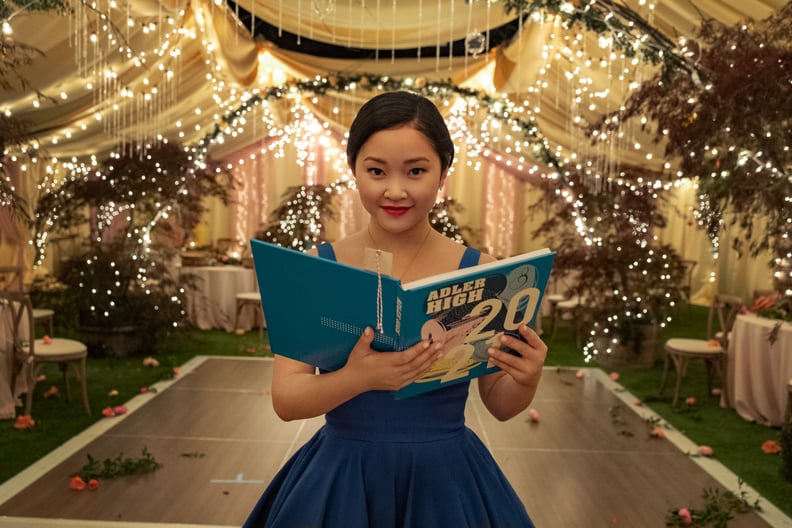 Lana's Favorite Pieces to Wear as Lara Jean
"She had a few. She loved all the short rompers she wore in Korea like the blue one with the button front and ruffle straps from Zara and the yellow and white stripe jumpsuit from Banana Republic. She loved the royal blue bridesmaid's dress, which was the brand Ieena for Mac Duggal, purchased at Nordstrom. She favored many of the shoes she wore in the movie."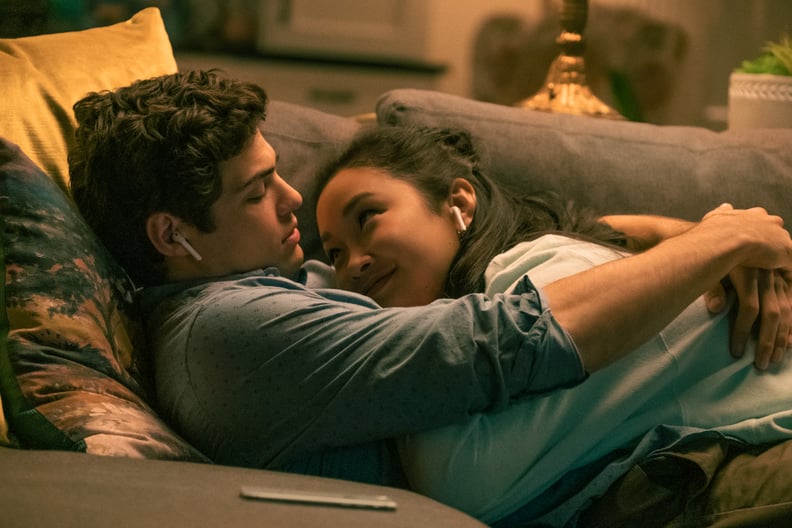 The Evolution of Lara Jean's Style
"We did use a couple of pairs of shoes from the second movie, like the pale sage green sandal from Geox that Chris comments on in a scene in the school hallway. In flashbacks, you do see a number of iconic pieces, such as the pink duffle coat. As we wanted to move Lara Jean forward to a more sophisticated and mature look, we left the more youthful girl pieces in the closet."
Where Lara Jean's Costumes Are Now
"Lana did not get to keep anything from the movie as everything must be 'hotstocked' (kept in a lockup in case further shooting is required.) There were a number of items she really liked and actually purchased them from the stores herself."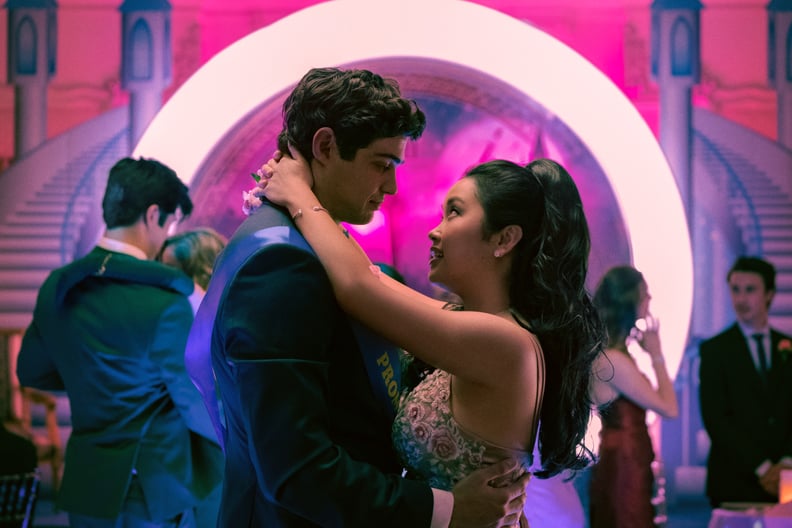 Lara Jean's Prom Dress
"For Lara Jean's prom dress, which we created, I got inspiration from fashion designers such as Alexander McQueen, Elie Saab, Reem Acra. We wanted something unique, feminine, and outstanding. This was one of my favorites in the movie. We purchased a dress from a formal store as we loved the fabric, color, and matte satin finish. I had my cutter Samantha MacKinnon re-cut the bodice of the dress to create a very flattering V-neckline and add the embroidered floral lace fabric overlay on the bodice. The final touch was a long net full crinoline under the skirt. I was extremely happy with the final garment. It was an outstanding, one-of-a-kind gown, which was very appropriate for fashionista Lara Jean at prom."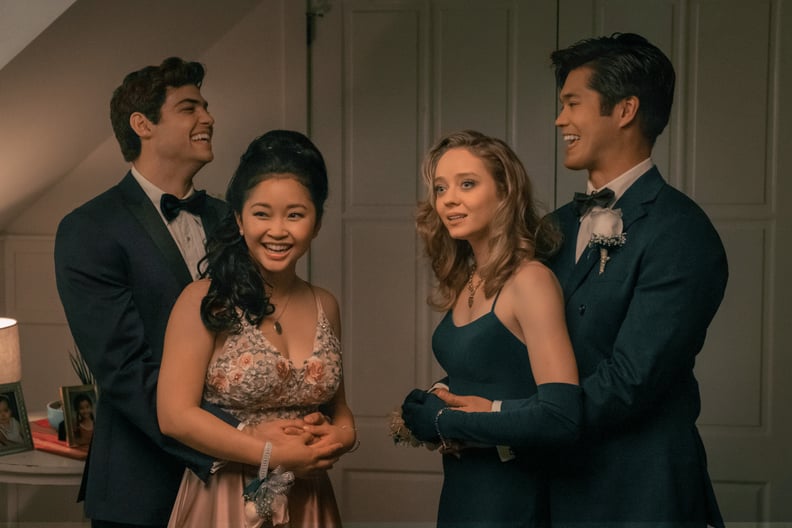 Chris's Prom Dress
"For Chris's prom look, I searched '90s images of Cindy Crawford club looks and used that for my inspiration."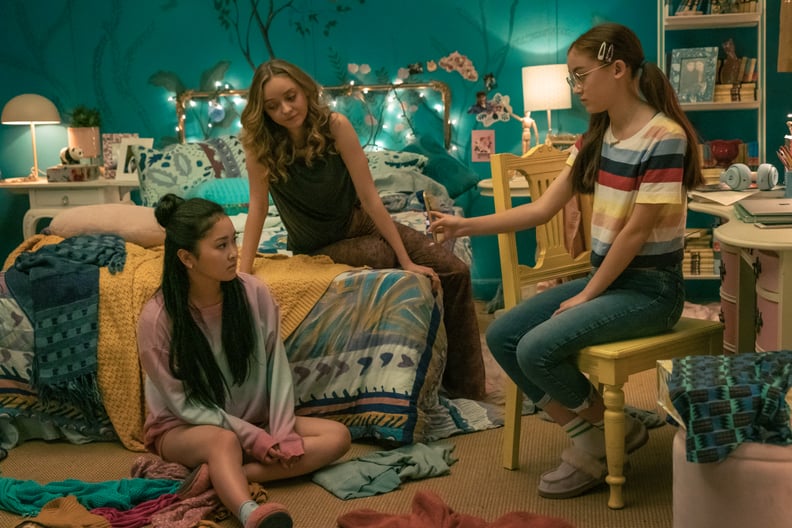 The Color Palette of the Film
"We did maintain the same color palette as this was our director Michael Fimognari's brilliant vision, who directed both TABT2 and TABT3. We did choose to go to the bright end of the color palette in Korea as it was a joyful time with the family all together. Seoul is a very colorful city with its lively markets, so we really wanted to show that. The NYC setting of the film takes place in late spring, so we kept a similar palette and chose to keep to lighter pastel colors."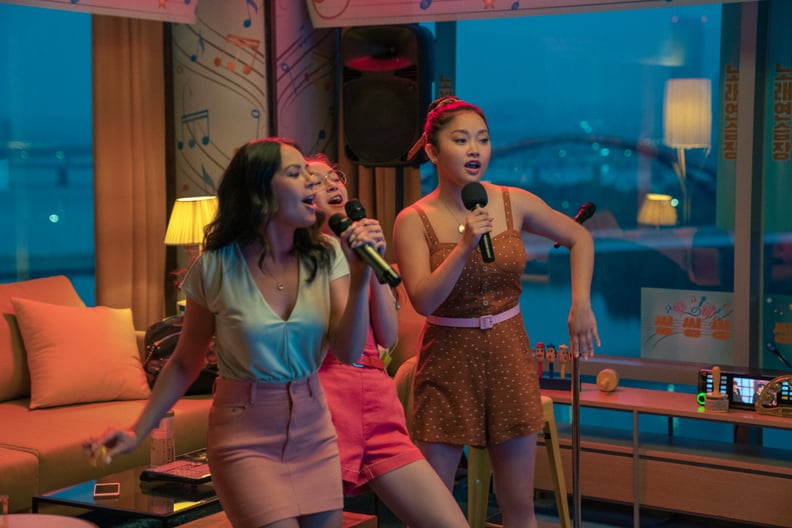 Lara Jean's Style in Korea
"We took all of the garments with us for the main cast as we had very little time to prep in Korea. I carried eight hockey bags full of costumes on the plane with me. I had an awesome team in Korea to help me — Hyeran Lee and her crew. They did a wonderful job of sourcing all the Korean actors and dressing the local cast, such as the character Dae (Kitty's love interest). They also were instrumental in getting the giant cat costume made for me."